EDITOR'S NOTE: Launch delayed until Thursday.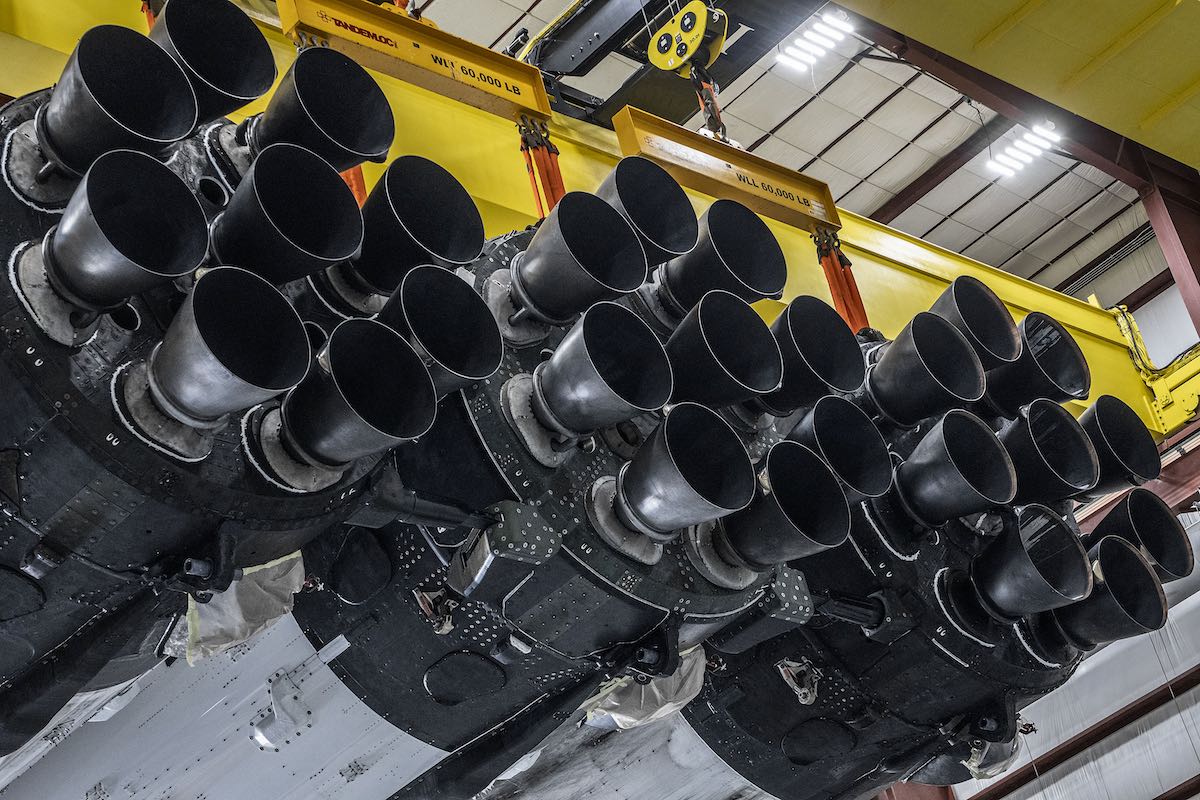 SpaceX rolled a Falcon Heavy rocket back to its launch pad in Florida Tuesday night for liftoff Thursday with a high-power Viasat broadband satellite, following an eight-day delay for a launch vehicle engine swap.
The Falcon Heavy rocket is scheduled for launch at 7:29 p.m. EDT (2329 UTC) Thursday with ViaSat 3 Americas, a large Boeing-built internet satellite, and two small rideshare payloads. SpaceX's heavy-lifter will place the satellites into a circular orbit near geostationary altitude more than 20,000 miles (nearly 36,000 kilometers) above Earth.
SpaceX announced Wednesday it would forego a launch opportunity Wednesday evening for the Falcon Heavy mission. The company did not give a reason for the delay.
Three booster stages will combine to generate more than 5 million pounds of thrust to propel the Falcon Heavy off the launch pad. Each booster is powered by nine Merlin main engines, and a single modified Merlin engine drives the Falcon Heavy's second stage, which will guide the mission's three satellite payloads into their high-altitude orbit.
Riding a transporter/erector, the fully-assembled rocket emerged from SpaceX's hangar just south of Launch Complex 39A and rolled along rails up the ramp to the launch pad. Once in position over the flame trench at pad 39A, the rocket will be raised vertical in preparation for Wednesday's countdown.
It's the second trip to the launch pad for this Falcon Heavy rocket, following a test-firing of its 27 main engines April 13. Following the hold-down firing, SpaceX rolled the rocket back to the hangar for attachment of its payload fairing containing the ViaSat 3 Americas satellite and two rideshare spacecraft.
At that time, officials planned to launch the mission April 18, but SpaceX announced an eight-day delay to April 26 without giving a reason. Multiple sources said mangers ordered the delay to replace at least one engine on the rocket after the test-firing. The static fire test provides an opportunity for SpaceX engineers to make sure all launch vehicle and ground systems are working properly before proceeding into a real countdown.
No details were available on what caused SpaceX to perform the engine replacement.
SpaceX's ground crew removed the rocket from its transporter/erector for the engine swap, then reinstalled the Falcon Heavy on its carrier structure for the return to pad 39A Tuesday. Technicians also installed the payload fairing with the mission's three satellite passengers.
The mission will be the sixth launch of a SpaceX Falcon Heavy rocket since 2018, and the second of as many as five Falcon Heavy flights the company plans this year. It's the first Falcon Heavy launch in which SpaceX will intentionally dispose of all three first stage boosters. SpaceX is dedicating all of the rocket's propellant to deploying the roughly 6-metric-ton (13,000-pound) ViaSat 3 Americas satellite and its co-passengers into a near-geosynchronous orbit.
The mission will take about six hours to reach its targeted orbit, requiring three burns by the upper stage engine. A direct insertion into geosynchronous orbit is one of the most challenging mission types in the launch industry. The profile requires extended battery life on the upper stage, plus a custom band of gray thermal paint on the rocket to help ensure the kerosene fuel does not freeze during the hours spent in the cold environment of space.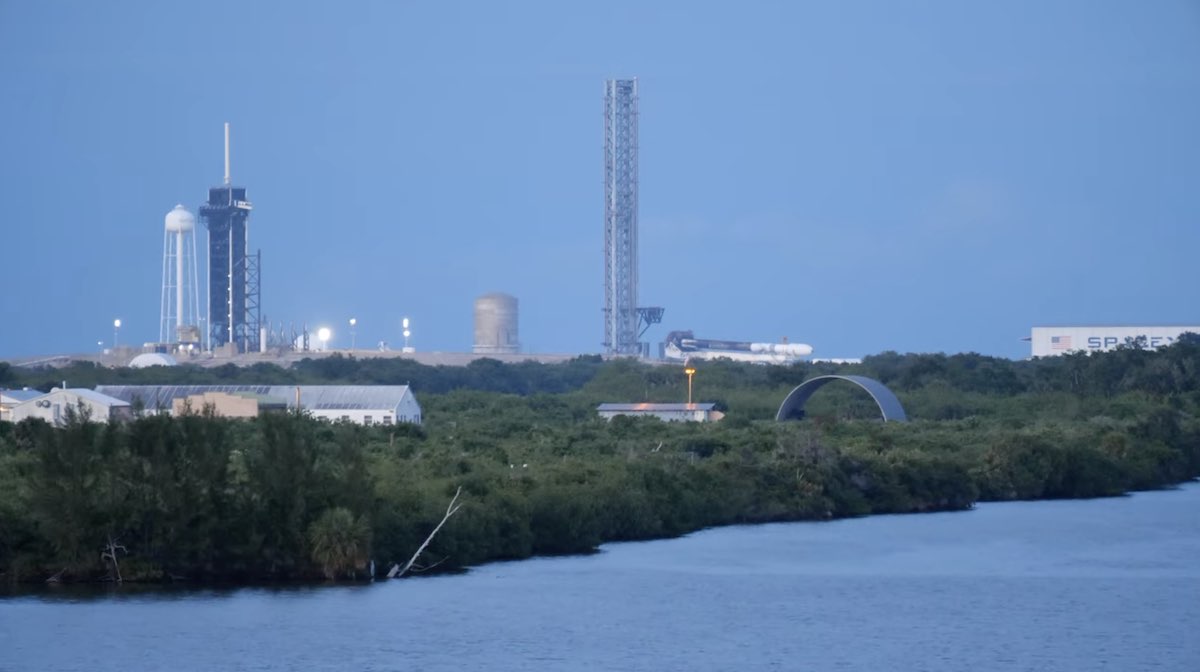 Viasat has not said how much it paid SpaceX for the launch. Intelsat officials said last year SpaceX charged a premium for a launch where the booster is expended.
The center core for the ViaSat 3 Americas mission is brand new, while the side boosters are reused from previous SpaceX missions.
ViaSat 3 Americas is the first of three new-generation broadband satellites for Viasat, which beams internet signals for underserved consumers, businesses, and governments. Based in Carlsbad, California, Viasat has agreements to provide in-flight WiFi to passengers on Delta Air Lines, American Airlines, United Airlines, Southwest Airlines, JetBlue, and other commercial airlines.
The satellite is as big as a school bus, and its solar panels will unfurl in orbit to generate more than 30 kilowatts of power in orbit, more than a quarter the electrical power produced by all the solar arrays on the International Space Station.
The spacecraft has one of the largest antenna reflectors ever sent into space, and will rely on all-electric propulsion for fine orbital maneuvers and station-keeping. After separating from the Falcon Heavy rocket, the spacecraft will use its plasma thrusters to raise its orbit the final 700 miles (1,100 kilometers) to geostationary orbit, where its velocity will match the rate of Earth's rotation.
That will allow the ViaSat 3 Americas spacecraft to hover over the same geographic position along the equator at 88.9 degrees west longitude, providing coverage over North and South America and adjacent maritime regions. Viasat and Boeing are working on two more satellites to provide similar internet service over Europe, North Africa, and the Middle East, and the Asia-Pacific region.
Smaller rideshare communications satellites for Astranis and Gravity Space, both commercial startups, will hitch a ride to orbit on the Falcon Heavy rocket.
Astranis's satellite, called Arcturus with a launch weight around 660 pounds (300 pounds), will provide broadband internet services to Alaska. Gravity Space's microsatellite will help an Indonesian company retain regulatory rights to an orbital slot in geostationary orbit with the International Telecommunication Union, which doles out geostationary positions to commercial satellite operators.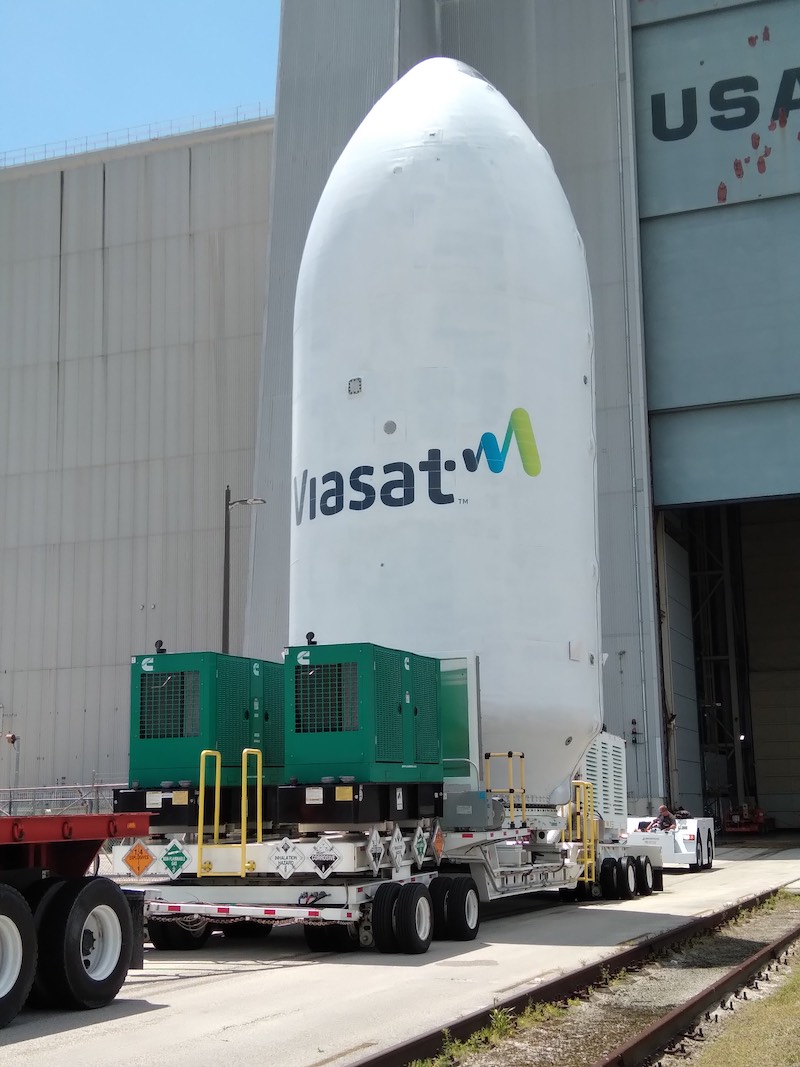 The delay for the Falcon Heavy launch will have a ripple effect on two upcoming SpaceX launches from pad 39A to send a crew and cargo to the International Space Station.
The launch of Axiom Space's second commercial crew mission, called Ax-2, on a Falcon 9 rocket and Crew Dragon spacecraft from pad 39A has been delayed from May 8 to no earlier than May 17 as a result of the Falcon Heavy delay. It takes about three weeks to reconfigure the launch pad and SpaceX's strongback and transporter/erector structure between a Falcon Heavy mission and a Falcon 9 astronaut mission. That timeline also includes days for a rocket test-firing and crew dress rehearsal, which are not part of every SpaceX mission.
The Ax-2 mission will launch on a nearly two-week flight to the International Space Station. The mission is commanded by former NASA astronaut Peggy Whitson, a veteran of three long-duration flights on the space station and now an employee of Houston-based Axiom. Three private astronaut passengers — one American businessman and two Saudi Arabian government astronauts — will join Whitson for the flight to the station.
After the departure of the Ax-2 mission from the space station in late May, SpaceX plans to launch its 28th cargo resupply flight to the station from pad 39A around June 3, two days later than previously planned. A SpaceX Cargo Dragon capsule will ferry a pair of upgraded solar arrays to the space station, along with several tons of scientific experiments and crew supplies.
Email the author.
Follow Stephen Clark on Twitter: @StephenClark1.