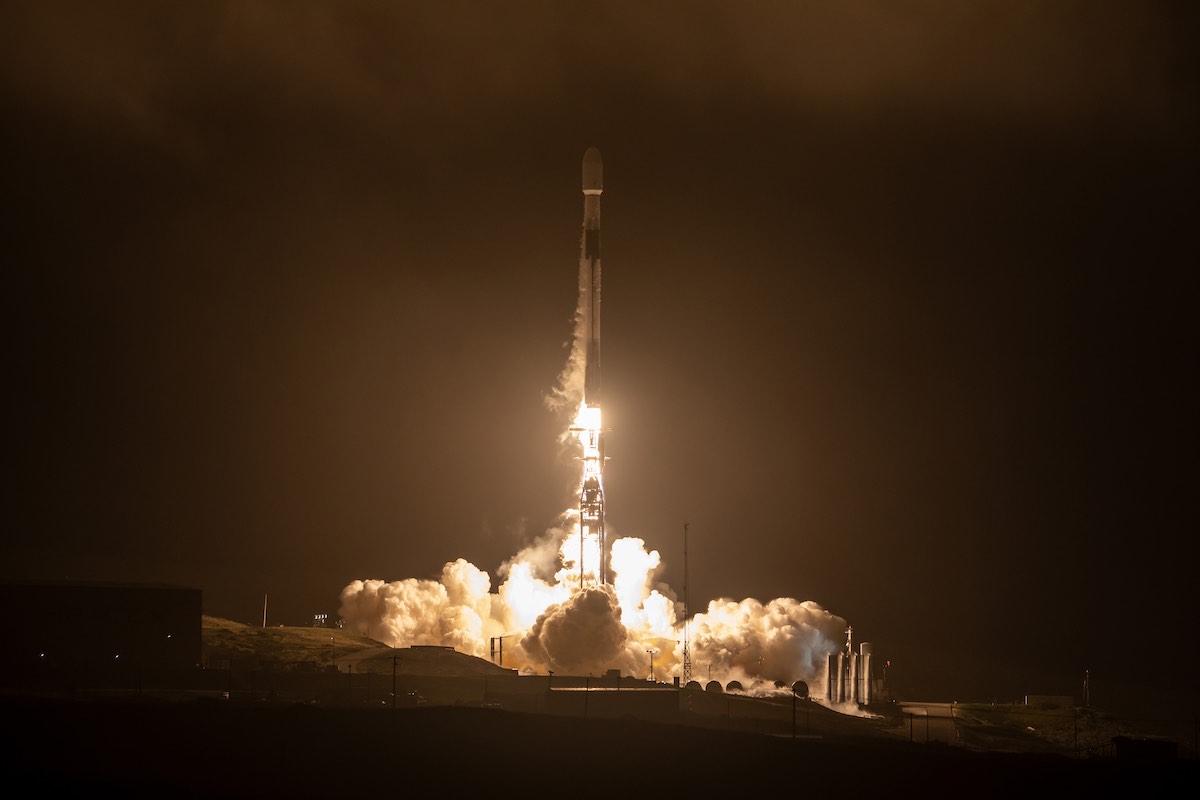 After several delays to wait for improved weather, SpaceX sent a Falcon 9 rocket into space late Friday night from California's Central Coast with 51 small satellites, payloads, and orbital transfer vehicles from customers around the world.
The 229-foot-tall (70-meter) Falcon 9 rocket lifted off on SpaceX's Transporter 7 rideshare mission at 11:48 p.m. PDT Friday (2:48 a.m. EDT; 0648 UTC Saturday) from Vandenberg, a military-run spaceport about 140 miles (225 kilometers) northwest of Los Angeles.
There were 51 payloads launched on the Transporter 7 mission, including CubeSats, microsatellites, hosted payloads, and orbital transfer vehicles, which have their own payloads to be released at a later time, according to SpaceX.
The Falcon 9 rocket took off from Space Launch Complex 4-East at Vandenberg. The Falcon 9's first stage booster fired its nine Merlin engines for more than two minutes, steering the rocket on a path south from Vandenberg before shutting down and separating from the upper stage. The upper stage ignited a single space-rated Merlin engine, while the booster reignited three of its engines to reverse course and head back to Vandenberg, targeting a propulsive vertical landing back at the launch site around seven-and-a-half minutes after liftoff.
The booster for this mission, tail number B1063, launched on its 10th flight to space. It debuted in November 2020 with the launch of the U.S.-European Sentinel-6 Michael Freilich oceanography satellite, and launched again in November 2021 with NASA's Double Asteroid Redirection Test mission. Since then, this booster has launched seven missions carrying satellites for SpaceX's Starlink internet network.
Watch a replay of the Falcon 9 first stage making its landing back at Vandenberg Space Force Base. pic.twitter.com/ClmAoi7R1q

— Spaceflight Now (@SpaceflightNow) April 15, 2023
The upper stage of the Falcon 9 performed five burns on the Transporter 7 mission. The first two upper stage engine firings will place the Transporter 7 payloads into a sun-synchronous polar orbit roughly 310 miles (500 kilometers) in altitude, at an inclination of 97.4 degrees to the equator.
Fifty of the Transporter 7 payloads were deployed in that orbit, followed by two more short firings by the upper stage engine to raise the rocket's altitude to more than 420 miles (about 680 kilometers). The orbit adjustment also slightly changed the inclination to 98.2 degrees, setting up for separation of the largest payload on the Transporter 7 mission — Turkey's IMECE Earth observation satellite — more than two-and-a-half hours into the mission.
The approximately 1,543-pound (700-kilogram) IMECE satellite is the first high-resolution Earth-imaging satellite to be built entirely by domestic Turkish industry. IMECE was mounted to the top of the multi-satellite adapter structure inside the Falcon 9's payload fairing for launch.
Other payloads on the Transporter 7 mission included two CubeSat missions sponsored by NASA to study Earth's upper atmosphere and radiation belts. The NASA-funded missions are led by research teams at the University of Colorado and Aerospace Corp.
Virginia-based HawkEye 360 had three radio frequency monitoring satellites on the Transporter 7 launch.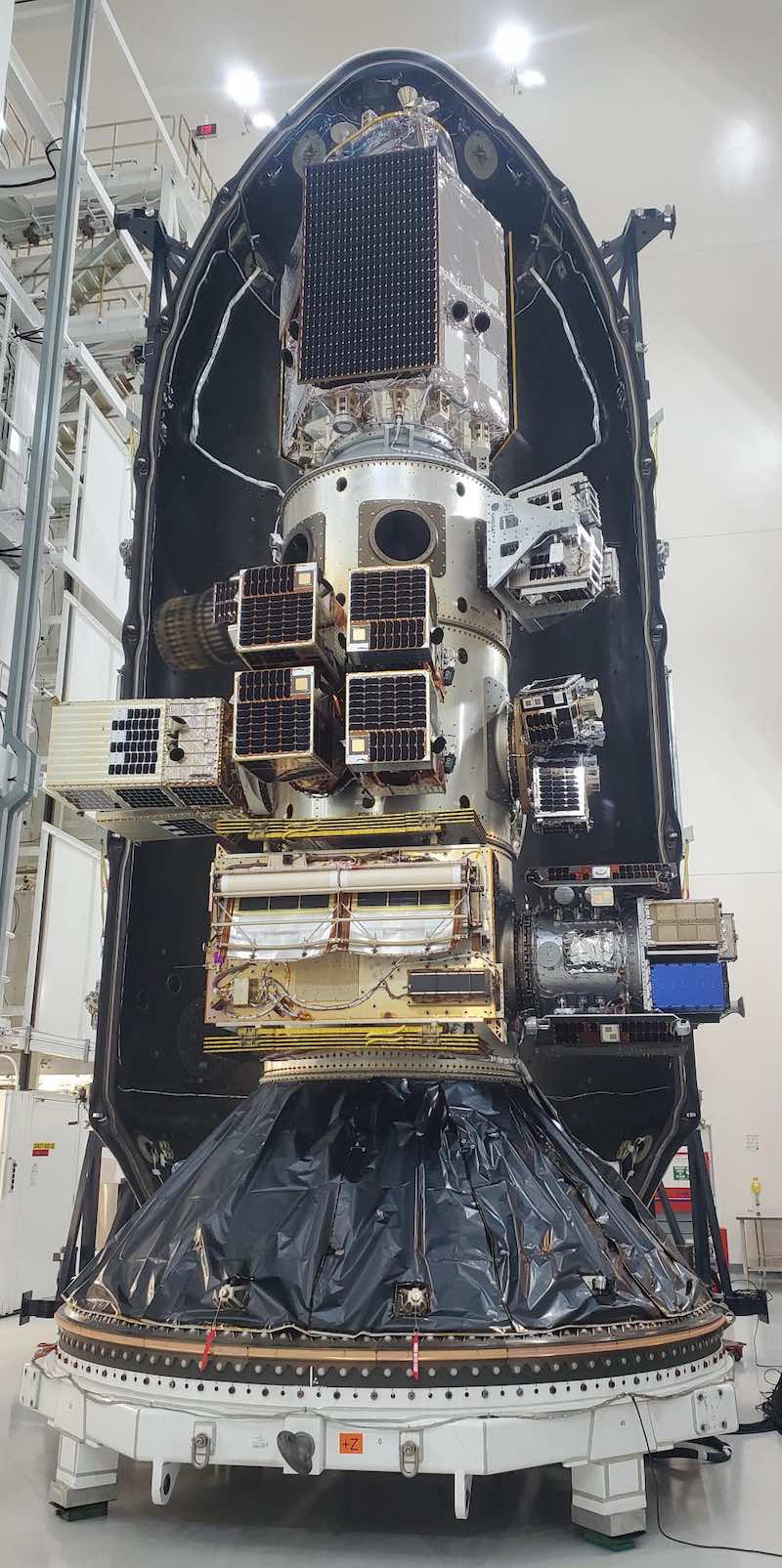 Satellogic, a remote sensing company headquartered in Uruguay, had four "NewSat" optical Earth-imaging microsatellites on the Falcon 9 rocket. There were three Lemur 2 CubeSats for Spire Global's commercial weather monitoring and ship tracking constellation, plus three microsats for the Canadian company GHGSat, which is deploying a fleet of small spacecraft to monitor global greenhouse gas emissions.
The California-based startup company AstroForge, which aims to eventually mine asteroids, launched its first space mission on the Transporter 7 launch. The shoebox-size CubeSat will perform technology demonstrations in orbit to examine how future mining spacecraft could extract and refine asteroid materials. In order to complete the demonstration, the AstroForge tech demo mission carries a small amount of material on-board as a stand-in for asteroid specimens.
Kenya's first operational Earth observation satellite, a toaster oven-size CubeSat called Taifa 1, was also aboard the Transporter 7 launch.
San Francisco-based Orbital Sidekick launched the first two satellites in its planned Global Hyperspectral Observation Satellite constellation, or GHOSt. The roughly 200-pound (90-kilogram) spacecraft were built by Astro Digital with hyperspectral Earth observation payloads to help track leaks and emissions from pipelines, search for minerals for mining and resource extraction, and pursue other commercial applications.
Amid other payloads, the mission also carried two orbital transfer vehicles from Momentus and D-Orbit. Each transfer vehicle, with its own customer payloads on-board, can perform orbital maneuvers to change altitude and inclination after separating from the Falcon 9 rocket.
Momentus said its Vigoride 6 transfer vehicle, using a water-based microwave electrothermal propulsion system, will deploy two NASA-funded CubeSats. It also carries several more payloads for commercial customers and research institutions, and will test new solar array technology.
D-Orbit's transfer vehicle will deploy satellites for Kepler Communications, Visiona, and AAC Clyde Space. It also hosts non-separating payloads testing electronic intelligence-gathering technology and a control moment gyroscope.
Email the author.
Follow Stephen Clark on Twitter: @StephenClark1.