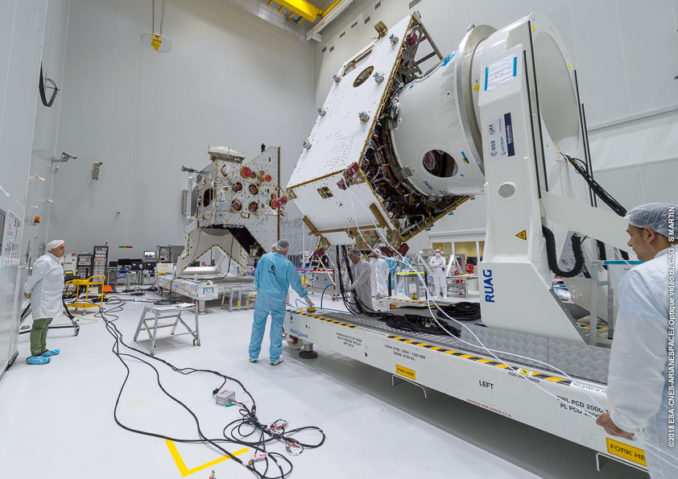 Europe's first mission to Mercury, a quartet of Galileo navigation spacecraft, a global winds observatory, and a new European weather satellite have arrived at an equatorial launch base in French Guiana in preparation for launches in the coming months.
The set of European missions are set to ride into space aboard four rockets, amid several more commercial flights carrying communications satellites to orbit, in what is shaping up to be a busy second half of the year for Arianespace, the French company which oversees Ariane 5, Soyuz and Vega launch operations at the European-run spaceport in Kourou, French Guiana.
The rapid-fire launch campaigns are already underway at the space center on the northeastern coast of South America, where technicians are preparing rocket and satellite hardware for liftoff.
Galileo navigation network ready to receive reinforcements
Arianespace will kick off its second-half launch schedule July 25 with an Ariane 5 rocket flight carrying four Galileo navigation satellites into an orbit more than 14,000 miles (around 23,000 kilometers) above Earth.
Liftoff is set for for an instantaneous opportunity at 1125:01 GMT (7:25:01 a.m. EDT; 8:25:01 a.m. French Guiana time) on July 25.
The four new Galileo spacecraft, built by OHB in Germany with navigation payloads provided by SSTL in the United Kingdom, will add to Europe's home-grown navigation network, an analog to the U.S. Air Force-run Global Positioning System. With the July 25 launch, Europe will have launched 26 satellites into the operational Galileo fleet, which needs 24 active spacecraft, plus six spares, to provide independent global positioning and timing services.
But two of the Galileo satellites were launched into the wrong orbit in 2014, and another is afflicted with an antenna program, limiting its utility.
Managed by the European Commission — the European Union's executive arm — and supported by the European Space Agency, the Galileo program has 12 more satellites in development for additional launches beginning in late 2020.
The four Galileo satellites set for launch later this month arrived at the Guiana Space Center on two trans-Atlantic airplane shipments in May and June, and the core components of the Ariane 5 launcher for the July 25 flight arrived in French Guiana from Europe aboard Ariane Group's rocket transport vessel on May 30.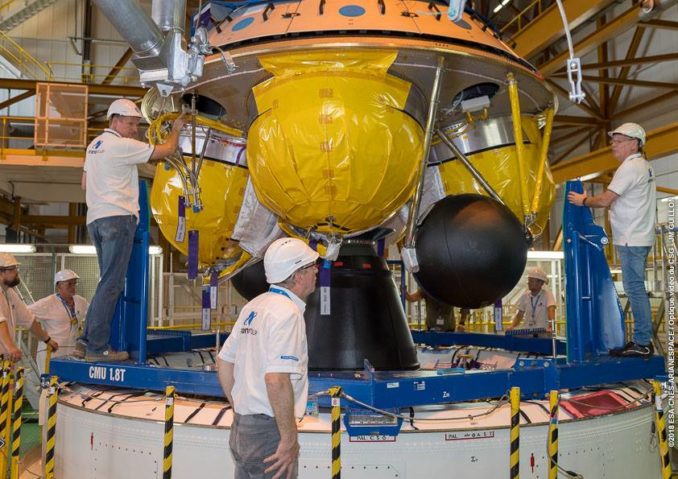 Workers at the French Guiana launch base have fueled the four Galileo satellites with maneuvering propellants for their 12-year navigation missions, and ground crews have assembled the Ariane 5 rocket with its cryogenic core stage, twin solid rocket boosters, vehicle equipment bay, and storable propellant upper stage.
Mounted on its vertical launch table, the Ariane 5 will be transferred to from the spaceport's launcher integration building to the nearby final assembly building for attachment of the mission's four satellite passengers and payload shroud.
The upcoming Ariane 5 mission, numbered VA244 in Arianespace's flight sequence, will be the 33rd and last to fly with an Aestus engine, a powerplant fueled by toxic hydrazine and nitrogen tetroxide, which can be stored for long durations. Unlike the hydrogen-fueled HM7B engine used on most Ariane 5 flights, the Aestus engine can be reignited multiple times in space, allowing it to place payloads such as the Galileo navigation satellites directly into high-altitude orbits.
Ariane Group is developing a restartable cryogenic engine named Vinci to replace the HM7B on Europe's new Ariane 6 rocket set for a maiden flight in mid-2020.
ESA's Aeolus winds mission arrives in French Guiana
Arianespace's next mission, set for Aug. 21 at 2120 GMT (5:20 p.m. EDT; 6:20 p.m. French Guiana time), will use a light-class solid-fueled Vega launcher to place ESA's Aeolus Earth science satellite into orbit.
ESA says Aeolus will be the first mission to measure wind profiles on a global scale, employing an ultraviolet laser instrument to probe the lowest 18 miles (30 kilometers) of Earth's atmosphere, collecting data on winds, aerosols and clouds at different altitudes.
The wind measurements will help scientists understand how the atmosphere works, and also support improved climate change predictions, and better forecasts of hurricanes.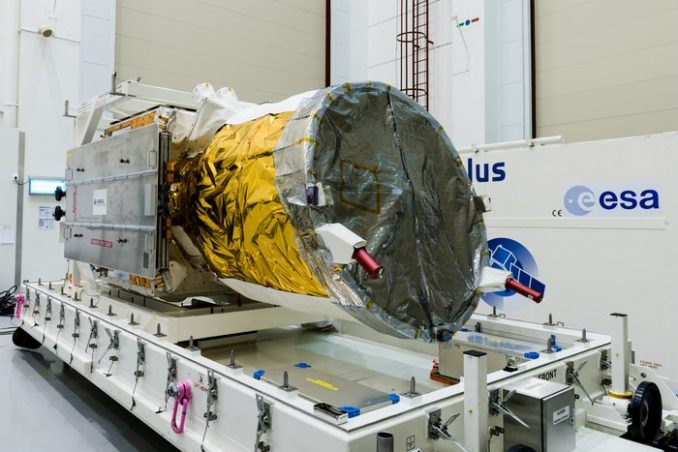 Aeolus arrived in Cayenne, French Guiana, on June 27 on ship that carried it on a nearly two-week journey from France, and the satellite was trucked to the nearby space center to begin launch preparations.
While workers stack the four-stage Vega rocket on its launch pad, technicians inside a clean room at the Guiana Space Center will ensure Aeolus survived the trip to the launch base unscathed, then load propellant into the spacecraft.
The Aug. 21 liftoff will mark the 12th launch of a Vega rocket, developed by a European consortium led by Italian industry, and the first Vega flight of 2018. The Vega rocket will place the Aeolus spacecraft into a relatively low orbit around 200 miles (320 kilometers) above Earth.
Officials from ESA and Airbus Defense and Space, which built the Aeolus spacecraft, decided to transport the satellite across the Atlantic Ocean on a ship rather than on an aircraft. Engineers were worried the Aeolus mission's sophisticated laser instrument could be damaged by a sudden pressure change inside a transport plane's cargo bay.
The roughly 3,000-pound (1,360-kilogram) satellite is designed to handle the pressure change it will encounter during launch, but not the quick rise in pressure it would have seen during a sudden descent.
Aeolus will be ESA's fifth Earth Explorer mission to launch, the next in a series of Earth science projects that have studied Earth's ice sheets, oceans, water cycle, and magnetic and gravity fields.
The mission took twice as long to develop as originally planned after ESA started working on Aeolus in 2002.
"It's the first time we've done this kind of instrument, in ultraviolet, ever in the world," said Anders Elfving, ESA's Aeolus project manager. "So it's really a breakthrough technology. It's learning how to master these technologies. There is no reference, and we could not fall back on another mission, so we had to find out al the troubles and solutions by ourselves the first time."
100th Ariane 5 launch scheduled for September
Another Ariane 5 launch is targeted for Sept. 5 around 2120 GMT (5:20 p.m. EDT; 6:20 p.m. French Guiana time) with the U.S.-built Horizons 3e and Azerspace 2/Intelsat 38 commercial communications satellites.
The milestone mission, designated VA243, will be the 100th launch of an Ariane 5 rocket since Europe's workhorse launch vehicle debuted in 1996.
That distinction was supposed to go the July 25 launch with four Galileo satellites, but Arianespace shuffled its launch manifest earlier this year after an Indian telecom craft that was slated to fly on the VA243 mission in May had to be returned to its factory for inspections.
Officials ordered the GSAT 11 satellite back to India as a precaution after losing contact with another Indian communications satellite, named GSAT 6A, a few days after its launch on an Indian rocket.
The decision by Indian officials left Arianespace looking for another geostationary payload to launch in tandem with the Azerspace/Intelsat 38 telecom satellite, GSAT 11's original co-passenger.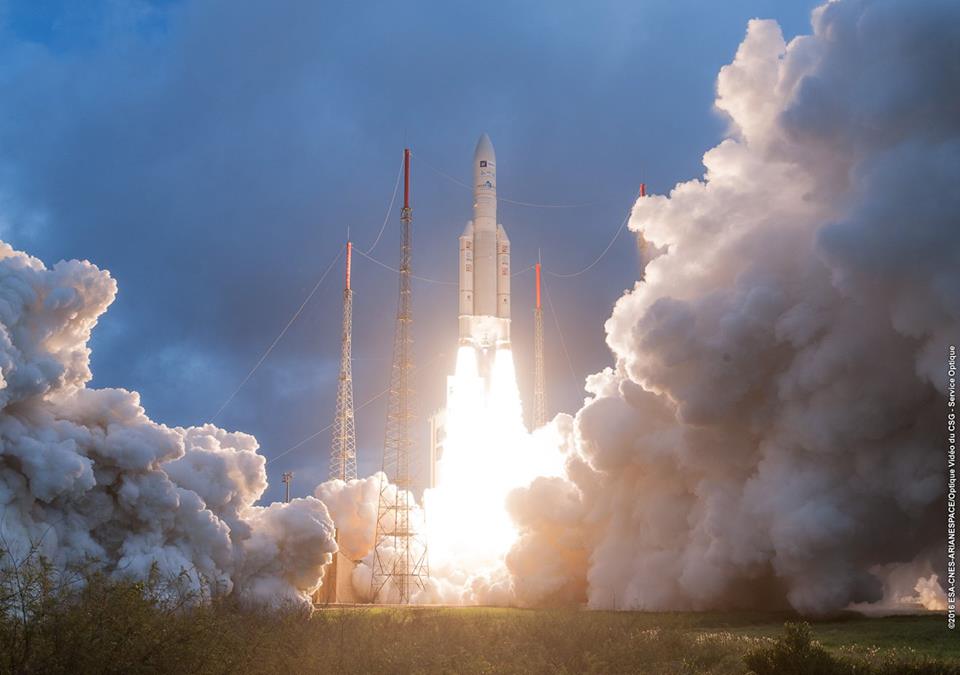 Launch managers assigned the Boeing-built Horizons 3e high-throughput communications satellite to take GSAT 11's place on the VA243 mission, now scheduled for September.
Owned by the Horizons joint venture between Intelsat and the Japanese operator Sky Perfect JSAT Corp. Horizons 3e will provide aeronautical and maritime mobility services and support government networking applications in the Asia-Pacific region and in North America.
Built by Space Systems/Loral, the Azerspace 2/Intelsat 38 spacecraft will be the second satellite owned by Azercosmos, the national satellite operator of Azerbaijan, which will use the new platform to support growing demands in the region for direct-to-home television, government and network services. For Intelsat, the satellite will replace the Intelsat 12 spacecraft offering direct-to-home television and network services over Africa, Central and Eastern Europe, and Asia.
Launch of Europe's first mission to Mercury targeted for Oct. 18
The BepiColombo mission to Mercury is on track for liftoff Oct. 18 (U.S. and French Guiana time), after a two-week slip caused by delays in finishing testing of the spacecraft in Europe earlier this year.
The four-piece Mercury mission, a partnership between ESA and the Japan Aerospace Exploration Agency, will ride an Ariane 5 rocket into interplanetary space. The mission will return to Earth a gravitational assist flyby in April 2020, then use two encounters with Venus and five fleeting flybys of Mercury to spiral toward the inner solar system, eventually entering orbit around the innermost planet in December 2025.
The mission has an interplanetary launch window from Oct. 5 through Nov. 29, and liftoff is currently scheduled for approximately 0145 GMT on Oct. 19 (9:45 p.m. EDT; 10:45 p.m. French Guiana time on Oct. 18), ESA officials said.
Comprised of a European-built planetary orbiter, transfer module and sunshield, plus a Japanese-made orbiter to probe Mercury's magnetosphere, BepiColombo will be the second mission to orbit Mercury after NASA's MESSENGER spacecraft, and the first led by Europe to accomplish the feat.
Europe has previously developed science probes to visit the moon, Mars, Venus, comets and asteroids, and Saturn's moon Titan.
BepiColombo's two scientific orbiters host instruments to map the planet's landscapes and topography, peer into darkened craters that may contain water ice and a mysterious frozen organic sludge, and probe the scorched world's interior structure by measuring its magnetic field.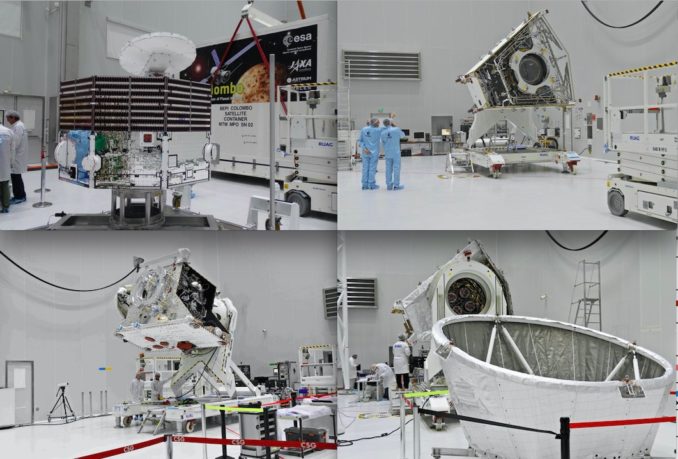 The European-built Mercury Planetary Orbiter carries 11 instruments, a suite comprising a high-resolution mapping camera, a laser altimeter, an accelerometer, and a set of spectrometers on a downward-facing science deck that will remain pointed toward the planet throughout each orbit.
The Japanese-made Mercury Magnetospheric Orbiter's five science sensors will study the plasma environment around Mercury, attempt to image the planet's sodium-rich tenuous atmosphere, and measure Mercury's magnetic field.
The two orbiters will launch with a propulsion module fitted with four plasma thrusters to guide them on the 7.2-year, 5.5-billion-mile (8.9-billion-kilometer) journey to Mercury. The transfer section and sunshield, which carry no scientific instrumentation, will be jettisoned when BepiColombo arrives at Mercury for the final time in 2025.
The mission is named for Giuseppe 'Bepi' Colombo, the Italian mathematician and engineer who helped design Mariner 10's Mercury flyby trajectory.
Components of the BepiColombo mission, along with ground support hardware, arrived in French Guiana from ESA's technical center in the Netherlands earlier this year on four Antonov cargo planes. Additional equipment traveled to the launch site by sea.
Since BepiColombo's arrival at the launch site, ground crews have installed hand-sewn thermal insulation blankets on the Mercury Planetary Orbiter and Mercury Transfer Module. The spacecraft must withstand extreme temperature swings, and engineers designed new multi-layer insulation materials for BepiColombo.
BepiColombo has also completed electrical checkouts to ensure the spacecraft were not damaged during the trip from Europe. In the coming weeks, workers will conduct a solar array deployment test and fill the BepiColombo propulsion section with xenon fuel.
Build-up of the Ariane 5 rocket set to launch BepiColombo, designated VA245, should begin later this summer, and technicians will finish loading propellants into the spacecraft before assembling BepiColombo into its launch configuration.
European weather satellite launch expected in November
Europe's next polar-orbiting weather satellite is in French Guiana readying for liftoff on top of a Russian-built Soyuz launcher in November.
Launch of the MetOp C weather observatory is currently expected around Nov. 6, and the target launch date should be confirmed in the coming weeks.
Built by Airbus Defense and Space, MetOp C is the third in a series of European weather satellites designed to monitor atmospheric conditions, clouds and storms, snow and ice cover, ocean temperatures and winds.
The MetOp satellites fly over Earth in a "morning" orbit, observing global weather conditions around 9:30 a.m. local time on each lap around the planet. Eumetsat, the European weather satellite agency, has a data-sharing agreement with NOAA, which flies similar U.S. weather satellites in an orbit with afternoon coverage.
The combined data from the European and U.S. weather satellites feed into numerical weather prediction models, which help meteorologists develop forecasts of up to 10 days.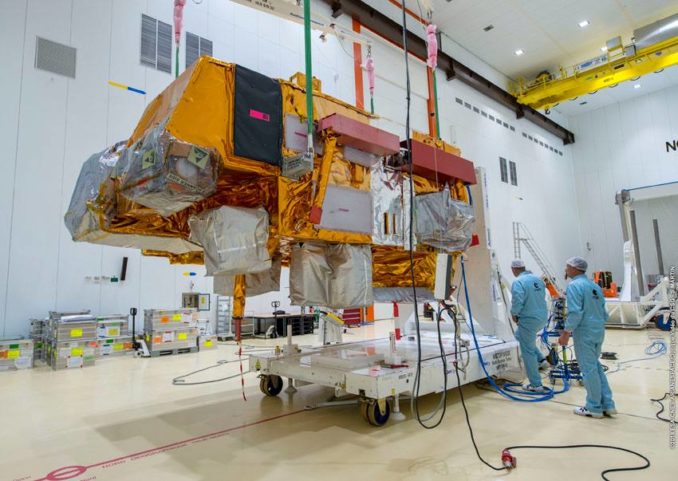 MetOp C is the last of Eumetsat's current generation of polar-orbiting weather satellites, and it will replace the MetOp B satellite launched in 2012. The first spacecraft in Europe's MetOp-Second Generation program is scheduled for launch in 2021.
Three Antonov airplane shipments delivered MetOp C, its solar array and ground support equipment to French Guiana from Europe last month.
Arianespace still finalizing end-of-year launch manifest
More space missions are being readied for launch from French Guiana by the end of the year, but officials have not announced firm launch dates.
Up to two additional Ariane 5 flights, each carrying a pair of satellites into geostationary transfer orbit, could blast off by the end of 2018.
India's GSAT 11 communications satellite, now declared ready for liftoff after being bumped from its original launch, is one candidate for pairing on an Ariane 5 mission late this year. Other satellites contracted to Arianespace that could launch in the final quarter of 2018 include South Korea's GEO-Kompsat 2A geostationary weather observatory, the Eutelsat 7C broadcasting payload, and Saudi Arabia's Hellas-Sat 4/SaudiGeoSat 1 communications craft.
The first 10 broadband satellites for OneWeb, which aims to deploy a network of more than 900 small spacecraft in low Earth orbit in the coming years, may launch from French Guiana on a Soyuz rocket by the end of the year.
Another Vega rocket launch is also tentatively planned for December with PRISMA, an Earth observation satellite for the Italian space agency, ASI.
Arianespace expects to end the year with around 11 launches in 2018.
Busy second half of 2018 follows quiet first half
Arianespace has accomplished three missions so far this year, beginning with a Jan. 25 launch of an Ariane 5 rocket, which placed two commercial communications satellites for SES and Yahsat into an off-target orbit.
The Jan. 25 anomaly ended a streak of 82 consecutive flawless Ariane 5 missions since 2003, and investigators blamed an error during programming of the rocket's guidance computer, which caused the launcher to fly off course moments after liftoff from French Guiana.
The Ariane 5's other systems functioned as designed on the Jan. 25, and the rocket followed the trajectory commanded by the mis-programmed guidance computer, deploying the SES 14 and Al Yah 3 communications satellites into the wrong orbit. Al Yah 3 has reached its final geostationary orbit after using on-board propellant to correct the orbit injection error, and SES 14 continues maneuvering into its geostationary perch using ion jets, which take longer to change orbits than conventional liquid-fueled thrusters.
Arianespace followed the Jan. 25 launch with a successful liftoff of a Russian-built Soyuz booster March 9 from the Guiana Space Center with four O3b broadband satellites for SES.
The Ariane 5 rocket successfully returned to service April 5 after Arianespace introduced new quality control checks, placing the DSN-1/Superbird 8 and Hylas 4 telecom payloads into an on-target geostationary transfer orbit for Japanese and British operators.
Email the author.
Follow Stephen Clark on Twitter: @StephenClark1.