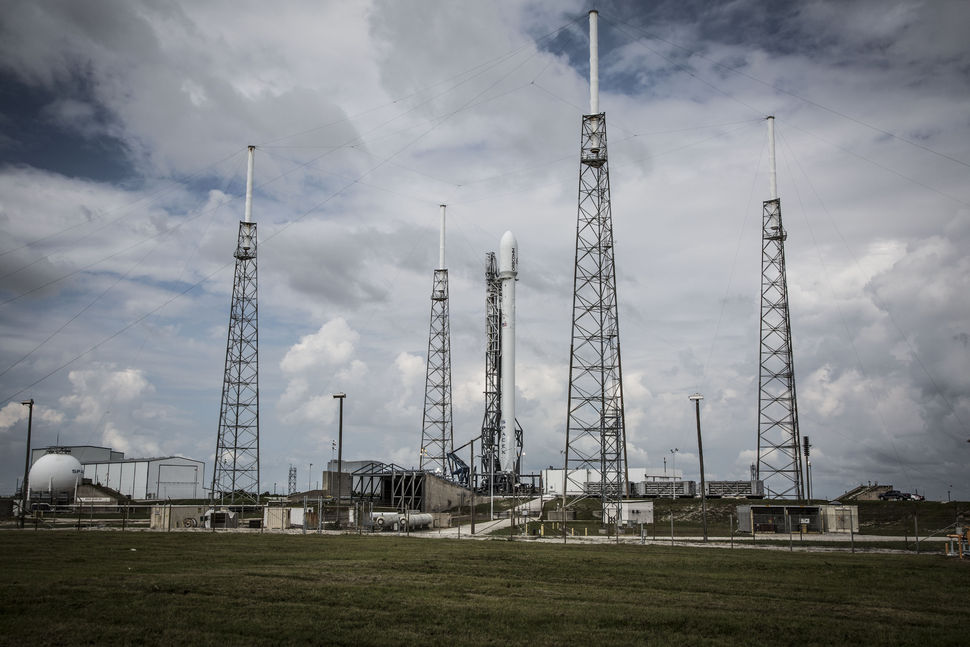 Going with a philosophy that favors incremental testing of an upgraded version of the Falcon 9 booster, SpaceX officials said Friday that eleven mini-satellites for Orbcomm's data relay business will fly on the company's first mission since a launch failure in June.
The announcement is a switch in earlier preliminary plans to put the SES 9 television broadcasting craft on the return-to-flight mission.
The launch from Cape Canaveral is scheduled in the next six to eight weeks, Orbcomm and SpaceX officials said.
The Falcon 9 launch failure June 28 put a hold on more than a half-dozen missions SpaceX had on its manifest in the second half of 2015. The company now hopes to launch two or three Falcon 9 flights by the end of the year, assuming final launch preparations go smoothly.
"As we prepare for return to flight, SpaceX together with its customers SES and Orbcomm have evaluated opportunities to optimize the readiness of the upcoming Falcon 9 return-to-flight mission," SpaceX said in a statement Friday. "All parties have mutually agreed that SpaceX will now fly the Orbcomm 2 mission on the return-to-flight Falcon 9 vehicle."
Orbcomm chief executive Marc Eisenberg said Friday the company's 11 second-generation data relay satellites would fly aboard the two-stage Falcon 9 booster originally tagged for the SES 9 launch.
"We're actually taking SES's rocket, and they're taking ours," Eisenberg said in an interview with Spaceflight Now. "All the testing that's been done gives them a few more weeks to test our rocket for SES, and we'll take their rocket with our fairing."
Officials say flying the Orbcomm mission first allows the upgraded Falcon 9 to fly a simpler mission first.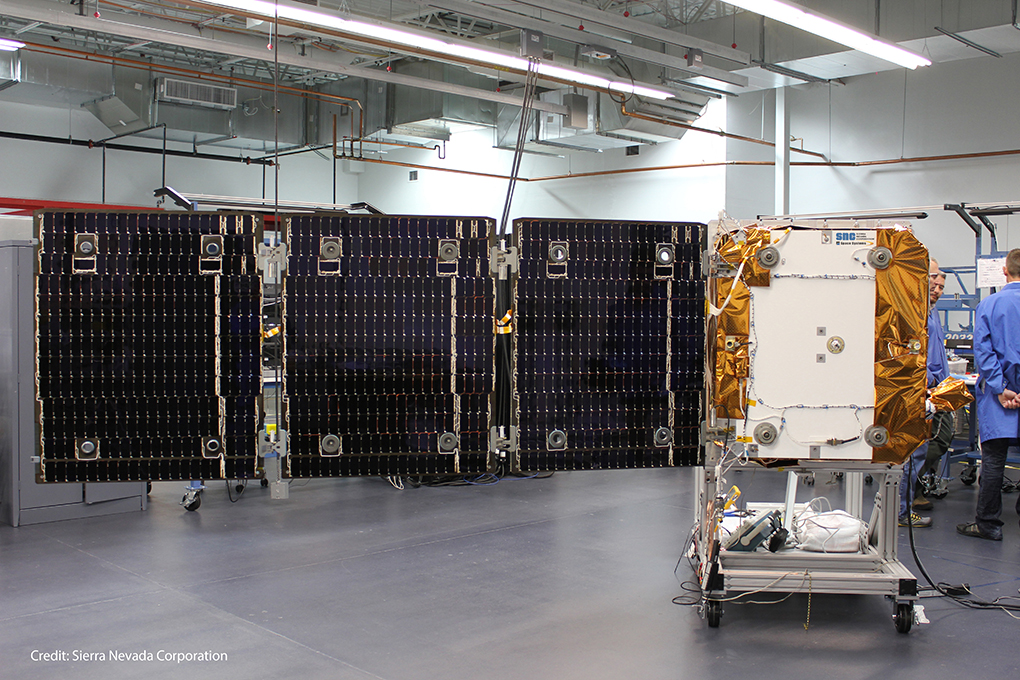 Orbcomm's 380-pound machine-to-machine data relay satellites, each about the size of a refrigerator, are going into orbit about 400 miles above Earth after launching from Cape Canaveral, while the SES 9 communications satellite will be deployed in an elliptical transfer orbit reaching more than 22,000 miles in altitude. Such a high-altitude perch requires two burns by the Falcon 9's second stage Merlin engine, while Orbcomm's mission just needs one.
"The Orbcomm 2 mission does not require a relight of the second stage engine following orbital insertion," SpaceX said in a statement. "Flying the Orbcomm 2 mission first will therefore allow SpaceX to conduct an on-orbit test of the second stage relight system after the Orbcomm 2 satellites have been safely deployed.
"This on-orbit test, combined with the current qualification program to be completed prior to launch, will further validate the second stage relight system and allow for optimization of the upcoming SES 9 mission and following missions to geosynchronous transfer orbit," the statement said.
Officials said the swap was proposed by SpaceX. Although the launch company never formally announced SES 9 as its return-to-flight payload, SES officials had acknowledged multiple times their satellites was assigned to fly next.
---
Spaceflight Now members can read a transcript of our full interview with Marc Eisenberg. Become a member today and support our coverage.
---
"I think SpaceX talked them into going second," Eisenberg said Friday. "That being said, we have our conversations with SpaceX, but it's not like you get all parties in a room. They are driving it from their direction, but I don't get the sense that this was driven by SES."
The Falcon 9 for the return-to-flight mission is currently undergoing qualification tests at SpaceX's test facility in McGregor, Texas. SpaceX has released a video of a short-duration hotfire of the nine-engine first stage conducted in late September in a new dug-out test stand at the Central Texas facility.
A full-duration test firing was expected to follow the initial hotfire, which lasted slightly more than 15 seconds.
SpaceX engineers concluded the most likely cause of the June 28 launch failure was a fractured bracket inside the Falcon 9's second stage liquid oxygen tank. The brace, holding a high-pressure helium tank, broke free about two minutes after liftoff with a Dragon supply ship heading for the International Space Station, leading to the rupture of the upper stage oxidizer tank and the disintegration of the rocket moments later.
SpaceX founder and CEO Elon Musk said the company's engineers will inspect and test such parts, which come from third-party suppliers, before approving them to fly on future launches.
The modified Falcon 9 design, which includes stretched upper stage fuel tanks, densified kerosene fuel and engines rated for higher thrust, was in the works well before the June launch mishap. It allows SpaceX to launch heavier cargo, such as large geostationary communications satellites, and still reserve enough propellant to attempt landings of the Falcon 9 booster stage on a barge offshore the launch site.
The previous Falcon 9 design did not carry sufficient margin to try for first stage recovery attempts on the rocket's heaviest missions with payloads destined for high-altitude orbits.
SpaceX hopes to demonstrate reusability on the Falcon 9 first stage, an achievement Musk says will drastically lower the costs of space launches. The company has not nailed a landing yet, but several of the vertical descents have come close.
The Orbcomm launch would mark SpaceX's first rocket landing attempt since April.
Orbcomm and SpaceX officials said the launch is on track for the next six to eight weeks.
According to Eisenberg, the 11 Orbcomm satellites are ready for shipment from their factory at Sierra Nevada Corp. in Colorado to the Cape Canaveral launch base. They will go on two trucks, beginning as soon as next week, he said.
The final satellite shipment should leave the factory by the end of October. Once at Cape Canaveral, the satellites will be fueled and mated with a multi-payload adapter ring before encapsulation inside the SpaceX nose fairing and attachment to the Falcon 9 rocket.
"I think the (launch) window opens up toward the end of November," Eisenberg said Friday. "If I were a betting man, I would say it would be week one of December with a fallback of week two. The spacecraft are ready, and they ship in like a week, so I think the delays are really focused on weather and focused on SpaceX getting their appropriate certifications, but I certainly think Orbcomm is ready to go, especially since we just launched in July of last year."
The spacecraft are part of Orbcomm's second-generation, or OG2, constellation of machine-to-machine communications satellites.
Orbcomm ordered 18 satellites from Sierra Nevada in 2008 and booked their launches with SpaceX. The capital investment in the new-generation fleet totals approximately $230 million, according to the New Jersey-based company.
Orbcomm put six of its new-generation, or OG2, satellites on a successful Falcon 9 rocket flight in July 2014. Another member of the 18-spacecraft order from satellite manufacturer Sierra Nevada was lost riding piggyback on a SpaceX cargo mission to the International Space Station in October 2012, when one of the Falcon 9's first stage engines failed just after liftoff.
The rocket recovered from the engine loss and powered into orbit without impact to the primary supply mission to the space station, but the Falcon 9 could not recover from the lost performance to put the Orbcomm satellite in its targeted orbit.
One of the six OG2 satellites launched in July 2014 failed earlier this year, but the other five are going strong, Eisenberg said.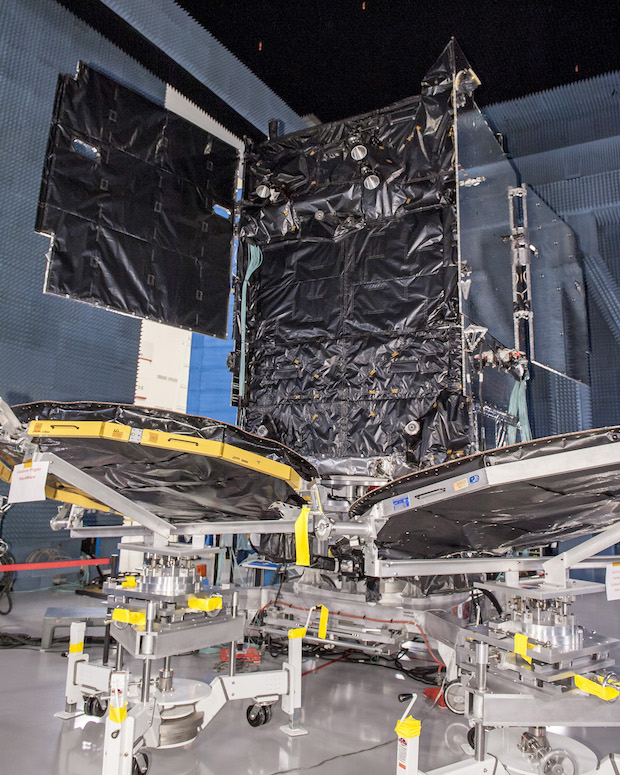 SpaceX said the launch of the SES 9 broadcasting satellite is scheduled for late December. The company is expected to open its 2016 manifest from Florida with its next Dragon cargo launch to the space station in January.
The final flight of the older-model Falcon 9 rocket from Vandenberg Air Force Base in California is also in SpaceX's launch queue. It will carry up the Jason 3 mission, a joint U.S.-French oceanography satellite managed by NASA, NOAA, the French space agency CNES, and Eumetsat, the European meteorological satellite organization.
A NASA spokesperson said Friday the Jason 3 launch is targeted for no earlier than December, pending final concurrence from SpaceX.
The launches for Orbcomm, SES and Jason 3 were scheduled for August and September before the June launch failure.
For Orbcomm, launching earlier is good for business. The delay had no hit on the company's revenues, Eisenberg said, but the grounding of the company's second-generation satellites, which offer faster relay times and more capacity, "certainly affects new business."
"Some of the customers that are looking to build around the new features, when you've only got those features eight hours a day, it is certainly advantageous to get more up there. In addition to that, our AIS (Automatic Identification System vessel tracking) customers are certainly looking forward to having 24 x 7 near real-time service," Eisenberg said.
Eisenberg said the decision to launch Orbcomm's mission "makes a lot of sense."
"I think it was kind of a good opportunity for all the parties to take the most basic mission first, and that would be our mission. Orbcomm can do our quick little 14-minute launch, and then at that point, once all the spacecraft are deployed, SpaceX can then do their tests and re-burn the second stage engine and test out of some of the functionality they'd like to test out before they get to some of the more complicated missions," he said. "I think SpaceX is putting an awful lot into this launch and gave us a whole lot of confidence, which led to us going next."
Email the author.
Follow Stephen Clark on Twitter: @StephenClark1.