A SpaceX Falcon 9 rocket fired into space from Florida's Atlantic coastline Monday with a clandestine payload for a U.S. government spy agency, then returned to Cape Canaveral for a pinpoint landing.
Climbing away from launch pad 39A at NASA's Kennedy Space Center with 1.7 million pounds of thrust at 7:15 a.m. EDT (1115 GMT), nine Merlin 1D engines gave the Falcon 9 rocket a thundering sendoff, darting through low clouds about a half-hour after sunrise along Florida's Space Coast.
Sound waves from the rocket's kerosene-fueled engines rattled windows at the spaceport's press site around three miles from the pad, and the Falcon 9 left behind a contrail of white exhaust twisted by upper level winds as it soared into the stratosphere and turned northeast from Cape Canaveral.
The nine Merlin main engines shut down around T+plus 2 minutes, 18 seconds, and the lower part of the rocket separated from the Falcon 9's second stage a few seconds later. A single Merlin powerplant on the upper stage ignited and throttled up to full thrust to guide the mission's secretive satellite passenger into orbit, and an aerodynamic fairing covering the payload jettisoned on time just shy of the flight's three-minute point.
SpaceX's live webcast of the launch ceased covering the second stage's trip into orbit at that time, and long-range tracking cameras followed the 14-story first stage booster's journey back to Earth.
The National Reconnaissance Office, which owns the payload launched Monday, requested the information blackout during the rest of the launch sequence in a bid to keep the satellite's final orbit and purpose secret.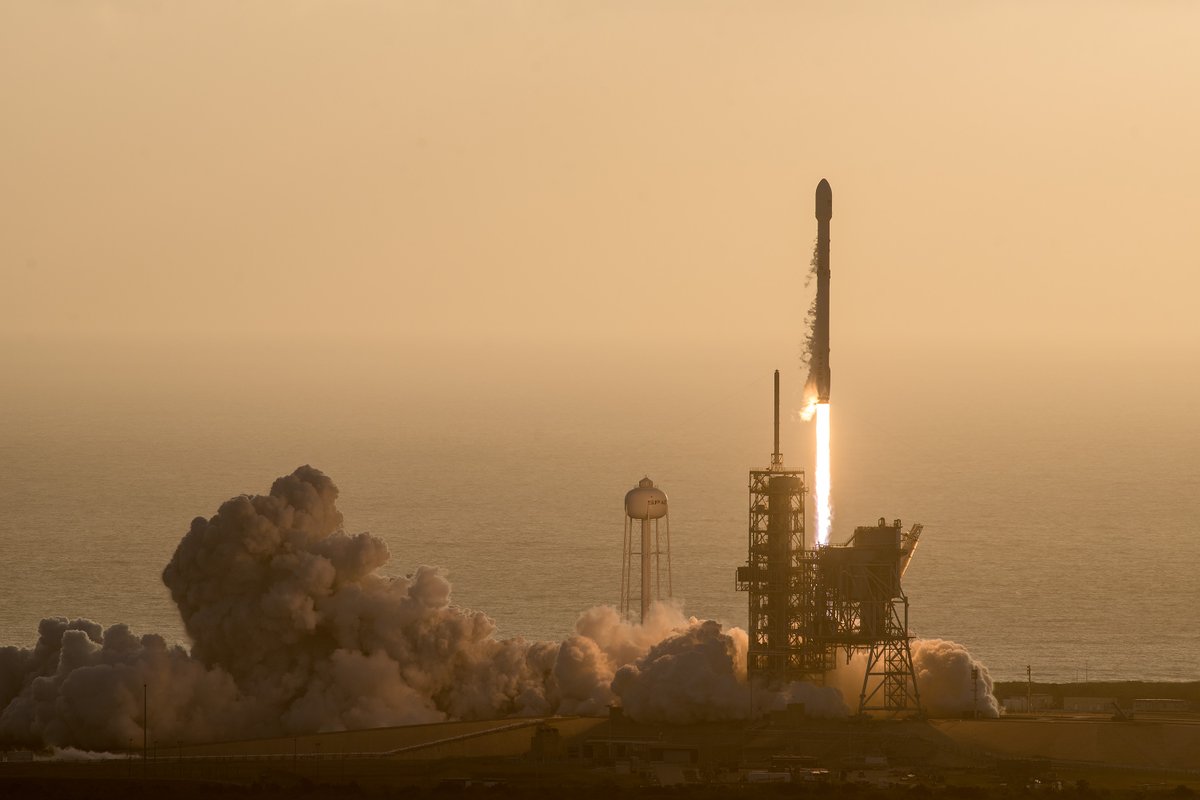 Spectacular video from ground-based trackers and a camera on-board the Falcon 9 booster showed the stage's cold gas nitrogen control thrusters regularly pulsing to flip the rocket into a tail-forward orientation. Telemetry data from SpaceX's webcast indicated the booster reached a peak altitude of more than 100 miles — about 166 kilometers — over the Atlantic Ocean before dropping back to the Earth.
Three of the Merlin engines at the base of the launcher ignited for "boost-back" and "entry" burns to slow the rocket's descent, and grid fins helped stabilize the first stage as it encountered a thicker air stream deeper in the atmosphere. The booster's center engine started up seconds before touchdown for a final braking maneuver, and four landing legs extended as the rocket approached Landing Zone 1 at Cape Canaveral Air Force Station.
The rocket landed around nine minutes after liftoff, settling on a concrete pad around 9 miles (15 kilometers) south of where the Falcon 9 took off. SpaceX intends to inspect the rocket, which was an all-new vehicle Monday, and ready it for another mission.
The commercial launch company's first mission dedicated to a U.S. national security payload was declared a success.
SpaceX chief executive Elon Musk confirmed a good launch and landing on Twitter around 20 minutes after liftoff, and the National Reconnaissance Office issued a statement later Monday morning.
"Thanks to the SpaceX team for the great ride, and for the terrific teamwork and commitment they demonstrated throughout," said Betty Sapp, director of the NRO. "They were an integral part of our government/industry team for this mission, and proved themselves to be a great partner."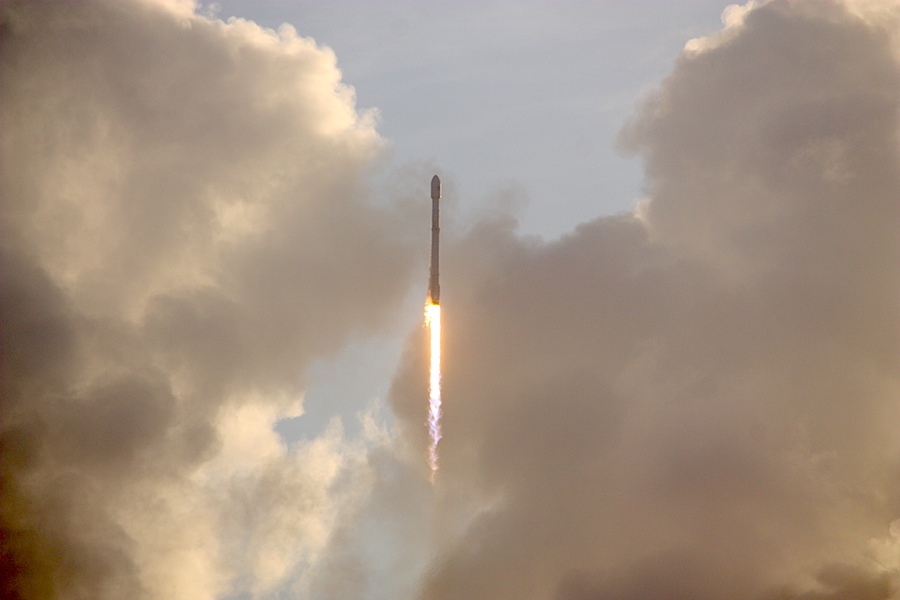 The launch was the 33rd flight of a Falcon 9 rocket, and the fifth SpaceX mission of 2017. Thirty-two of the Falcon 9's launches have been successful, a tally that does not include an on-pad explosion last year that destroyed a commercial communications satellite during pre-flight preparations.
With Monday's rocket-assisted landing, SpaceX has retrieved one of its first stage boosters intact 10 times in 15 tries. Landing attempts at Cape Canaveral, which are possible on missions with light payloads going to low orbits, have a four-for-four record.
The Falcon 9 rocket was supposed to take off Sunday, but the SpaceX launch team called off the launch less than a minute before liftoff, blaming a faulty sensor on the booster's first stage. SpaceX said technicians replaced the sensor in time for another countdown Monday.
The identity of the classified National Reconnaissance Office payload remains a secret, but the spy organization revealed some information about the mission Sunday.
An NRO spokesperson confirmed to Spaceflight Now on Sunday that the launch, codenamed NROL-76, was booked with SpaceX through a third party contractor. The NRO official said Ball Aerospace, a spacecraft manufacturer based in Boulder, Colorado, arranged the launch with SpaceX under the auspices of a "delivery in orbit" contract with the U.S. government spy agency.
In the satellite business, a delivery in orbit contract typically describes an arrangement where a spacecraft builder hands over control of a payload the the end user — in this case, the NRO — once the mission is declared ready for operations in orbit.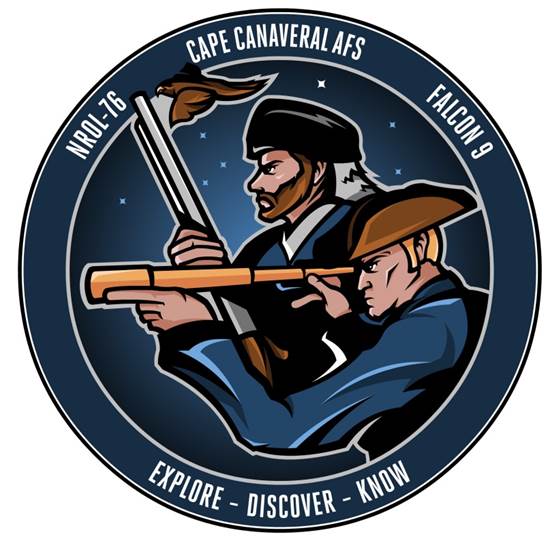 A copy of the Federal Aviation Administration's commercial launch license for Monday's flight obtained by Spaceflight Now suggested the mission aimed to put its payload into low Earth orbit, a regime several hundred miles above Earth. The exact parameters of the orbit were not disclosed, but hazard notices released to pilots and sailors ahead of the flight indicated the rocket was expected to travel northeast from Cape Canaveral, seemingly heading for a high-inclination orbit that will allow the spacecraft to pass over the bulk of the world's population as it flies around Earth.
Ted Molczan, an experienced observer of satellite movements, said the publicly available information points to the payload on Monday's launch being a small imaging satellite built by Ball Aerospace. In a post to an online forum, he wrote a radar-equipped spacecraft "would make sense" in the type of orbit targeted Monday.
Commercial and government-operated reconnaissance satellites with optical cameras typically fly closer to the poles in so-called sun-synchronous orbits. Radar imagers are not subject to the restrictions of optical cameras, capable of seeing through clouds and taking pictures day or night.
A network of amateur observers around the world was on standby to find the spacecraft after Monday's launch, an exercise that usually yields an accurate estimate of the satellite's altitude and ground track.  The U.S. military does not release orbital data on classified satellites owned by the United States and its allies.
Most NRO missions launch on ULA's Atlas 5 and Delta 4 rockets, and SpaceX will be eligible to win more NRO satellite deployment contracts later this year. The Air Force is managing head-to-head competitions between ULA and SpaceX for the rights to national security launches, and six upcoming flights with NRO payloads are to be competed in the next two years, along with seven Air Force missions.
SpaceX already won contracts to launch two GPS navigation satellites under the Air Force's new competitive launch procurement strategy.
Monday's launch clears the way for two more SpaceX launches later this month.
A Boeing-built commercial communications satellite owned by Inmarsat of London is set for liftoff no earlier than May 15 from pad 39A, and SpaceX's next Dragon resupply mission to the International Space Station is scheduled for launch as soon as May 31.
Three more NRO missions are set for launch later this year, all on ULA rockets.
The NROL-42 and NROL-52 missions are targeted to lift off on Atlas 5 rockets Aug. 14 and Aug. 31 from Vandenberg Air Force Base in California and from Cape Canaveral, respectively. A Delta 4 launcher is due to send the NROL-47 payload into orbit from Vandenberg on Dec. 20.
Email the author.
Follow Stephen Clark on Twitter: @StephenClark1.