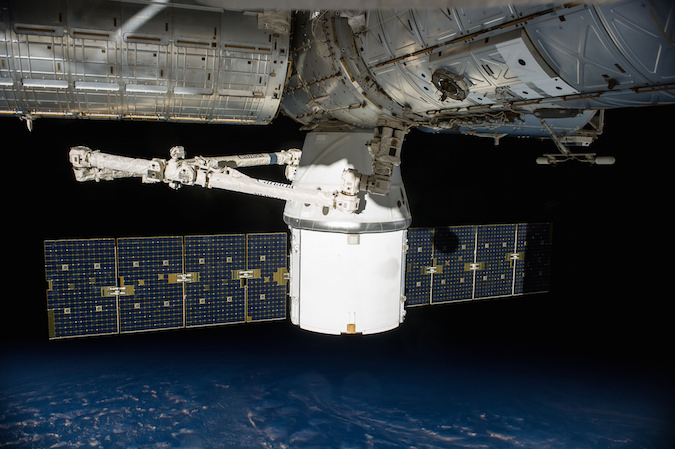 SpaceX will go for another first Thursday, this time flying a refurbished Dragon supply ship carrying nearly 6,000 pounds of cargo and experiments to the International Space Station nearly three years after its first mission.
The unpiloted spaceship, protected by a fresh heat shield, is mounted on top of a SpaceX Falcon 9 rocket for blastoff at 5:55:51 p.m. EDT (2155:51 GMT) Thursday from launch pad 39A at NASA's Kennedy Space Center in Florida.
The commercial cargo delivery mission will be SpaceX's 11th resupply launch aimed at the space station. The Dragon freighter crammed with gear and experiments for Thursday's launch is the same ship that spent 34 days in space in September and October 2014.
"Once this capsule landed, we refurbished it, inspected it, made sure everything is qualified for the next flight, and this is where we are now, ready to go on 39A," said Hans Koenigsmann, SpaceX's vice president of flight reliability.
The month-long, round-trip cargo mission due to begin Thursday will be the first time SpaceX has re-flown a Dragon spaceship on two orbital missions, but it is not the company's first experience with reusing hardware.
SpaceX successfully launched a Falcon 9 rocket March 30 with a previously-flown first stage booster, placing an SES communications satellite into orbit. Another Falcon 9 re-flight is scheduled June 15 with Bulgaria's first TV broadcasting spacecraft.
Engineers examined and stripped the spacecraft's structure after it splashed down in the Pacific Ocean on Oct. 25, 2014, following a visit to the space station, but the "majority" of the Dragon cargo capsule is the original article, according to Koenigsmann.
He said engineers compared the structural loads and shaking components inside the Dragon capsule experienced on its 2014 flight with their design limits.
"That tells us how much life the component has, and we make sure that the component has enough life for the next round," Koenigsmann said. "There is a statistical variation, so you have to make a worst-case assumption, basically, to be on the safe side."
SpaceX goes through a similar review of parts on Falcon 9 boosters before clearing them for a re-flight, he said.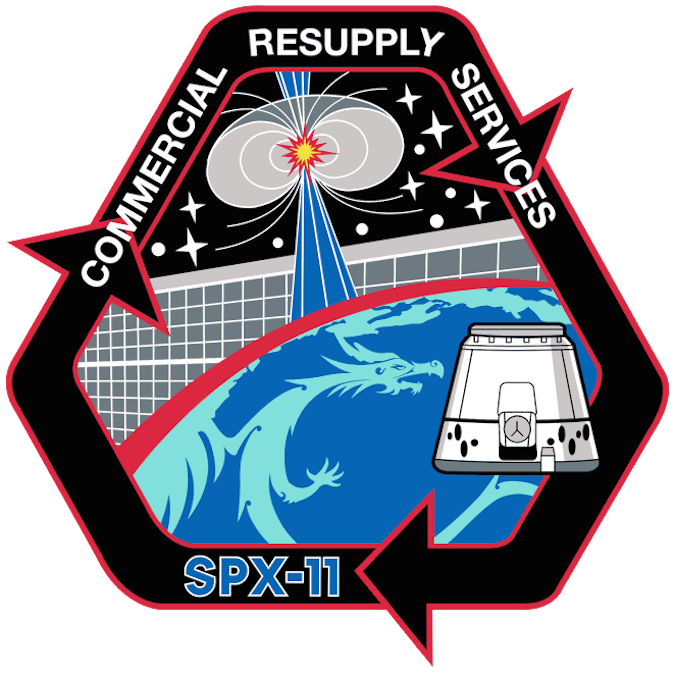 Kirk Shireman, NASA's program manager for the International Space Station, said Wednesday that the space agency expects to approve SpaceX plans to re-fly more Dragon capsules and Falcon 9 boosters on future cargo missions to the orbiting research outpost.
SpaceX has two multibillion-dollar contracts with NASA to ferry equipment to and from the space station. The terms of the deal call for at least 26 missions, and 10 of those are in the books, including a failed cargo launch in 2015.
NASA has also contracted with SpaceX to develop a Crew Dragon vehicle capable to ferrying astronauts to and from the space station beginning as soon as next year.
Officials said SpaceX's next cargo mission to the station, scheduled for launch some time in August, will employ a newly-manufactured Dragon capsule.
"We share the results with NASA, and review them together, and we conclude that we can either fly a component, or in some cases, we have to make a swap with a new component," Koenigsmann said, adding that such occurrences were "very few."
According to Koenigsmann, SpaceX technicians replaced several items that were exposed to salt water after splashdown, such as batteries and the capsule's heat shield. But the hull, thrusters, harnessing, propellant tanks, and some avionics boxes are original, he said.
"I can tell you the majority of this Dragon has been in space before," Koenigsmann said.
Officials did not say if NASA was compensated for its approval of SpaceX's plans to launch a refurbished Dragon capsule to approach the space station.
Without specifying details, Shireman said the agreement is part of a normal back-and-forth between the government and the commercial operator, in which one party barters with the other.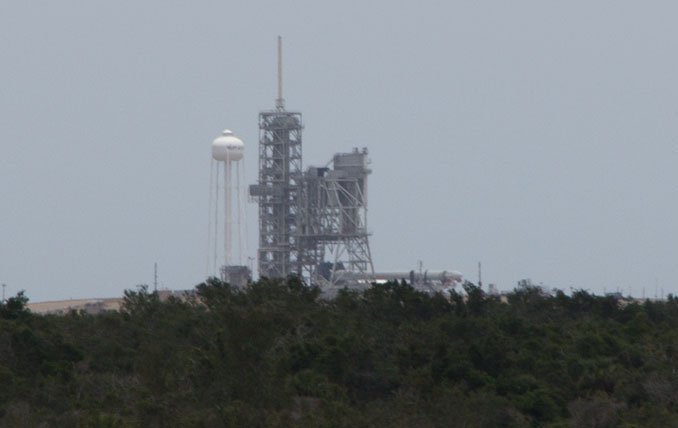 "In general, when we do things like this we make trades," Shireman said. "Supporting the Dragon re-flight is a really important step. SpaceX did a very thorough job, in terms of certification of the Dragon and refurbishing it, and NASA did a very thorough job of understanding that certification and making sure it was safe to fly.
"And the risk was actually not substantially more than a brand new Dragon capsule, so we're very happy with this capsule flying again," Shireman said.
NASA and SpaceX spent more than a year verifying the previously-flown Dragon was ready for another trip into space, a move that was overshadowed by SpaceX's experiments with landing and eventually reusing the Falcon 9 first stage.
"The Dragon is very well-instrumented," Shireman said. "The only big thing (with) reuse is that it lands in salt water, so what does that do? SpaceX actually inspected every part that saw salt water to see if it had any corrosion. If it had any corrosion, they replaced it. The Dragon we're flying again, I have no concerns with it."
NASA is responsible for ensuring any spacecraft that approaches the space station can safely do so.
Shireman saw two Dragon partially-assembled capsules at SpaceX's Hawthorne, California, headquarters last year — one was a new spacecraft and the other was the freighter launching for the second time Thursday.
"I can tell you, for sure, without them saying this is a reused Dragon, and this is a brand new Dragon, I would not have known," Shireman said.
Shireman said NASA's next move could be to launch cargo on a re-flown Falcon 9 rocket.
"SpaceX is certifying the Falcon for multiple flights," Shireman said. "We want to take our time and review all those certification results … I can't tell you exactly when we will see a re-flight (with a NASA resupply mission), but we are working with SpaceX on the potential of reusing the Falcon 9 for a cargo flight."
So far, SES and Space Systems/Loral, which is handling launch arrangements for the Bulgarian satellite next in SpaceX's launch queue, have agreed to place payloads on reused Falcon 9 boosters.
SpaceX also plans to launch its first Falcon Heavy rocket, comprised of three Falcon 9 first stage cores firing together, later this year with two side boosters that flew on previous Falcon 9 missions. That will be a test flight managed by SpaceX.
Echoing statements from SpaceX and some commercial satellite operators, Shireman said "the economic benefit could be huge" from recycling rocket and spacecraft for multiple missions.
But it will take some time before SpaceX can fully pass on the savings to customers, Koenigsmann said.
"We did invest in the technology and we invested a lot of money on our side to perform tests," Koenigsmann said. "You recall, the first (landing) missions were pretty dramatic and spectacular, but obviously unsuccessful, before we turned it around. Of course, these things cost money and damage needs to be repaired. We invested a significant amount of money that we need to recover over the next couple of missions, before, in my opinion, we can reach out and make that assessment and actually pass this (savings) on."
SpaceX founder and CEO Elon Musk said in March that the company has spent about $1 billion mastering the recovery and reusability technology on the Falcon 9.
"This is a long-term goal," Koenigsmann said Wednesday. "This is not something that works the second time or the third time. I think this is something that you need to look a couple of years in advance — maybe the 10th flight, maybe the 20th flight, that's when you could finally see some money saved."
Gwynne Shotwell, SpaceX's president and chief operating officer, said in April that the company spent less than half the cost of a new first stage refurbishing and readying its first re-flown rocket for its second launch. But industry officials said SES, the customer for that flight, received a lesser discount.
Thursday's launch will be the seventh SpaceX rocket flight this year, after returning to service in the wake of a Falcon 9 explosion on a launch pad at Cape Canaveral last September.
The weather outlook is favorable, with a 70 percent chance of acceptable conditions. But the U.S. Air Force weather team will monitor storm clouds over Central Florida forecast during Thursday's countdown to ensure they do not encroach too close to the launch pad.
It will take less than 10 minutes for the two-stage Falcon 9 to send the Dragon supply freighter into orbit, and the rocket's first stage will attempt to make the fifth return to Landing Zone 1, SpaceX's booster recovery site at Cape Canaveral Air Force Station a few miles south of pad 39A.
If SpaceX launches Thursday, the Dragon cargo craft will reach the space station Sunday. Astronauts Jack Fischer and Peggy Whitson will use the research lab's Canadian-built robotic arm to grapple the spaceship around 10 a.m. EDT (1400 GMT) Sunday.
The robot arm will place the Dragon spacecraft on a berthing port on the station's Harmony module, where it is schedule to stay until July 2.
The mission will deliver nearly 6,000 pounds (about 2,700 kilograms) of equipment, provisions, food and experiments to the space station. Around 2,209 pounds (1,002 kilograms) of that cargo in the disposable spacecraft trunk, where three payloads will ride unpressurized on the three-day journey to the outpost.
Astronauts inside the station will unpack Dragon's internal cabin, while robotic arms outside the complex will extract the three payloads from the trunk after the ship arrives at the complex.
The experiment packages to be bolted on platforms outside the station include NICER, an astrophysics investigation that NASA says "will measure neutron stars and test, for the first time in space, technology that uses pulsars as navigation beacons."
Another payload is the Roll-Out Solar Array developed by Deployable Space Systems of Santa Barbara, California, with support from the U.S. Air Force. The experimental array is a new type of power-generating solar panel that unrolls like a party favor, making it more compact than rigid designs currently flying on satellites.
A commercially-built Earth-viewing camera system from Teledyne Brown that will host multiple digital imagers and hyperspectral sensors will also be launched on the Dragon for attachment to a post outside the space station.
Supplies loaded inside the Dragon's pressurized compartment, the piece which previously flew in space, include a habitat with 40 mice that will be treated with an experimental therapeutic drug conceived to foster bone growth.
Humans and animals that spend long periods of time in microgravity can lose bone mass, similar to wasting bones in an osteoporosis patient.
"Men and women past the age of 50, on the average, lose about a half-percent of bone mass per year," said Chia Soo, the experiment's principal investigator from the UCLA School of Medicine. "But in microgravity conditions, the astronaut, on average, lose anywhere from 1 to 2 percent of bone mass per month."
Astronauts will apply the experimental "NELL-1" therapy to the mice once they arrive at the space station. Half of the mice will return to Earth alive aboard the Dragon spacecraft for examinations by scientists, and other half will remain on the station a few weeks longer.
Scientists and astronauts will eventually euthanize all the mice to study their tissues following their multi-week exposure to microgravity, and the NELL-1 therapy.
"We are hoping this study will give us some insights on how NELL-1 can work under these extreme conditions, and if it can work for treating microgravity-related bone loss, which is a very accelerated, severe form of bone loss, then perhaps it can (be used) for patients one day on Earth who have bone loss due to trauma or due to aging or disease," Soo said.
Thousands of fruit flies are also stowed inside Dragon for Thursday's launch.
"Scientists will be looking at how the heart, the cardiac function, the cardiac structure and the cardiac gene expression of these flies adapt to spaceflight, and that will be an analog for how the human heart operates in a spaceflight environment," said Camille Alleyne, associate space station program scientist at NASA's Johnson Space Center in Houston.
The Dragon spacecraft will come back to Earth on July 2, targeting a splashdown in the Pacific Ocean southwest of Los Angeles.
It will be the first time a Dragon spacecraft returns to Earth with live animals on-board.
The SpaceX cargo launch is scheduled less than a day before two station crew members — Russian cosmonaut Oleg Novitskiy and European Space Agency flight engineer Thomas Pesquet — are scheduled to land in Kazakhstan inside a Soyuz crew capsule.
Their departure Friday will leave Whitson, Fischer and cosmonaut Fyodor Yurchikhin on the research outpost until the launch of three more crew members in late July.
Whitson was originally supposed to return home with Novitskiy and Pesquet, but she agreed to stay in space until early September to keep two U.S. astronauts at the station during a prolonged period of partial-staffing at the research facility over the next two months.
Email the author.
Follow Stephen Clark on Twitter: @StephenClark1.