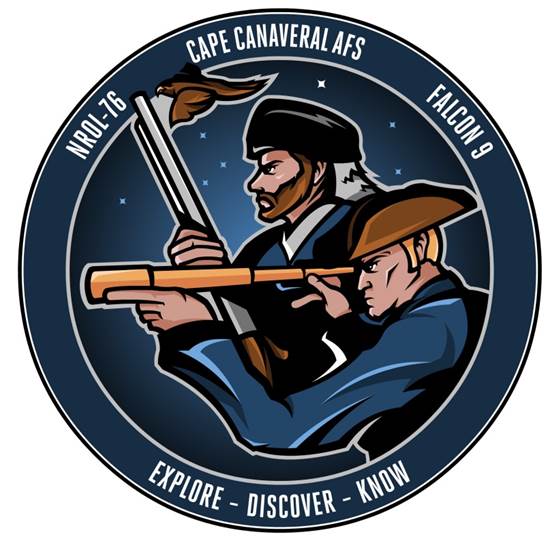 An official weather outlook issued by U.S. Air Force meteorologists Thursday calls for partly cloudy skies on Florida's Space Coast for liftoff of a SpaceX Falcon 9 rocket just after sunrise Sunday with a clandestine payload for the U.S. government's intelligence agencies.
Forecasters predict the only concerns at launch time Sunday will be liftoff winds and cumulus clouds associated with isolated rain showers around launch pad 39A at NASA's Kennedy Space Center. There is an 80 percent chance of acceptable conditions.
The launch period opens at 7 a.m. EDT (1100 GMT) and extends for two hours. SpaceX and the National Reconnaissance Office, which owns the top secret payload launching on the Falcon 9 rocket, have not announced when the launch will occur during the two-hour window.
The Air Force's 45th Weather Squadron said Thursday that partly cloudy skies, isolated rain showers and gusty winds are expected Sunday morning. The temperature at launch time should be around 74 degrees Fahrenheit, and winds will be from the southeast at 20 to 25 mph.
Sunday's launch will be the 33rd flight of a Falcon 9 rocket, and SpaceX's fifth launch of the year. It will be SpaceX's first flight since launching a previously-used Falcon 9 booster with an SES commercial communications satellite March 30.
But this weekend's mission, designated NROL-76, will fly on an all-new launcher. U.S. government customers, including the NRO, the Air Force and NASA, are still certifying reused rockets to haul up their expensive spacecraft.
The NRO has not disclosed the identity or purpose of the payload launching Sunday. The spy agency is part of the U.S. government's intelligence community and rarely reveals information about its missions, which typically fly on top of United Launch Alliance Atlas 5 and Delta 4 rockets.
The orbital deployment will be SpaceX's first launch dedicated to the NRO. Two NRO-sponsored CubeSats launched piggyback on a Falcon 9 rocket with the first test flight of SpaceX's Dragon cargo craft in December 2010.
The surveillance agency tapped SpaceX for the NROL-76 mission some time in 2012 or 2013 before the company's Falcon 9 rocket was eligible to compete for national security launch contracts. The launch deal was reportedly a sole-source contract awarded to SpaceX without a competition.
Hazard notices released in the last few days indicate the rocket will head northeast from Cape Canaveral bound for a high-inclination orbit that flies over most of the planet's population. The Falcon 9's second stage will conduct a de-orbit burn after deploying its top secret passenger, aiming for a destructive re-entry over the South Indian Ocean southeast of Madagascar, according to warnings issued to pilots.
Despite the hints, the exact orbit targeted on Sunday's mission remains secret.
Analysts suspect the mission may carry a communications relay craft into a high-altitude egg-shaped Molniya orbit that stretches as high as 25,000 miles (40,000 kilometers) above Earth. Part of the NRO's so-called Satellite Data System fleet flies in Molniya orbits, which can loiter for several hours a day over the North and South Pole, to pass imagery and reconnaissance data from low-altitude spacecraft to ground stations, routing the information to intelligence officials faster than if the network relied solely on ground-based antennas.
The last NRO relay satellite launched into a Molniya orbit took off in 2007.
Ted Molczan, a respected tracker of satellite movements, believes the payload aboard Sunday's launch is either a relay station heading for a Molniya-type orbit or another kind of satellite — perhaps an experimental mission — going into a lower orbit with an altitude of several hundred miles.
One clue about the payload is SpaceX's plan to recover the Falcon 9 first stage at Cape Canaveral, a maneuver that requires significant leftover fuel and is only possible on missions with lightweight satellites or launches into relatively low orbits.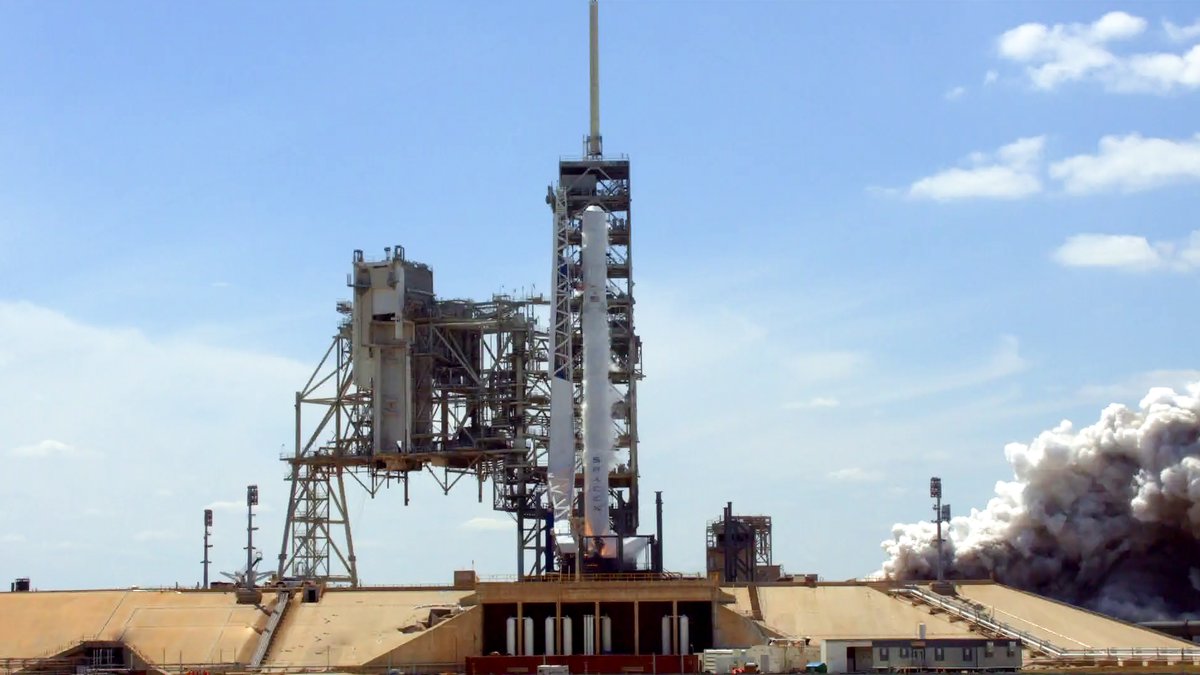 Heavier payloads going into higher orbits restrict SpaceX to attempting rocket landings on a barge positioned in the ocean downrange from the launch site, and the most demanding satellite missions require all of the propellant reserve on the current version of SpaceX's Falcon 9 rocket, eliminating any possibility of a landing.
Some satellite-watchers see a parallel with an experimental NRO satellite that launched in December 2006 into a 225-mile-high orbit atop a Delta 2 rocket from Vandenberg Air Force Base in California. That demonstration craft failed soon after arriving in its high-inclination orbit, which took it between 58.5 degrees north and south latitude during each trip around Earth.
The U.S. military launched a missile in February 2008 to intercept the stricken satellite before it could re-enter the atmosphere, citing an imperative to destroy the spacecraft before it could fall uncontrolled back to Earth with a full tank of frozen toxic fuel on-board.
Molczan believes the NROL-76 payload could be a follow-on experimental mission similar to the failed satellite launched in 2006, but he thinks the Molniya orbit destination is a more likely explanation from the little information publicly available.
While it is easy to rule out the payload launching Sunday as a geostationary eavesdropping satellite or a polar-orbiting spy camera, there is no way to tell whether the spacecraft is going to a high or low orbit, according to Jonathan McDowell, an astronomer at the Harvard-Smithsonian Center for Astrophysics who monitors global spaceflight activity.
There is also a possibility that the rocket will carry a new type of NRO mission, and a global group of skywatchers will attempt to locate the satellite soon after Sunday's liftoff in hopes of narrowing down its identity.
Betty Sapp, director of the NRO, said April 4 that the agency is developing new capabilities to enhance the spy satellite fleet. One aspect of that drive is "adapting and adopting commercially available products and capabilities into our mission set," she said in a speech at the 33rd Space Symposium in Colorado Springs.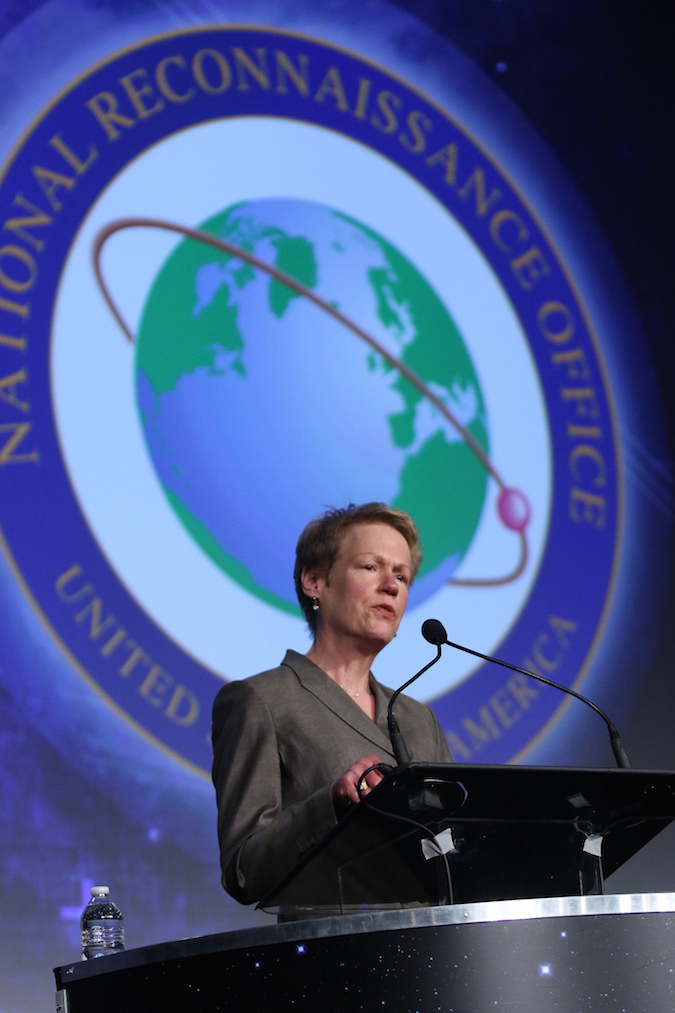 "We are still the nation's eyes and ears in space, and doing that job today is much more difficult that it was even back in the Cold War, despite the march in technology," Sapp said. "We support a much more diverse mission set. We're still keeping an eye on weapons of mass destruction and major weapons developments, but those aren't confined anymore to just one country.
"We're still supporting U.S. policymakers, but we're also supporting — very directly — U.S. warfighters, and we're helping to protect U.S. borders, and of course, we're very much in the fight against ISIS," Sapp said.
Molczan believes the satellite launching Sunday might be linked to a U.S. government order of three Boeing-built satellites with all-electric propulsion in early 2013. None of the satellites from the purchase, disclosed in March 2014, are believed to have launched to date.
Four commercial all-electric satellites based on the Boeing 702SP design have launched in pairs on two SpaceX Falcon 9 rockets, heading to geostationary orbit on telecom missions for Eutelsat and Asia Broadcast Satellite. Another commercial all-electric Boeing 702SP spacecraft for the commercial operator SES is set for a solo launch in May on a Russian Soyuz rocket from French Guiana.
The Boeing 702SP bus relies on more efficient electric thrusters for all maneuvers after launch, instead of carrying a larger tank of conventional chemical rocket propellant. The switch reduces the weight of the satellite at launch, allowing it to fly on a smaller, less expensive booster without sacrificing the spacecraft's capabilities.
"I am warming to the Molniya SDS (Satellite Data System) idea, mainly because Falcon 9 … appears to have sufficient performance to directly inject a single (Boeing) 702SP spacecraft into nearly the final Molniya orbit, leaving the payload with a nearly complete fuel supply at the outset of its mission, available to compensate for the large perturbations experienced by Molniya orbits," Molczan wrote in an online forum for amateur satellite trackers.
The only way to know for sure is for trackers to find the satellite and plot its orbit following Sunday's launch.
Email the author.
Follow Stephen Clark on Twitter: @StephenClark1.