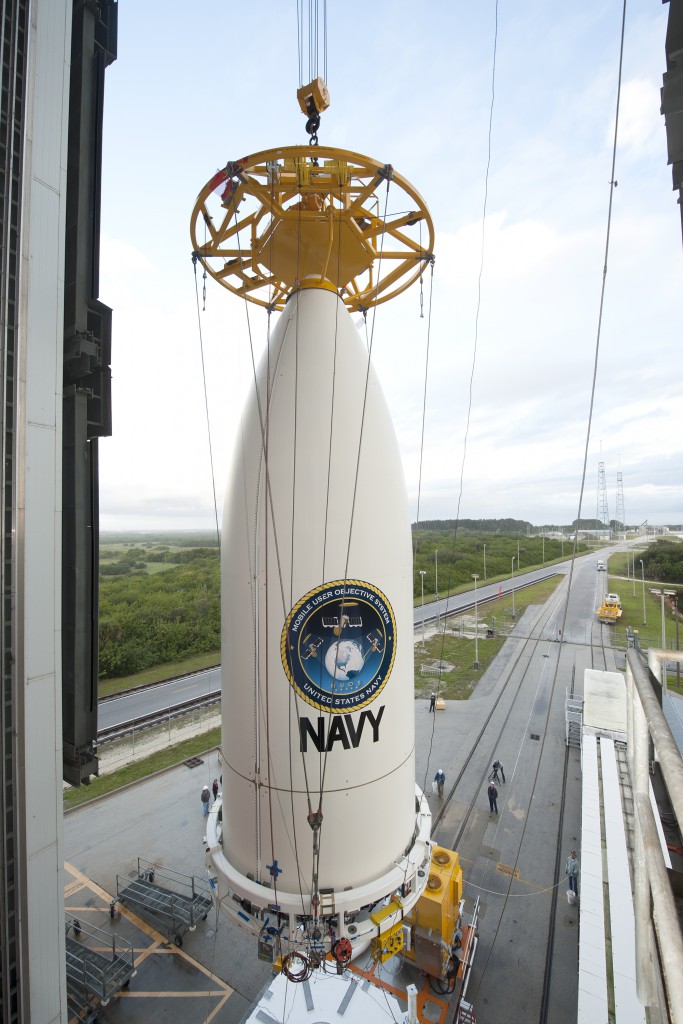 CAPE CANAVERAL — Hoisting a 15,000-pound satellite atop an Atlas 5 rocket today, United Launch Alliance finished assembling its next space-bound booster for liftoff Aug. 31 in support of the U.S. Navy.
The launch will deliver into orbit the Mobile User Objective System communications satellite No. 4 to expand the Navy's new smartphone network to full global coverage.
It joins three earlier MUOS satellites launched from Cape Canaveral that currently reside in geosynchronous orbit to cover the Pacific, continental United States and Atlantic regions, respectively. MUOS No. 4 will be parked above the Indian Ocean.
MUOS is a next-generation space communications system that utilizes commercial 3G cell phone technology to provide voice, data and video services to military troops on the move.
Each MUOS satellite, built by Lockheed Martin, is like a cell tower in the sky to serve ships, submarines, aircraft, land vehicles and terminals in the hands of troops. The design enables increases in the number of users and amount of communications that can be routed to military forces in contrast to current satellites.
The MOUS 4 spacecraft is tucked inside an 18-foot-diameter nose cone for the ascent through the atmosphere. The shrouded satellite was hauled overnight from nearby Titusville to the Atlas assembly building at Complex 41 for the lift and mate process to top off the rocket at 206 feet tall.
It will be a three-hour launch to the satellite's preliminary orbit, a highly elliptical dropoff point that requires three firings by the Centaur upper stage to achieve.
From there, controllers will spend about eight days maneuvering the craft into a circular geosynchronous orbit 22,300 miles above the planet, then three days commanding the craft to spread its power-generating wings and unfurl two giant antennas on the ends of extension booms.
Liftoff on Aug. 31 is scheduled some time during a morning period of 4:07 to 8:07 a.m. EDT. The exact liftoff time has not yet been announced.
See earlier MUOS 4 coverage.
Our Atlas archive.