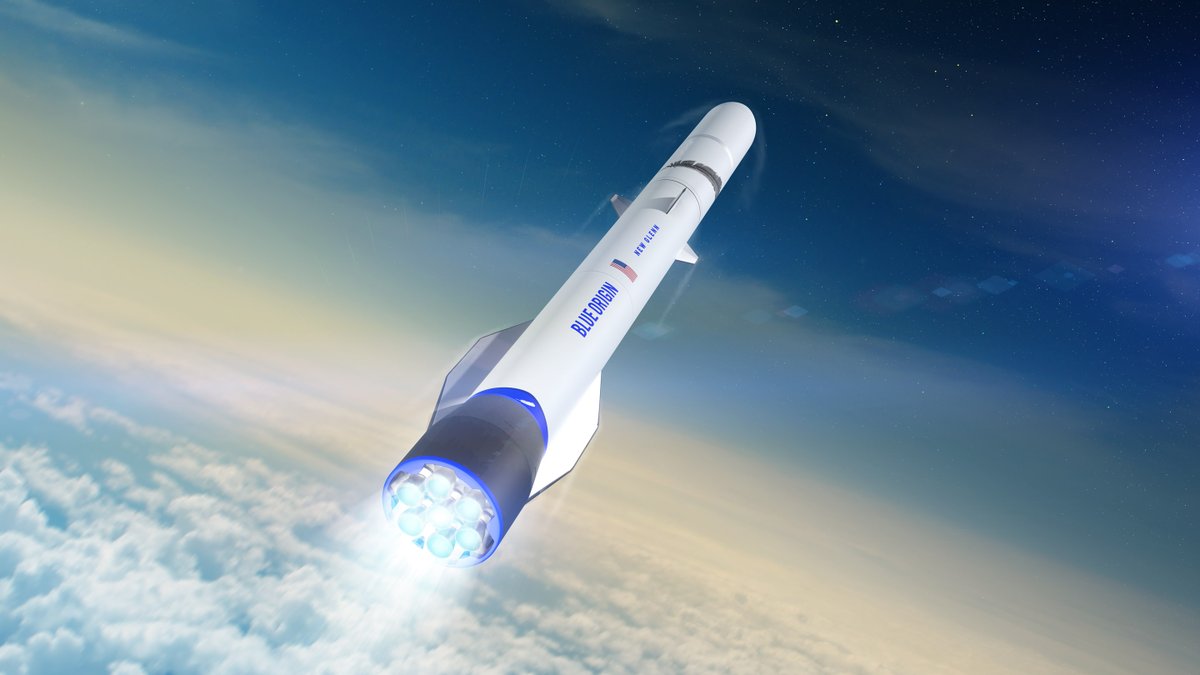 The U.S. Air Force has committed $327 million in funding to advance development of new rockets designed by United Launch Alliance, Blue Origin and Northrop Grumman, leaving out SpaceX in a government investment round that will lead to the military's selection of two long-term launch providers in late 2019 or 2020.
Each company is guaranteed $109 million, but the Air Force has agreements to continue funding United Launch Alliance, Blue Origin and Northrop Grumman rocket developments in a public-private cost-sharing arrangement. The Air Force plans to choose two launch providers as soon as late next year to compete for military launch contracts in the 2020s.
While SpaceX did not receive funding in the Air Force's launch service prototype development program announced Oct. 10, the Pentagon plans an open competition in the next round of launch service agreements, and SpaceX will be eligible to bid and win contracts.
It was not clear whether SpaceX bid to the Air Force its next-generation rocket, the huge BFR booster conceived to carry humans into deep space.
United Launch Alliance's new Vulcan rocket, planned for a maiden flight in mid-2020, was one winner in the Air Force's funding announcement. Powered by two methane-fueled BE-4 main engines built by Blue Origin, RL10 upper stage engines from Aerojet Rocketdyne, and strap-on solid rocket boosters, the Vulcan will lift off from existing launch facilities currently used by the Atlas 5 rocket at Cape Canaveral Air Force Station, Florida, and Vandenberg Air Force Base, California.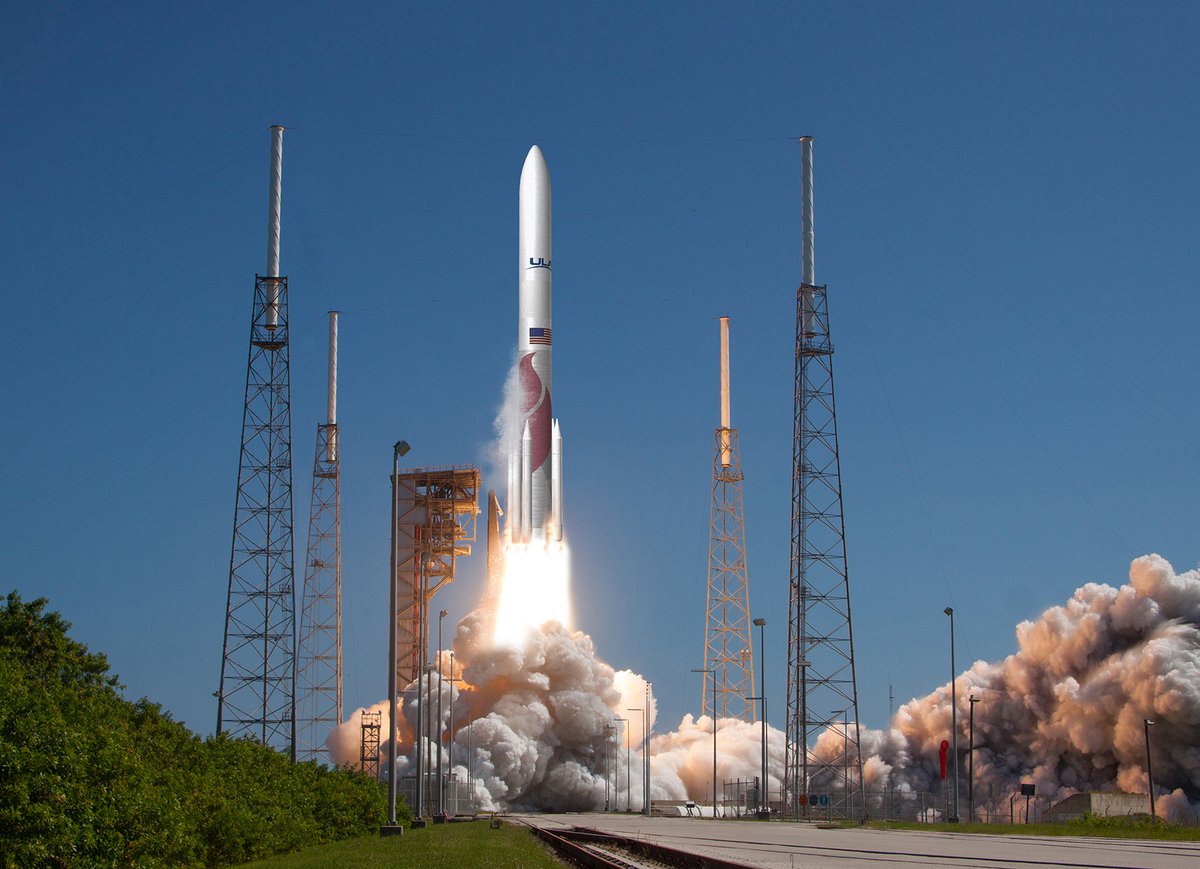 ULA, a joint venture between Boeing and Lockheed Martin, could receive up to $967 million in development funding through 2024 in its agreement with the Air Force, the military's financial support continues in the next round.
The Air Force's award to Northrop Grumman Innovation Systems could total up more than $791 million through 2024 to support design, fabrication and testing of the OmegA rocket system.
Two solid-fueled rocket motors will power the first and second stages of the OmegA launcher, and a liquid-fueled RL10 engine from Aerojet Rocketdyne will fly on the third stage. Up to six strap-on solid rocket boosters could be added to the OmegA rocket to lift heavier payloads into space.
The OmegA rocket concept was conceived by Orbital ATK, which Northrop Grumman acquired earlier this year. The OmegA rocket's development has advanced over the past three years with a more than $300 million joint investment with the Air Force, according to Northrop Grumman.
"We are pleased to receive this follow-on award from the Air Force," said Scott Lehr, president, flight systems, Northrop Grumman. "Our new OmegA rocket leverages technologies, capabilities and flight experience gained from decades of successful rocket launches, making it an affordable and reliable choice for national security missions."
The OmegA rocket could launch for the first time in 2021 in an intermediate version, and a heavier-lift configuration with a longer first stage motor could be ready for an inaugural launch in 2024, officials said.
Northrop Grumman plans to launch the OmegA rocket from launch pad 39B at NASA's Kennedy Space Center in Florida, and a launch site at Vandenberg is also being studied.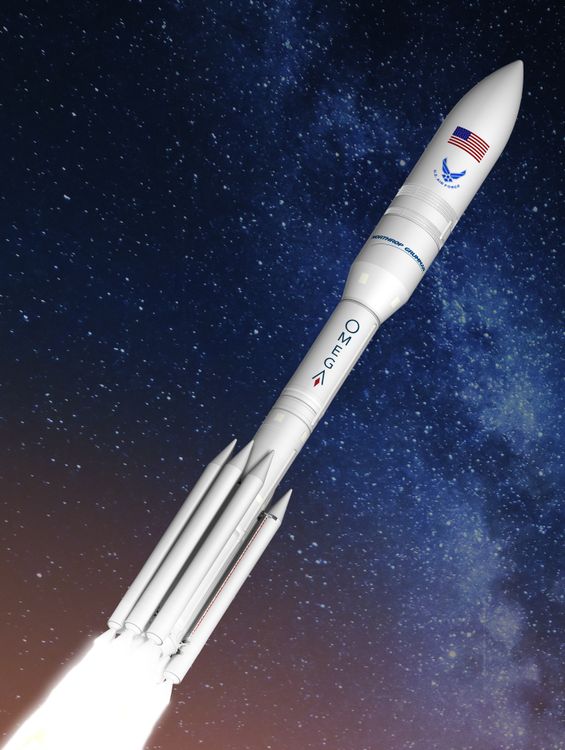 Blue Origin, the space company founded by billionaire Jeff Bezos, stands to get up to $500 million in Air Force funding through 2024 to support development of the New Glenn rocket, which is now scheduled to debut in 2021, a year later than previously planned.
The New Glenn rocket's basic, two-stage variant will stand around 270 feet (82 meters) tall, with seven BE-4 engines — the same powerplant to be flown on ULA's Vulcan rocket — on its first stage, and two hydrogen-fueled BE-3 engines on its second stage. An optional third stage, powered by a BE-3 engine, is available for missions that need the extra burst of speed.
Blue Origin said it will use the Air Force funding to support the "rapid buildout" New Glenn infrastructure such as a vertical payload integration capability and a launch site at Vandenberg Air Force Base, a spaceport used for launches into polar orbit. The company is already building a launch site at Cape Canaveral's Complex 36 pad, formerly used by Atlas rockets.
"Blue Origin is honored to enter into a Launch Services Agreement (LSA) partnership with the Air Force to leverage our commercial, heavy-lift New Glenn launch vehicle for national security space (NSS) missions," the company said in a statement. "New Glenn is a single-configuration, operationally reusable launch vehicle powered by seven BE-4 liquefied natural gas rocket engines and offers significant performance margin for all NSS missions."
Around $2.5 billion has been invested in the New Glenn rocket to date, according to Blue Origin, money that has been applied to engine development and the construction of a rocket factory just outside the gates of NASA's Kennedy Space Center in Florida, among other work.
The Air Force wants two reliable launchers available to carry the military's most critical reconnaissance, communications, navigation and early warning satellites into orbit — and both should be powered by U.S.-made engines.
The military is also interested in reducing launch costs, with SpaceX and Blue Origin focusing on reusing first stage boosters, and ULA planning to eventually recover and reuse first stage engines. Northrop Grumman says its solid-fueled rocket concept will also be competitive on price.
Four rockets are currently certified to launch U.S. military national security payloads. ULA is set to retire the basic, medium-lift variant of one of the rockets, the Delta 4, next year because it is too expensive. United Launch Alliance's Atlas 5 rocket is powered by a Russian-main first stage engine, and will be replaced by the company's new Vulcan launcher.
SpaceX's Falcon 9 and Falcon Heavy rockets are also certified by the Air Force for national security space missions. But neither launcher requires any more significant development funding. The Falcon 9 is fully operational, with more than 60 missions accomplished since 2010, and the Falcon Heavy launched on its first test flight in February.
Email the author.
Follow Stephen Clark on Twitter: @StephenClark1.