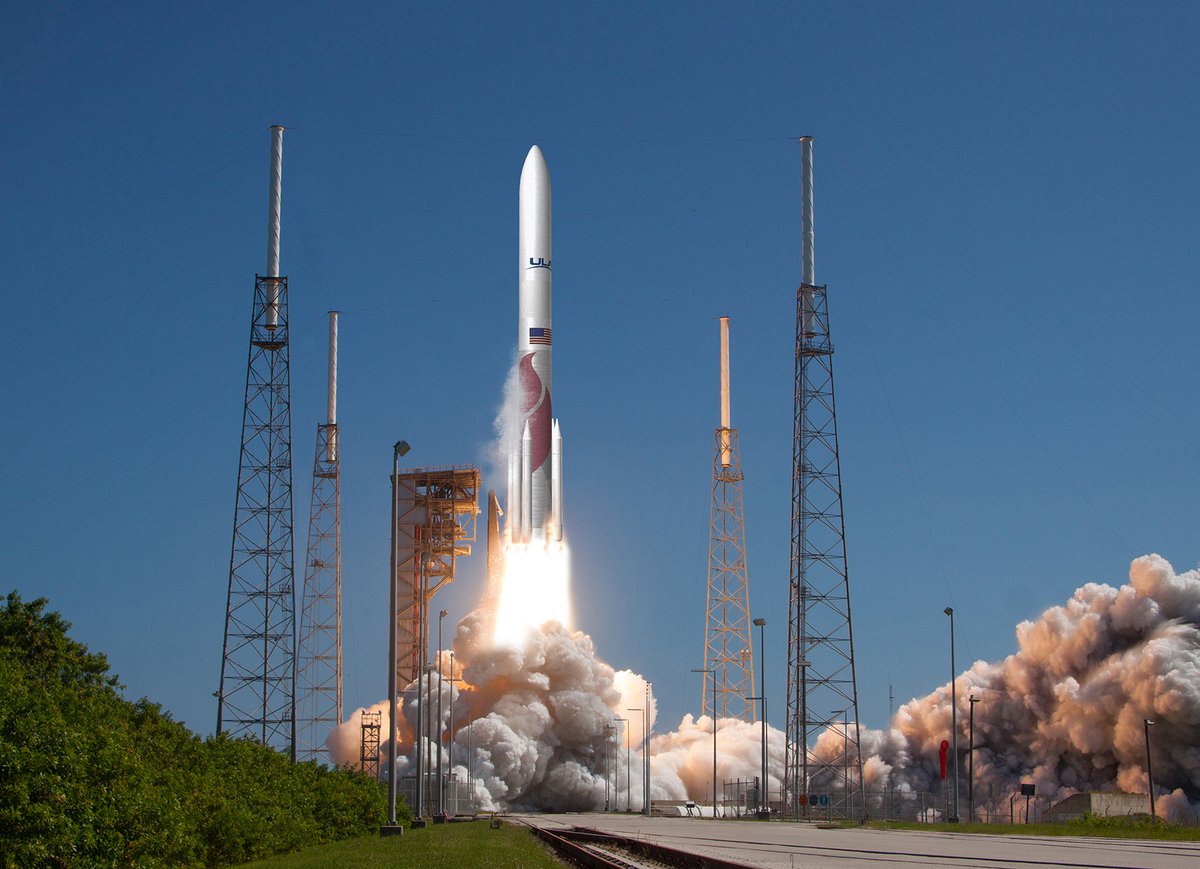 Ending months of speculation, Blue Origin, a company owned by Amazon-founder Jeff Bezos, has won a milestone contract to provide first-stage rocket engines for a powerful new booster being designed by United Launch Alliance to replace its current fleet of Atlas and Delta launchers, the companies announced Thursday.
Powered by liquefied natural gas and liquid oxygen, Blue Origin's BE-4 engine was selected over Aerojet Rocketdyne's more traditional kerosene-burning AR1 for use in ULA's new Vulcan rocket, expected to make its first flight in the mid-2020 timeframe.
"Big win for @BlueOrigin today!" Bezos tweeted. "And a big thank you to @ulalaunch for choosing our BE-4 engine. Excited to be a part of Vulcan's mission to space."
The BE-4 engine will eventually end ULA's reliance on Russian-built RD-180 first-stage engines currently powering the first stage of the company's workhorse Atlas 5. RD-180s burn kerosene and oxygen and develop 860,000 pounds of thrust at sea level.
Two BE-4 engines, generating 550,000 pounds of thrust each, will power the Vulcan's first stage, along with strap-on solid-fuel boosters provided by Northrup Grumman as required by payload weight and trajectory. Maximum liftoff thrust will be 3.8 million pounds and the rocket will be partially reusable.
Aerojet Rocketdyne hydrogen-fueled RL10 engines will power the Vulcan's second stage when the initial version begins operations. A more powerful upper stage, the Advanced Cryogenic Evolved Stage, or ACES, will be phased in later.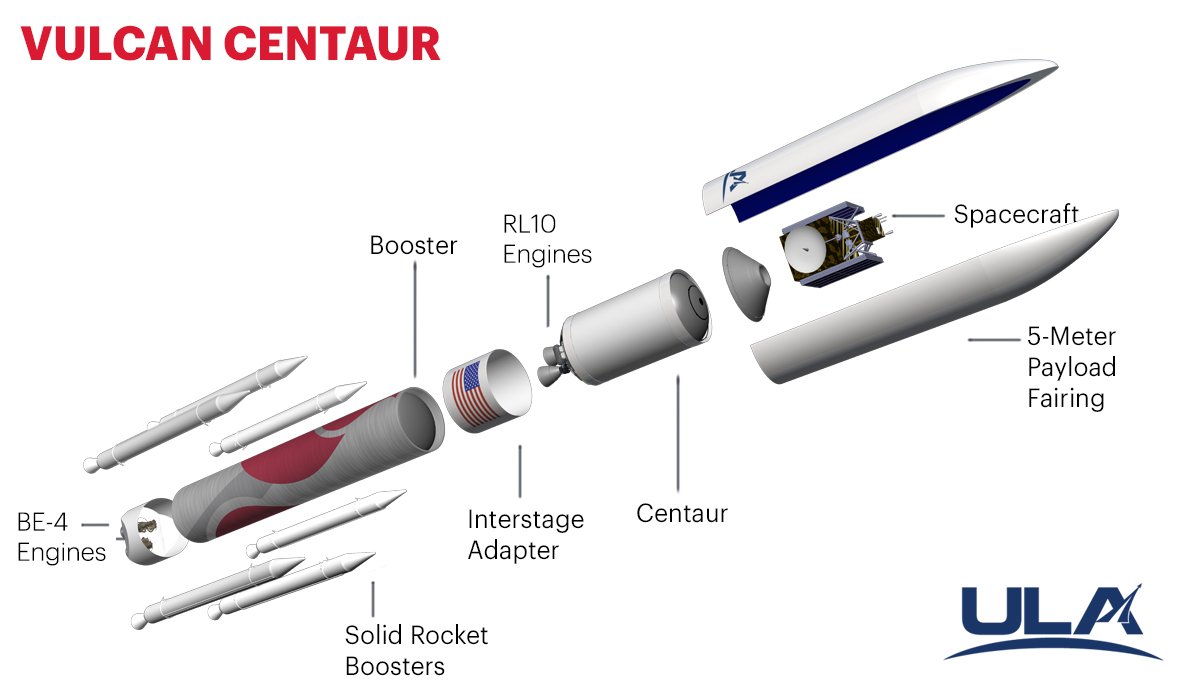 ULA plans to continue launching Atlas 5s well into the early 2020s while the Vulcan transition proceeds. The Atlas 5 will be used as planned to launch Boeing's CST-100 Starliner commercial crew capsule to ferry astronauts to and from the International Space Station starting next year.
"We are pleased to enter into this partnership with Blue Origin and look forward to a successful first flight of our next-generation launch vehicle," ULA CEO Tory Bruno said in a statement.
Blue Origin CEO Bob Smith added: "United Launch Alliance is the premier launch service provider for national security missions, and we're thrilled to be part of their team and that mission. We can't thank Tory Bruno and the entire United Launch Alliance team enough for entrusting our engine to powering the Vulcan rocket's first stage."
United Launch Alliance is a partnership between Boeing, original builder of the Delta family of rockets, and Lockheed Martin, developer of the Atlas 5, that was formed primarily to provide assured access to space for high-priority national security payloads
Blue Origin also plans to use the BE-4 in the first stage of its New Glenn rocket, which will compete with both SpaceX and ULA launchers when it debuts in the early to mid 2020s. The New Glenn first stage is designed to land vertically for refurbishment and reuse.
A two-stage version of the New Glenn booster will stand some 27 stories tall and will generate 3.85 million pounds of thrust at liftoff using seven BE-4 engines. The second stage will be powered by two BE-3 engines.
The BE-3 already is in use with Blue Origin's sub-orbital New Shepard rocket, designed to carry tourists, researchers and small payloads to the edge of space and back from a launch site in Texas.
The company has built a huge manufacturing facility near the Kennedy Space Center in Florida to assemble New Glenn rockets, which will be launched from nearby Cape Canaveral. Bezos has said he is spending roughly $1 billion a year on his space ventures.
Bezos and Bruno announced an initial agreement to develop BE-4 engines for ULA rockets in September 2014.
"I think it's pretty clear it's time for a 21st century booster engine," Bezos said at the time. "The great engines of the past were truly remarkable machines in their own right … but we have tools and capabilities, software simulations, computational horsepower that the builders of those great engines could have only dreamed about.
"We can build an engine today that is a 21st century engine that has great reliability, low cost of operations and high performance," he said. "And we're super excited about that, and we couldn't be more excited to have a partner like ULA."
But Aerojet Rocketdyne threw its hat into the ring with plans to develop the AR1, generating 500,000 pounds of thrust, and it soon became clear Blue Origin no longer had a lock on the engine selection. That fueled intense speculation across the space industry about how the competition might play out.
In any case, the selection of Blue Origin's BE-4 means ULA will be relying on an eventual competitor to provide the engines needed for its next-generation rocket. Contract details were not revealed, but it presumably includes delivery guarantees that meet ULA's approval.
"It is a great day for the Blue Origin team!" the company tweeted late Thursday. "We are honored @ulalaunch has selected Blue's LOX/LNG BE-4 engine to power the Vulcan rocket's first stage."
ULA's decision to replace its Delta and Atlas rockets with a single system came in the wake of widely publicized complaints from SpaceX founder Elon Musk that criticized the use of the Russian-built RD-180 to launch U.S. national security payloads and what he viewed as a ULA military launch monopoly.
Musk also criticized the high cost of the heavy-lift Delta 4, which uses Aerojet Rocketdyne RS-68 first stage engines and is currently the most powerful fully operational rocket in the U.S. inventory. It also is the most expensive and is used exclusively for national security and NASA payloads.
Musk eventually won the right to bid on high-value military payloads and since then, competition between SpaceX and ULA has been fierce, with ULA trimming costs and arguing its unblemished launch record, presumably lower insurance rates and schedule reliability make up for a higher price tag for the Atlas 5 compared to SpaceX's Falcon 9.
But Falcon 9s cost tens of millions less than the Atlas 5, an obvious selling point in the commercial launch industry. The eventual cost of the Vulcan is not yet known.
"From low Earth orbit to Pluto, the single-core Vulcan Centaur does it all," ULA says on its website. "This simple design is more cost-efficient for all customers, whether defense and national security, NASA science and human spaceflight, or commercial."