EDITOR'S NOTE: Updated April 14 with correction on West Coast launch site and BE-4 investment details.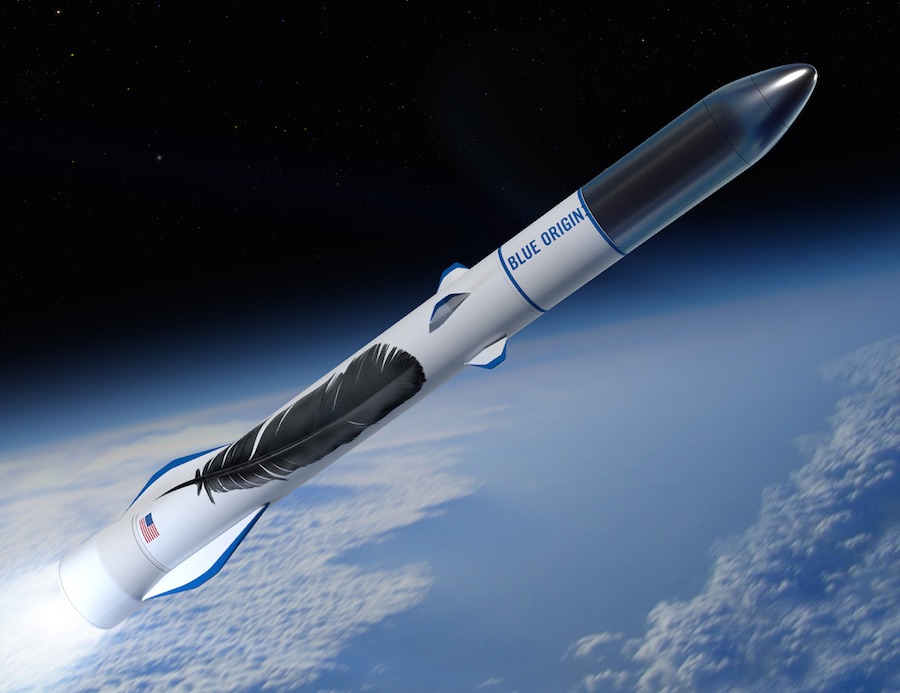 Blue Origin submitted a proposal late last year in what's expected to be a four-way competition for U.S. Air Force funding to support development of new orbital-class rockets, a further step taken by the Jeff Bezos-owned company to break into the military launch market, industry officials said.
The proposal, confirmed by two space industry sources, puts Blue Origin up against SpaceX, Orbital ATK and United Launch Alliance, which could use Blue Origin's BE-4 engine to power its next-generation Vulcan rocket.
It also sets up the New Glenn rocket, in development by Blue Origin, to be certified by the Air Force for national security missions.
ULA won funding in an earlier phase of the Air Force's initiative to help companies develop new liquid-fueled U.S.-built booster engines in a bid to end the military's reliance on the Russian RD-180 powerplant, which drives the first stage of ULA's Atlas 5 rocket. A portion of the Air Force money awarded to ULA in 2016 was tagged to go toward making the BE-4 engine compatible with the Vulcan booster's first stage, according to a military press release issued at the time of the award.
A Blue Origin spokesperson said it has funded development of the BE-4 engine with private funds and with the support of ULA.
SpaceX, Orbital ATK and Aerojet Rocketdyne also received Air Force funding in 2016 for propulsion work.
SpaceX used the Air Force money for its methane-fueled Raptor engine, which will power the company's next-generation super-heavy BFR launcher. Orbital ATK is developing its own launcher for national security missions, which would use solid-fueled rocket motors for the initial boost into space, then use a hydrogen-fueled upper stage for orbital injection. Aerojet Rocketdyne's AR1 engine is a backup option for ULA's new Vulcan rocket.
The Atlas 5 currently launches the bulk of the U.S. government's national security payloads. The basic, medium-lift versions of ULA's Delta 4 rocket are being retired next year, and the powerful Delta 4-Heavy configuration will remain in service until at least the early 2020s for military missions that require that rocket's capability.
The Air Force plans to award at least three of the companies a tranche of government funding this summer. Each launch provider will be required to supply their own multimillion-dollar investment from internal funds.
In late 2019, the Air Force is expected to select two companies to proceed into the final phase of the public-private partnership, which will include procurement of launch services for military payloads.
The Air Force wants two certified launch providers that primarily use U.S.-built propulsion systems, giving the military assured access to space for its most critical communications, reconnaissance, navigation and early warning satellites. ULA's two rocket families and SpaceX's Falcon 9 launcher are currently certified for such missions.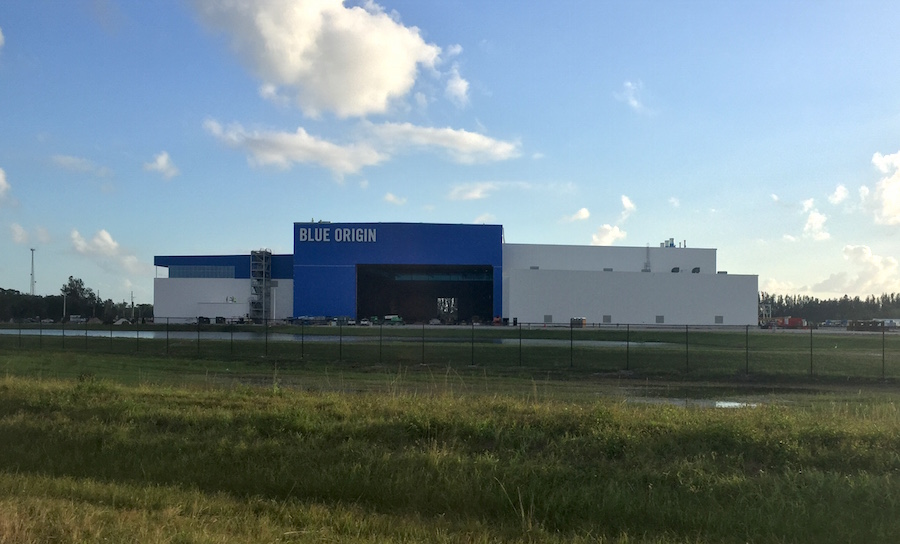 But the Delta 4 rocket is nearing retirement due to its high cost, and the Atlas 5 uses a Russian main engine. ULA says its Vulcan rocket, which could eventually fly with reusable main engines, will be less expensive and more capable than the Delta 4 and Atlas 5.
SpaceX's Falcon Heavy could be certified for national security payloads as soon as 2019, once it completes additional missions and Air Force engineering reviews following its successful maiden test flight Feb. 6.
The Launch Services Agreements the Air Force is expected to award this summer will transition the military's investment from rocket propulsion to entire launchers, and the competition pits ULA against two of its prospective Vulcan suppliers: Blue Origin and Orbital ATK.
Bankrolled by Bezos's Amazon.com fortune, Blue Origin is developing the New Glenn rocket, a satellite launcher the company says could be ready for its first test flight by the end of 2020. There will be two versions of the New Glenn: a two-stage configuration for most satellite delivery missions, and a three-stage launcher for deep space missions.
Both configurations will employ the same reusable first stage booster, with seven BE-4 engines burning a mixture of liquified natural gas and liquid oxygen. The first stage will produce 3.85 million pounds of thrust will all seven engines at full throttle, then detach a few minutes after liftoff to return to Earth, landing on a barge in the Atlantic Ocean for reuse.
The BE-4 engine began hotfire testing at Blue Origin's test site in West Texas in October.
The New Glenn's second stage was originally designed with a single restartable vacuum-rated version of the BE-4 engine called the BE-4U. But Space News reported last month that Blue Origin has changed the design, and the New Glenn's second stage will instead use two BE-3U engines, a modified version of the hydrogen-fueled BE-3 engine that flies on the company's suborbital New Shepard booster.
The change simplifies the New Glenn design, meaning Blue Origin will only have to develop two types of engines for the rocket, not three.
The BE-3 engine produces 110,000 pounds of thrust, less than the 550,000 pounds of thrust generated by a BE-4 engine. But the BE-3 has a higher specific impulse, a measure of fuel efficiency, according to Space News.
The two-stage version of the New Glenn will meet all of the Air Force's launch requirements, capable of lifting the prescribed payload mass to a range of orbits specified by the military's procurement documents, Space News reported.
A BE-3U engine will also power the third stage of the New Glenn's deep space configuration.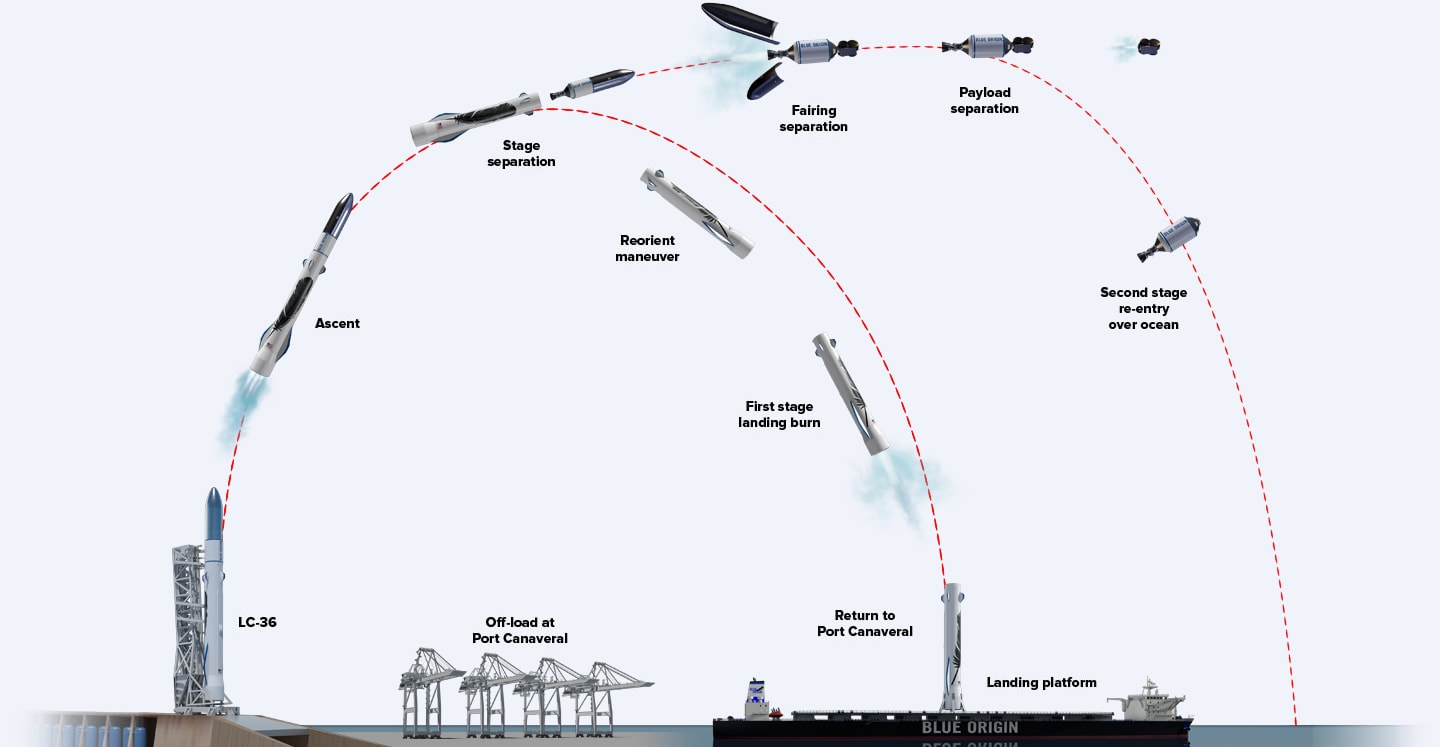 Blue Origin also updated the New Glenn's design last year, opting to place a 7-meter (23-foot) diameter payload shroud on top of the rocket beginning with the rocket's inaugural launch. Officials originally planned a 5-meter (16-foot) fairing for the New Glenn's initial missions.
Officials said the wide payload envelope will allow the New Glenn to launch larger numbers of satellites in one go for commercial mega-constellations. Scientists see potential for the New Glenn to haul up telescopes with bigger mirrors.
Still nearly three years from its first flight, the New Glenn rocket, named for former astronaut John Glenn, has secured launch contracts from several commercial satellite companies, including OneWeb, Eutelsat and SKY Perfect JSAT Corp.
The New Glenn rocket will be manufactured and assembled in Blue Origin's new factory just outside the gates of NASA's Kennedy Space Center in Florida, where the launcher's propellant tanks, structures and payload fairing will be produced. Blue Origin plans to base its engine manufacturing facility, currently at the company's Kent, Washington, headquarters, in Huntsville, Alabama.
Blue Origin is building its New Glenn launch pad at Cape Canaveral Air Force Station. The New Glenn will blast off from Launch Complex 36, the former home of the Atlas-Centaur rocket.
Blue Origin officials said previously that payloads heading into polar orbit, such as OneWeb's communications satellites, could be launched from Cape Canaveral, then steered into polar orbit while avoiding taking a flight path over land.
But a company spokesperson said Saturday that Blue Origin is conducting initial launch site evaluation work at Vandenberg Air Force Base, California.
Email the author.
Follow Stephen Clark on Twitter: @StephenClark1.