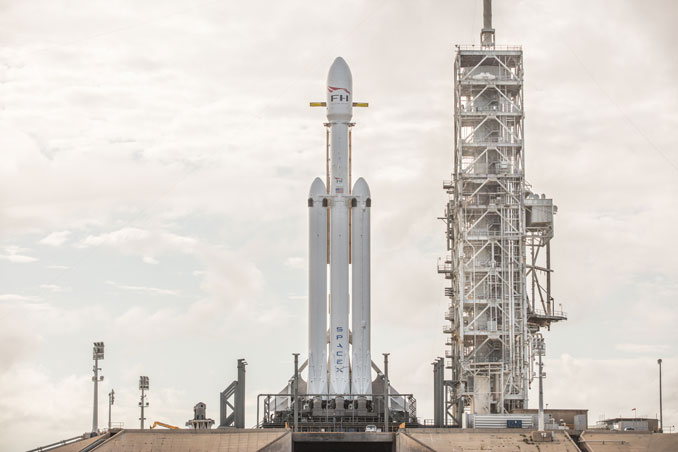 SpaceX's Falcon Heavy rocket could blast off for the first time as soon as Feb. 6, company founder Elon Musk said Saturday, announcing the first official target launch date for the heavy-lifter's maiden mission from NASA's Kennedy Space Center in Florida.
Standing 229 feet (70 meters) and measuring 40 feet (12 meters) wide, the Falcon Heavy will climb off launch pad 39A with nearly 5 million pounds of thrust, more power than any launcher has generated since the last space shuttle mission in 2011, and nearly twice as much thrust as any rocket currently in service.
SpaceX plans a three-hour window each day to launch the Falcon Heavy, opening at 1:30 p.m. EST (1830 GMT).
The launch time is not driven by orbital mechanics because the Falcon Heavy will fly without an operational payload. Instead the liftoff window is scheduled for a favorable time of the workday for SpaceX's launch team.
The whimsical passenger on the Falcon Heavy's inaugural test launch is a dose of cross-brand marketing by Musk, who also founded the electric car company Tesla. One of Musk's used Tesla Roadster sports cars will be mounted inside the Falcon Heavy's upper shroud, and the rocket will attempt to give it a boost away from Earth and give the automobile enough velocity to escape the planet's gravitational grasp.
The cherry red sports car will head into heliocentric orbit around the sun on a trajectory that takes it as far away as the orbit of Mars. But the restrictions of interplanetary travel, which require precise alignments between the planets, will keep the Roadster well away from the red planet.
The Falcon Heavy launch team at the Florida spaceport ran the rocket through a full countdown rehearsal Wednesday, loading RP-1 kerosene and super-chilled, densified liquid oxygen into the rocket's three first stage boosters and upper stage. The launch day simulation concluded with ignition of the rocket's 27 Merlin 1D main engines for more than 10 seconds while hold-down restraints kept the Falcon Heavy on the ground.
Read our previous story on Wednesday's static fire test.
Ground crews lowered the Falcon Heavy rocket horizontal at pad 39A Saturday.
The Falcon Heavy weighs more than 3.1 million pounds (1.4 million kilograms) fully loaded with kerosene and liquid oxygen propellants.
On its first flight, the Falcon Heavy will generate about 4.7 million pounds of thrust at launch. Musk said the first Falcon Heavy's engines will be throttled to 92 percent of full power.
While the Falcon Heavy will produce more thrust at liftoff than any vehicle since the space shuttle, SpaceX's new rocket will be able to carry more payload into orbit than any rocket since the Saturn 5 moon rocket — a more important measure of the launcher's lifting capacity.
Email the author.
Follow Stephen Clark on Twitter: @StephenClark1.