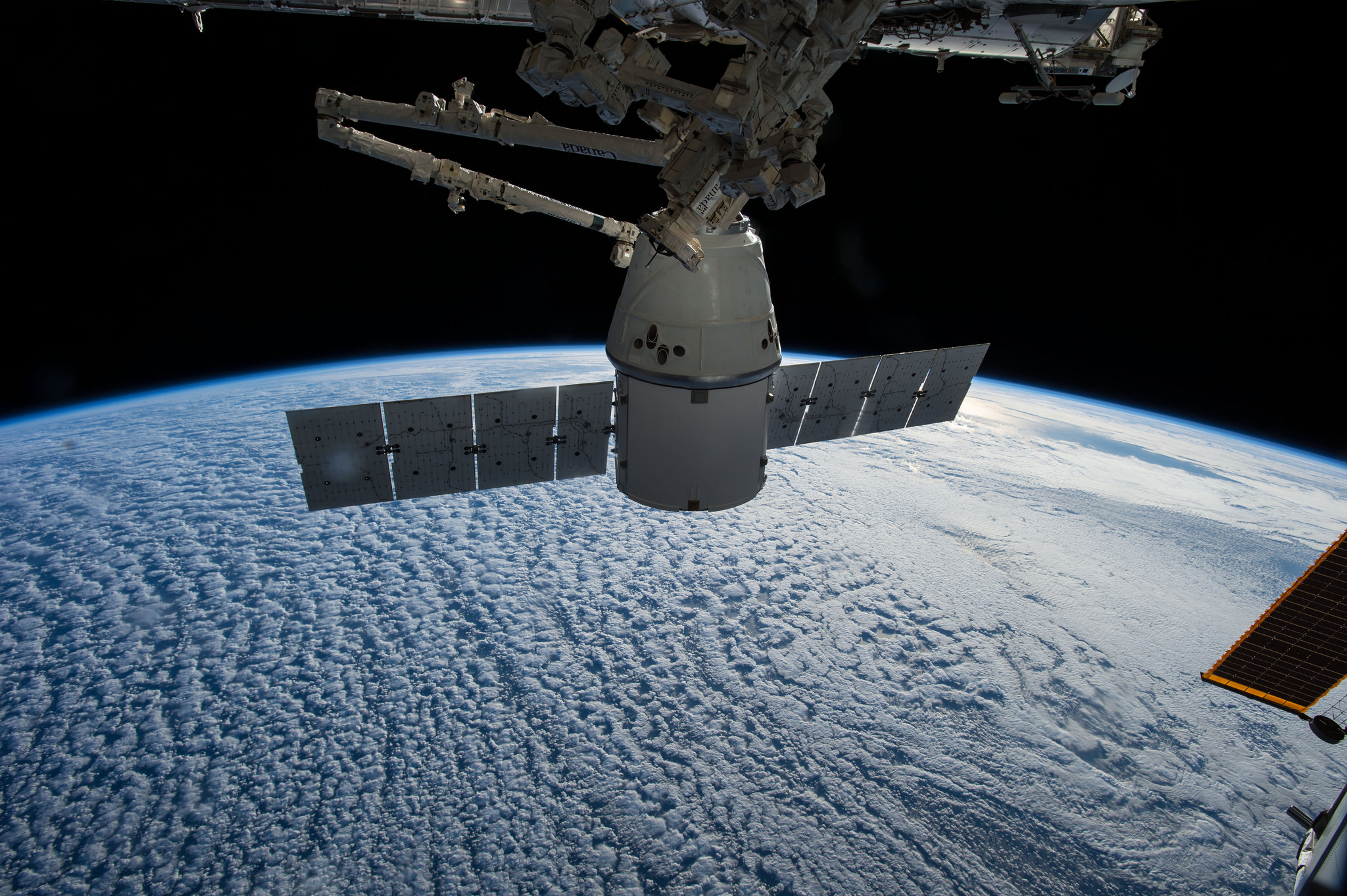 Tuesday is shaping up to be a busy day for SpaceX, with the liftoff of a Falcon 9 rocket carrying a NOAA space weather satellite, an experimental booster flyback maneuver to advance reusable launch technologies, and the splashdown of a Dragon cargo capsule returning from the International Space Station.
The planned series of major spaceflight events in quick succession will perhaps make for the most active operational day in the history of SpaceX, which was established in 2002 by Elon Musk, co-founder of PayPal, who later set up Tesla Motors, the electric car company.
SpaceX has grown to around 4,000 employees working on commercial space launches, missions to resupply the space station, development of a next-generation crew-carrying capsule, engine production, the design of more powerful launchers, and a new venture to broadcast Internet via satellite.
"Tuesday will be a busy day, but SpaceX has planned and prepared for this scenario," said John Taylor, a SpaceX spokesperson. "We have separate operations and recovery teams on both coasts so we are equipped to handle both events simultaneously."
The Dragon's re-entry will be controlled by a team of engineers based at SpaceX headquarters in Hawthorne, Calif., and a recovery team is stationed in the Pacific Ocean to retrieve the capsule.
SpaceX's launch team at Cape Canaveral will oversee the Falcon 9's countdown Tuesday and monitor its trek into space with NOAA's $340 million Deep Space Climate Observatory, a mission to detect incoming solar storms and provide warnings to forecasters.
Another team is positioned in the Atlantic Ocean nearly 400 miles off Florida's East Coast, where the Falcon 9's booster stage will attempt to land on a modified barge.
The Falcon 9 launch was supposed to occur Sunday, but technical problems kept the flight grounded. Dragon's re-entry was already scheduled for Tuesday.
The operations will begin with the release of the Dragon supply ship from the space station's 58-foot robotic arm at approximately 2:10 p.m. EST (1910 GMT). The ship's departure will end a 29-day stay at the space station, where it arrived Jan. 12 with more than 5,000 pounds of supplies and experiments.
The capsule is returning to Earth with nearly 3,700 pounds of cargo.
NASA says the cargo includes specimens and equipment from investigations in human physiology research, biology and biotechnology studies, physical science experiments and education activities sponsored by NASA and the Center for the Advancement of Science in Space.
Other items packed inside the Dragon's pressurized module will be repaired or refurbished for launch again, including a spacesuit with a problem with its fan motor that will be returned for analysis by engineers.
The Dragon spacecraft is the only one of the space station's servicing vehicles capable of returning large amounts of cargo to Earth. Russia's Soyuz ferry craft can bring home limited equipment with space station crews, and other resupply ships burn up in Earth's atmosphere to dispose of trash that would otherwise congest the lab's interior.
Once set free by the space station robotic arm, the Dragon will fire its thrusters to fly away from the vicinity of the complex before targeting splashdown in the Pacific Ocean about five-and-a-half hours later.
Fueling of SpaceX's Falcon 9 launcher at Cape Canaveral is set to begin just after the Dragon cargo craft leaves the space station.
The SpaceX launch team will fill the two-stage rocket with kerosene and liquid oxygen propellants about three hours before liftoff, which is targeted for 6:05:34 p.m. EST (2305:34 GMT).
Launch of the Falcon 9 was set for Sunday, but officials aborted the countdown after encountering problems with a U.S. Air Force tracking radar required to monitor the rocket's trajectory.
SpaceX also ran into trouble with a video transmitter on the rocket, and technicians planned to replace the faulty unit before Tuesday's launch attempt.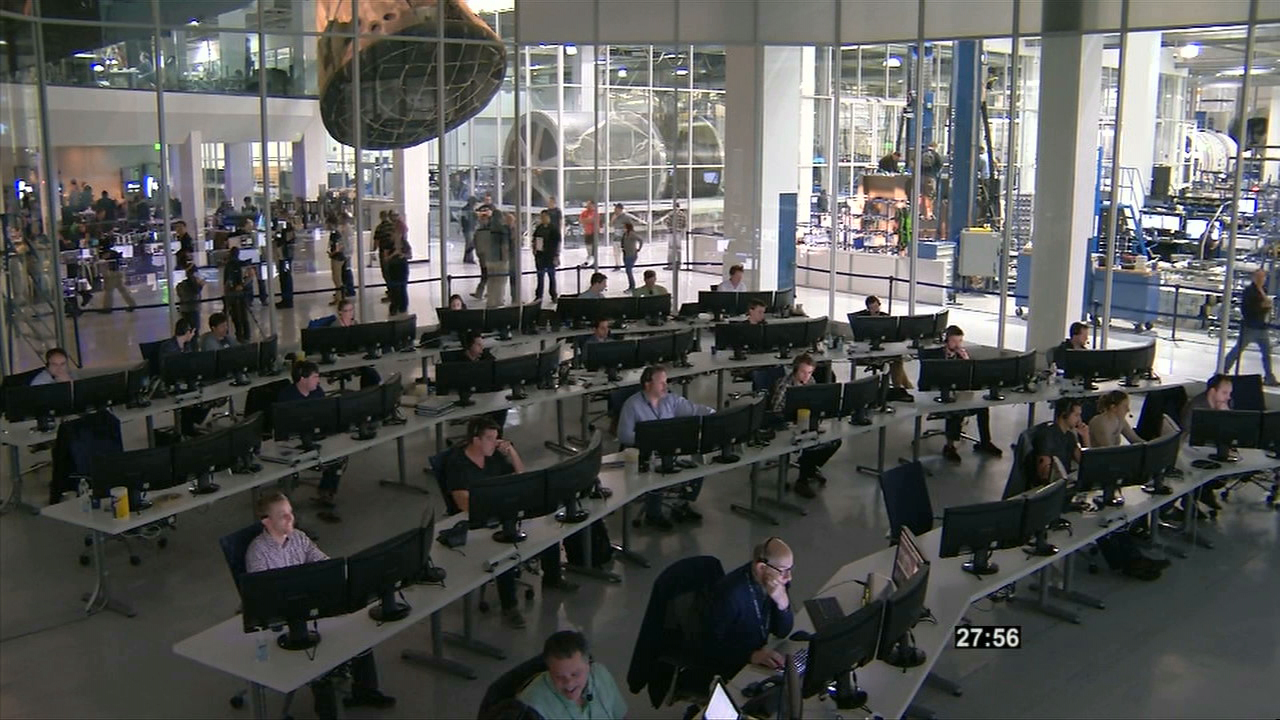 The rocket will take more than a half-hour to dispatch NOAA's DSCOVR spacecraft on a speedy path toward the L1 Lagrange point, a gravitationally-stable location nearly a million miles from Earth in line with the sun. The refrigerator-sized satellite carries instruments to measure the solar wind and look back at Earth, collecting data on the planet's energy output and six daily images of the world's sunlit disk.
Before the Falcon 9's upper stage finishes its job on Tuesday's launch, the rocket's booster stage will try a dicey flyback maneuver to slow down and re-enter the atmosphere.
SpaceX is shooting for a propulsive vertical descent and landing on a football field-sized ship in the Atlantic Ocean less than 10 minutes after liftoff. If successful, the achievement would be a first.
The reusability demonstration is a redo after a similar maneuver ended with a crash landing on the barge after the Jan. 10 launch of a Dragon cargo craft — the same capsule set for return to Earth on Tuesday.
SpaceX's final major activity Tuesday will be the parachute-assisted splashdown of the Dragon capsule in the Pacific Ocean a few hundred miles west of Baja California.
A braking maneuver around 7 p.m. EST (0000 GMT Wednesday) will set the capsule on a course toward the landing zone, then the capsule will jettison its unpressurized expendable solar arrays and trunk section.
Splashdown is set for 7:44 p.m. EST (0044 GMT) to conclude SpaceX's fifth operational resupply flight to the space station. The return is timed a couple of hours before sunset at the landing site, marking the first evening recovery of a Dragon cargo capsule by SpaceX.
Ground crews will hoist the capsule on the deck of a ship and return to a port near Los Angeles, where SpaceX will begin handing over cargo to NASA.
Follow Stephen Clark on Twitter: @StephenClark1.