DARMSTADT, Germany — Europe's Philae lander — still latched inside its mothership — has been activated and should be ready for release Wednesday to begin a daring first-ever descent to a comet, the mission's flight director said Tuesday.
The power-up of Philae is the first of several key milestones planned in the days leading up to Wednesday's landing, but the lander's activation came with a little extra drama.
"We switched on the lander last night, and the lander didn't switch on properly," said Andrea Accomazzo, Rosetta's flight director at the European Space Operations Center here.
Accomazzo said it took some extra time to troubleshoot and resolve the problem, and Philae is now powered on for landing.
"The lander has a feature when it is powered on it switches between two different electronic boards, and this did not occur as we expected last night," Accomazzo said Tuesday. "The lander was not transmitting the complete set of telemetry to the on-board computer of Rosetta, so we decided to power cycle it. When it came up again, it was absolutely OK."
Accomazzo said engineers suspect the electronics glitch was most likely due to cold temperatures.
Ground controllers at ESOC here and at the Philae lander control center in Cologne, Germany, wanted to turn on the landing craft ahead of time to warm up its sensitive electronics for the busy hours of descent Wednesday.
"We were a bit worried that the lander wouldn't be warm enough to go on with the activities," Accomazzo said. "Now, we already see that the lander has almost reached the temperature we were expecting for tonight, so we don't expect any problem at all."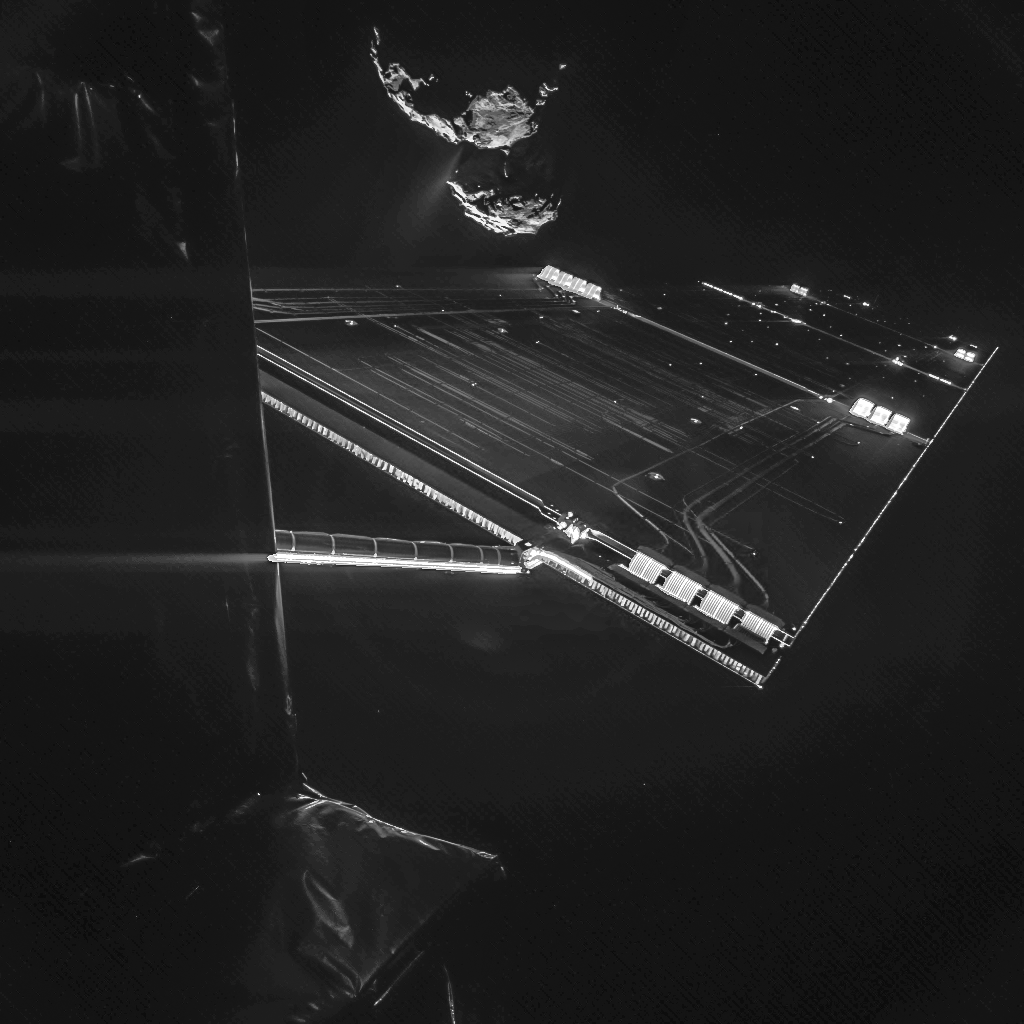 The final check of Philae's readiness for landing is expected at 0135 GMT Wednesday (8:35 p.m. EST Tuesday), when engineers at the lander's control center in Cologne tag up with controllers at ESOC to verify the craft is healthy.
Other activities on tap Tuesday include generating a final navigation update for Rosetta as it flies in a near-circular orbit about 30 kilometers, or 18 miles, around comet 67P/Churyumov-Gerasimenko.
If Rosetta's orbit matches predictions of where the spacecraft is supposed to be, officials will authorize the landing attempt to continue. Final commands for the landing sequence will be verified and approved, and mission controllers will confirm Rosetta is ready for release of Philae around 0000 GMT Wednesday (7 p.m. EST Tuesday).
Flight dynamics experts will use the navigation data to plot a rocket burn by Rosetta to be conducted early Wednesday between 0600 and 0700 GMT (1-2 a.m. EST) to set up for deployment of Philae.
Philae is scheduled to condition its battery, open a nitrogen tank feeding a cold gas thruster that will assist in the landing, and turn on a momentum wheel that will keep the lander's three legs pointed toward the comet during the seven-hour voyage to touchdown.
Around 0403 GMT Wednesday (11:06 p.m. EST Tuesday), commands already loaded into Philae's computer will begin switching on the probe's science instruments, which will collect science data during descent and just after touchdown.
After Rosetta's propulsive maneuver Wednesday, Philae will be released at 0903 GMT (4:03 a.m. EST) at a distance of 22.5 kilometers, or 14 miles, from the center of the comet.
Officials expect to receive confirmation of touchdown around 1602 GMT (11:02 a.m. EST), but the time could vary by a few minutes.
Follow Stephen Clark on Twitter: @StephenClark1.