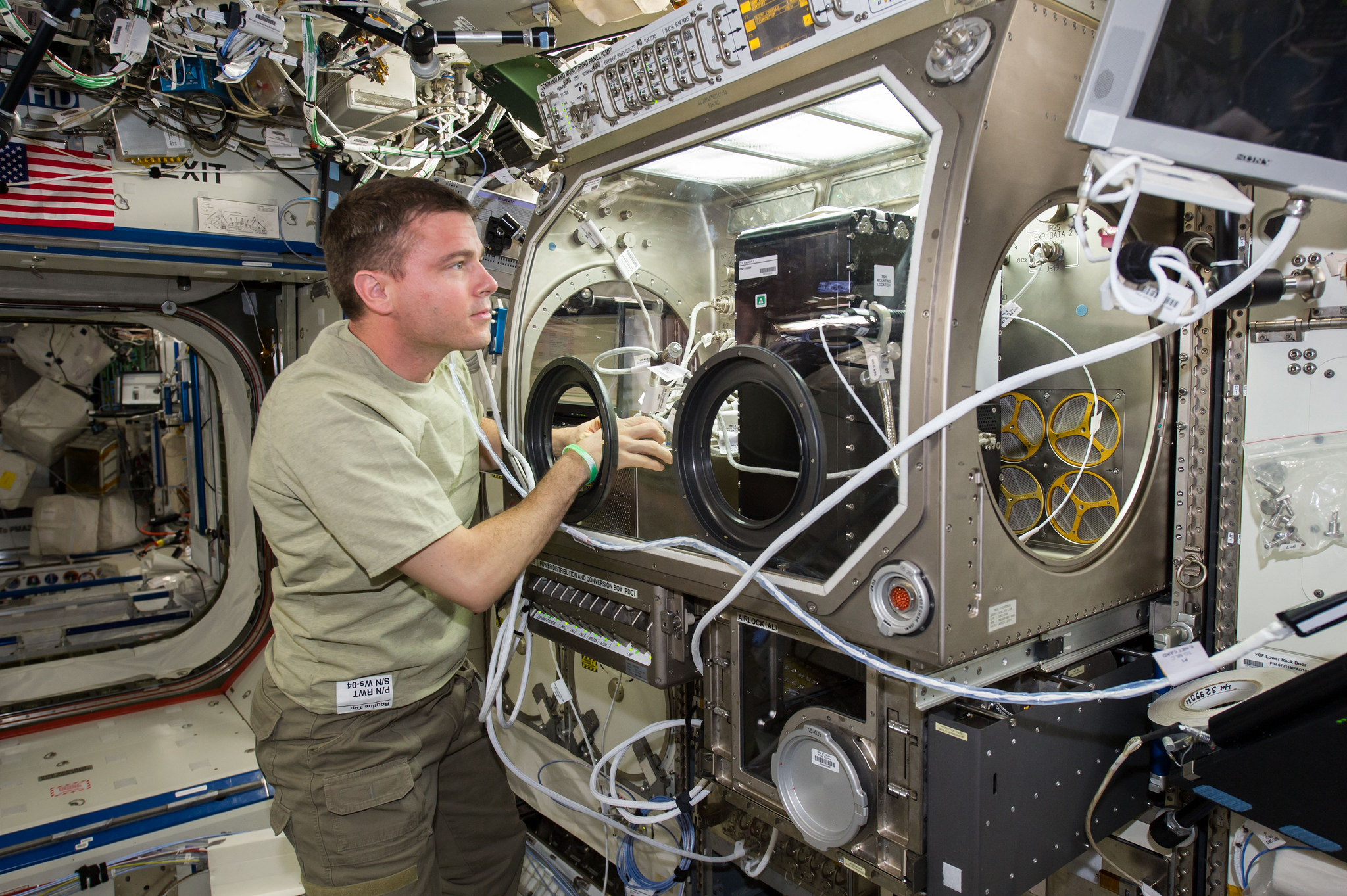 Space station astronaut Reid Wiseman, preparing to return to Earth this weekend after 165 days in orbit, said Monday commercial spaceflight represents the "next breakthrough" in aerospace technology, and that he hopes Virgin Galactic can ultimately turn that dream into reality despite the fatal crash of the company's SpaceShipTwo rocket plane Friday.
In an interview with CBS News, Wiseman reflected on the SpaceShipTwo mishap and the loss of a space station cargo ship three days earlier, saying "it's tough to watch anything like that."
"I have friends at both of those companies that are working on this, and that touches me pretty closely," he said. "A couple of them are test pilots that I've worked with in the past and I've gotten to know pretty well. So for us personally, it's always tough to see that sort of thing.
"The great part about this industry is, it will be better at the end for both of these mistakes, or mishaps, and we'll pull through.  … We'll figure out what happened, and if it's the correct time we'll fly again, both of these vehicles, and if they determine that they can't, then we'll look for other options down the road. This is a setback that happens in this industry, and there will be recovery, there will be healing, and then there will be success down the road."
But Wiseman said space travel will never be completely safe, "especially not in the launch and landing industry."
"But every time you get in your car and drive down the highway there is always a chance, or get in an airplane or even just a thunderstorm passes by and knocks a tree over," he said. "That's part of life, and there's always risk with everything we do. And to me, sometimes the risk is definitely worth the reward. And up here, the reward, at least to me, is huge. So it's worth it."
Virgin Galactic had hoped to begin commercial flights with SpaceShipTwo starting next spring. Designed to carry a crew of two and up to six passengers at a time, the spaceplane is dropped from a carrier jet and then uses a hybrid rocket motor to climb out of the dense lower atmosphere, providing a few minutes of weightlessness — and an out-of-this-world view — before gliding back to Earth. Hundreds of would-be astronauts have signed up to fly, paying up to $250,000 a ticket.
But during a test flight Friday, SpaceShipTwo was destroyed a few seconds after its rocket motor ignited high above the Mojave Desert. Pilot Peter Siebold managed to get out of the disintegrating aircraft for a parachute descent to Earth. Co-pilot Michael Alsbury was killed.
The National Transportation Safety Board says preliminary analysis of cockpit video and telemetry indicates the rocket motor fired normally. But the co-pilot unlocked the space plane's aerodynamic braking, or "feather," system earlier than usual and while the system was never activated by the pilots, it somehow deployed anyway, possibly triggering the craft's breakup.
The unusual aero-braking system was the brainchild of legendary designer Burt Rutan whose smaller SpaceShipOne became the first privately funded spacecraft to carry crew members higher than 100 kilometers, or 62 miles — the generally agreed on boundary of space — in 2004. Rutan's company, Scaled Composites, also built SpaceShipTwo, although the company now is part of Northrup Grumman.
The NTSB investigation is far from complete, but Wiseman said he was "100 percent" confident that the private sector has the technology to make commercial spaceflight possible.
"You've got to dare to do crazy things, and that's what my friends out at Scaled Composites did a number of years back," he said. "And I was there the first time they flew a totally civilian crew above 300,000 feet. And the joy I had watching that event was amazing. … I'm proud of those guys, and everything they've accomplished, it's amazing. And the technology is there. There (are) going to be speed bumps along the way, but this is the next breakthrough, and I think we're ready for it."
Wiseman, Soyuz TMA-13M commander Maxim Suraev and European Space Agency astronaut Alexander Gerst are scheduled to return to Earth next Sunday evening (U.S. time) to wrap up a 165-day stay in space. Asked what he was going to miss the most about life in orbit, Wiseman did a zero-gravity flip and said "that's exactly what I'm going to miss the most, I'm going to miss the whole experience of flying on station."
"I'm going to miss my crewmates," he said. "Right now, I'm up here with five other amazing folks, and certainly I'm going to miss the floating. There is just nothing better as a human being than to experience something so foreign as weightlessness. And then I'm going to miss the view. It's just incredible to go look outside and see that Earth down there with the blue horizon. It's so beautiful, I will miss that absolutely."
Wiseman has been particularly active in social media, posting spectacular Earth views on Twitter and short Vine videos capturing life in orbit. The feedback has been "super," he said.
"This is my first spaceflight, and I just wanted to share some of the newness, some of the uniqueness of this environment," he added. "And I think we've been successful with that. I think the Vines, putting this imagery in motion, has really captured the imagination of a good number of folks. And that was my goal, was to use that imagery, put it in motion, and let people try to experience this, let them try to live this with me. For that, I think it was great."
Asked what he is looking forward to the most back on Earth, Wiseman said "hugging my wife and kids, that's number one."
"And then just being able to select the food that I want to eat," he said. "The food up here is actually pretty good, but (after) six months it'll be nice to be able to just get in the car, drive to the store and grab whatever I want and then having my kitchen at my disposal to make some good food."
He's also looking forward to simply sitting down on a couch.
"I haven't sat down in 160 days and just that feeling of sitting down and having gravity pull me down onto a chair, I'm really looking forward to that," he said.
If all goes well, Wiseman, Suraev and Gerst will board their Soyuz TMA-13M spacecraft next Sunday evening and return to Earth, landing near Arkalyk, Kazakhstan, around 10:58 p.m. EST Sunday (GMT-5, 9:58 a.m. Monday local time).
"I'm looking forward to experiencing it," Wiseman, a veteran Navy test pilot, said of re-entry aboard the Soyuz. "Everyone I've talked to says it's the world's greatest roller coaster ride, and I think nothing can mentally prepare me for this except going through it. So let's just go though it and then I'm sure I'll have some great stories on the other side to share with you."
Left behind in orbit, Expedition 42 commander Barry "Butch" Wilmore, Alexander Samokutyaev and Elena Serova will have the space station to themselves until Nov. 23 when three fresh crew members — Soyuz TMA-15M commander Anton Shkaplerov, NASA flight engineer Terry Virts and European Space Agency astronaut Samantha Cristoforetti — show up six hours after launch from the Baikonur Cosmodrome in Kazakhstan.