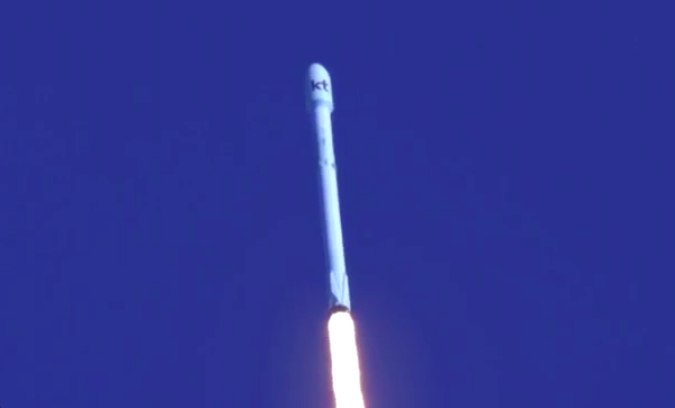 Heading into the home stretch of a banner year, SpaceX launched its third Falcon 9 rocket flight of the month Monday with a Korean-owned commercial communications satellite built to connect customers across a swath from the Middle East to East Asia.
The Falcon 9 rocket took off with the Koreasat 5A communications satellite at 3:34 p.m. EDT (1934 GMT) Monday from pad 39A at NASA's Kennedy Space Center in Florida, turning east as it surpassed the speed of sound and climbed into a clear autumn sky with 1.7 million pounds of thrust from its nine Merlin 1D main engines.
The 229-foot-tall (70-meter) launcher reached an altitude of more than 40 miles (65 kilometers) in two-and-a-half minutes, then the Falcon 9's first stage shut down and separated, leaving an upper stage engine to continue firing to propel the rocket and its payload to the velocity needed to enter orbit.
The upper stage completed its firing around eight-and-a-half minutes into the flight, just as the 15-story first stage booster made a pinpoint touchdown on SpaceX's floating drone ship in the Atlantic Ocean, the 19th time the company has recovered one of its rockets intact, and the 15th time in a row.
Once widely viewed as a daunting concept, the vertical, propulsive booster landings have appeared increasingly routine in recent months, and are critical for SpaceX's strategy to reuse rocket hardware and cut costs.
Live video from the drone ship showed a small fire develop around the base of the first stage after landing, but fire suppression equipment quickly doused the blaze, and the barge will return the rocket to Port Canaveral in a few days for refurbishment and potential reuse.
The launch and recovery marked the third such achievement by SpaceX this month.
SpaceX and its customers consider the rocket landings secondary to each mission's main objective: the delivery of satellites to their targeted orbits.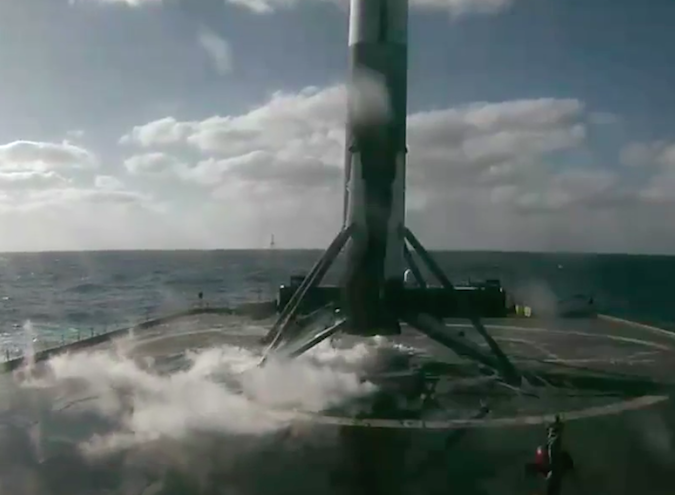 The Falcon 9's upper stage engine arrived in a preliminary parking orbit after its first burn, then reignited at about T+plus 27 minutes to send the Koreasat 5A satellite into a high-altitude geostationary transfer orbit expected to range more than 22,000 miles (35,000 kilometers) above Earth.
SpaceX reported an on-target deployment of Koreasat 5A just shy of the mission's 36-minute point, and an on-board camera showed the satellite receding into the blackness of space as it soared several hundred miles over Africa.
The successful release of Koreasat 5A concluded SpaceX's 44th Falcon 9 mission, and the 16th this year.
Engineers at Thales Alenia Space, which built the Koreasat 5A satellite in Cannes, France, received the first signals from the 4.1-ton (3.7-metric ton) spacecraft via a remote ground station shortly after separation from the Falcon 9 rocket. Officials confirmed the satellite was healthy following the launch.
Koreasat 5A's on-board engine will conduct multiple burns to circularize its orbit around 22,300 miles (35,800 kilometers) over the equator a few weeks after launch. Once the satellite passes post-launch tests and deploys its solar panels and antennas, Thales will hand over control of Koreasat 5A to KTsat, a subsidiary of South Korea's KT Corp. based in Seoul.
Designed for a 15-year mission, Koreasat 5A is based on Thales' Spacebus 4000B2 satellite bus and is destined to place Koreasat 5, a communications craft launched in 2006.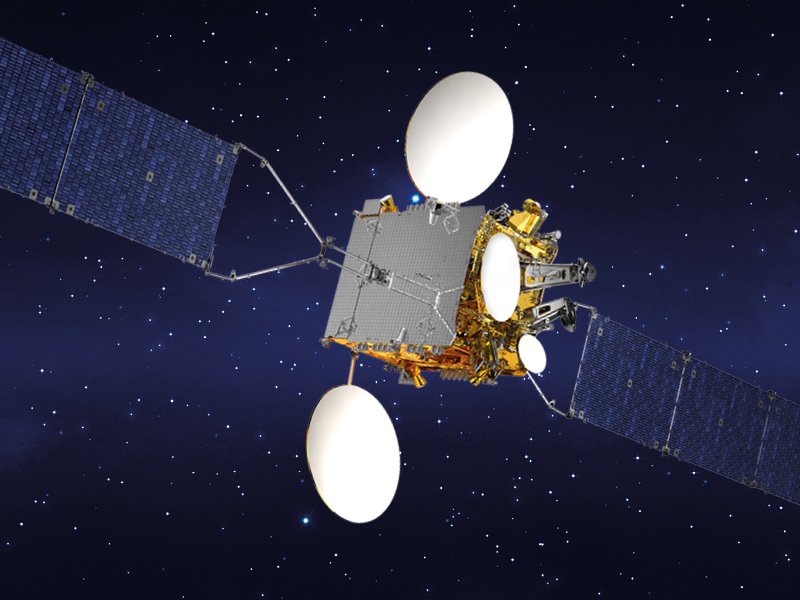 Koreasat 5 was crippled by a failure of a solar array drive mechanism, prompting KTsat to order a replacement sooner than expected.
Koreasat 5A will be parked at 113 degrees east longitude, where its orbital velocity will match the rotation of Earth, allowing the satellite to hover over a fixed location, and remain in the place in the sky in view of ground antennas.
The satellite's solar panels will generate about 6.5 kilowatts of power for its Ku-band communications transmitters and receivers. Koreasat 5A carries 36 Ku-band transponders, providing Internet access, television broadcast and other multimedia services in Korea, Japan, the Philippines, Guam, Southeast Asia, and South Asia.
Koreasat 5A will also offer coverage for maritime communications in the Middle East, the Indian Ocean, the South China Sea and the East China Sea.
SpaceX's next flight is scheduled for Nov. 15 with a mysterious payload named Zuma for the U.S. government. Little is known about the mission, which was not publicly disclosed until earlier this month.
Northrop Grumman says it arranged for the payload to be launched by SpaceX on behalf of the government.
Zuma's launch from the Kennedy Space Center in Florida is currently targeted for a two-hour window opening at 8 p.m. EST on Nov. 15 (0100 GMT on Nov. 16).
Email the author.
Follow Stephen Clark on Twitter: @StephenClark1.