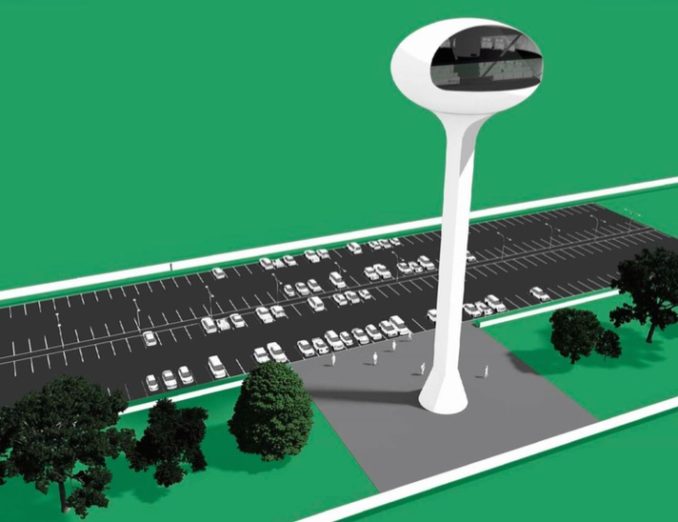 An airport-like viewing tower standing up to 30 stories tall is the centerpiece of SpaceX's planned rocket refurbishment and operations base proposed for vacant land at NASA's Kennedy Space Center in Florida.
Information published in a draft environmental assessment prepared by KSC officials in recent months, and first reported by Florida Today on Friday, detail SpaceX's new construction plans at the Florida spaceport a few miles south of the iconic Vehicle Assembly Building once used to prepare Saturn 5 rockets and space shuttles for liftoff.
According to the environmental review, the goal of the proposed expansion is to "develop a site that supports the multiple requirements of SpaceX in its pursuit of a complete local, efficient, and reusable launch vehicle program."
"As SpaceX's launch cadence and manifest for missions from Florida continues to grow, we are seeking to expand our capabilities and streamline operations to launch, land and re-fly our Falcon family of rockets," said James Gleeson, a SpaceX spokesperson.
Located near Roberts Road, just west of the main north-south roadway through the space center, the proposed 67-acre site would host facilities for booster and fairing processing and storage, a new launch and landing control center, and a rocket garden for display of flown space vehicles, according to the environmental assessment.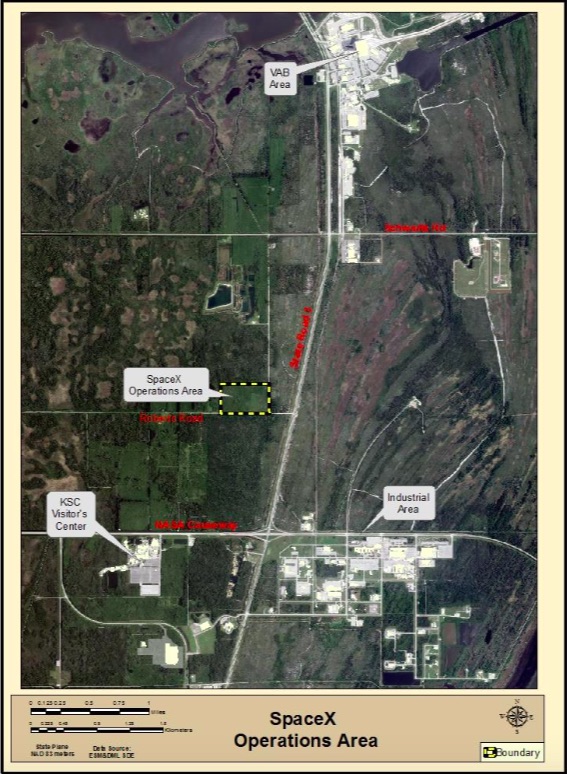 The launch and landing control center would tower the new SpaceX operations site, with a height of up to 300 feet (92 meters) and a ground footprint covering around 32,000 square feet (nearly 3,000 square meters).
An artist's illustration of the proposed control center shows a futuristic tower, crowned with a multi-layered viewing platform with windows facing SpaceX's two Florida launch pads a few miles away.
"The launch control center is envisioned to be world-class, architecturally distinctive, and equipped for satellite, cargo, and crew missions," officials wrote in the draft environmental review.
The control center would be large enough to contain a data center, firing room, and an engineering room for Falcon 9, Falcon Heavy and Dragon mission operations, according to the report. The facility would also house customer meeting and launch viewing accommodations, and administrative space for senior executives. An adjacent parking facility would have room for up to 200 vehicles, the report said.
The control center would be used for Falcon 9 and Falcon 9 launch operations from pad 39A, a former Apollo and space shuttle launch complex leased from NASA, and pad 40 at Cape Canaveral Air Force Station.
A new rocket hangar at the Roberts Road location would be used by SpaceX to process, store and refurbish Falcon 9 and Falcon Heavy first stage boosters and payload fairings. The proposed hangar would have an area of around 133,000 square feet (more than 12,000 square meters) and measure up to 100 feet (31 meters) tall, the environmental assessment report said.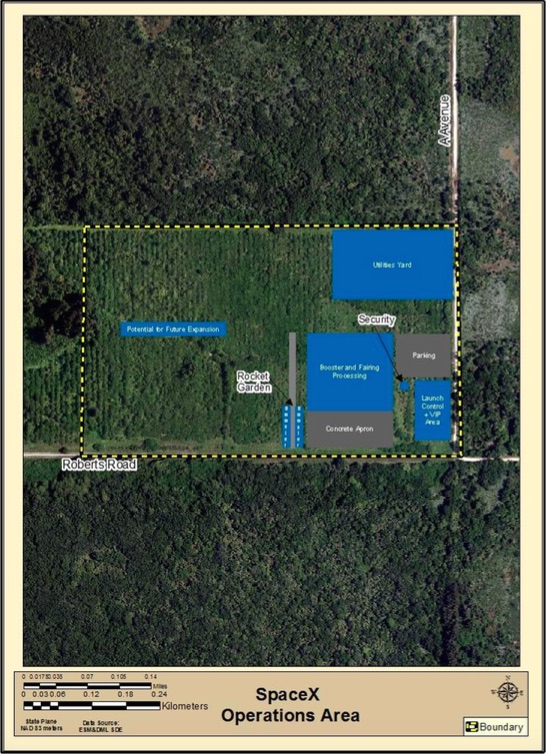 SpaceX could also add to the hangar a connected facility for end-of-life decommissioning of rocket components destined for retirement, plus hardware investigations.
SpaceX currently recovers and re-launches Falcon 9 first stage boosters, which land on a drone ship parked downrange in the ocean, or at a landing pad at Cape Canaveral Air Force Station. The company's engineers are experimenting with techniques using a ship fitted with a large net to retrieve payload fairings, which shield satellites during the first few minutes of launch, then jettison in two halves.
The environmental review says SpaceX estimates there may be up to 63 booster landings per year, including Falcon 9 and Falcon Heavy missions, either on SpaceX's drone ship or at the company's landing complex at Cape Canaveral. Each Falcon Heavy mission could include three first stage recoveries.
There are also plans for a display site, or rocket garden, at the Roberts Road location, similar to the rocket attraction at the nearby Kennedy Space Center Visitor Complex.
"These vehicles may include Dragon and Falcon 9 staged vertically or horizontally," the report said. "All vehicles will be completely inert, with no hazardous material present on the interior or exterior of the system."
SpaceX also plans a 2,500-square-foot (232-square-meter) security center, and a 280,000-square-foot (26,013-square-meter) utilities yard with fiber, water and gas connections. The site would potentially connect to an existing nearby power substation, but SpaceX could work with the local power provider to develop a new substation at the Roberts Road location, according to the environmental review.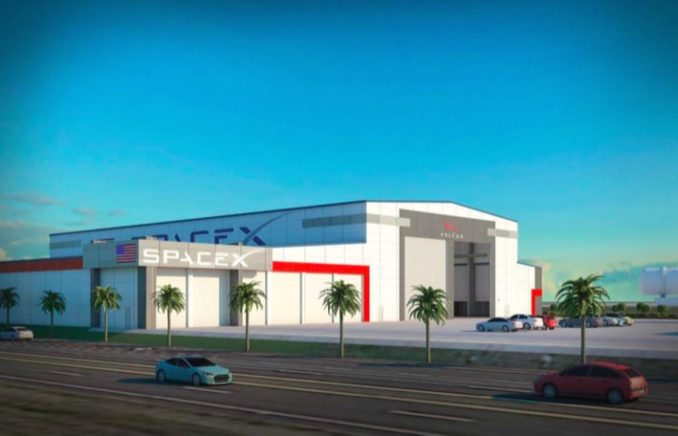 If approved, the proposal would make NASA property available to SpaceX via an "enhanced use lease agreement." One of the Kennedy Space Center's missions in the post-shuttle era is to make the area a "multi-user spaceport," supporting a range of NASA, military and commercial launch activities.
"Thanks to the NASA bill we passed last year to allow commercial space companies to expand their activities on NASA properties, SpaceX is now building a major new facility KSC that will bring more jobs and provide yet another boost to the local economy," tweeted Sen. Bill Nelson, D-Florida.
Information on the number of jobs expected to be created by the SpaceX expansion in Florida were not provided in the environmental assessment.
SpaceX already leases pad 39A from NASA, and Boeing has based manufacturing and processing of its CST-100 Starliner crew capsule in a hangar formerly used to prepare space shuttles for flight. Boeing also uses two other former shuttle hangars for work on the Air Force's unpiloted X-37B spaceplanes.
NASA officials who reviewed SpaceX's proposed development concluded it would have no significant effects on the environment. KSC is co-located with the Merritt Island National Wildlife Refuge.
"Even if there was 100 percent build out of the site, the impacts would be expected to be minimal," officials wrote in the environmental review.
Officials wrote there could be minor impacts with the elimination of a small amount of habitat for eastern indigo snakes. There may also be a risk to migratory birds traveling in large flocks, which are known to collide with tall buildings and towers.
"The SpaceX launch and landing control center will be a very uniquely shaped building with limited windows," officials wrote. "It is anticipated to be no more than 300 feet tall, but will be far more robust than a communication or wind tower. Mitigation to reduce bird collisions will be addressed in the final design and will comply with all FAA obstruction and marking guidelines."
SpaceX currently operates a launch and landing control center just outside the south gate to Cape Canaveral Air Force Station. The draft environmental analysis report did not specify whether the new location would supplement or replace the existing control center, which SpaceX has used since the maiden Falcon 9 launch in 2010.
The launch company currently processes Dragon spacecraft and Falcon rockets at several sites around Cape Canaveral, including a hangar at the Cape Canaveral Air Force Station industrial area and assembly buildings near its two launch pads.
SpaceX also processes payloads at an integration facility formerly used by the Air Force's Titan rocket program. The Area 59 satellite preparation site once used to ready military navigation, communications and early warning payloads will support pre-launch work on Dragon crew vehicles.
Email the author.
Follow Stephen Clark on Twitter: @StephenClark1.