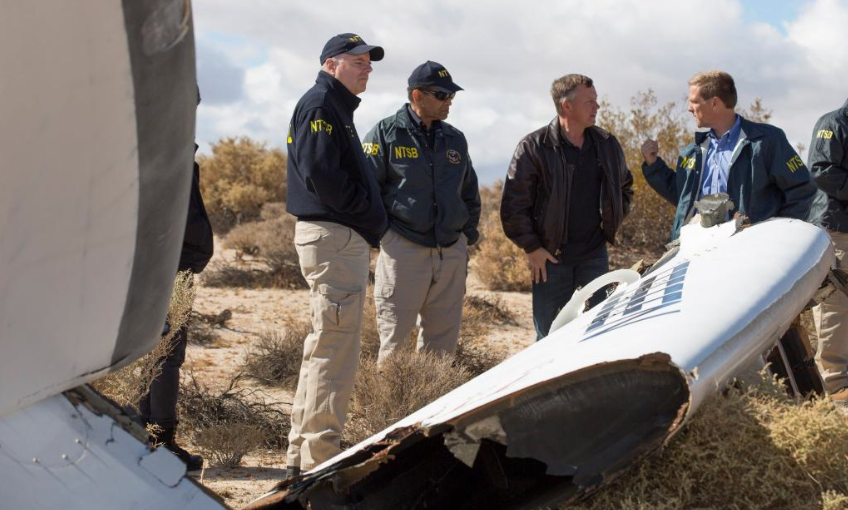 Investigators have plenty of evidence to sift through as they look into the cause of Friday's fatal crash of a Virgin Galactic rocket plane, but the acting chair of the National Transportation Safety Board said Saturday the inquiry may take up to a year to complete.
Federal investigators arrived at the crash site near Mojave, Calif., early Saturday and began documenting the debris field, which extends approximately 5 miles from northeast to southwest along the ground track of Friday's test flight.
One of the space plane's pilots, 39-year-old Michael Alsbury, died in the crash. Pilot Peter Siebold, 43, was hospitalized with serious injuries.
Both pilots were employees of Scaled Composites, builder of the SpaceShipTwo rocket plane Virgin Galactic planned to use for brief up-and-down suborbital spaceflights with paying passengers.
Scaled was founded by legendary aircraft designer Burt Rutan and is now a subsidiary of Northrop Grumman Corp.
The pattern of debris indicates SpaceShipTwo broke up in flight, according to Christopher Hart, acting chairman of the NTSB.
Photos from observers on the ground also show the craft splintering apart in mid-air shortly after firing a hybrid rocket motor following release from a huge twin-fuselage mothership 50,000 feet above the California desert.
"It's important to find where the pieces are in order to determine when and how the the breakup occurred," Hart said.
Fragments of the 60-foot-long rocket plane located so far include the ship's two tail booms at the northeast end of the debris field, the main fuselage and propellant tanks, cockpit area, and rocket motor farthest southwest.
Hart said NTSB experts would work backward in their investigation, using clues from the debris and from other sources to determine what happened to SpaceShipTwo.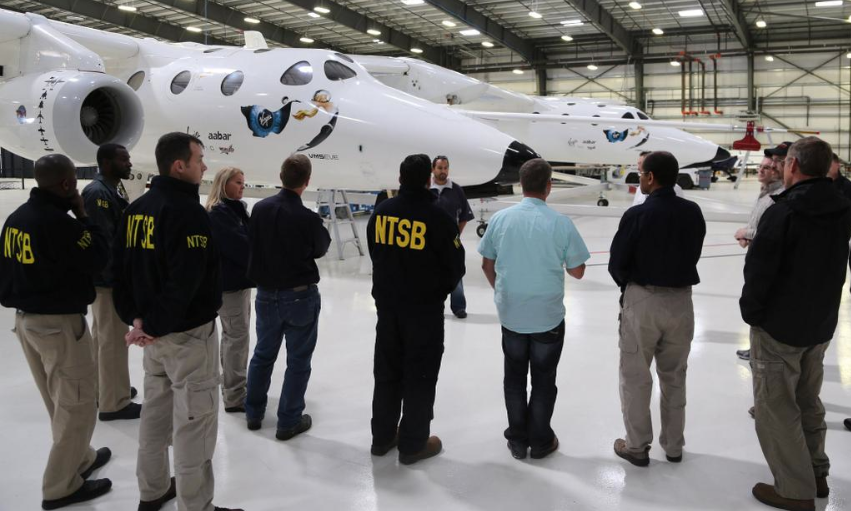 "When the debris field spans that large an area, then we know there was in-flight separation, and then, of course, the question then is why did that happen? That is what we are exploring. That's what our investigators are examining," Hart said.
The experimental nature of Friday's flight — it was a test flight with a modified propulsion system — meant the spacecraft was fully instrumented and tracked with optical cameras and a radar.
"They have extensive data to work from to help us investigate this accident," Hart said. "Because it was a test flight, it was heavily documented in ways that we don't usually see in normal accidents."
Six cameras were mounted on the SpaceShipTwo vehicle, Hart said, along with three cameras on the craft's WhiteKnightTwo carrier airplane, which was undamaged in the accident.
A chase plane was recording video of the test flight, and a long-range tracking camera at nearby Edwards Air Force Base was following the rocket plane, Hart said.
Telemetry from SpaceShipTwo recorded more than 1,000 parameters during Friday's flight, he said.
"Between the disparate sites that complicate our task as investigators because we have to go to those sites, plus the extensive amount of data, that's why we have our work cut out for us," Hart said. "I'm not complaining. That's actually a good thing that we have that much data because it's going to help us to do what we're here to do, which is to find out what went wrong and figure out what to do and make recommendations to prevent it from happening again."
Hart said NTSB teams will be at the crash scene in Mojave for about four to seven days, but it could take up to a year for investigators to complete their analysis of the accident and release a final report.
In the meantime, there is nothing to prevent Virgin Galactic from moving forward, Hart said.
"While we are investigating, there's nothing that prevents this operator from continuing flying and doing what this operator wants to do," Hart said. "If we find anything in the course of this investigation that warrants immediate attention … rather than waiting for the completion of our report to do that, we would put out immediate recommendations as we have frequently done. So in terms of the short-term future, that would be completely up the operator. It woud not be affected by what we do."
Richard Branson, founder of Virgin Group, said Saturday he believed Virgin Galactic could recover from the accident and fly tourists into space, but only if it is proven safe.
More than 700 wealthy would-be passengers have signed up for $250,000 flights with Virgin Galactic. SpaceShipTwo is designed to fly up to six passengers on a single flight above 100 kilometers, or 62 miles, the internationally-recognized boundary of space.
In an interview with the Financial Times published Sunday, Virgin Galactic CEO George Whitesides said a second SpaceShipTwo rocket plane was about 65 percent complete and could be ready to fly next year.
Follow Stephen Clark on Twitter: @StephenClark1.