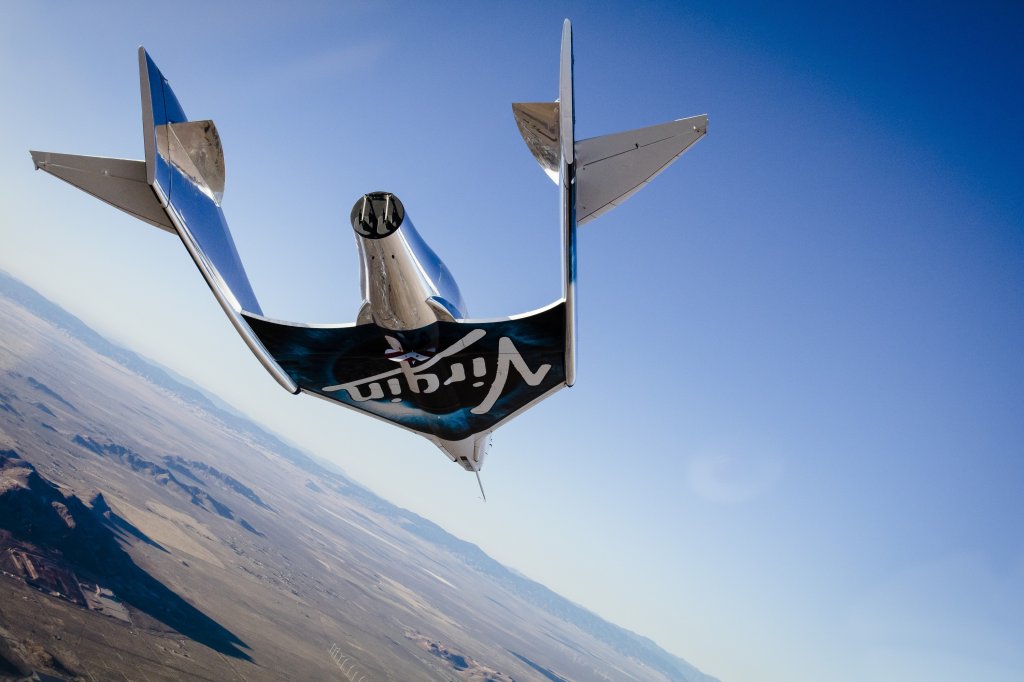 Virgin Galactic's second SpaceShipTwo rocket plane glided to a runway landing after dropping from its carrier aircraft over California's Mojave Desert on Saturday.
With two pilots at the controls, the VSS Unity spaceship's first glide flight went well, returning Virgin Galactic's SpaceShipTwo vehicles to standalone sorties for the first time since a fatal accident on a test flight in October 2014 set back the company's plans to start commercial service with passengers on brief suborbital trips into space.
VSS Unity is Virgin Galactic's second rocket plane, and the first manufactured by a Virgin subsidiary named The Spaceship Company. Saturday's test came after a series of flights with the new SpaceShipTwo vehicle remaining attached to its huge carrier plane, dubbed WhiteKnightTwo.
Veteran test pilots Mark Stucky and Dave Mackay flew VSS Unity from its release from the WhiteKnightTwo carrier plane at an altitude of 50,000 feet to a smooth unpowered landing on a runway at the Mojave Air and Space Port in Mojave, California.
"As expected, for this first gliding test flight, VSS Unity was flying light and slow, achieving a maximum speed of approximately Mach 0.6 while gliding home from an altitude of 50,000 feet," Virgin Galactic said in a statement. "An initial look at the data as well as feedback from our two pilots indicate that today's flight went extremely well, but we'll take the time to properly and thoroughly analyze the vehicle's performance before clearing the vehicle for our next test."
Saturday's glide test was the fifth flight of VSS Unity since it first took to the skies in September.
"We're looking forward to getting back into the skies as soon as the engineers say we are ready to do so," Virgin Galactic said.
More glide flights are planned before Virgin Galactic officials give the green light to begin rocket-powered tests on VSS Unity.
"We have not yet reached the rocket powered phase of the test flight program — first we need to gather test flight data to confirm our analyses and calculations about how VSS Unity will perform in a wide variety of real-world flight conditions," the company said.
The glide flights will test the vehicle's performance at a range of weights, from a light load to a heavy spacecraft simulating a mission with full fuel tanks and passengers. The tests will also wring out VSS Unity's performance at different airspeeds and flight angles.
Pilots and engineers will also demonstrate SpaceShipTwo's abort modes during the glide flights, according to Virgin Galactic, part of Richard Branson's Virgin Group.
On full-up suborbital missions, SpaceShipTwo vehicles will drop from the bottom of its mothership at 50,000 feet, fire an aft-mounted hybrid rocket motor and accelerate past the speed of sound, heading for a peak altitude of more than 60 miles (100 kilometers), the internationally-recognized boundary of space.
Passengers aboard the rocket plane will experience several minutes of microgravity, and enjoy expansive views of Earth below the blackness of space.
During the next phase of the flight, the spaceship will re-orient its twin tail booms to stabilize itself for re-entry, then glide to a runway landing like the space shuttle.
Virgin Galactic officials have set requirements VSS Unity needs to meet during the craft's glide flight test program before proceeding to rocket-powered tests. The company said it will conduct as many flights as needed to meet the requirements.
The first SpaceShipTwo test vehicle, named VSS Enterprise, was on its fourth powered test flight when it broke apart shortly after igniting its rocket motor in October 2014. Co-pilot Michael Alsbury was killed in the accident — lead pilot Peter Siebold survived — 10 miles over the Mojave Desert.
National Transportation Safety Board investigators blamed the crash on Alsbury's premature unlocking of the craft's rotating tail booms.
The pilots did not send commands to deploy the re-entry feathering system, but strong aerodynamic forces in the lower, denser part of the atmosphere pushed the unlocked tail booms upward into their re-entry positions, leading to loss of control and the disintegration of the rocket plane.
VSS Unity has an electronic mechanism to prevent pilots from prematurely unlocking the feathering system.
Email the author.
Follow Stephen Clark on Twitter: @StephenClark1.