Watch a replay of our live coverage of the countdown and launch of a Falcon 9 rocket with two O3b mPOWER internet satellites Friday, April 28. SpaceX also attempted to launch a Falcon Heavy rocket later in the night, but the countdown aborted in the final minute before liftoff. Follow us on Twitter.
A SpaceX Falcon 9 rocket lifted off with a pair of O3b internet satellites for SES Friday evening from Cape Canaveral Space Force Station, but a last-minute abort for a Falcon Heavy mission later in the night prevented the company from pulling off a launch doubleheader.
The Falcon 9 rocket launch from pad 40 at Cape Canaveral at 6:12 p.m. EDT (2212 UTC) sent the the second pair of Boeing-built satellites into space for SES's O3b mPOWER network, a constellation of equatorial orbiting internet relay platforms for telecom operators and mobile connectivity services.
Three-and-a-half miles to the north, SpaceX readied a Falcon Heavy rocket — created by combining three Falcon 9 first stage boosters — for a ride to a high-altitude orbit more than 20,000 miles (about 35,000 kilometers) over the equator with the ViaSat 3 Americas broadband satellite, also made by Boeing.
Forecasters predicted iffy weather Friday evening for both launches, but the SpaceX took advantage of a favorable trend in weather conditions to get the Falcon 9 off the ground on the O3b mPOWER mission Friday evening. The Falcon Heavy launch was previously scheduled for Thursday evening, but SpaceX delayed the flight 24 hours due to severe weather impacting Florida's Space Coast.
In the end, the Falcon Heavy countdown aborted about a minute before liftoff for reasons SpaceX did not explain during their launch broadcast Friday night. The last-minute hold eliminated any chance for SpaceX to launch back-to-back rockets Friday night, an event that would have marked the shortest span between two SpaceX missions in the company's history, and the most rapid turnaround between two orbital-class launches from Cape Canaveral since 1966.
SpaceX said late Friday night that the Falcon Heavy's next launch attempt will be Sunday.
Separate SpaceX launch teams watched over the nearly simultaneous countdowns for the Falcon 9 and Falcon Heavy Friday night.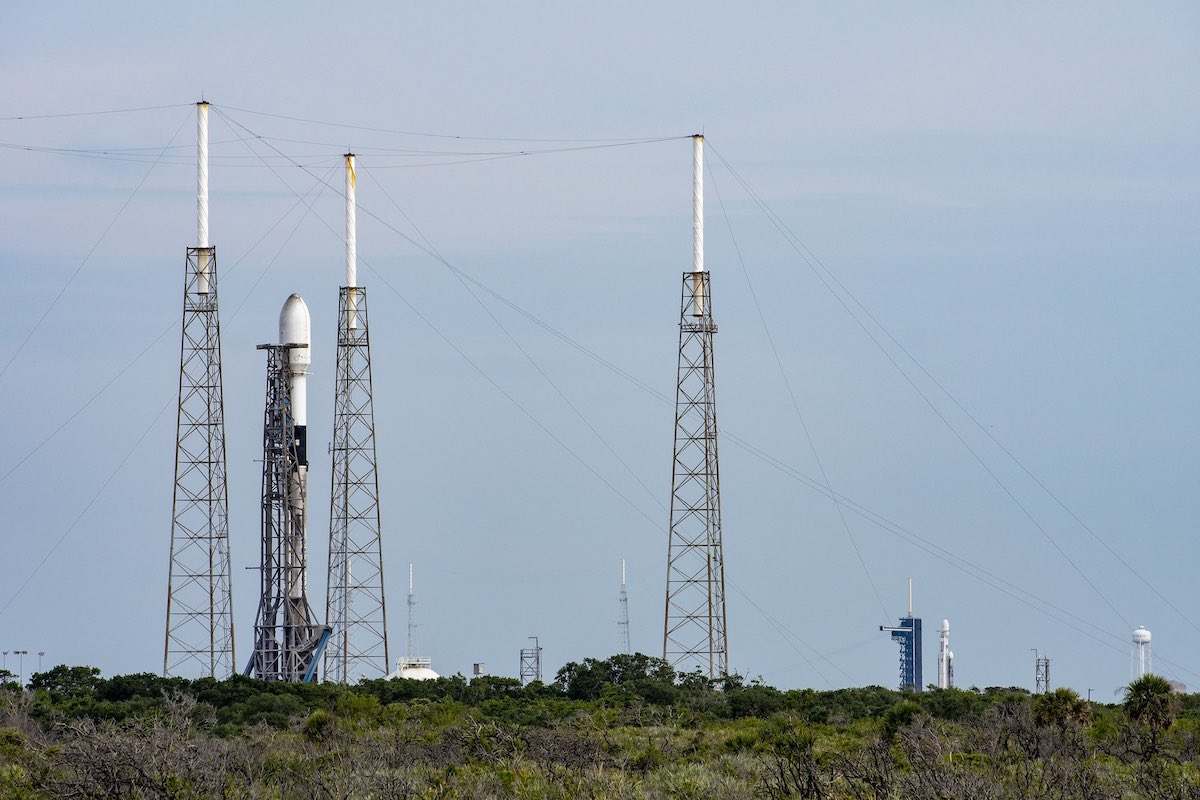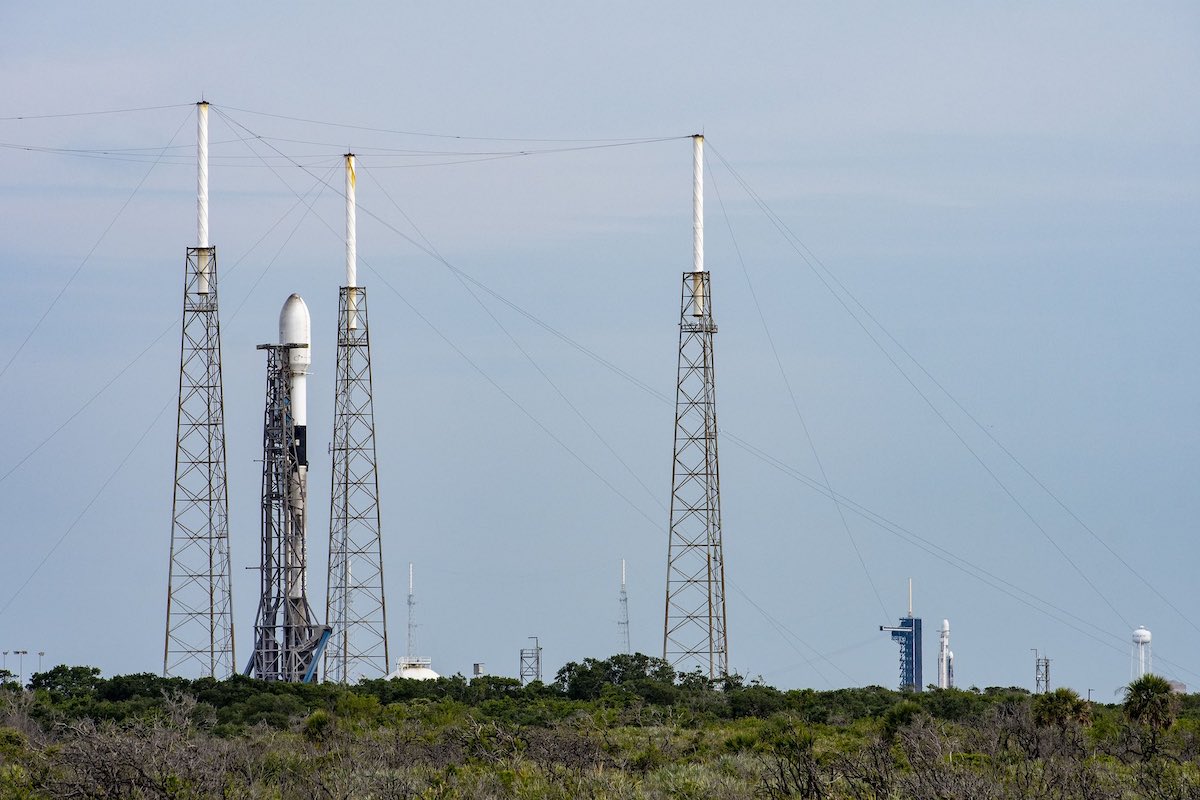 The O3b mPOWER satellites that lifted off on the Falcon 9 rocket from pad 40 will beam high-speed internet services around the world, providing "fiber-like" connectivity to users between 50 degrees north and south latitude, according to SES, the Luxembourg-based operator that owns the O3b fleet. Airplanes, cruise ships, energy companies, research institutions, and remote communities can remain connected using the O3b network.
The two O3b spacecraft on the Falcon 9 rocket, when combined, weigh roughly 9,000 pounds (4,100 kilograms) in launch configuration, according to Boeing. The Falcon 9's first stage booster landed on a drone ship in the Atlantic Ocean about nine minutes after liftoff on the O3b mission Friday.
The Falcon 9's upper stage fired its single engine three times to propel the O3b mPOWER satellites into an elliptical transfer orbit ranging more than 4,300 miles (nearly 7,000 kilometers) above Earth, at an inclination of around 10 degrees to the equator. The satellites will use electric propulsion to reach their final circular operating orbits over the equator at an altitude of about 5,000 miles (8,000 kilometers).
SES already has 20 O3b first-generation satellites in Medium Earth Orbit. They flew to space on Russian Soyuz rockets under a launch services contract with Arianepace.
The new O3b mPOWER satellites will operate in a similar Medium Earth Orbit, or MEO, as the original O3b satellites. The first two O3b mPOWER satellites launched on a Falcon 9 rocket from Cape Canaveral in December.
O3b stands for "Other 3 Billion" in recognition of the billions of people without access to reliable internet service.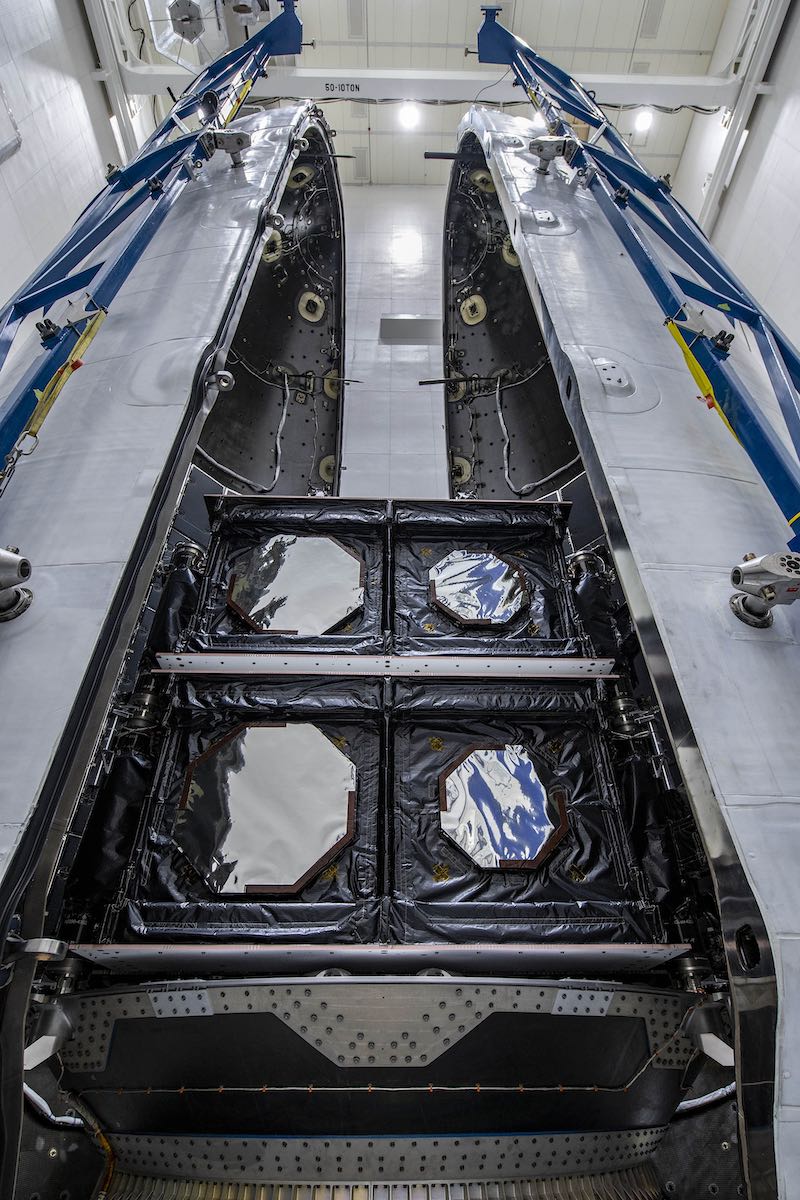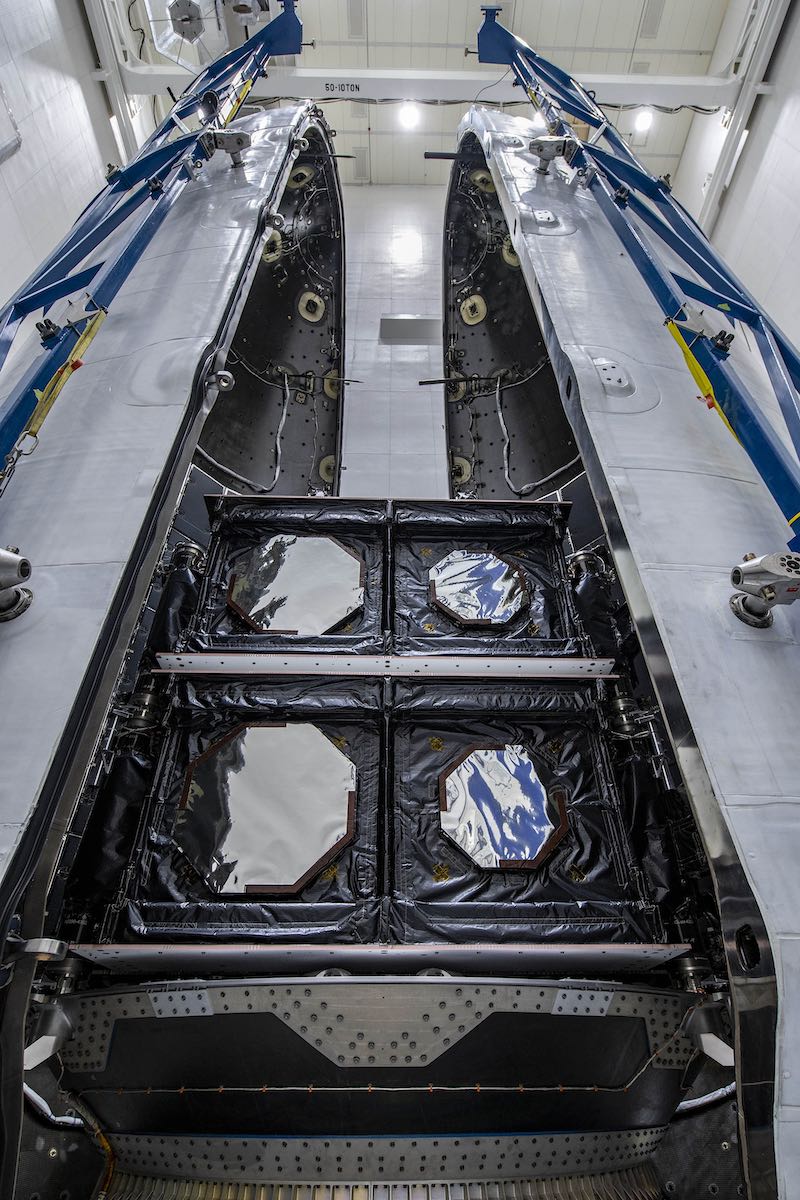 The original O3b satellites, built by Thales Alenia Space nearly a decade ago, had 10 user beams per spacecraft. The new O3b mPOWER satellites, built on Boeing's 702 spacecraft platform, each have more than 4,000 beams that can be adjusted to focus bandwidth on high-demand areas.
SES has focused on developing broadband satellites for a MEO constellation constellation, which puts the relay stations closer to Earth than geostationary orbit some 22,000 miles over the planet. That reduces the latency, or lag, in internet signals compared to geostationary satellites. As few as three geostationary satellites could provide global coverage, but more satellites in MEO required to reach around the world.
But that number is still far fewer than the hundreds or thousands of internet satellites companies like SpaceX and OneWeb are launching into low Earth orbit. Satellites flying less than 1,000 miles above Earth reduce latency even further than MEO satellites, but many more spacecraft are needed for global coverage.
Another pair of O3b mPOWER satellites — Nos. 5 and 6 — are planned for launch on a SpaceX Falcon 9 rocket later this year. SES has ordered 11 O3b mPOWER satellites from Boeing so far, with additional launches on SpaceX rockets planned throughout 2024.
Falcon Heavy set for sixth launch on commercial flight to GEO
When it takes off, the Falcon Heavy mission will be the sixth launch of a SpaceX's triple-body rocket since 2018, and the second of as many as five Falcon Heavy flights the company plans this year. It's the first Falcon Heavy launch in which SpaceX will intentionally dispose of all three first stage boosters. SpaceX is dedicating all of the rocket's propellant to deploying the roughly 6-metric-ton (13,000-pound) ViaSat 3 Americas satellite and its two co-passengers into a near-geosynchronous orbit (GEO).
The mission will take about four-and-a-half hours to reach its targeted orbit, requiring three burns by the upper stage engine. A direct insertion into geosynchronous orbit is one of the most challenging mission profiles in the launch industry. The feat requires extended battery life on the upper stage, plus a custom band of gray thermal paint on the rocket to help ensure the kerosene fuel does not freeze during the hours spent in the cold environment of space.
Viasat has not said how much it paid SpaceX for the launch. Intelsat officials said last year SpaceX charged a premium for a launch where the booster is expended.
The center core for the ViaSat 3 Americas mission is brand new, while the side boosters are reused from previous SpaceX missions.
ViaSat 3 Americas is the first of three new-generation broadband satellites for Viasat, which beams internet signals for underserved consumers, businesses, and governments. Based in Carlsbad, California, Viasat has agreements to provide in-flight WiFi to passengers on Delta Air Lines, American Airlines, United Airlines, Southwest Airlines, JetBlue, and other commercial airlines.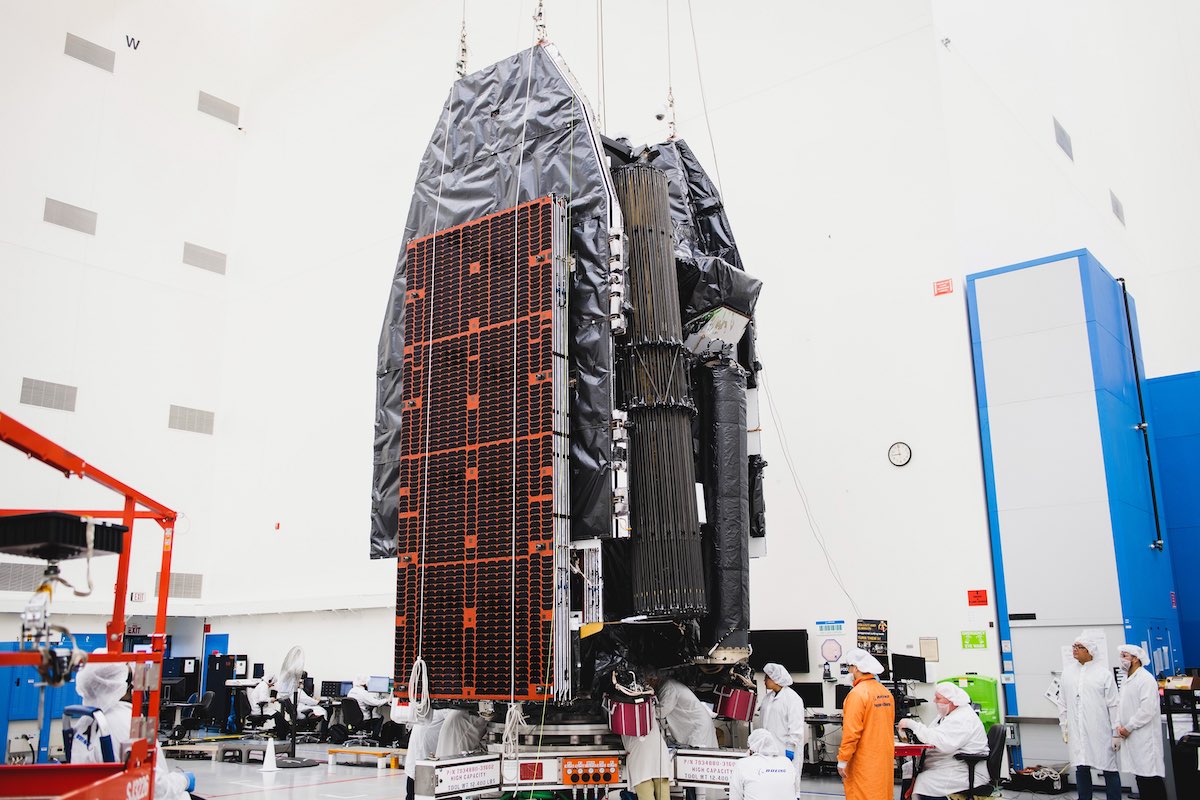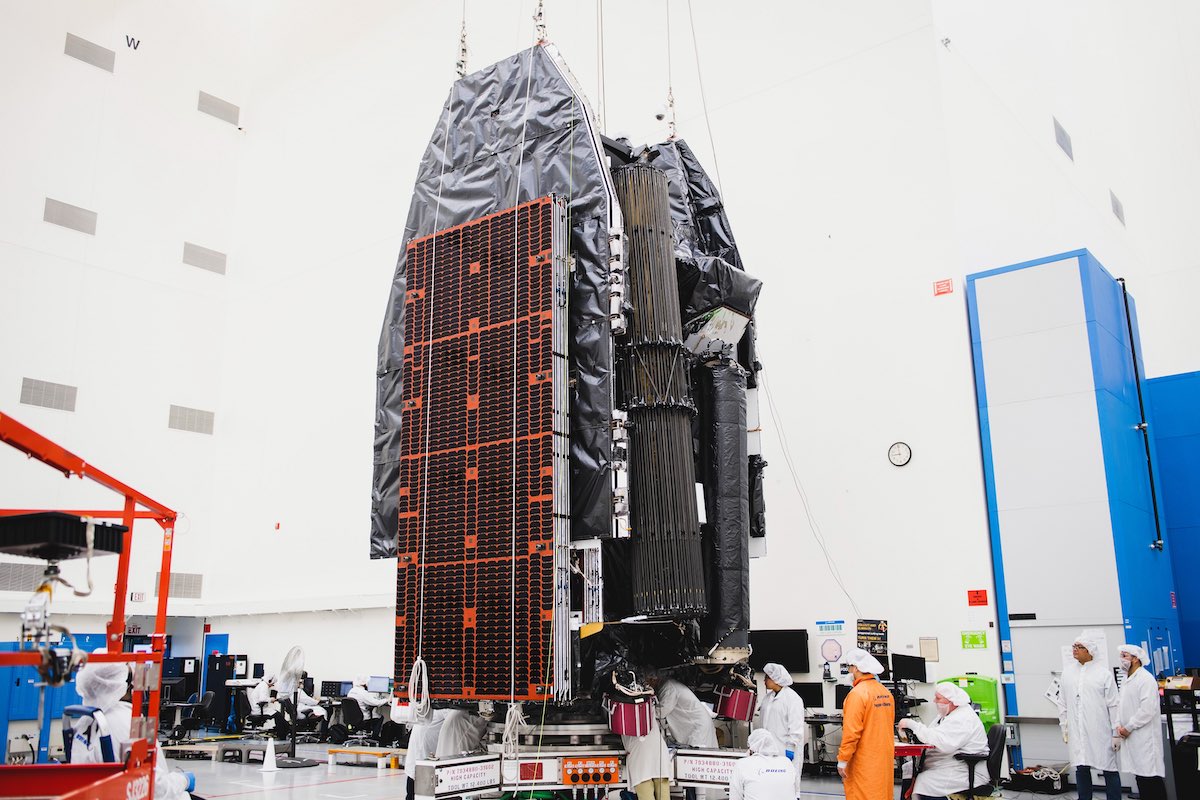 The satellite is as big as a school bus, and its solar panels will unfurl in orbit to generate more than 30 kilowatts of power in orbit, more than a quarter the electrical power produced by all the solar arrays on the International Space Station.
The spacecraft has one of the largest antenna reflectors ever sent into space, and will rely on all-electric propulsion for fine orbital maneuvers and station-keeping. After separating from the Falcon Heavy rocket, the spacecraft will use its plasma thrusters to raise its orbit the final 700 miles (1,100 kilometers) to geostationary orbit, where its velocity will match the rate of Earth's rotation.
That will allow the ViaSat 3 Americas spacecraft to hover over the same geographic position along the equator at 88.9 degrees west longitude, providing coverage over North and South America and adjacent maritime regions. Viasat and Boeing are working on two more satellites to provide similar internet service over Europe, North Africa, and the Middle East, and the Asia-Pacific region.
Smaller rideshare communications satellites for Astranis and Gravity Space, both commercial startups, will hitch a ride to orbit on the Falcon Heavy rocket.
Astranis's satellite, called Arcturus with a launch weight around 660 pounds (300 pounds), will provide broadband internet services to Alaska. Gravity Space's microsatellite will help an Indonesian company retain regulatory rights to an orbital slot in geostationary orbit with the International Telecommunication Union, which doles out geostationary positions to commercial satellite operators.
Email the author.
Follow Stephen Clark on Twitter: @StephenClark1.