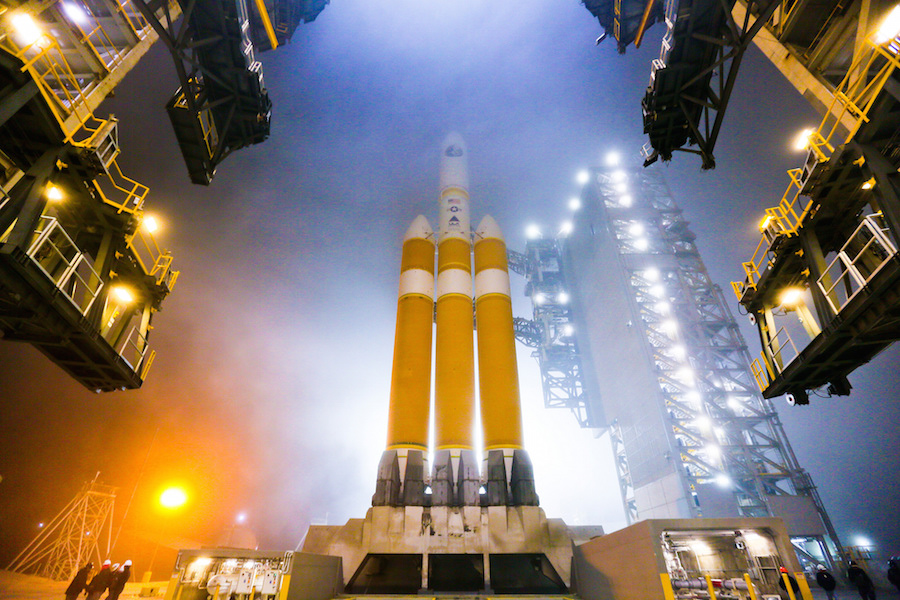 Managers have pushed back the next flight of United Launch Alliance's Delta 4-Heavy rocket from a launch pad in California until no sooner than early December, and the first launch of SpaceX's Falcon Heavy for the U.S. Air Force has likely been delayed to some time early next year, officials said this week.
Those missions using the heavy-lift rockets from the two top U.S. launch companies are set to take off amid a series of spacecraft deployments to upgrade the Air Force's GPS navigation network, expand the military's secure global communications capabilities, serve commercial customers, and test flights of new U.S.-built crew capsules.
The Delta 4-Heavy launch was previously scheduled for Sept. 26 from Vandenberg Air Force Base in California. The triple-core launcher, the heaviest in ULA's fleet, will loft a classified payload for the National Reconnaissance Office, the U.S. government agency which owns top secret spy satellites.
But the mission has been delayed to no earlier than Dec. 3, according to a spokesperson from the Air Force's Space and Missile Systems Center. The spokesperson did not disclose a reason for the delay in the mission, which will mark the 11th flight of a Delta 4-Heavy, following the heavy-lifter's previous launch Aug. 12 with NASA's Parker Solar Probe.
The Delta 4-Heavy's three first stage Common Booster Cores, each powered by an Aerojet Rocketdyne RS-68A main engine, and single-engine upper stage have been raised at Vandenberg's Space Launch Complex-6 launch pad, nestled between hills overlooking the Pacific Ocean. The rocket's installation on the launch pad signals the start of several months of testing and checkouts.
The launch targeted for Dec. 3 is codenamed NROL-71, and the government's spy satellite agency does not reveal details about their spacecraft.
The clandestine payload launching on the NROL-71 mission is believed by astute observers of NRO launches to likely be the latest in a line of sharp-eyed optical imaging craft — sometimes known as Keyhole satellites — with Earth-pointing telescopes in polar orbit.
Meanwhile, the launch of a SpaceX Falcon Heavy rocket hauling more than more than two dozen small satellites for the military, NASA, and international research institutions is now expected next year.
Dubbed the Space Test Program-2 mission, the launch from pad 39A at NASA's Kennedy Space Center in Florida was scheduled for June at the time of the Falcon Heavy's maiden flight in February. An Air Force spokesperson said in May that the STP-2 launch was delayed to October "due to ongoing SpaceX qualification testing and engineering review by both SpaceX and the Air Force."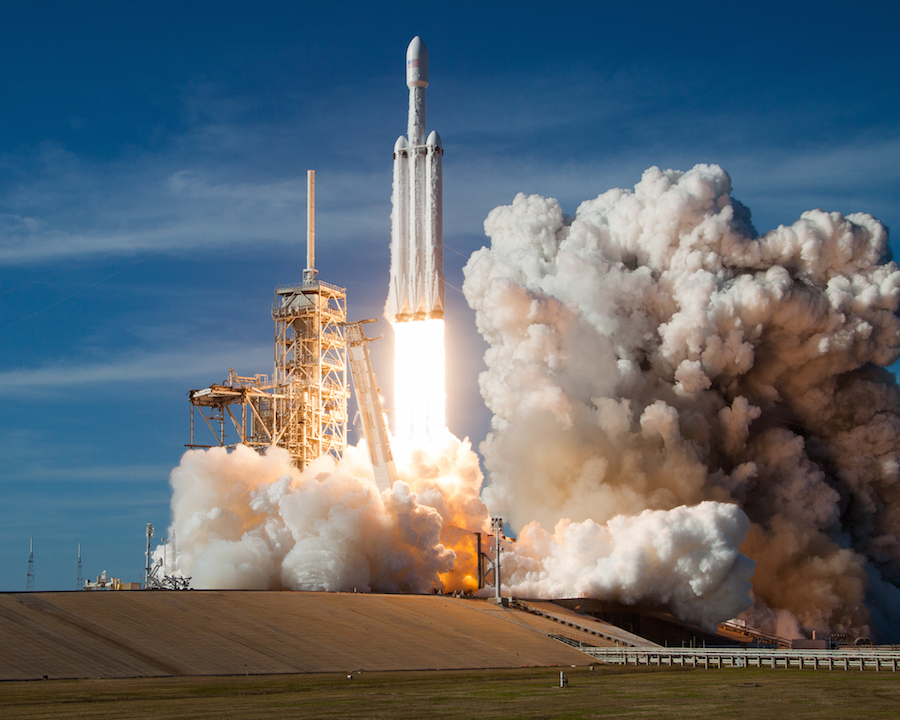 The mission later slipped to no earlier than Nov. 30, the launch date provided by an Air Force spokesperson earlier this week in response to questions from Spaceflight Now. But two managers with payloads on the STP-2 mission said Friday that the launch is no longer scheduled before the end of this year.
SpaceX received the Falcon Heavy's STP-2 launch contract from the Air Force in 2012 for the STP-2 mission. At the time, the mission was scheduled for launch in mid-2015, but numerous delays in the Falcon Heavy's debut flight forced the STP-2 launch to wait in SpaceX's launch queue.
The STP-2 mission is managed by the Space Test Program, which oversees many of the military's experimental space projects — not the operational intelligence-gathering, navigation and communications satellites used day-to-day by deployed forces and defense officials.
A pair of Air Force communications satellite are also nearing launch in the next few months.
The AEHF 4 spacecraft is poised to join the Air Force's fleet of Advanced Extremely High Frequency satellites with a launch scheduled from Cape Canaveral on Oct. 17 aboard a ULA Atlas 5 rocket.
The launch window opens shortly after midnight EDT (0400 GMT) on Oct. 17. The Atlas 5 rocket set to launch the AEHF 4 satellite will be powered by five strap-on solid rocket boosters — along with its RD-180 main engine — the biggest version of ULA's workhorse launcher.
Built by Lockheed Martin, the AEHF satellites in geostationary orbit more than 22,000 miles (nearly 36,000 kilometers) above the equator provide secure, jam-proof communications for military commanders, government leaders and deployed forces. With four AEHF satellites in orbit, the encrypted network will have global reach, fully replacing the Air Force's aging Milstar system.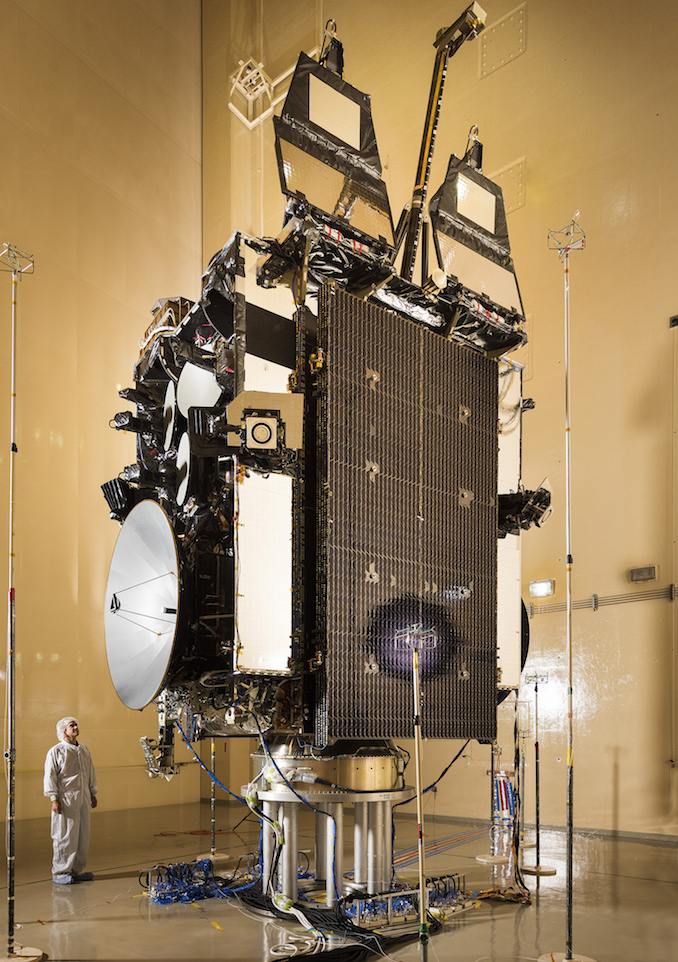 "Four AEHF satellites in orbit means protected global connectivity for those who need it most, from the president to deployed soldiers," said Michael Cacheiro, Lockheed Martin vice president of protected communications. "We offer powerful end-to-end systems so that more operational users can have assured connectivity in contested environments."
The AEHF 4 satellite arrived at Cape Canaveral on July 27 to begin final pre-launch testing, fueling and processing before its October liftoff.
"Delivering this fourth satellite in orbit will be critical to the Air Force, as it will connect all four satellites on orbit, forming a geostationary ring to provide uninterrupted global communications," Cacheiro said in a statement.
A fifth AEHF satellite is also being prepared for a potential launch on an Atlas 5 rocket next year, but that mission does not have a confirmed target launch date.
SpaceX is slated to launch the Air Force's first third-generation GPS 3-series satellite no earlier than Dec. 15.
A Falcon 9 rocket will deliver the navigation payload to an elliptical transfer orbit ranging between a few hundred miles above Earth to a maximum altitude of nearly 12,550 miles (20,200 kilometers). The first batch of 10 GPS 3-series craft, built by Lockheed Martin, will use on-board propellant to maneuver into their 12,550-mile-high circular orbits.
There they will replace older GPS satellites nearing retirement, ensuring the worldwide navigation system continues beaming reliable position and timing signals to military units, airplanes, ships, automobiles and mobile phones.
The GPS 3 satellite, designated Space Vehicle 1, or SV01 — rode an Air Force C-17 cargo plane from its Lockheed Martin factory in Colorado to Titusville, Florida, on Aug. 21 to begin launch preparations at the Astrotech spacecraft processing facility.
The first of the GPS 3-series satellites to launch has been nicknamed "Vespucci" in honor of Amerigo Vespucci, the Italian explorer for whom the Americas were named. While the spaceraft was the first off Lockheed Martin's GPS assembly line and will be first to go into space, it's also known as the GPS 3-02 mission because it was the second GPS 3-series satellite assigned to a rocket.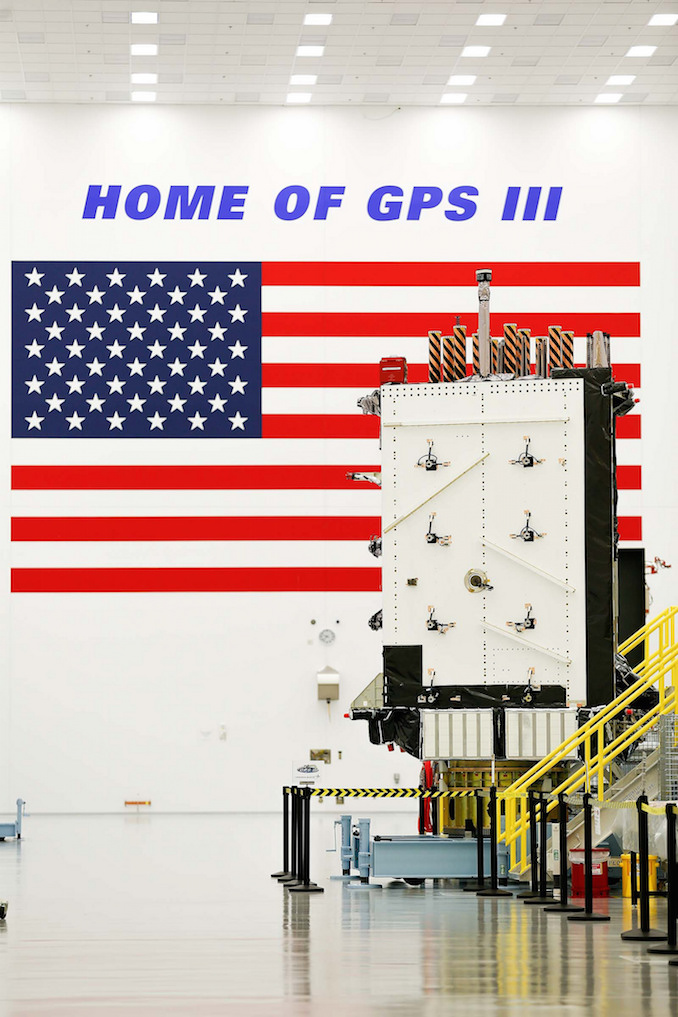 The new satellite will also be the first GPS craft to broadcast the L1C navigation frequency, ensuring the U.S. navigation fleet's compatibility with other networks, such as Europe's Galileo system. The GPS 3 satellites will provide more accurate position measurements and debut improved anti-jamming features, but the multibillion-dollar program has been hamstrung by trouble developing ground control software.
"The shipment of the first GPS 3 satellite to the launch processing facility is a hallmark achievement for the program," said Lt. Gen. John Thompson, SMC commander and Air Force program executive officer for space. "The modernization of GPS has been an outstanding collaborative effort and this brings us another step closer to launch."
The satellite will also be the first GPS craft to be attached to its launcher horizontally. The Air Force said the launch, which had been scheduled for October, was delayed to December to complete qualification and validation work on SpaceX's upgraded Falcon 9 Block 5 rocket.
Another Air Force communications satellite for the Wideband Global SATCOM constellation will ride a Delta 4 rocket into orbit from Florida's Space Coast in January. That launch, now set for Jan. 23, was previously scheduled for Dec. 13.
The Boeing-built WGS 10 satellite will add to the military's high-bandwidth satellite capacity, providing connectivity to forces on land, in the air, and at sea through a jointly-funded program led by the United States, with financial contributions from Australia, Canada, Denmark, Luxembourg, the Netherlands and New Zealand.
The WGS 10 mission will use the Delta 4's basic "single-stick" configuration with four strap-on solid rocket boosters and a 5-meter (17-foot) diameter upper stage and payload shroud.
The second GPS 3-series satellite, known as SV02 or GPS 3-01, is scheduled for liftoff April 4 from Cape Canaveral, the Air Force said, on the final launch of the medium-lift, single-core variant of ULA's Delta 4 rocket.
The Delta 4 will fly in a configuration with two solid rocket boosters and a 4-meter (13-foot) payload fairing, marking the retirement of a major part of ULA's rocket family.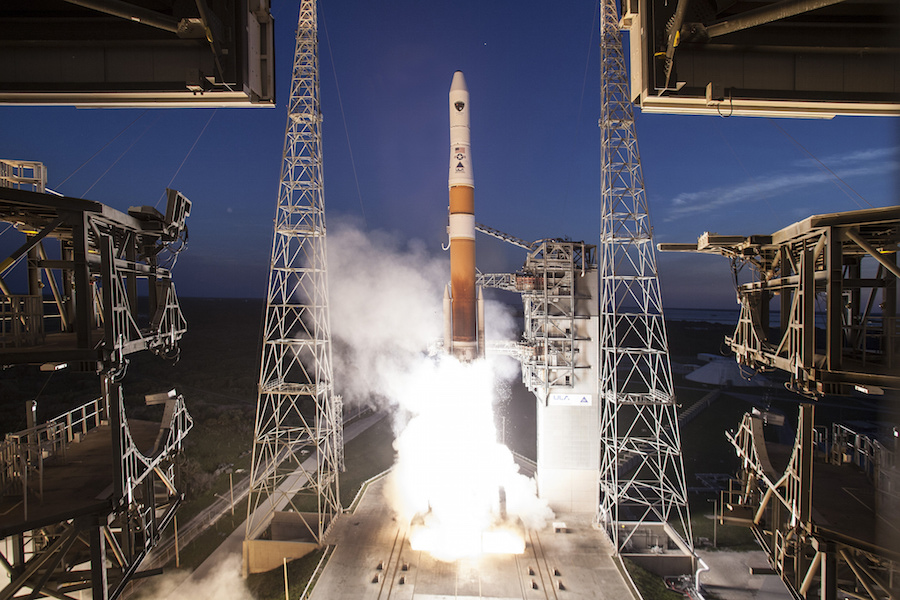 ULA will continue launching Delta 4-Heavy rockets into the early 2020s, before eventually replacing both the Atlas and Delta fleets with with the next-generation Vulcan rocket.
Other missions on the Air Force's launch manifest next year include the STP-3 launch — another flight sponsored by the Space Test Program — aboard an Atlas 5 rocket.
That launch will be the first Atlas 5 flight to employ new solid rocket boosters provided by Northrop Grumman Innovation Systems, formerly known as Orbital ATK, replacing strap-on motors currently built by Aerojet Rocketdyne.
ULA announced it was switching booster suppliers in 2015 for future Atlas 5 missions. The Northrop Grumman-built rocket motors will also fly on the Vulcan launcher.
Northrop Grumman said in a statement Wednesday that the company's solid rocket boosters will make their first flight on the STP-3 mission, set for July 2019 from Cape Canaveral.
Multiple satellites will launch on the STP-3 flight, anchored by STPSat 6, a host spacecraft for several government-funded experiments, including a space-based nuclear explosion sensor for the National Nuclear Security Administration and a laser communications demo package for NASA.
Also planned for next year: The third GPS 3-series satellite has a target launch date in October 2019 on another SpaceX Falcon 9 rocket, and a classified NRO payload — codenamed NROL-111 — is scheduled to blast off from NASA's Wallops Flight Facility in Virginia some time between March and June aboard a solid-fueled light-class Northrop Grumman Minotaur 1 rocket.
Email the author.
Follow Stephen Clark on Twitter: @StephenClark1.