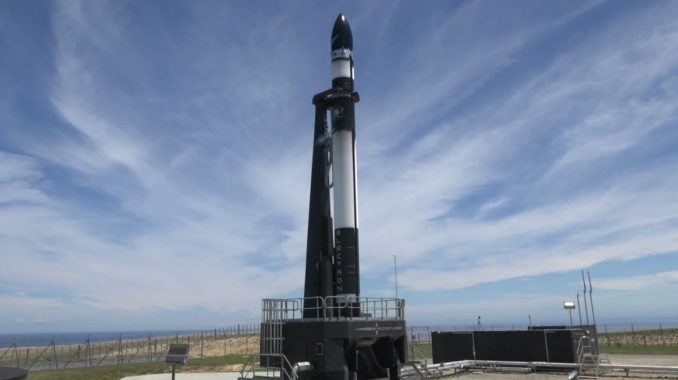 Five small satellites, including one built by high school students in Southern California, are awaiting launch Friday from New Zealand aboard the first commercial flight of Rocket Lab's Electron booster.
The U.S.-New Zealand launch company plans liftoff of the two-stage rocket during a four-hour window opening at 8:30 p.m. EDT Friday (0030 GMT; 12:30 p.m. New Zealand time Saturday).
"We're currently green all around the board," said Peter Beck, Rocket Lab's founder and CEO. "We're looking good for weather."
The satellites stowed atop the 55-foot-tall (17-meter) rocket will gather weather data, track maritime traffic, test a drag sail device for de-orbiting space junk, and embark on a mission of education.
Sized to haul up to 330 pounds (150 kilograms) into a 310-mile-high (500-kilometer) polar orbit, the privately-developed Electron rocket was conceived to provide dedicated rides to space for lightweight payloads which currently must ride piggyback on bigger rockets, often forcing satellite owners to make compromises on orbital parameters and schedule.
With a launch base on New Zealand's North Island, a control center and manufacturing base in Auckland, and corporate headquarters and engine factory in Huntington Beach, California, Rocket Lab says it can offer customers a dedicated launch for as little as $4.9 million, a fraction of the price of larger, oversized boosters currently flying.
Rocket Lab is one of several companies competing in the light launch market. Virgin Orbit, Firefly Aerospace, and other launcher developers are still designing and testing their vehicles, making Rocket Lab the first of the group to announce the start of commercial operations.
"It's a really important launch for us, but also for the industry," Beck said in an interview Thursday. "It symbolizes the beginning of this long-awaited commercial regular service to orbit for spacecraft.
"There's a lot of excitement and talk about it, but it's nice to really have it beginning to be done," he told Spaceflight Now. "There's so many spacecraft on the shelf, and with this mission, we're at the beginning of where we can now provide a service to all these spacecraft that have been getting stuck, from here on."
The upcoming launch will be the third flight of Rocket Lab's Electron booster, following two test flights in May 2017 and in January.
The May 2017 mission, which Rocket Lab christened "It's a Test," reached space but fell short of the velocity needed to reach orbit when range safety officials terminated the mission due to a ground tracking error. On Jan. 20 (U.S. time), the second Electron mission — dubbed "Still Testing" — placed a package of small satellites into orbit.
The success in January prompted Rocket Lab officials to proceed with the start of commercial service with the third Electron launch, named "It's Business Time."
One of the payloads aboard the Electron launch in January was a geodesic sphere built and owned by Rocket Lab. Designed for to reflect sunlight to make it visible from the ground, the 3-foot (1-meter) sphere — resembling a disco ball and named Humanity Star — re-entered Earth's atmosphere after about two months.
Rocket Lab did not announce the presence of the Humanity Star satellite on the January launch until after it was deployed in orbit. With the start of commercial service, no such surprises are expected on the next mission.
"It seems like we've developed a reputation for new things and surprises, but there are no particular surprises on this launch," Beck said. "We're running the kick stage once again for this particular flight, but the vehicle is basically identical to the last flight."
The Curie kick stage also debuted on the January mission and went unannounced until after the successful demonstration. The kick stage burns a non-toxic "green" monopropellant. A company spokesperson said earlier this year that details about the make-up of the propellant are "commercially sensitive."
The lower two stages of the Electron rocket consume a mix of kerosene and liquid oxygen propellants.
Rocket Lab says the kick stage allows Electron flights to place multiple satellites into different orbits, using the Curie engine's reignition capability to adjust inclination and altitude. That will benefit customers flying different types of payloads on the same Electron mission, with the kick stage maneuvering to different orbits to drop off each satellite group.
The first commercial Electron flight was supposed to occur in late April, but managers grounded the launcher after the ground team noticed "unusual behavior" in a DC motor controller driving turbopumps on the rocket's first stage.
"We're abundantly cautious around here, so we saw that behavior, and we didn't want to fly until we really understood what that was," Beck said. "It turned out to not be a hardware issue. It was completely a process issue with production.
"We took our time to really drill down and make sure we fully understood the cause because from here on out, we're looking at a very high clip of manufacturing and launch for the rest of the year," he said. "The last thing we want to do is interrupt our manufacturing and launch flow with any kind of unresolved issue."
By the end of the year, Rocket Lab aims to achieve a launch cadence of one flight per month.
Rocket Lab took advantage of the two-month delay to add two more payloads to the mission.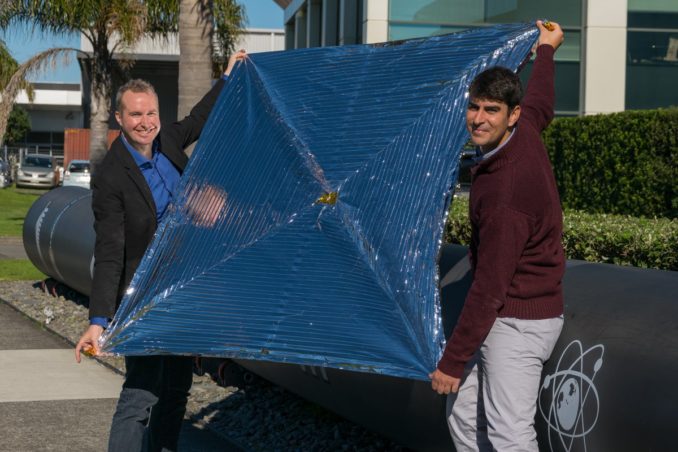 One of the new satellite passengers is Irvine01, a educational CubeSat built by California high school students. Irvine01 is part of the Irvine CubeSat STEM Program, comprising members from six high schools in Irvine, California.
The other payload added to the next Electron launch is a drag sail technology demonstrator named NABEO. Developed by High Performance Space Structure Systems in Germany, the NABEO small satellite mission will test a deployable 27-square-foot (2.5-square-meter) membrane using aerodynamic drag to slow down and de-orbit, a capability that could reduce space junk in low Earth orbit.
Rocket Lab said Ecliptic Enterprises and Tyvak Nano-Satellite Systems assisted with accommodating the Irvine01 and NABEO payloads on the Electron mission.
The Irvine01 and NABEO satellites joined two CubeSats for Spire Global, and one nanosatellite for GeoOptics that were already booked on the Electron launch. The Spire and GeoOptics payloads will measure GPS satellite navigation signals passed through Earth's atmosphere to derive information about weather and climate.
According to Beck, automated analysis tools and faster turnarounds in licensing and regulatory approvals made the late accommodation of Irvine01 and NABEO nanosatellites possible.
"Rocket Lab is a third about the rocket, a third about regulatory, and a third about infrastructure," Beck said. "While the rocket is always the exciting bit that everybody gravitates to, actually the other two pieces here are equally important if we really want to move the needle on the space industry."
"Usually, you talk about launch minus so many months to manifest a payload," he said. "We've been working very closely with the regulatory authorities to put in place mechanisms where we can do these kinds of things in a very quick way that satisfies all the regulatory constraints, but also developing tools for the launch vehicle for doing coupled loads analysis for adding new spacecraft
"So (we've been) automating some of those processes and building the tools so that we can really turn these payload quickly. That's the whole point of what we're trying to achieve — regular and reliable service to orbit. Unfortunately, it's nowhwere near as exciting as the rocket, but actually it's incredibly critical."
Avionics and Power run diagnostics on #IRVINE01 #cubesat @irvinecubesat in preparation for launch; battery and sensors looking good pic.twitter.com/62IQvOB2Ug

— Tinh Tran (@tinhtranUNITE) January 20, 2018
Because of its U.S. headquarters, Rocket Lab operates under U.S. regulatory authority, with the Federal Aviation Administration responsible for licensing the companies launch operations, despite the launch site's location in New Zealand. Other U.S. regulatory agencies, such as the Federal Communications Commission, grant approvals for U.S.-owned satellites.
"We had a very short window," Beck said. "We had an opportunity to fly these two important payloads. We reached out to the regulators and said, 'Hey, look, we think these are important. Let's work together to get them on.' And the answer was, 'Yes, let's do that.'"
On Friday's mission, the Electron rocket will launch to the south from Rocket Lab's Launch Complex 1, located on Mahia Peninsula on the east coast of New Zealand's North Island.
Roaring into the sky with more than 41,000 pounds of thrust from nine Rutherford main engines, the all-black launcher will fire its first stage for around two-and-a-half minutes, then ignite its single-engine upper stage for a roughly six-and-a-half minute burn. The Electron will reach a preliminary orbit stretching between 155 miles and 310 miles (250-500 kilometers) above Earth, with an inclination of 85 degrees to the equator.
The Curie upper stage will separate and coast halfway around the planet before circularizing the orbit and releasing the mission's five payloads. Here is an overview of the launch sequence:
T+plus 00:00: Liftoff
T+plus 02:42: First stage engine cutoff
T+plus 02:45: First stage separation
T+plus 02:48: Second stage ignition
T+plus 03:06: Payload fairing separation
T+plus 09:12: Electron reaches orbit
T+plus 09:15: Second stage engine cutoff
T+plus 09:20: Curie kick stage separation
T+plus 51:01: Curie kick stage ignition
T+plus 52:07: Curie kick stage engine cutoff
T+plus 54:10: End of payload separation sequence
Email the author.
Follow Stephen Clark on Twitter: @StephenClark1.