EDITOR'S NOTE: Updated at 6:40 p.m. EDT (2240 GMT) after hatch opening.
STORY WRITTEN FOR CBS NEWS & USED WITH PERMISSION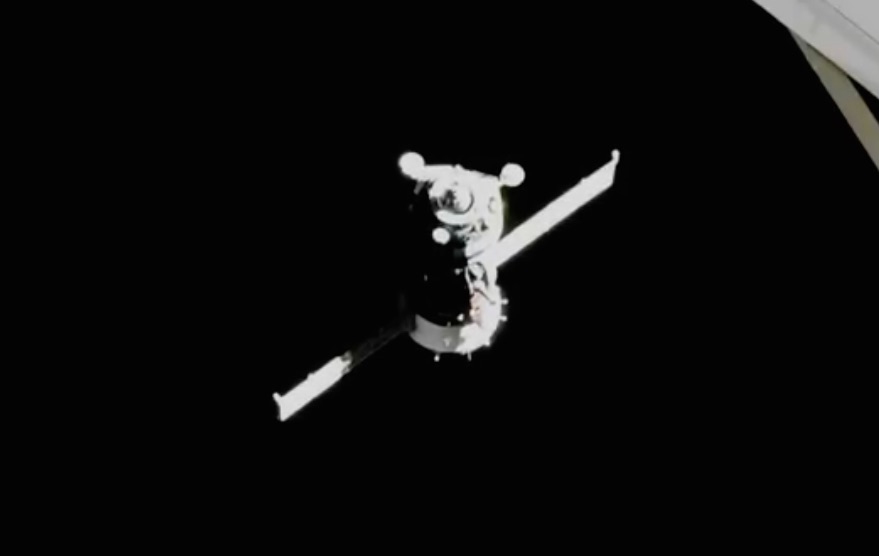 A Russian Soyuz ferry ship carrying a Russian commander and two NASA astronauts caught up with the International Space Station Friday and executed a flawless docking to close out a two-day rendezvous that began with launch Wednesday from the Baikonur Cosmodrome in Kazakhstan.
With commander Oleg Artemyev monitoring an automated approach, the Soyuz MS-08/54S spacecraft docked at the station's upper Poisk module at 3:40 p.m. EDT (GMT-5) as the two spacecraft sailed 254 miles above Serbia in orbital darkness.
After residual motion damped out, hooks and latches in the docking mechanism engaged, pulling the Soyuz in for a firm "hard mate," kicking off a lengthy series of leak checks to verify an airtight, structurally sound seal.
Hatches were opened about two hours after docking and Artemyev, Drew Feustel and Ricky Arnold finally floated into the station, welcomed aboard with hugs, smiles and handshakes by Expedition 55 commander Anton Shkaplerov, Scott Tingle and Japanese astronaut Norishige Kanai.
All six crew members then moved into the Russian Zvezda module for a traditional video conference with senior space managers and family members gathered at the Russian mission control center near Moscow.
"You guys look great on orbit," Bill Gerstenmaier, NASA's director of spaceflight, told the crew. "We can hardly wait for you to get busy and start doing lots of great work for us."
Feustel's wife, Indira, said "OK, everyone, you guys make a very handsome crew up there. Congratulations on one of the most beautiful launches, beautiful rendezvous and fantastic docking. Congratulations, I now how hard you guys have all worked. On behalf of myself, your (children), your mom and dad and our family and friends and your supporters all around the world, I hope you feel the love."
Feustel assured her the new crew was "happy to be here."
"I can tell you it was a long ride," he said of the two-day flight to the station. "(We) counted 50 hours from the time that we took off until we arrived at the space station. We had a nice time, just the three of us, it was relaxing, just enjoyed circling around the Earth and seeing all the beautiful sights. We're all looking forward to getting to work."
Feustel's mother asked "did you think all those days you spent up on the roof of the cottage drawing pictures of rockets, that this is where you'd be some day? Love you, very proud of you. Although we worried about you getting up there, we tried to keep ourselves really happy with lots of partying!"
After a safety briefing, the newly arrived crew members looked forward to a day off Saturday.
Artemyev, Feustel and Arnold are each making their second visits to the space station. Artemyev spent 169 days aboard the station in 2014, participating in two spacewalks. Arnold flew a single mission aboard the shuttle Discovery in 2009 and logged two spacewalks helping install one of the station's main solar array truss segments.
Feustel participated in two shuttle missions, one in 2009 to service the Hubble Space Telescope and another in 2011 to help finish construction of the space station. He carried out three station spacewalks and three working on Hubble.
Feustel and Arnold will put their spacewalking experience to use next Thursday when they venture outside the space station to install wireless communications gear that will be used by an external payload and, eventually, by approaching commercial crew ferry ships being built by Boeing and SpaceX.
They also plan to swap out a high-definition camera and remove suspect hoses in the station's ammonia coolant system. Two more NASA spacewalks are expected in late May, followed by a Russian excursion in August.
"Drew and I actually took some time to study on the way here while we were kind of floating around (in the Soyuz)," Arnold said. "We'll be doing some more of that, and these guys will be getting us squared away for that."
Shkaplerov, Tingle and Kanai were launched to the station in December and plan to return to Earth on June 3 to close out a 167-day mission. Artemyev, Feustel and Arnold expect to remain in space for 159 days, returning to a landing in Kazakhstan on Aug. 28.