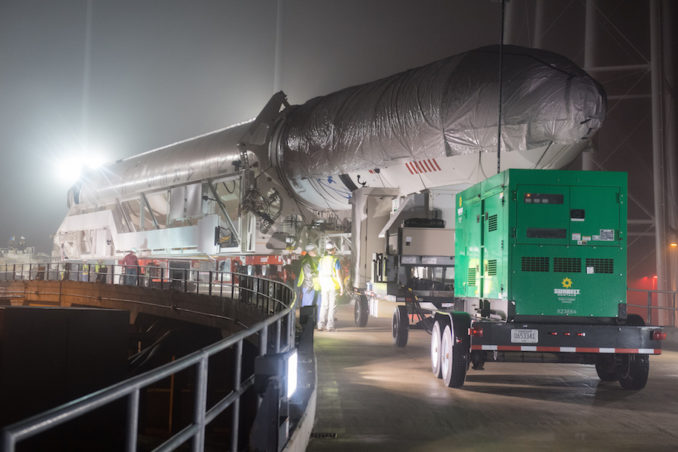 Orbital ATK transferred an Antares rocket and Cygnus supply ship to their launch pad on Virginia's Eastern Shore late Thursday for a liftoff now targeted for Monday with more than 7,200 pounds of cargo heading for the International Space Station.
Riding a self-propelled transporter, the two-stage booster rolled out of Orbital ATK's Horizontal Integration Facility on Wallops Island, Virginia, after nightfall Thursday for the mile-long journey south to pad 0A, where crews planned to hoist the 139-foot-tall (42.5-meter) launcher vertical for final preflight checkouts.
Liftoff of the OA-9 resupply mission is scheduled for 4:39 a.m. EDT (0839 GMT) Monday, a day later than previously planned. Orbital ATK, the prime contractor and operator of the Antares launcher and Cygnus supply ship, said in a statement Friday that the one-day delay was ordered "to support further pre-launch inspections and more favorable weather conditions."
There is an 80 percent probability of acceptable weather during Monday's five-minute launch window, officials said.
Technicians finished packing 7,205 pounds (3,268 kilograms) of equipment, experiments and provisions inside the Cygnus spacecraft's pressurized compartment Wednesday, then installed the Antares rocket's payload shroud over the cargo craft ahead of Thursday night's rollout.
The Cygnus spacecraft will reach the space station a few days after launch, and astronauts will begin unpacking supplies delivered inside the ship's internal cabin.
The cargo awaiting delivery to the space station next week includes high-definition cameras that will be installed on the forward end of the complex during a spacewalk in June, high-pressure tanks of oxygen to recharge the space station's internal atmosphere, and a self-contained quantum physics research facility developed at the Jet Propulsion Laboratory called the Cold Atom Laboratory, which will chill its contents to a fraction of a degree above absolute zero for analysis by researchers.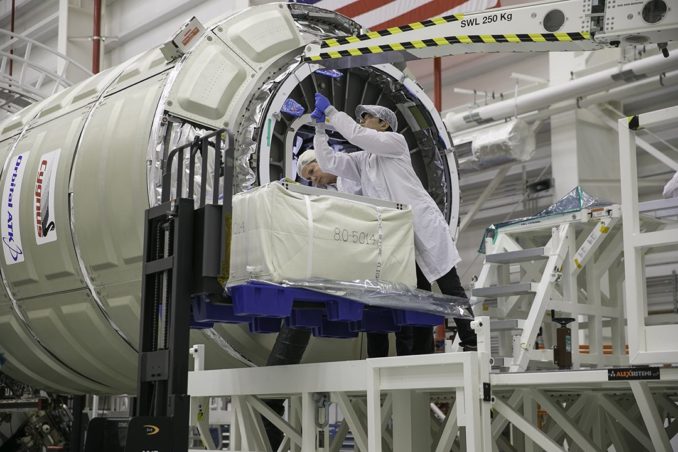 There are 15 CubeSats traveling into space aboard the Cygnus supply ship, including nine that will be moved by astronauts into the space station for release from a deployer outside the Japanese Kibo laboratory module. Another six CubeSats will be ejected from the Cygnus spacecraft itself after it departs the station in July.
Counting the CubeSats and their NanoRacks deployer mounted outside the Cygnus spacecraft, the OA-9 mission's total cargo manifest comes to 7,385 pounds (3,350 kilograms).
The Cygnus spacecraft is named for J.R. Thompson, the former chief operating officer at Orbital Sciences Corp. who died last year. Thompson served in multiple management positions at Orbital, overseeing development of the Antares rocket and other vehicles in the company's launcher family.
He had a lengthy career at NASA before joining Orbital Sciences, including stints as the space agency's deputy administrator and as director of the Marshall Space Flight Center in Huntsville, Alabama. Thompson was manager of the space shuttle main engine development project at Marshall in the 1970s, and he previously served as a liquid propulsion systems engineer on the J-2 engine that flew on the Saturn 5 moon rocket.
The mission set for launch Monday is the ninth of 11 cargo deliveries assigned to Orbital ATK by NASA under a contract valued at nearly $2.9 billion. An additional Cygnus test mission also flew to the space station in 2013 with supplies, before the start of operational trips in 2014.
One of Orbital ATK's eight previous operational resupply missions suffered a launch failure.
SpaceX has a similar contract with NASA for 20 missions worth more than $3 billion, with 14 of those missions completed, including one launch failure.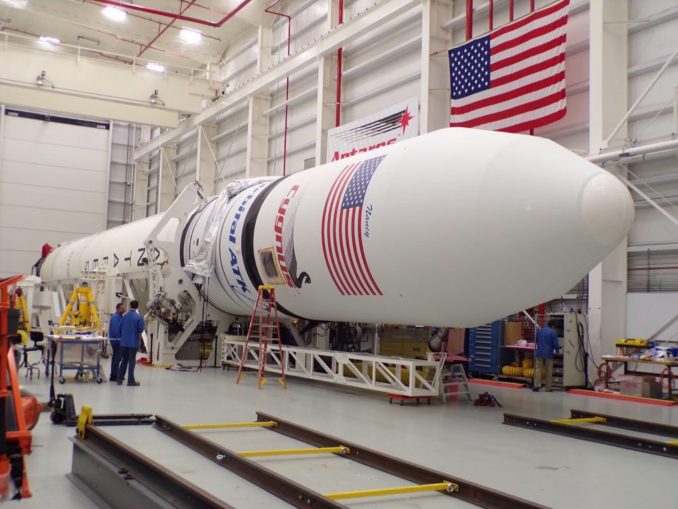 Monday's flight will be the eighth launch of an Antares rocket, and the third Antares launch using new Russian-built RD-181 main engines, which replaced decades-old Russian engines of the type blamed for an explosive Antares launch failure in October 2014.
Orbital ATK reserved rides for three Cygnus cargo missions on United Launch Alliance Atlas 5 rockets in 2015, 2016 and 2017, while engineers modified the Antares booster for the new engines.
Before departing the space station in July, the Cygnus spacecraft will conduct a brief maneuver to reboost the research lab's orbit. It will be the first time a commercial U.S. cargo vehicle has attempted a space station reboost, a capability currently only provided by Russian spacecraft.
Visiting space shuttles and Europe's Automated Transfer Vehicle also provided reboost services before their retirement.
At the end of its mission, the Cygnus supply ship will release its final set of CubeSats, then re-enter the atmosphere and burn up during re-entry over the Pacific Ocean, disposing of several tons of trash packed by the space station's crew.
Additional photos of the Antares rocket's rollout Thursday night are posted below.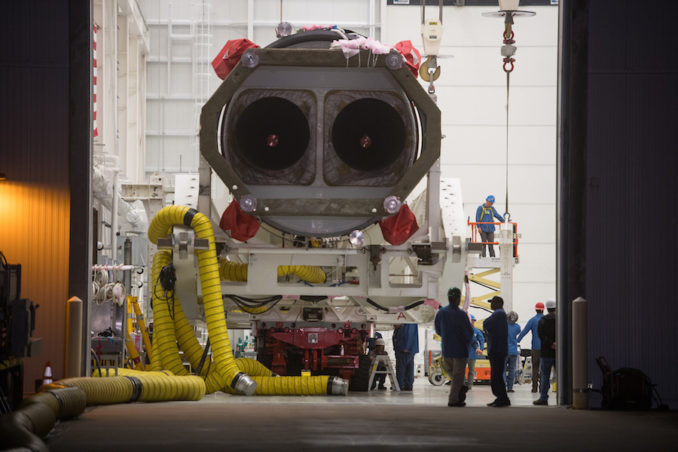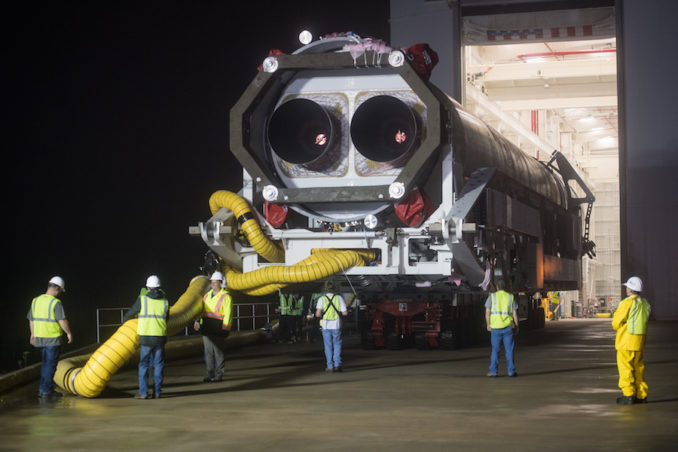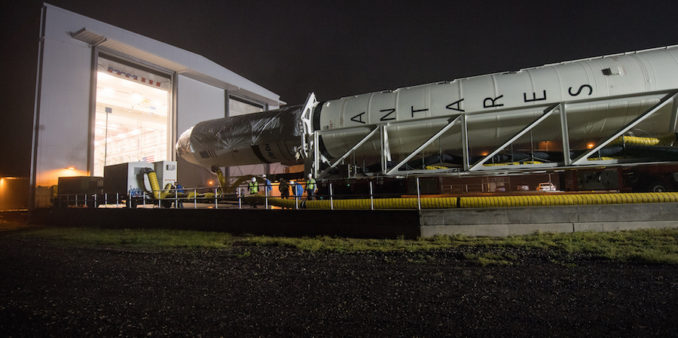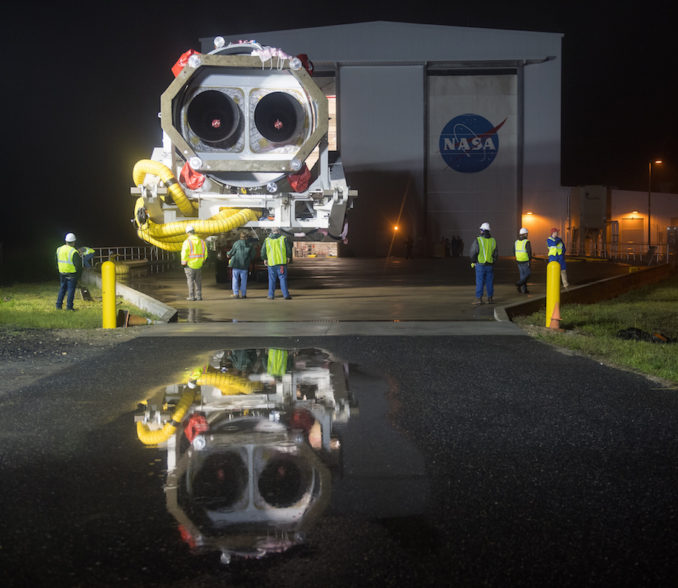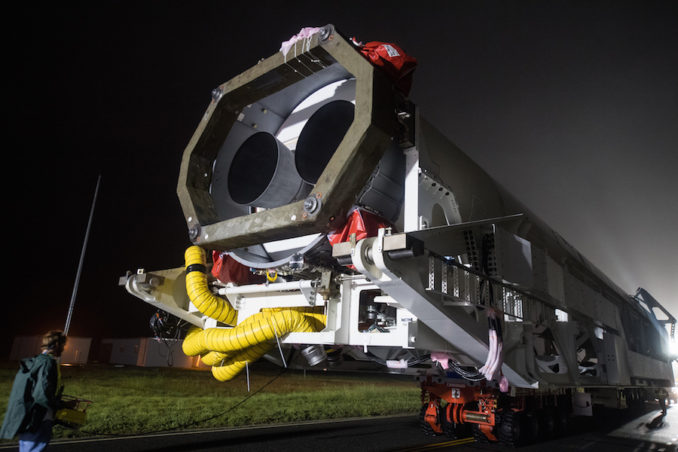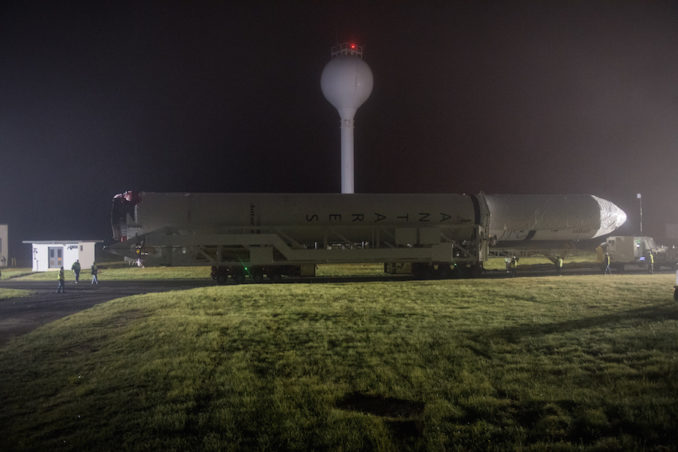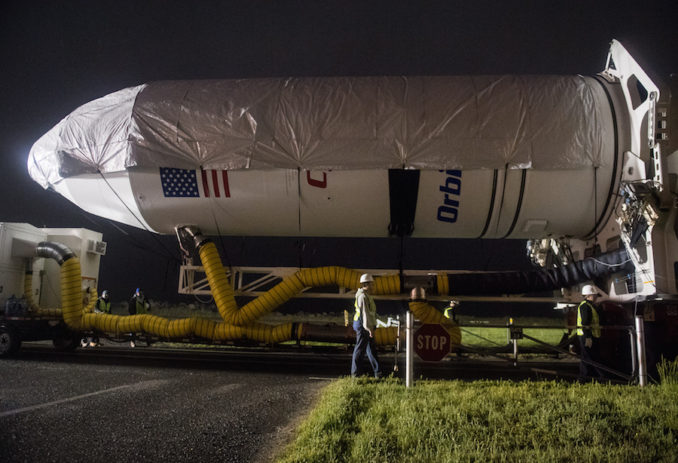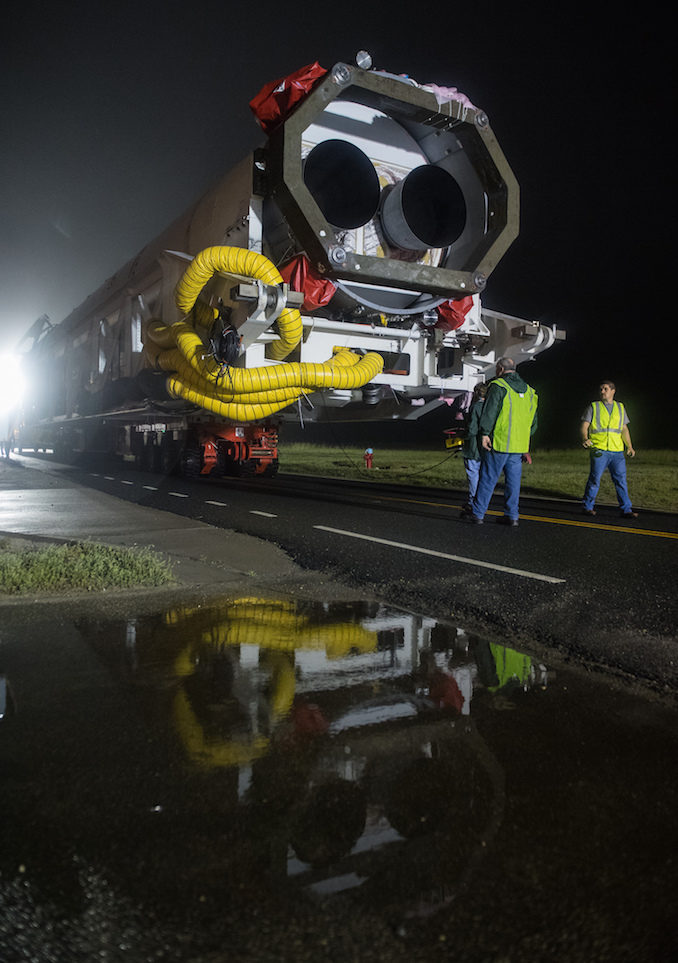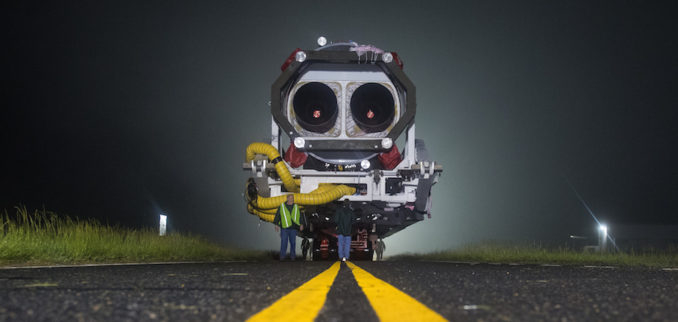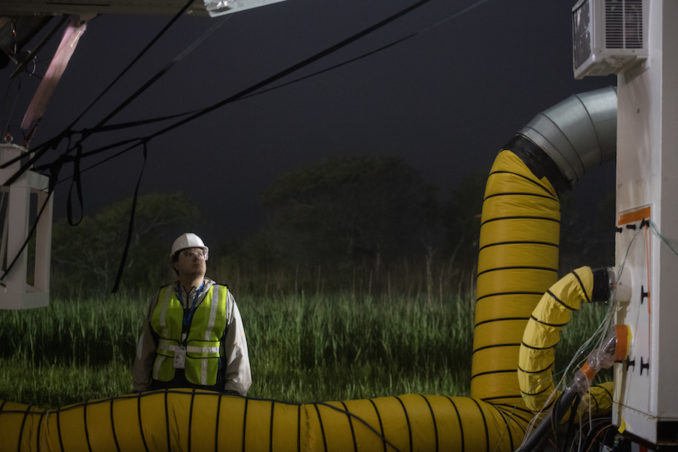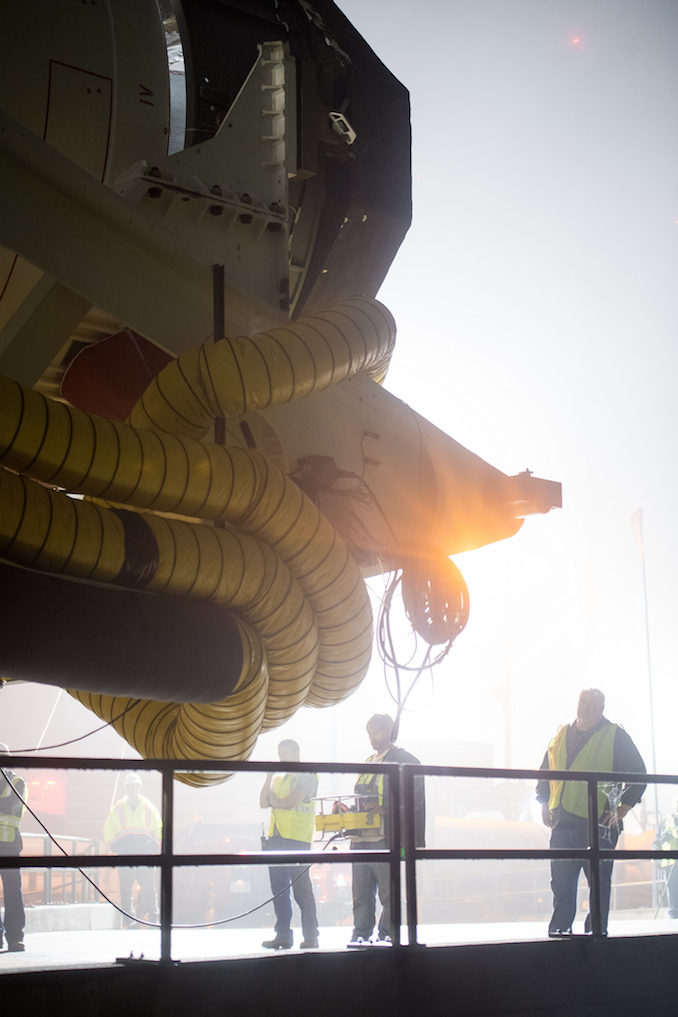 Email the author.
Follow Stephen Clark on Twitter: @StephenClark1.