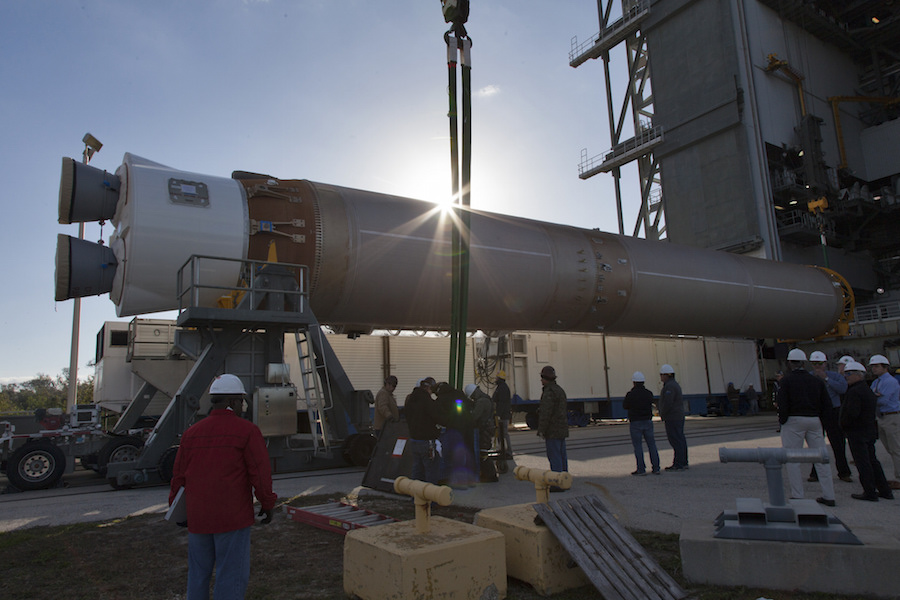 Engineers at NASA's Kennedy Space Center tasked with overseeing launches of scientific satellites and interplanetary probes will be responsible later this year for ensuring six major missions safely get into space over a span of a little more than six months, beginning with the launch of NOAA's new GOES-S weather observatory on an Atlas 5 rocket March 1.
After overseeing the launch of NOAA's latest weather satellite, NASA plans to put up a spacecraft to search for planets circling other stars, a lander that will travel to Mars, a small satellite to study the interaction between solar activity and Earth's atmosphere, a probe to travel closer to the sun than any previous mission, and a mission to measure Earth's thinning polar ice sheets and glaciers.
It's a big year for NASA's Launch Services Program, an office headquartered at the Kennedy Space Center charged with ensuring the agency's robotic missions safely reach space.
The brisk pace of launches planned for this year will be spread among six different rocket configurations from six different launch sites. The missions will loft around $6 billion in NASA and NOAA assets, according to Robert Cabana, director of the Kennedy Space Center.
The missions on tap for launch this year are:
March 1: GOES-S on an Atlas 5-541 rocket from Space Launch Complex 41 at Cape Canaveral Air Force Station
March 20: TESS on a Falcon 9 rocket from Space Launch Complex 40 at Cape Canaveral Air Force Station
May 5: InSight on an Atlas 5-401 rocket from Space Launch Complex 3-East at Vandenberg Air Force Base
July 31: Parker Solar Probe on a Delta 4-Heavy rocket from Space Launch Complex 37B at Cape Canaveral Air Force Station
Sept. 12: ICESat 2 on a Delta 2-7420 rocket from Space Launch Complex 2-West at Vandenberg Air Force Base
To be determined: ICON on an air-launched Pegasus XL rocket staged from Kwajalein Atoll, Marshall Islands
And that's not counting other work conducted by the space agency's Launch Services Program, which is celebrating its 20th anniversary this year. Engineers there are also gearing up for the launch of a cluster of NASA-sponsored CubeSats on a Rocket Lab Electron rocket from New Zealand as soon as May, a mission that does not carry the same risk constraints and high expense of the other six NASA missions on tap this year.
Preparations for the first mission of NASA's 2018 launch campaign are well underway at Cape Canaveral.
The build-up of the United Launch Alliance Atlas 5 rocket assigned to launch the GOES-S weather satellite began Jan. 31 inside the Vertical Integration Facility at Cape Canaveral's Complex 41 launch pad. Technicians at the vertical rocket assembly hangar then began installing the Atlas 5's four strap-on solid rocket boosters and Centaur upper stage, which will fire its RL10 engine three times to deploy the GOES-S payload on a track leading to its planned operating perch nearly 22,300 miles (35,800 kilometers) over the equator.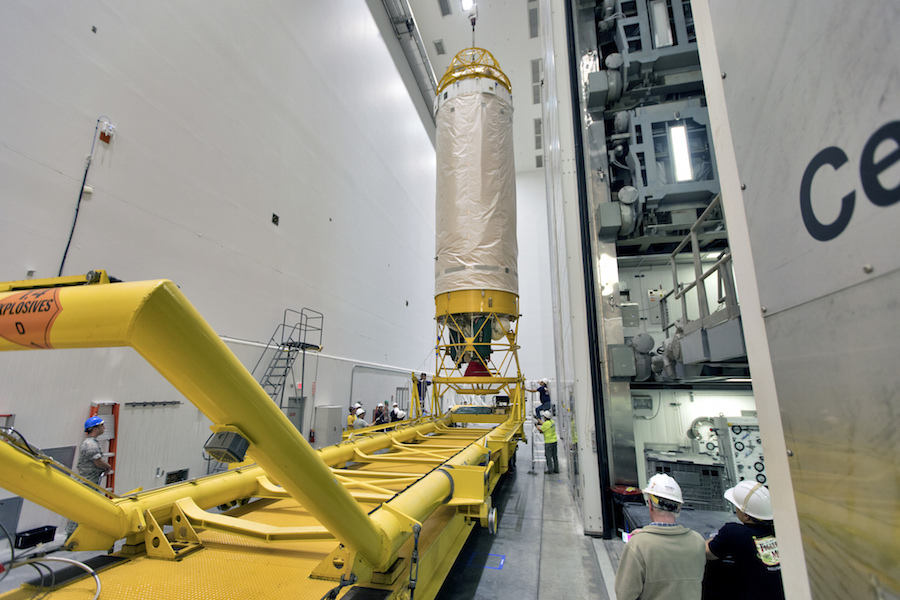 The GOES-S weather satellite, featuring improved imaging capabilities to give forecasters more detailed and more timely views of hurricanes and severe storms, will be added on top of the Atlas 5 rocket Feb. 16. Built by Lockheed Martin, GOES-S is set to join a sister satellite named GOES-16 launched in November 2016.
Liftoff of the 11,500-pound (5,200-kilogram) GOES-S satellite is scheduled for March 1 during a two-hour window opening at 5:02 p.m. EST (2202 GMT).
Once launched, NOAA will rename GOES-S as GOES-17, and the new observatory will enter service by the end of the year to cover the Pacific Ocean and the Western United States, including Alaska and Hawaii. The GOES-16 satellite began regular weather observations in December after a year-long test campaign, watching the Eastern United States and hurricane zones in the Atlantic Ocean, the Caribbean Sea and the Gulf of Mexico.
The new GOES-R satellite series, which includes two more spacecraft set for launch in 2020 and 2024, replace NOAA's aging weather sentinels in geostationary orbit.
"When it launches March 1 and becomes operational later this year, GOES-S will see the west in true high-definition, and along with the remaining satellites in our GOES-R series, will extend the life of NOAA's geostationary satellite constellation through 2036," said Tim Walsh, acting director of NOAA's GOES-R program.
"GOES-S, our latest and greatest, will complete the implementation of high-resolution coverage of the entire country, delivering better observations faster than ever before," said Joe Pica, director of the National Weather Service's office of observations. "GOES-S will become GOES-West and keep an eye on the weather patterns that impact the West."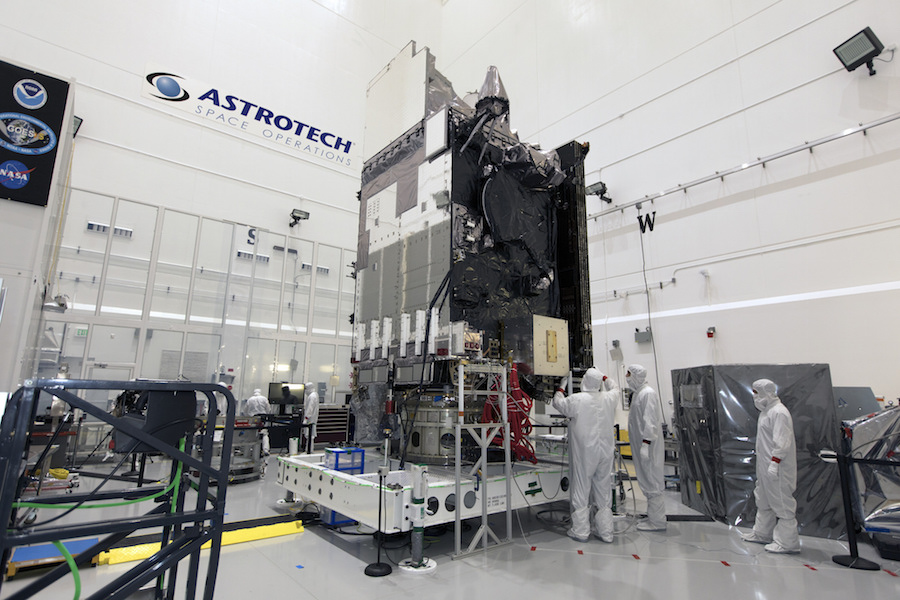 Less than three weeks after GOES-S's launch from Cape Canaveral, a SpaceX Falcon 9 rocket is set to loft NASA's Transiting Exoplanet Survey Satellite, or TESS.
Fitted with four wide-field astronomical cameras, TESS will launch into an egg-shaped preliminary orbit stretching as far as 155,000 miles (250,000 kilometers) from Earth, around 60 percent of the distance to the moon. Once deployed from the Falcon 9's second stage, the roughly 815-pound (370-kilogram) spacecraft will fire thrusters to boost the farthest arc of its orbit to intercept the moon.
TESS will swing by the moon, using lunar gravity to slingshot toward the mission's final operating orbit. A final major maneuver will steer the satellite on a path taking it around the planet once every two weeks in a 2:1 resonance with the moon, with distances ranging between 67,000 miles (108,000 kilometers) and 233,000 miles (376,000 kilometers) from Earth.
It will take around two months for TESS to settle into its unusual orbit and complete post-launch testing. Then scientists will press the observatory into a two-year mission searching for exoplanets — worlds orbiting other stars.
Like NASA's Kepler space telescope, TESS will look for tell-tale signs of exoplanets by measuring the tiny dips in the brightness of stars as the worlds pass by. But Kepler aims its telescope toward specific patches of the galaxy, while TESS will survey the entire sky over its primary mission.
Scientists designed TESS to search for planets around bright, nearby stars, hoping to discover worlds that are close enough to observe with the Hubble Space Telescope and the James Webb Space Telescope set for launch next year. TESS could identify thousands of exoplanets during its sky survey, including 50 rocky worlds with comparable in mass to Earth or Venus.
TESS was manufactured by Orbital ATK, and its four science cameras were developed by MIT's Kavli Institute for Astrophysics and Space Research and the MIT Lincoln Laboratory.
The planet-hunting telescope is set to become the first NASA robotic mission to launch on a SpaceX Falcon 9 rocket from Florida. SpaceX's commercial resupply missions to the International Space Station are managed under a different program, and the last Falcon 9 flight with oversight from NASA's Launch Services Program occurred in 2016 from Vandenberg Air Force Base, California.
"That's our first Falcon from the East Coast, for our program," said Chuck Dovale, deputy manager of the Launch Services Program, in an interview with Spaceflight Now. "It's a big step for us."
The launch of TESS is scheduled for 7:58 p.m. EST (2358 GMT) on March 20. The unique orbital mechanics required by TESS, such as the lunar flyby, mean the mission can only launch on certain days.
Mission officials said TESS is currently expected to launch from Cape Canaveral's Complex 40 launch pad, one of two launch sites operated by SpaceX at the Florida spaceport. But SpaceX has the option of reassigning the launch to nearby pad 39A at the Kennedy Space Center.
TESS will fly on a brand new "Block 4" version of SpaceX's Falcon 9 rocket. NASA engineers are in the process of certifying reused Falcon 9 rocket boosters to launch the agency's future space missions.
NASA officials approved the launch of a space station resupply mission on a recycled Falcon 9 first stage booster in December, and the reviews preceding that decision could help certify SpaceX's previously-flown rockets to haul more expensive NASA science cargo into space, such as interplanetary probes, one-of-a-kind telescopes and Earth observation satellites.
The space station program's approval of a resupply launch using a reused Falcon 9 booster "kind of push-started us," Dovale said.
NASA's science program has two more Falcon 9 flights booked for launches in 2020 and 2021. While those missions are currently contracted for new vehicles, the reused Falcon 9 boosters could be certified for NASA launches by then. The reviews required for formal certification began last year under the auspices of the space station's cargo program.
"We didn't have a need for (a reused Falcon 9) yet, but they did, so they kind of accelerated our program to help them out," Dovale said.
The first interplanetary mission to launch from Vandenberg Air Force Base, a spaceport situated around 140 miles (225 kilometers) northwest of Los Angeles, will be NASA's InSight lander, set for departure to Mars aboard an Atlas 5 rocket in May.
Liftoff of InSight is scheduled for around 4:10 a.m. PDT (7:10 a.m. EDT; 1110 GMT) on May 5 from Space Launch Complex 3-East at Vandenberg. InSight's launch period extends through June 8.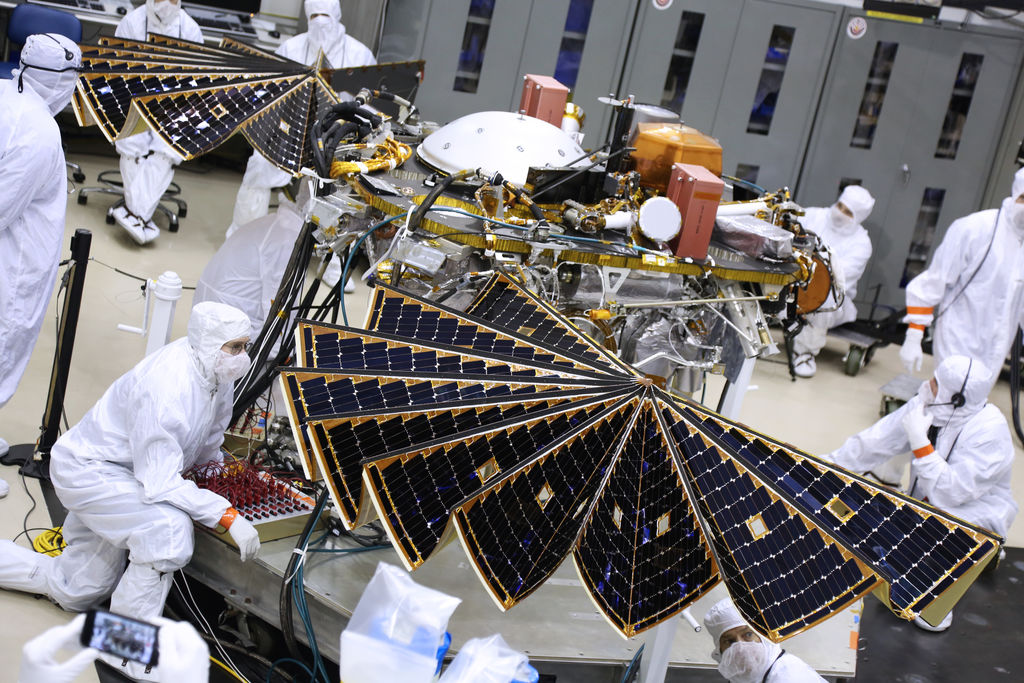 The lander will reach Mars on Nov. 26 after a nearly seven-month journey, then descend to Elysium Planitia, a broad equatorial plain, with the help of a supersonic parachute and braking rockets.
Based on the design flown on NASA's Phoenix Mars mission that landed in 2008, InSight will use a robotic arm to place a seismic enclosure on the Martian surface to listen for quakes, and a heat probe will burrow to a depth of around 16 feet, or 5 meters, to measure the amount of heat escaping the planet's interior.
InSight was originally supposed to launch in March 2016, but problems sealing the vacuum enclosure containing the lander's seismic package forced officials to postpone the mission. Launch opportunities for Mars missions come about once every 26 months, when the positions of the planets enable a direct journey from Earth, prompting a delay to 2018.
The French-built seismometer is central to InSight's primary science goals — studying the structure of Mars's interior and unraveling how the solar system's rocky planets formed.
InSight is scheduled to ship to Vandenberg from its Lockheed Martin factory in Denver on Feb. 28. Components of its Atlas 5 rocket, which will fly with a four-meter (13-foot) fairing and no solid rocket boosters, are already at the California launch base and will be stacked on the launch pad beginning March 2.
NASA's Parker Solar Probe will fly seven times closer to the sun than any past mission after its blastoff from Cape Canaveral aboard a United Launch Alliance Delta 4-Heavy rocket at the end of July.
The launch is timed for 10:07 a.m. EDT (1407 GMT) on July 31 at the opening of a 19-day window predicated by the position of Venus, which Parker Solar Probe will use over seven gravity assist flybys to spiral closer to the sun.
With the help of a solid-fueled upper stage, the Delta 4-Heavy will dispatch Parker Solar Probe from Earth with more velocity than any other spacecraft, breaking the departure speed record set in 2006 by NASA's New Horizons mission bound for Pluto.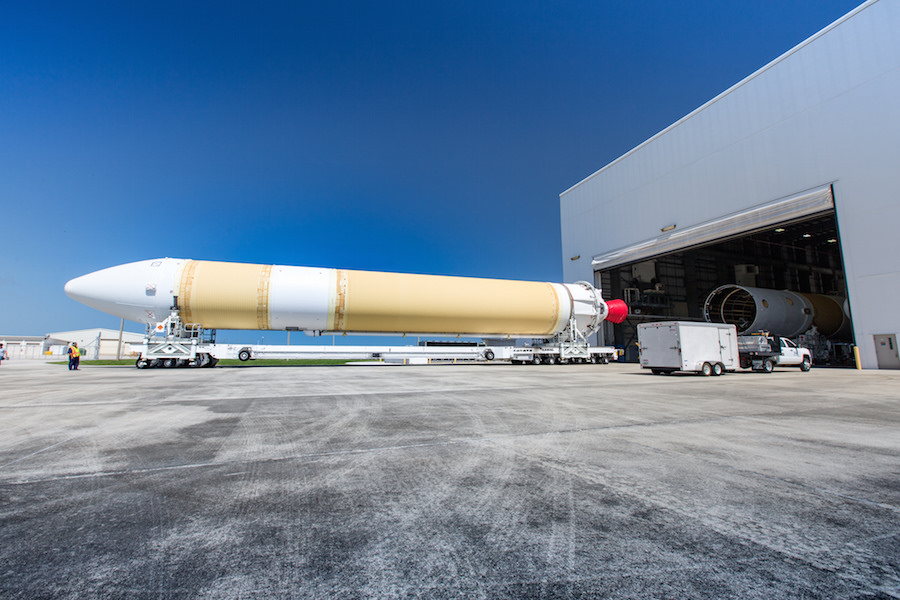 Named for Eugene Parker, the astrophysicist who predicted the existence of the solar wind, Parker Solar Probe will travel within 3.9 million miles (6.2 million kilometers) from the sun over a series of orbits. That is more than 10 times closer to the sun than Mercury.
Shielded from extreme temperatures and radiation hazards, Parker Solar Probe will attempt to identify the source of the solar wind, and a sophisticated suite of sensors aboard the spacecraft will try to trace particles as they are accelerated to speeds of up to a million miles per hour (400 kilometers per second) in all directions.
Data from Parker Solar Probe — built at the Johns Hopkins University Applied Physics Laboratory — will help scientists understand how the sun works, and the information could contribute to better forecasts of solar storms that impact communications, navigation and electrical infrastructure on Earth.
The launch of Parker Solar Probe will mark the 10th flight of ULA's Delta 4-Heavy, which is made of three hydrogen-fueled Delta 4 first stage boosters bolted together.
In September, ULA's final Delta 2 rocket is scheduled to place NASA's ICESat 2 satellite in orbit from Vandenberg.
Ending a run of launches dating back to 1989, the launch will be the 155th flight of Delta 2 rocket, and the 45th from the West Coast spaceport. Earlier Delta rocket variants have used the same basic two-stage design since the 1960s.
"I grew up with Delta 2," Dovale said. It's always been a favorite of mine. It's sad to see it go. It'll be nice to see ICESat 2 successfully launched, but its going to be bittersweet."
The launch window for ICESat 2 opens Sept. 12 at 5:46 a.m. PDT (8:46 a.m. EDT; 1246 GMT).
ULA discontinued production of the Delta 2 rocket in favor of the larger Delta 4 and Atlas 5 launcher families. The Delta 4-Medium, which uses a single core stage, will also be retired soon, with its final mission slated for 2019.
The Orbital ATK-built ICESat 2 satellite carries a laser instrument designed to measure the changing elevation, or height, of ice sheets, sea ice and glaciers around the world. From its polar orbit 310 miles (500 kilometers) above the planet, ICESat 2 will detect changes in ice sheets in Antarctica and Greenland as small as 4 millimeters, about the width of a No. 2 pencil.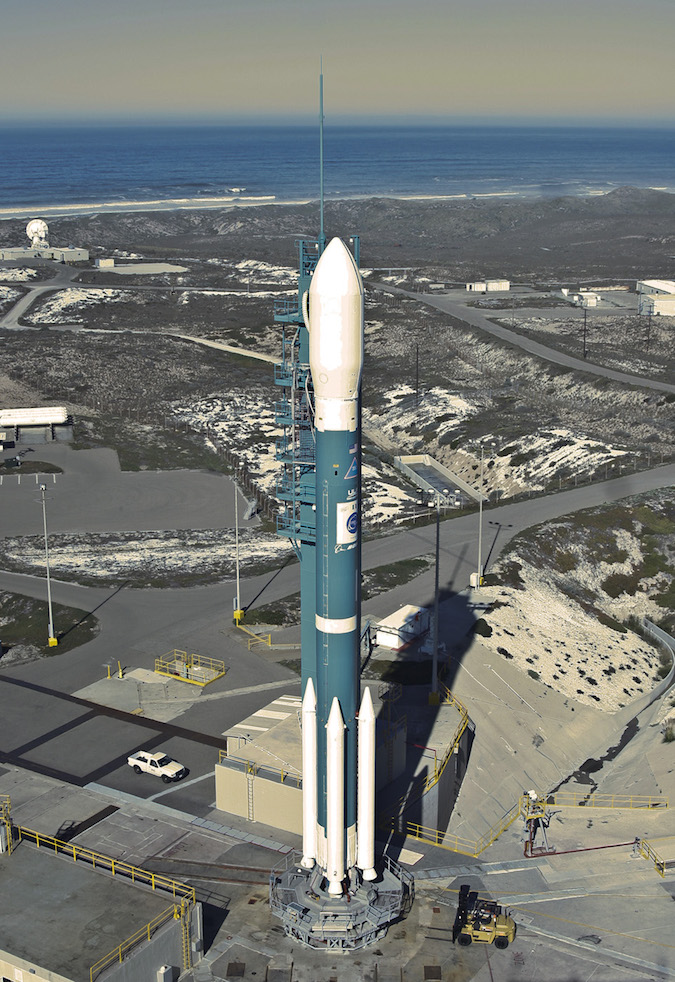 Climate researchers, geologists and other scientists will use ICESat 2's measurements to chart melting ice caps and glaciers caused by warming global temperatures. The ICESat 2 mission is a follow-up to ICESat, which tracked ice elevation from 2003 through 2009.
Another NASA smallsat, the Ionospheric Connection Explorer, is ready for launch later this year on an Orbital ATK Pegasus XL rocket. The solid-fueled launcher will be dropped from the belly of an L-1011 carrier jet.
ICON was supposed to launch last year, but engineers postponed the mission to address concerns about the reliability of a bolt cutter assembly used to separate the Pegasus XL's payload fairing and deploy the ICON satellite once in orbit.
Engineers are still assessing several options to resolve the problem, which Dovale said appeared after an issue encountered on a separate program. Officials have not established a new target launch date for ICON.
"The function (of the separation bolt) is two-fold," Dovale said. "It separates the payload and the fairing halves. It was something that occurred on another program, and it drove us enough to say maybe we should do a confidence test of a handful — just select some out of inventory. Unfortunately, the confidence test didn't leave us with confidence. We thought we would be successful. That's what started us down this path, and we face what is the risk, and it is acceptable to move forward or not?"
The Pegasus XL rocket with ICON was expected to launch from its carrier aircraft over the Pacific Ocean near the Reagan Test Site on Kwajalein Atoll in the Marshall Islands, but managers are considering whether to move the mission's staging point to Cape Canaveral, Dovale said.
"One other evaluation is whether or not we keep it at Kwajalein, or bring it back to the Cape," Dovale said. "We don't know if that's possible, but in terms of the rest of our manifest, it would provide some more flexibility."
The military-run missile range at the Reagan Test Site is used for missile defense tests and other activities, leaving narrow opportunities for a civilian launch like ICON. More range openings might be available at Cape Canaveral.
Designed to study the behavior of plasma in Earth's ionosphere, ICON needs to launch into a 357-mile-high (575-kilometer) orbit with a track inclined 27 degrees to the equator, an orbit that should be accessible from a launch point over the Atlantic Ocean east of Florida.
"The spacecraft came in a little bit light, so it might be possible (to reach the proper orbit from the Atlantic Ocean)," Dovale said. "The problem is we've dispatched a lot of things to Kwajalein. We're well on the way for that campaign. It's going to be a tradeoff. It's just something we're considering given that we've got time. What is the right thing to do?"
Dovale said his group at the Kennedy Space Center is also working on other projects. The 2018 launch campaign, the certification of new launchers for NASA missions, and advisory roles in the agency's program with SpaceX and Boeing to develop commercial crew spaceships will make for a busy year.
"In 2003, we did seven (missions) in seven months, but it was literally Delta and Pegasus," Dovale said. "That was what we were flying back in the day, and it was on those two platforms. Not that it wasn't hard, but the complexity of the six in six months that we face is just a whole different realm, and you couple that with the fact that we do advisory, we're doing certification. That stuff we didn't do back then, so our day job has grown, too.
"Just the magnitiude of the six missions, East and West Coast, in different configurations, first of a type, last of a kind with Delta 2. It's got everything you could imagine."
Engineers from NASA's Launch Services Program also expect to review the investigative report into a mishap that occurred on a Jan. 25 of a European Ariane 5 rocket, resulting in the placement of two satellites into an off-target orbit.
An Ariane 5 rocket is set to launch next year with the James Webb Space Telescope, a joint U.S.-European-Canadian observatory valued at approximately $10 billion. Dovale said engineers at KSC will brief JWST program managers at NASA's Goddard Space Flight Center on their review of the rocket anomaly.
"Our brethren at Goddard are going to want to know our launch vehicle expertise prior to JWST," Dovale said. "What happened? And have they put things in place to separate JWST from it? Have they rectified it?"
Going into the Jan. 25 launch from French Guiana, Ariane 5 rockets had logged 82 successful flights in a row since 2003.
"It's a reminder it's an unforgiving business," Dovale said. "They're top notch, but these kinds of things can happen."
Email the author.
Follow Stephen Clark on Twitter: @StephenClark1.