EDITOR'S NOTE: The launch has been delayed 24 hours to Thursday at approximately 1 p.m. PST (4 p.m. EST; 2100 GMT) by gusty winds at Vandenberg Air Force Base.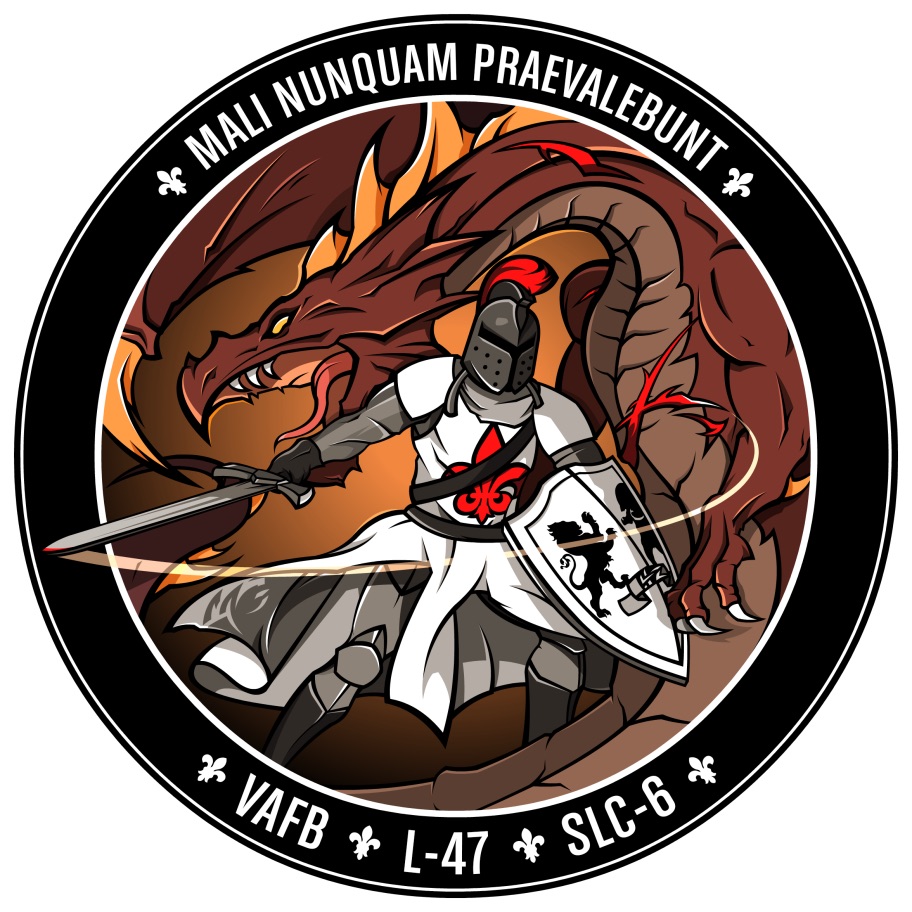 Technicians are putting the final touches on a United Launch Alliance Delta 4 rocket set for liftoff Wednesday from Vandenberg Air Force Base, a military base on California's Central Coast, with a top secret spy satellite for the National Reconnaissance Office.
The 217-foot-tall (66-meter) Delta 4 rocket, boosted by a hydrogen-fueled RS-68A main engine and two strap-on solid boosters, is set for liftoff at 1 p.m. PST (4 p.m. EST; 2100 GMT) Wednesday from Space Launch Complex-6 on the remote southern edge of Vandenberg overlooking the Pacific Ocean.
The exact duration of the launch window Wednesday is classified, but it could extend up to four hours.
There are no technical concerns going into Wednesday's countdown, but officials will keep a close watch on weather. The official forecast for Wednesday's launch attempt calls for a 70 percent chance that conditions will not be acceptable for liftoff.
"As far as preparations for launch, everything is in place. What we're doing right now mainly are last-minute checks," said Lt. Col. Kenneth Decker, commander of the 4th Space Launch Squadron at Vandenberg. "As far as weather goes, that's probably our biggest concern right now going into the final days in prep for the mission."
A strong storm pushed through California on Tuesday, dumping heavy rain and bringing gusty winds to the state.
"Throughout the count Wednesday to include during propellant load, the winds will remain elevated and out of the north, slowly decreasing to between 15-20 gusting to 25 knots and temperatures between 54F and 59F at T-0," an Air Force weather team wrote in an official outlook issued Tuesday. "Through the four-hour window, however, the winds will increase slightly with support from the sea breeze to 18-22 gusting to 28 knots out of the north-northwest. Max upper level winds will be out of the northwest at 85 knots from 34,000 to 36,000 feet."
The 32-story-tall mobile gantry at the SLC-6 launch pad is scheduled to be retracted into launch position around eight hours before liftoff, but the move can only occur if ground winds are below around 30 knots, Decker said in a pre-launch interview with Spaceflight Now.
"We're projecting fairly high winds on Wednesday with the storm moving out," Decker said. "We're watching that closely. So if the winds are too high, we may not even move the tower.
"With a Delta 4, we have a few more limitations because we have to fuel the rocket with liquid hydrogen and liquid oxygen," he said.
The mobile gantry must be retracted before the start of fueling of the two-stage rocket, which is scheduled to begin around four hours before launch.
The Delta 4 is expected to head southwest from the California coastline, bound for an unusual high-inclination retrograde orbit that will allow the rocket's top secret payload to travel in the opposite direction of Earth's rotation.
The rocket will likely loft a radar surveillance satellite to gather all-weather, day-and-night imagery for analysis by U.S. intelligence agencies. Previous Delta 4s believed to carry NRO radar reconnaissance craft used the same "5,2" configuration of the rocket, with a 5-meter (16-foot) diameter payload fairing and two solid rocket boosters, and the rockets also arced to the southwest from Vandenberg.
But hazard notices released to mariners and pilots suggest the Delta 4 launching Wednesday will take a slightly different path, raising questions whether the payload will have a different design or function than the NRO's earlier radar spy satellites, according to Marco Langbroek, a experienced amateur satellite tracker who lives in the Netherlands.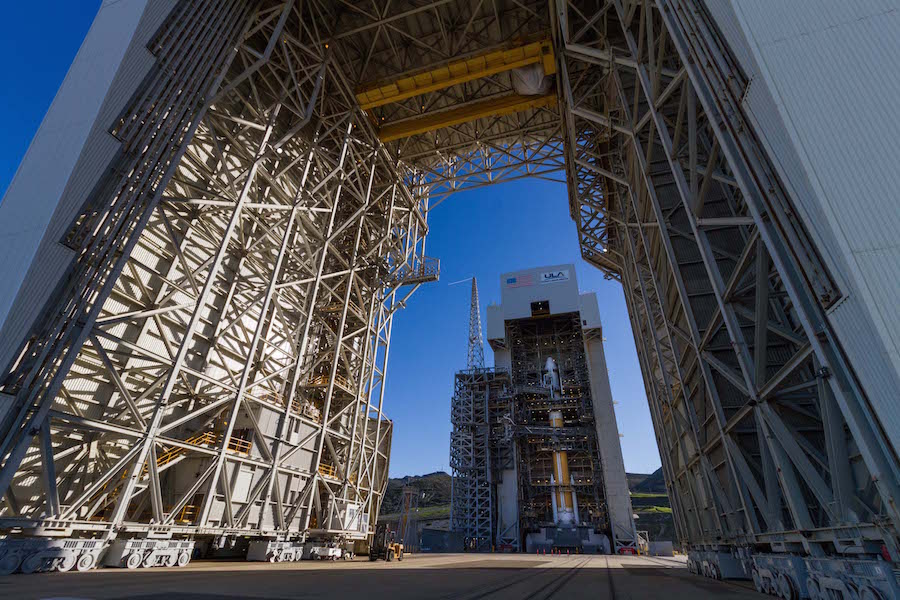 The mission is codenamed NROL-47.
"It's a classified payload for the NRO," said Maj. Allen Varghese, the Air Force's launch director for the NROL-47 mission and director of operations at the 4th Space Launch Squadron. "We can't go into the details of what the payload does, but it's a national security priority, and it's mission will ensure that the warfighters across the globe have the appropriate intel that they need to be able to support operations."
The Delta 4 rocket for the NROL-47 mission was delivered to Vandenberg in April 2017 aboard ULA's "Delta Mariner" transport ship after a journey from the company's factory in Decatur, Alabama.
Ground crews erected the rocket's two core stages and twin solid rocket boosters, built by Orbital ATK, last year. The payload fairing containing the NROL-47 spacecraft was installed in December to complete assembly of the rocket.
The flight was pushed back from Dec. 10 to complete software validation on a new common avionics system designed to fly on ULA's Delta 4 and Atlas 5 rockets. The upcoming mission will be the first time the common avionics suite has flown on a Delta 4.
It will be the last launch of a medium-lift, single-core version of the Delta 4 rocket from Vandenberg Air Force Base. ULA is retiring the "single-stick" Delta 4 family in favor of the less expensive Atlas 5, before eventually replacing both rockets with the next-generation Vulcan launcher.
Two more single-core Delta 4s are slated to launch from Cape Canaveral.
The heavy-lift version of the Delta 4, comprising three of the rocket's first stages bolted together, will remain in service through at least the early 2020s to deploy the NRO's most massive satellites. Those payloads weigh too much for the Atlas 5 or SpaceX's Falcon 9 rocket, the two other launch vehicles currently certified to haul costly U.S. military and intelligence-gathering satellites into orbit.
"This is the first Delta 4 that we've launched out of Vandenberg with common avionics," Varghese said. "Common avionics is a major, multi-year effort to standardize avionics across the ULA fleet for Atlas and Delta. It streamlines hardware and launch day operations, and it's a multi-year effort culminating with the launch on Wednesday."
Decker said the common avionics upgrade required software changes in the ground systems at SLC-6.
The same common avionics package has already flown on several Atlas 5 missions, including the last two at Vandenberg.
The 4th Space Launch Squadron oversees Delta and Atlas rocket missions at Vandenberg, supporting up-keep on ground infrastructure, providing technical and management oversight, and coordinating the schedules and needs of all the organizations involved in a launch.
"We're the eyes and ears on the pad as ULA processes the vehicle, and any technical issues that we foresee or that we observe, we pass that along to the (Air Force's) Space and Missile Systems Center for all of their program managers and engineers as they determine flight certification for the vehicle," Decker said.
The most recent launch supported by the unit was an Atlas 5 mission with the NROL-42 payload in September.
"It's gone very well," Capt. Alessa Makuch, lead engineer at the 4th Space Launch Squadron, said of the launch campaign. "We had L-42 here in September and then we kind of rolled straight into L-47. We were kind of working them parallel for a while, so we were very busy with both of those, and then we finally got to shift our focus directly to L-47.
"It's been a huge combined effort to really get us to the point where we can be launching this first Delta with the common avionics," Makuch said. "Considering all those changes that had to be made, it was a very good launch flow and I think we're all pretty excited to be here at the end."
Two more missions are on the 4th Space Launch Squadron's schedule in 2018: an Atlas 5 flight in May with NASA's InSight Mars lander, and another classified mission in October using ULA's triple-body Delta 4-Heavy rocket.
"Any time you have a Delta mission here at Vandenberg, it's a big deal," Decker said. "These are all very important missions. I think, for this one, there may be a little more interest due to the fact that it's probably the last Delta 4-Medium from SLC-6. I know that this payload is a very high priority… there's a lot of interest in making sure that it gets to orbit safely."
"The other thing (is) with the first use of common avionics on a Delta 4, there's been a lot of technical interest in the vehicle," he said.
"But from our squadron's perspective, it's another mission. All are high priority and we're excited about it and a lot of work has gone into it. That's why we're here."
Email the author.
Follow Stephen Clark on Twitter: @StephenClark1.
Comments removed for offensive language.