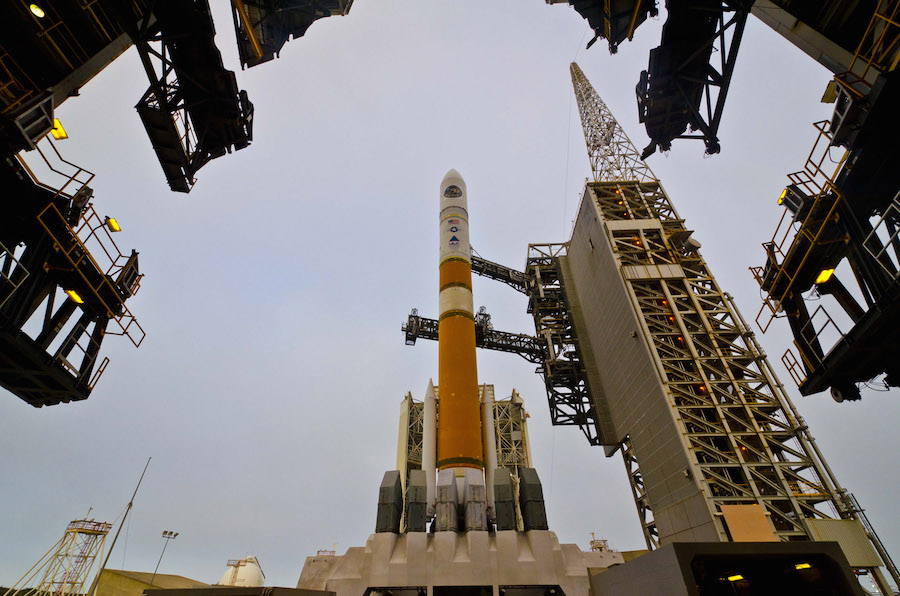 The launch of a top secret National Reconnaissance Office spy satellite from Vandenberg Air Force Base in California has been pushed back from Dec. 13 until no earlier than Jan. 10 to complete software validation on the Delta 4 rocket's new avionics system, United Launch Alliance announced Wednesday.
The launch company said officials delayed the mission "to perform additional validation of the software and systems associated with Common Avionics."
In a statement released Wednesday, ULA said the common avionics are a new suite of avionics, flight software and ground systems designed to fly on both of ULA's current-generation rockets — the Atlas 5 and Delta 4. The modified avionics system replaces earlier-generation software and equipment that flew on Atlas 5 and Delta 4 rockets, which were developed by Lockheed Martin and Boeing before the aerospace contractors merged their launch divisions to form ULA in 2006.
"This upgraded command and control system was designed to reduce cost and improve reliability," ULA said.
The Delta 4 rocket is set to loft a classified payload for the NRO, the U.S. government's spy satellite agency. The mission is known by the codename NROL-47.
The launch will be the first time the common avionics systems have flown on a Delta 4 rocket.
Ground crews at Vandenberg have stacked the two-stage Delta 4 rocket at Space Launch Complex-6 overlooking the Pacific Ocean. The NROL-47 launch will use the "5,2" version of the Delta 4 with a five-meter-diameter payload fairing and two solid rocket boosters attached on each side of the hydrogen-fueled first stage.
The mission is expected to loft a radar surveillance satellite to gather all-weather, day-and-night imagery for analysis by U.S. intelligence agencies.
It will be the last launch of a medium-lift, single-core version of the Delta 4 rocket from Vandenberg Air Force Base. ULA is retiring the "single-stick" Delta 4 family in favor of the less expensive Atlas 5, before eventually replacing both rockets with the next-generation Vulcan launcher.
Two more single-core Delta 4s are slated to launch from Cape Canaveral.
The heavy-lift version of the Delta 4, comprising three of the rocket's first stages bolted together, will remain in service through at least the early 2020s to deploy the NRO's most massive satellites. Those payloads weigh too much for the Atlas 5 or SpaceX's Falcon 9 rocket, the two other launch vehicles currently certified to haul costly U.S. military and intelligence-gathering satellites into orbit.
Email the author.
Follow Stephen Clark on Twitter: @StephenClark1.