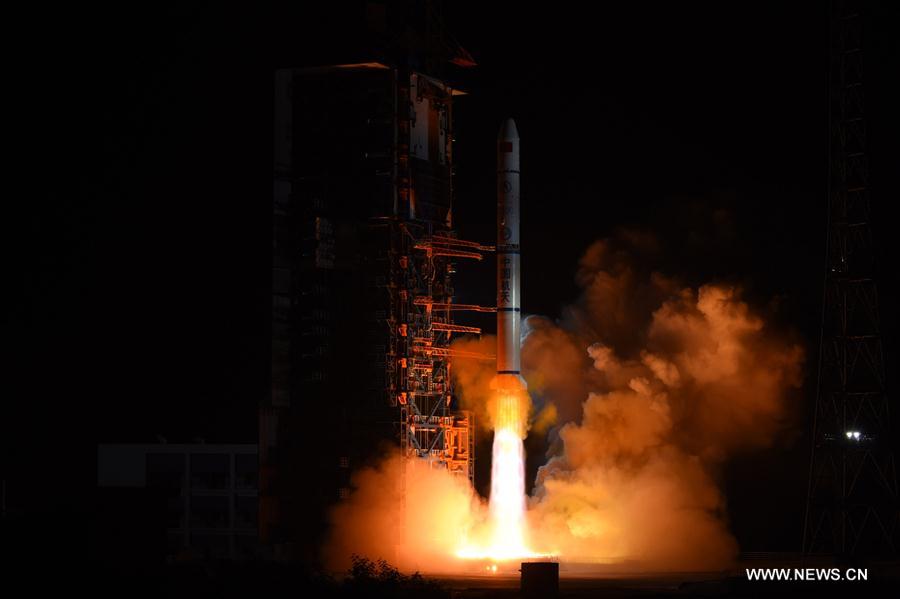 A Chinese rocket placed three experimental military surveillance satellites in orbit Friday, the second set of related triplets launched in less than two months.
The satellites lifted off aboard a Long March 2C rocket from the Xichang launch base in southwest China's Sichuan province at 1810 GMT (1:10 p.m. EST) Friday, according to the state-run Xinhua news agency.
Liftoff occurred at 2:10 a.m. Saturday Beijing time.
The two-stage Long March 2C booster deployed the three Yaogan 30-02 spacecraft in an orbit around 370 miles (600 kilometers) above Earth, inclined 35 degrees to the equator, according to tracking data released by the U.S. military.
Chinese officials declared the launch a success.
The circumstances of Friday's launch match another Chinese mission Sept. 29, in which a Long March 2C rocket placed three satellites into the same type of orbit. The satellites launched Friday were injected in an orbit with a track around 120 degrees west of the Yaogan 30-01 trio launched in September.
State media reported the satellites will be used for electromagnetic observations and other experiments.
The Yaogan series of satellites are believed to be operated by the Chinese military for intelligence-gathering purposes.
Some analysts suggested the satellite triplets launched Sept. 29 and on Friday could be testing new electronic eavesdropping equipment or helping the Chinese military track U.S. and other foreign naval deployments.
These Chinese military has another satellite named Yaogan 30, which analysts believe is an optical spy craft in a polar orbit.
The Yaogan 30-01 and 30-02 satellite groups were built by the Chinese Academy of Sciences Institute of Micro-satellite Innovation, according to Xinhua.
A third Yaogan 30 triplet is expected to launch in early 2018.
Friday's launch marked the 13th Chinese space launch attempt of the year. Twelve of the missions successfully reached orbit.
Email the author.
Follow Stephen Clark on Twitter: @StephenClark1.