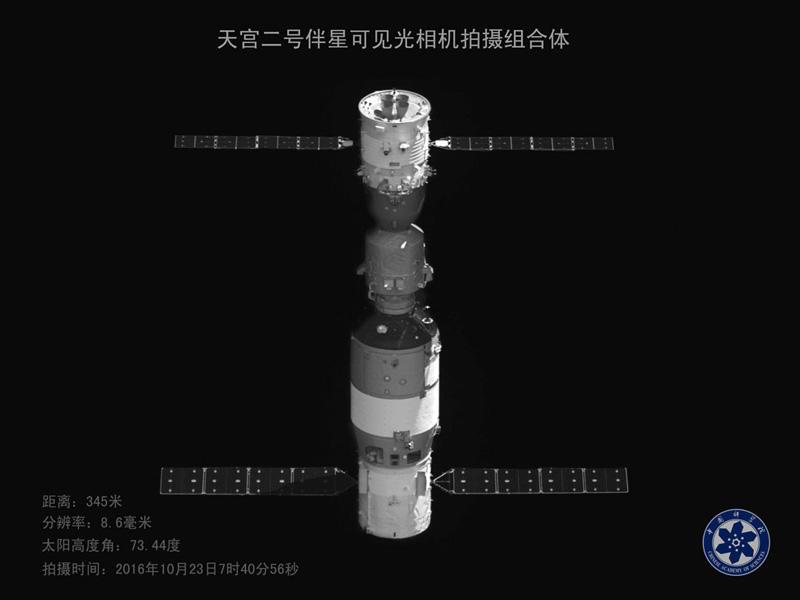 A companion satellite ejected from China's orbiting Tiangong 2 research module has snapped unique views of the space lab as two astronauts inside press on with experiments and other tasks in their second week aboard the mini-space station.
The cubical craft deployed from Tiangong 2 on Sunday is about the size of a printer, and it took sharp black-and-white pictures of the space lab and the Shenzhou 11 crew transport craft docked together around 235 miles (380 kilometers) above Earth.
Fitted with a 25-megapixel camera and an ammonia-based propulsion system, the Banxing 2 satellite is expected to loiter around Tiangong 2 and Shenzhou 11, and eventually return to the vicinity of the complex to take pictures from above with Earth in the background, according to Chinese state media reports.
The first batch of photos from Banxing 2's departure are looking up at the mini-space station complex, with the blackness of space as a backdrop.
In addition to the imagery taken by the micro-satellite's visible camera, Banxing 2 captured more than 300 infrared pictures during the flyaway sequence.
The black-and-white visible image released by Chinese space officials this week shows the Tiangong 1/Shenzhou 11 complex linked together, forming a structure more than 60 feet (18 meters) long and 13 feet (4 meters) wide.
"The image clearly shows the equipment and facilities outside the spacecraft-spacelab complex. The images it sent back show the camera has met its requirements and is working very well," said Zhong Hongen, chief designer of Space Application System for China's human spaceflight program.
A statement posted on the China Manned Space Engineering Office's website says Banxing 2 will again fly around the space lab around the end of October for a second round of photos and inspections.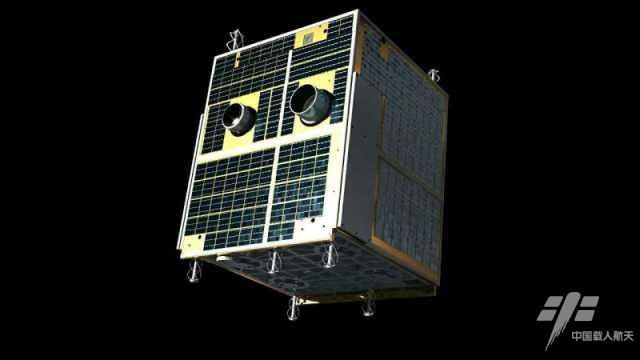 "When the micro-satellite next orbits above the spacecraft and spacelab, it will take photos again," Zhong said. "Then, everyone will see images of the complex with the earth in the background."
Astronauts Jing Haipeng and Chen Dong inside the space lab recorded video of the 103-pound (47-kilogram) Banxing 2 satellite's deployment Sunday.
The companion satellite "is able to conduct efficient orbit control, process tasks autonomously and transmit data at high speeds," China's government-run Xinhua news agency reported. It is an upgraded version of a testbed flown on China's Shenzhou 7 space mission in 2008.
The Shenzhou 11 astronauts living and working inside the Tiangong 2 space lab are nearly a third of the way through their 33-day mission, as of Wednesday, and no major problems have been reported since the crew's launch Oct. 16 and docking with the research module in orbit two days later.
Journal entries attributed to Jing and Chen have been published on Xinhua's website since Shenzhou 11 reached the Tiangong 2 space lab last week.
In one post written by Jing, the Shenzhou 11 commander, the astronaut writes that Tiangong 2 "is much more comfortable" than the precursor Tiangong 1 experiment module, which hosted two crews in 2012 and 2013, including one of Jing's previous missions.
"It is perfect in layout, decoration and matching of colors," Jing writes.
He describes the crew's hectic activities during Shenzhou 11's rendezvous and docking with Tiangong 2, a day so busy that Jing writes the astronauts forgot to eat rice and noodles they heated up for a meal. Jing also thanks the crew's families for their support, and writes that he misses his fellow astronauts.
The next update came from Chen on Oct. 21, in which he shares his experience adapting to weightlessness on his first space mission. He writes that crewmate Jing Haipeng, who Chen calls his big brother, is there to help.
"Being in space for the first time is unusual, to say the least, initially I felt that I could not control my body," the 37-year-old Chen writes. "I could not walk and certain actions just felt weird. My big brother Jing Haipeng has really helped me adjust to life up here, and I am slowly getting used to the feeling of zero gravity, and, you know what — I'm starting to enjoy it more and more."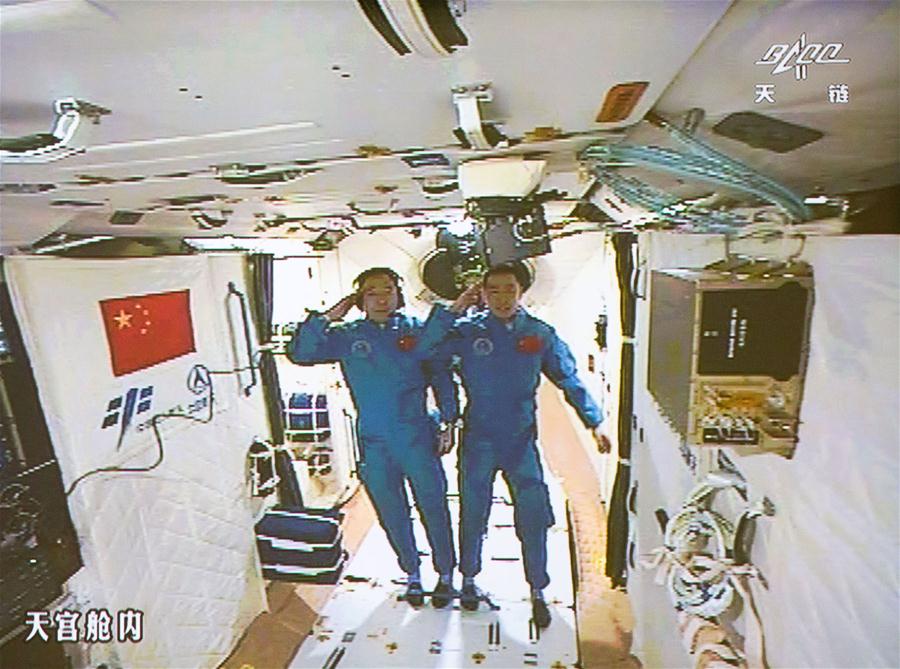 Chen adds that he has no trouble sleeping because of the exhausting work schedule aboard Tiangong 2, which causes him to fall asleep as soon as he shuts his eyes each night.
"Before being here, in space, I was most excited by the view from our porthole," Chen writes. "Actually, I saw it from our spacecraft when the fairing detached (during launch). I was so taken by this vision — our beautiful planet — that I made sure to take a few glances to really leave an imprint in my mind. While I was hypnotized by the view of Earth, bro Jing asked me how it made me feel. All I could say was that it was very beautiful. I had no more words for the way I felt at that moment."
Jing is on his third mission into orbit, following flights on the Shenzhou 7 and Shenzhou 9 spacecraft in 2008 and 2012. He celebrated his 50th birthday Monday, and is on pace to become the most experienced Chinese astronaut by the time the Shenzhou 11 capsule returns to Earth.
Shenzhou 11 is scheduled to undock from Tiangong 2 and fire its braking rockets for a fiery re-entry and a parachute-assisted landing in China's Inner Mongolia region on or around Nov. 18, wrapping up a 33-day flight, the longest space mission in Chinese history.
Chinese officials view Tiangong 2 as a stepping stone to the country's plans for a larger, permanently-occupied 60-ton space station. The core segment of the station could launch as soon as 2018 on a version of China's new heavy-lift Long March 5 rocket — set for its maiden test flight next week — and two more large modules will be added before the complex is fully operational by 2022.
The outpost should last at least 10 years and will be capable of supporting crews of three for six-month expeditions, and as many as six astronauts for shorter stays during crew rotations.
Tiangong 2 will test several key technologies required for the future space station, including in-orbit assembly with a robotic arm testbed and in-orbit refueling and resupply with an automated cargo freighter scheduled to fly to the space lab in April 2017.
The astronauts are also trying out new exercise equipment and living quarters that could be installed on the Chinese space station.
Email the author.
Follow Stephen Clark on Twitter: @StephenClark1.