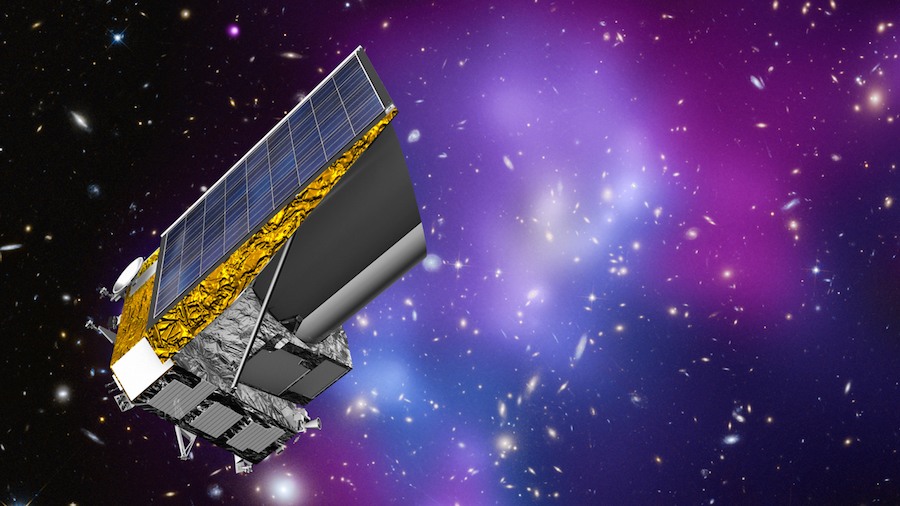 Technical problems discovered during ground testing of U.S.-built detectors for the European Space Agency's Euclid astronomy mission will delay the completion of the telescope's scientific payload, jeopardizing the observatory's 2020 launch target, the head of NASA's astrophysics division said last week.
Officials expect the problem, traced to an electronics package, will delay assembly of the detectors with Euclid's Near-Infrared Spectrometer and Photometer, or NISP, instrument at least 12 months.
Equipped with a visible imager and the near-infrared spectrometer, Euclid will generate a three-dimensional map of two billion galaxies, charting their movements through 10 billion years of cosmic history. Astronomers aim to study the data to investigate the mysteries of dark matter and dark energy.
The enigmatic force scientists call dark energy drives the universe's accelerating expansion, but astronomers know little about its origin or behavior. Euclid's primary objective is to measure how dark energy has pulled on galaxies and even larger-scale cosmic structures over two-thirds of the universe's history.
Developed with joint NASA and ESA funding by Teledyne Imaging Sensors, Euclid's first three infrared detectors arrived in Marseille, France, earlier this year for characterization testing before assembly into the NISP instrument's focal plane.
Sixteen of the infrared detectors, each with 4 megapixels, will make up the NISP instrument, according to ESA. NASA is charged with providing 20 detectors to ESA, including four spares.
Paul Hertz, director of NASA's astrophysics division, said last week that the detectors have run into trouble.
"The detector systems that we had been developing for delivery to ESA have been failing in their characterization testing before delivery, and it turns out there is a weakness in the sensor chip electronics package, where it fails when it cycles at the very cold temperatures that it has to operate in on Euclid," Hertz said at a meeting of NASA's Astrophysics Advisory Committee.
Hertz said the problem did not show up in prior qualification testing.
"We are having to go back and redesign the electronics package, and they will have to requalify and remanufacture," he said. "We're continuing with the manufacturing of the other parts of the system — the cryo flex cable and the sensor chip assemblies — and we're delivering those to the Europeans. But they can't be integrated into a full-up system until we catch up on the electronics."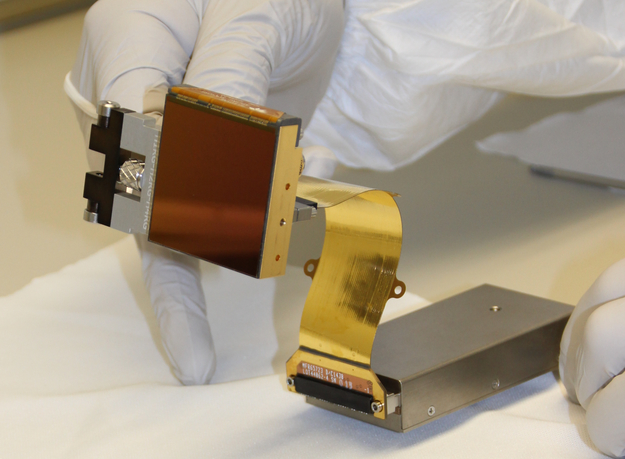 Each detector system consists of a detector, a cable and a "readout electronics chip" designed to convert infrared light to data signals read by an on-board computer and transmitted to Earth, NASA said in an April press release announcing the delivery of Euclid's first three infrared detectors to Europe.
"This is going to cause a delay of at least 12 months, which will have impacts on the ESA mission since, as usual, instruments and detectors are on the critical path," Hertz said Wednesday.
Euclid's payload module, which contain the mission's two science instruments and a 3.9-foot (1.2-meter) telescope, is being developed by Airbus Defense and Space. Thales Alenia Space is responsible for the spacecraft bus, and acts as overall prime contractor for ESA.
The observatory was scheduled to launch from French Guiana in December 2020 aboard a Europeanized version of the Russian-built Soyuz rocket. Hertz did not say how long Euclid's launch might be delayed, and ESA officials did not respond to questions Monday.
ESA selected Euclid as a medium-class mission in its Cosmic Vision space science program in 2011. The mission is expected to cost around a billion euros ($1.2 billion), including funding from ESA, individual ESA member states, and the U.S. government.
Euclid will be launched toward an observing post at the L2 libration point nearly a million miles (1.5 million kilometers) from Earth in the direction away from the sun. The 4,630-pound (2,100-kilogram) observatory's mission is slated to last at least six years.
Email the author.
Follow Stephen Clark on Twitter: @StephenClark1.