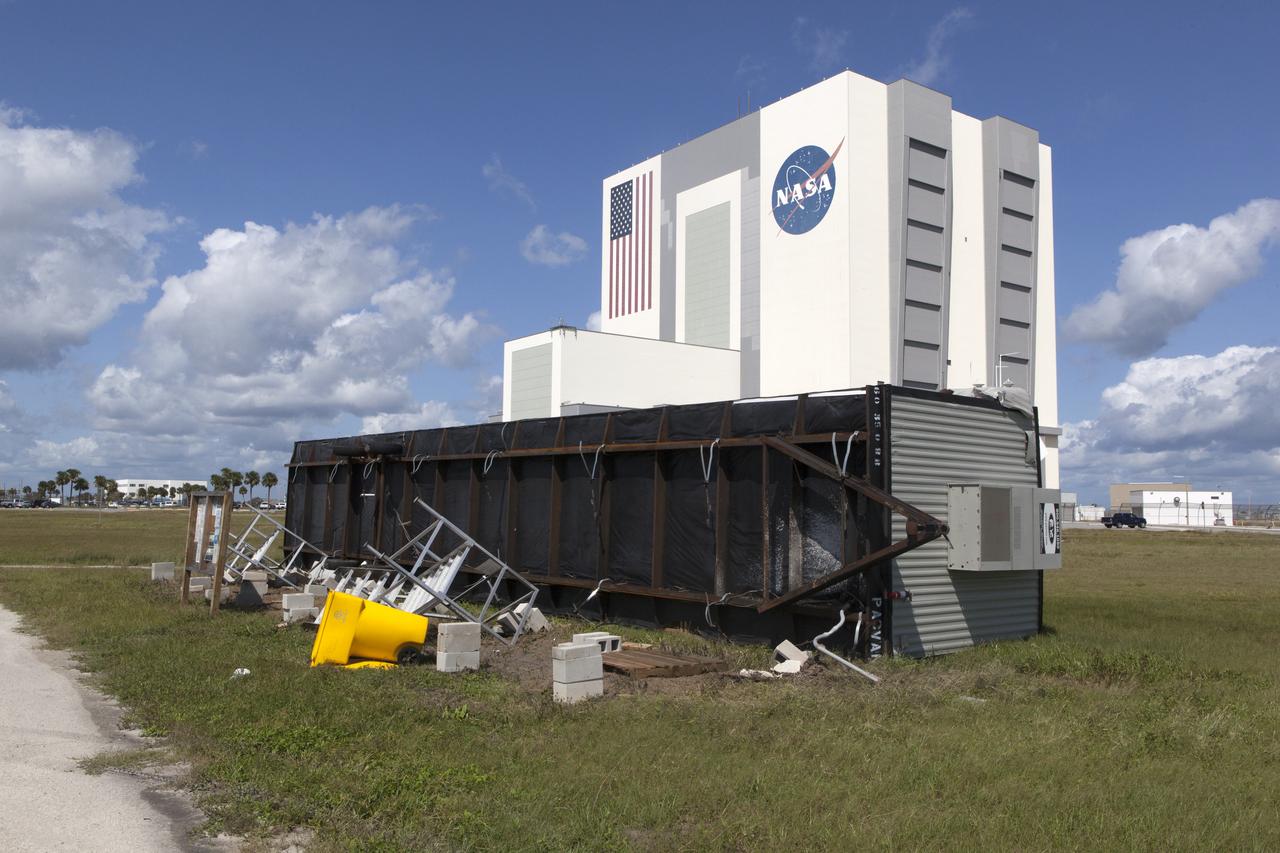 SpaceX and United Launch Alliance expect to resume launches with little or no delay after Hurricane Irma veered west of Cape Canaveral last weekend, sparing the launch base from the storm's most extreme damage.
The Kennedy Space Center is still closed to non-essential personnel, and is expected to remain closed until at least Thursday. Electrical power has been restored to the NASA spaceport, but water services were still shut off as of Tuesday night.
Cape Canaveral Air Force Station also remained closed Tuesday to non-mission essential personnel, according to a post on the 45th Space Wing's Facebook page.
Aerial photos released by NASA on Tuesday showed a few KSC buildings sustained minor roof and structural damage, and flooding was observed in some low-lying parts of the center.
SpaceX president and chief operating officer Gwynne Shotwell said her company's launch campaigns at launch pad 39A — a former space shuttle facility located at KSC — should not see much interruption from Irma.
"We don't anticipate, at this point, a delay in our next launch from 39A," Shotwell said Tuesday at Euroconsult's annual World Satellite Business Week meeting in Paris. "I was frankly more worried about Launch Complex 40, where we're finishing up."
SpaceX is repairing and upgrading pad 40, which sits a few miles to the south of pad 39A on Air Force property, after a Falcon 9 rocket exploded there last September, knocking the launch complex offline until it could be repaired. SpaceX switched its launches to pad 39A once the Falcon 9 resumed flights earlier this year, but the company wants both pads operational.
"We had a lot of equipment (at pad 40), lots of piping to be welded, and I'm a little bit more worried about that. That won't hold up a launch in the near-term, but we're waiting to get that information back," Shotwell said. "I don't anticipate it being an issue though, thank goodness for us, but obviously a bunch of people suffered, both in this one and our friends in Houston from Harvey."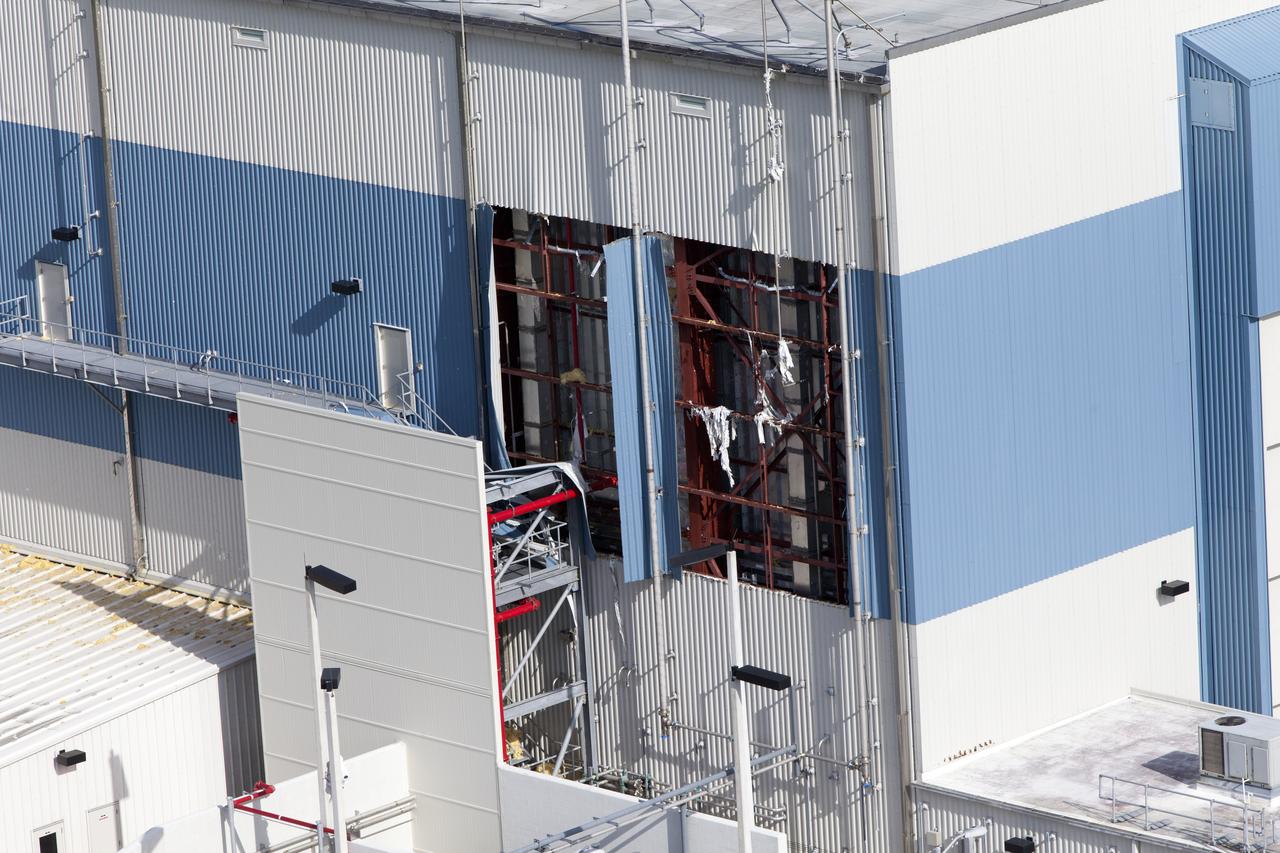 SpaceX's next launch was scheduled for no earlier than Oct. 2 before Hurricane Irma, carrying the commercial SES 11/EchoStar 105 communications satellite, a joint project between SES and EchoStar. If the launch date holds, another Falcon 9 launch from Florida no earlier than Oct. 14 is set to loft the Koreasat 5A communications satellite.
SES officials said the SES 11/EchoStar 105 satellite weathered the storm without damage inside a SpaceX-owned clean room in a hangar near pad 40. If ground crews can resume work on the satellite within a few days, the payload could still be ready for liftoff in early October.
The SES 11/EchoStar 105 satellite is set to launch from pad 39A, while SpaceX has not publicly announced which pad will host the Koreasat 5A launch.
SpaceX aimed to ready pad 40 for launches as soon as this month, giving construction crews a chance to modify pad 39A for the maiden flight of the company's huge Falcon Heavy rocket, a heavy-lifter comprised of three Falcon 9 first stage boosters bolted together.
Officials expected it would take a couple of months to make pad 39A ready for the Falcon Heavy once Falcon 9 missions were rebased at pad 40.
Shotwell said Tuesday that the debut test flight of the Falcon Heavy is still expected before the end of the year.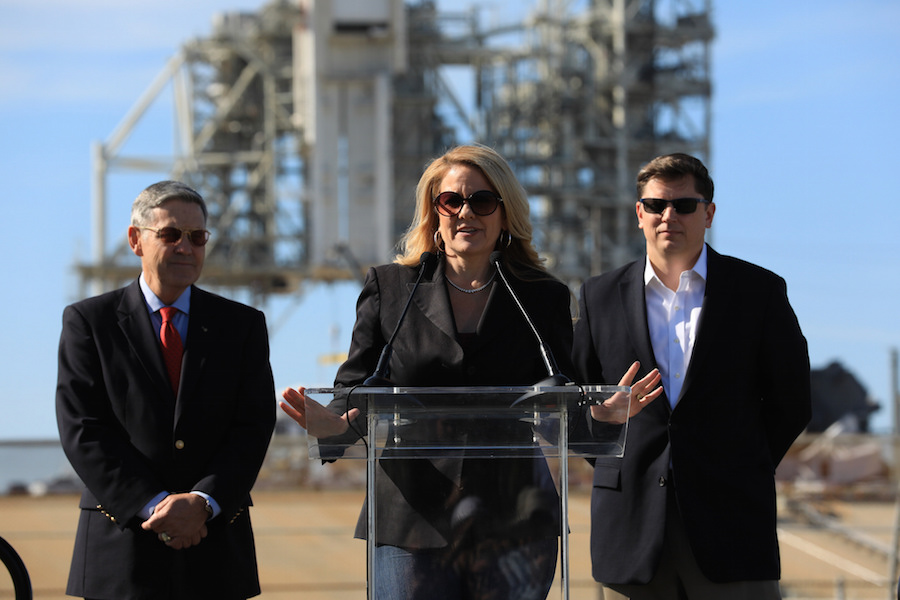 Tory Bruno, ULA's president and CEO, said Tuesday that his company's launch pads and buildings at Cape Canaveral are also in good shape after Irma. ULA employees re-entered the spaceport Tuesday for an initial damage assessment.
"The reports we're getting back is that the damage to Cape Canaveral is relatively minimial, so a little bit of water intrusion, some signs blown down, but the infrastructure is all really in place," Bruno said Tuesday at the Euroconsult meeting in Paris. "Our facilities look like they did pretty well, so we're expecting to bounce back quickly from that.
"A lot of other parts of Florida took a real beating, and our hearts go out to those people, but the hurricane kind of did a little loop around Canaveral and really spared it," Bruno said.
ULA's next Atlas 5 launch from Cape Canaveral was scheduled for Sept. 28 from pad 41, located between SpaceX's pad 40 and pad 39A. The Atlas 5 launcher, fitted with two strap-on solid rocket boosters, will deploy a secret payload into orbit for the National Reconnaissance Office, the U.S. government's spy satellite agency.
Another Atlas 5 launch from Vandenberg Air Force Base in California was set for Sept. 14, but ULA postponed the launch to give teams in Florida who were set to travel to the California spaceport an opportunity to prepare their homes and property for the approaching hurricane.
Email the author.
Follow Stephen Clark on Twitter: @StephenClark1.