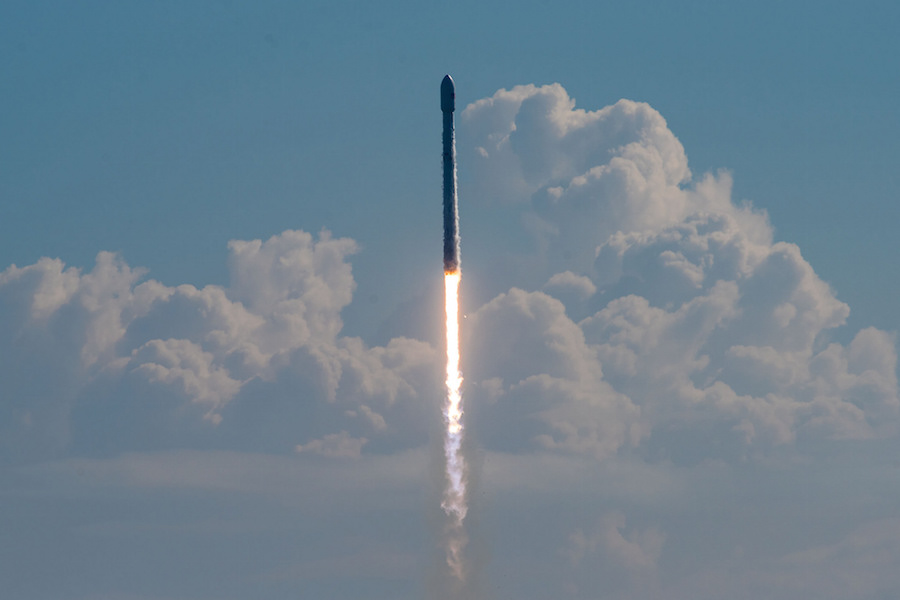 Succeeding on a one-shot launch attempt before Hurricane Irma shuts down the Cape Canaveral spaceport, a SpaceX Falcon 9 rocket thundered into orbit Thursday with the U.S. Air Force's X-37B spaceplane, a reusable robotic mini-shuttle that could stay aloft for years with clandestine on-board experiments.
Burning a super-chilled mixture of kerosene and liquid oxygen propellants, the 229-foot-tall (70-meter) Falcon 9 launcher ignited nine Merlin 1D engines and climbed away from launch pad 39A at NASA's Kennedy Space Center in Florida at 10 a.m. EDT (1400 GMT) Thursday.
The Boeing-built X-37B spaceplane arrived in orbit shortly after liftoff to complete SpaceX's 13th mission of the year, a record busy year for the California-headquartered commercial launch operator.
Officials said it was likely the last chance for the Falcon 9 rocket to take off before ground crews would need to secure the vehicle for Hurricane Irma, a powerful Category 5 storm forecast to pass over or near Cape Canaveral as soon as Sunday.
After soaring through puffy cumulus clouds and pitching on a course northeast from the Florida spaceport on 1.7 million pounds of thrust, the Falcon 9's first stage engines turned off and the booster fell away from the rocket's second stage around two-and-a-half minutes into the flight.
The upper stage's single Merlin engine, fitted with a nozzle extension to more efficiently operate in the airless vacuum of space, ignited on time as the first stage pulsed cold gas nitrogen control jets to flip around to begin a guided descent back to a landing pad at Cape Canaveral.
Following guidelines set by the Air Force, SpaceX ended live commentary on the progress of the second stage's flight less than three minutes after liftoff. Video coverage of the booster's plunge back to Earth continued, and three of the first stage's Merlin 1D powerplants restarted high over the Atlantic Ocean for "boost-back" and "entry" burns to steer the rocket back toward land.
Four stabilizing grid fins also helped maneuver the 14-story booster as it encountered thicker air falling through the stratosphere.
The first stage's center engine fired once more as the booster made its final descent, and the Falcon 9 extended four landing legs for touchdown at Landing Zone 1, a flat concrete target on the Atlantic coastline around 9 miles (15 kilometers) south of launch pad 39A.
SpaceX intends to inspect, refurbish and reuse the first stage on a future launch. The company has now recovered one of its Falcon 9 boosters intact 16 times over the last two years, a capability officials say will reduce the cost of SpaceX's launches.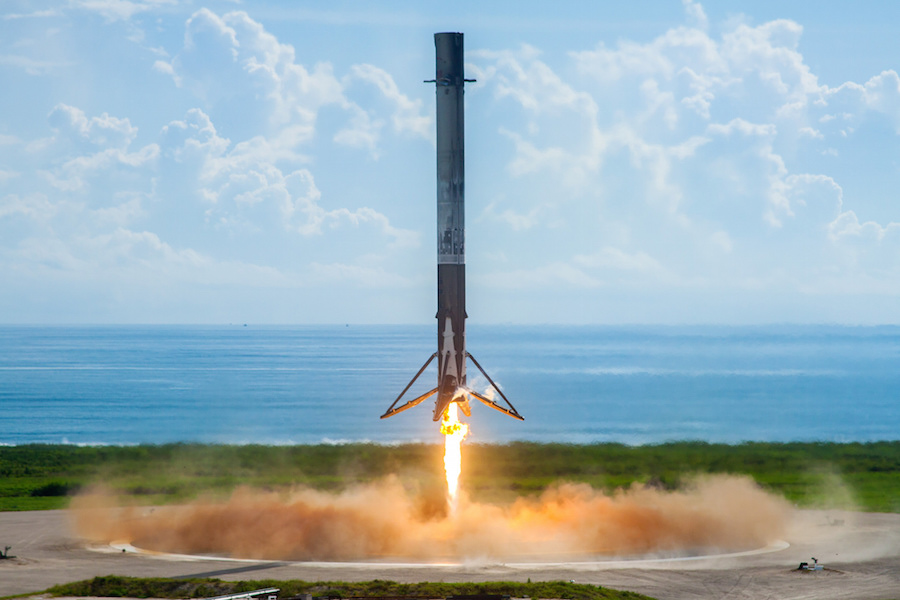 Meanwhile, the Falcon 9's upper stage apparently completed its orbit insertion and deployment maneuvers without trouble, and Air Force and Boeing officials called the launch a success.
The flight is the fifth time one of the Air Force's two X-37B spaceplanes, each about one-quarter the length of one of NASA's retired space shuttle orbiters, has rocketed into space. Four earlier missions rode United Launch Alliance Atlas 5 rockets launched from Cape Canaveral.
Built by Boeing's Phantom Works division and managed by the Air Force's Rapid Capabilities Office, each spaceship has a wingspan of nearly 15 feet (4.5 meters) and a length of more than 29 feet (8.9 meters). The ship's wings fit snugly inside the 17-foot-diameter (5-meter) payload shrouds on the Falcon 9 and Atlas 5 rockets.
The X-37B, also called the Orbital Test Vehicle, weighs about 11,000 pounds (5 metric tons) and has typically orbited Earth at altitudes between 200 and 250 miles (320 to 400 kilometers).
No details about the X-37B's altitude or orbital parameters were released for this mission, but safety notices published for pilots and mariners ahead of the launch suggested the rocket would place the miniature windowless space shuttle into an orbit tilted between roughly 40 and 65 degrees to the equator.
The Air Force announced before the launch that the fifth X-37B flight, known as OTV-5, would go into a higher-inclination orbit than earlier X-37B flights. The four X-37B missions to date flew in orbits tilted between 38 and 43.5 degrees to the equator, but the this one will reach higher latitudes on each lap around Earth.
Military officials said launching the OTV-5 mission on a SpaceX Falcon 9 rocket adds to the program's flexibility, demonstrating the X-37B can fly on two different types of boosters.
Several firsts are planned for the OTV-5 mission.
"The fifth OTV mission continues to advance the X-37B's performance and flexibility as a space technology demonstrator and host platform for experimental payloads," the Air Force said in a press release. "This mission carries small satellite ride shares and will demonstrate greater opportunities for rapid space access and on-orbit testing of emerging space technologies.
Military officials have lauded the X-37B's ability to return experimental hardware back to Earth for inspection and reuse. The Air Force did not disclose whether the secondary payloads riding with the X-37B will deploy from the Falcon 9 rocket itself or from the spaceplane's cargo bay.
"Building upon the fourth mission and previous collaboration with experiment partners, this mission will host the Air Force Research Laboratory Advanced Structurally Embedded Thermal Spreader payload to test experimental electronics and oscillating heat pipe technologies in the long duration space environment," the statement said.
The thermal spreader experiment will test three oscillating heat pipes. The new heat pipe technology is lighter and less expensive than components used on most satellites to keep internal avionics temperatures within safe margins.
"The three primary science objectives are to measure the initial on-orbit thermal performance, to measure long duration thermal performance, and to assess any lifetime degradation," the Air Force Research Laboratory said in a fact sheet.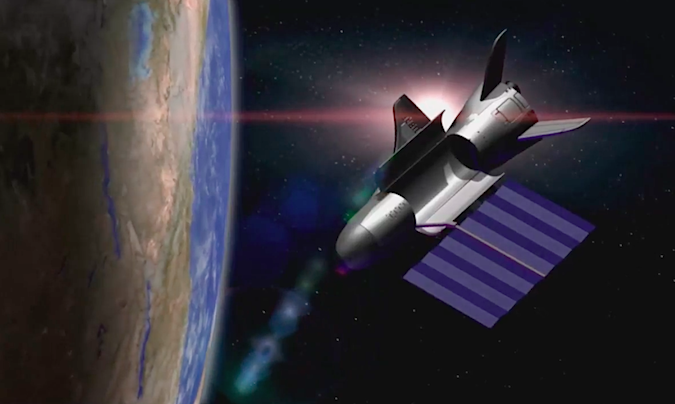 The rest of the flight plan remains secret, along with the mission's planned duration.
The ship could remain in orbit for months or years. A deployable solar panel generates electricity for the mini-shuttle, and it does not rely on hydraulics for its aerosurfaces, unlike NASA's space shuttles, which were limited to missions lasting several weeks.
The X-37B will glide back to Earth for a runway landing to conclude its mission, likely targeting a homecoming at the Shuttle Landing Facility at the Kennedy Space Center, where the OTV-4 mission ended. Boeing houses and prepares the X-37B spaceplanes for launch inside former space shuttle hangars near the space center's huge Vehicle Assembly Building.
Here is a listing of the X-37B's flight history compiled by Spaceflight Now's Justin Ray.
Orbital Test Vehicle Mission 1
(first flight of Vehicle No. 1)
Launch: April 22, 2010
Landing: Dec. 3 2010
Duration: 224 days
Orbital Test Vehicle Mission 2
(first flight of Vehicle No. 2)
Launch: March 5, 2011
Landing: June 16, 2012
Duration: 469 days
Orbital Test Vehicle Mission 3
(second flight of Vehicle No. 1)
Launch: Dec. 11, 2012
Landing: Oct. 17, 2014
Duration: 675 days
Orbital Test Vehicle Mission 4
(unconfirmed which vehicle)
Launch: May 20, 2015
Landing: May 7, 2017
Duration: 718 days
The Air Force has also not confirmed which of the two X-37B vehicles was launched Thursday.
At least one more X-37B flight, OTV-6, is on the books for liftoff on an Atlas 5 rocket in 2019 on the so-called Air Force Space Command-7 launch.
Meanwhile, SpaceX is gearing up for three more Falcon 9 launches in October.
A communications satellite for SES and EchoStar is scheduled to fly into geostationary orbit no earlier than Oct. 2 from pad 39A aboard a previously-flown Falcon 9 booster. The first stage has been readied for a second launch after a successful liftoff and landing in February.
The SES 11/EchoStar 105 spacecraft has been delivered to Cape Canaveral from its Airbus Defense and Space factory in Toulouse, France. An SES official said the launch date will depend on Hurricane Irma's impact on the Space Coast, and engineers are taking precautions to safely store the satellite during the storm.
Another Falcon 9 rocket is due for launch Oct. 4 from Vandenberg Air Force Base in California with the third batch of 10 next-generation voice and data relay satellites for Iridium.
A commercial South Korean television broadcast satellite named Koreasat 5A is third in line on SpaceX's launch manifest, with liftoff from Florida scheduled for mid-October. SpaceX has not announced if Koreasat 5A will blast off from pad 39A or pad 40, the company's other East Coast launch complex at Cape Canaveral still under repairs after a rocket explosion last year damaged the facility.
Email the author.
Follow Stephen Clark on Twitter: @StephenClark1.