A SpaceX Falcon 9 rocket ignited its nine kerosene-fueled Merlin engines on the launch pad at Cape Canaveral on Tuesday evening in a critical milestone before liftoff with a commercial Thai communications satellite later in the week.
Held down by restraints at Cape Canaveral's Complex 40 launch pad, the two-stage booster fired its engines for several seconds and throttled up to full power around 9 p.m. EDT Tuesday (0100 GMT Wednesday) to verify the Falcon 9 is ready for flight Thursday.
SpaceX's launch team, located in a control center several miles south of the launch pad, oversaw fueling of the Falcon 9 with super-chilled RP-1 kerosene and liquid oxygen propellants.
The prelaunch engine firing is a customary test conducted by the commercial rocket company before giving the all-clear for liftoff.
The fifth flight of a Falcon 9 rocket this year is scheduled for takeoff Thursday at 5:40 p.m. EDT (2140 GMT) with the Thaicom 8 television broadcast platform. The launch window extends for two hours.
Like all of SpaceX's flights so far this year, the Falcon 9 first stage will attempt a landing on a mobile platform positioned in the Atlantic Ocean about 420 miles (680 kilometers) east of the launch pad.
The vertical descent to the ocean-going platform, or drone ship, comes after successful back-to-back landings at sea following Falcon 9 launches April 8 and May 6.
SpaceX nailed its first rocket touchdown on land in December, but about half of the company's Falcon 9 launches are destined for high-altitude orbits, a trajectory with higher speeds that prevent the first stage from reversing course and returning to the launch site.
Thursday's flight will be SpaceX's second mission for Bangkok-based Thaicom, coming more than two years after the Thaicom 6 satellite blasted off on a Falcon 9 in January 2014.
The Falcon 9 rocket will place Thaicom 8 into a highly elliptical geostationary transfer orbit with a high point of more than 22,000 miles (35,000 kilometers).
Manufactured in Virginia by Orbital ATK, the spacecraft weighs approximately about 6,800 pounds (approximately 3,100 kilograms) with a full load of in-orbit maneuvering propellant.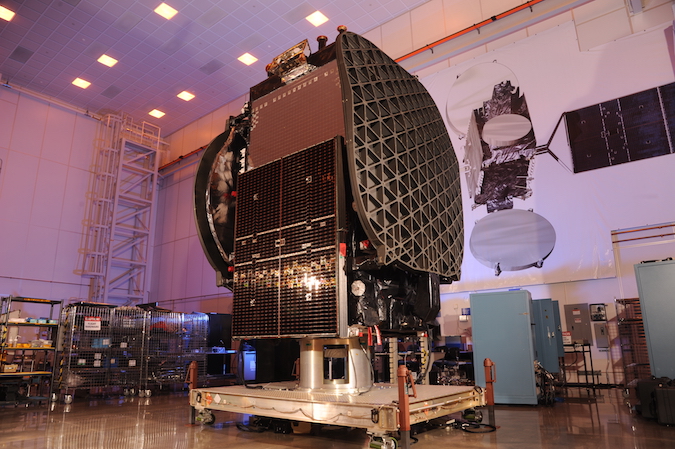 Once released in orbit by the Falcon 9 rocket's second stage about a half-hour after liftoff, engineers at Orbital ATK's mission control center in Dulles, Virginia, will take control of the Thaicom 8 satellite. The craft will fire its main engine several times in the coming weeks to circularize its orbit over the equator at an altitude of about 22,300 miles (35,700 kilometers).
At that altitude, Thaicom 8's movement around Earth will match the rate of the planet's rotation, causing the spacecraft to hover over a fixed geographic location. Orbital ATK's ground controllers will put the new satellite through a 30-day test period before turning over management of the craft to Thaicom.
Thaicom 8's operating post is located at 78.5 degrees east longitude, giving the satellite's antennas and 24 Ku-band transponders coverage over Thailand, India and Africa for television broadcasts and data services, according to Thaicom.
The commercial satellite mission is designed to last more than 15 years.
"We built and delivered this high-quality communications satellite for Thaicom PLC two months ahead of schedule, demonstrating our ability to manufacture reliable, affordable and innovative products that exceed expectations for our customer," said Amer Khouri, vice president of the commercial satellite business at Orbital ATK. "As one of Asia's leading satellite operators, we are grateful for Thaicom's continued confidence and look forward to more successful partnerships in the future."
Thaicom ordered the Thaicom 8 satellite shortly after Thaicom 6's launch in January 2014, representing repeat business for Orbital ATK and SpaceX, the manufacturer and launch provider.
The weather forecast calls for a 90 percent chance of acceptable conditions Thursday evening, with only a minor concern that ground winds might exceed the Falcon 9's launch rules.
Fair weather is in the forecast on Florida's Space Coast this week, with balmy late spring temperatures and sunny skies.
"Long-range models have come into good agreement on an area of disturbed weather forming over the next few days east of the Bahamas," the Air Force's 45th Weather Squadron wrote in an official launch forecast Tuesday. "The system will likely slowly strengthen and move north towards the Carolinas, staying east of the spaceport. Surface winds will gradually strengthen as the result of the pressure difference between the developing system and the high pressure ridge currently in place."
Conditions at launch time Thursday should be mostly sunny, with a few clouds at 2,500 feet, easterly winds at 17 to 22 mph, and a temperature of 78 degrees Fahrenheit.
The outlook slightly worsens Friday, when there is a 70 percent chance of good weather as more moisture moves into Central Florida.
Thursday's launch comes less than three weeks after SpaceX's last Falcon 9 flight, which delivered the Japanese JCSAT 14 communications satellite to orbit.
Another commercial Falcon 9 mission is scheduled for mid-June with two Boeing-built telecom satellites for Eutelsat and Asia Broadcast Satellite.
Email the author.
Follow Stephen Clark on Twitter: @StephenClark1.