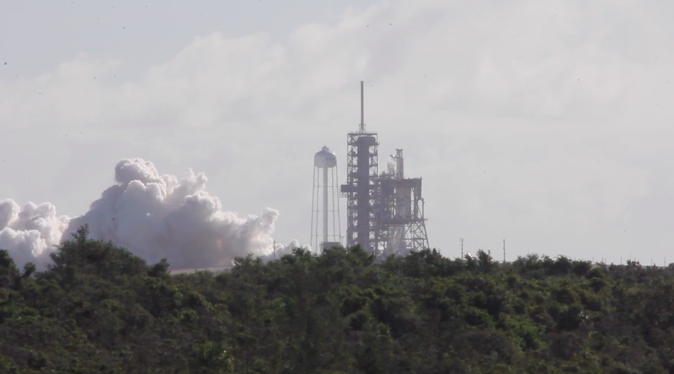 Set to resume a brisk pace of launch activity after a nearly six-week respite, SpaceX test-fired its next Falcon 9 rocket Thursday at NASA's Kennedy Space Center in Florida ahead of a planned liftoff Monday with several tons of experiments and supplies for the International Space Station.
The Falcon 9 launcher rolled out to pad 39A at the Florida space base Wednesday evening and was raised vertical overnight. SpaceX's launch team, stationed in a control center about 13 miles (21 kilometers) to the south, initiated a computer-controlled countdown sequence Thursday morning that loaded super-chilled kerosene and liquid oxygen into the two-stage rocket.
After sailing through final preflight health checks, the Falcon 9's nine Merlin 1D main engines ignited at 9:10 a.m. EDT (1310 GMT) for several seconds, throttling up to around 1.7 million pounds of thrust as hold-down restraints kept the rocket firmly grounded.
Ground crews will lower the Falcon 9 rocket and return it to SpaceX's hangar at the southern edge of pad 39A, where technicians will mate a cargo-carrying Dragon capsule to the launcher. The robotic supply ship will deliver more than 6,200 pounds (about 2,800 kilograms) of experiments, food and spare parts to the space station's six-person crew.
The fully-assembled rocket will return to pad 39A some time Sunday, when workers will pack final time-sensitive equipment into the cargo capsule, including a habitat with mice to study the affects of long-term spaceflight on vision, a plant growth experiment, and several more biological research investigations.
Liftoff of SpaceX's 12th resupply flight to the space station is scheduled for 12:31 p.m. EDT (1631 GMT) Monday. If the launch takes off on time, the Dragon cargo freighter should complete its automated rendezvous with the orbiting outpost Wednesday.
Astronauts Jack Fischer and Paolo Nespoli will monitor Dragon's final approach and grapple the commercial supply ship with the station's Canadian-built robotic arm around 7 a.m. EDT (1100 GMT) Wednesday.
The spaceship will spend about a month attached to the station's Harmony module, allowing astronauts to unpack its pressurized cabin, conduct experiments, and return specimens and other hardware to the capsule for return to Earth in September.
A NASA cosmic ray detector will be robotically transferred from the Dragon spacecraft's external cargo bay to a mounting plate outside the station's Japanese Kibo laboratory module. The instrument is designed to look into the origins of cosmic rays, tiny particles propelled across the universe at high speed by violent phenomena like supernova explosions.
The Dragon spacecraft set for launch next week is the final first-generation version of the cargo ship built by SpaceX. The company plans to deliver supplies to the station with reused capsules on future missions, until a new-generation vehicle is ready.
Monday's launch will be the 11th flight of a Falcon 9 rocket this year, but the first since July 5, the longest gap between SpaceX missions since the start of 2017.
The rapid-fire pace of Falcon 9 flights has allowed SpaceX to catch up on its launch manifest after groundings in 2015 and 2016 in the wake of two rocket failures, which combined to delay the company's schedule nearly one year.
Upgrades at the U.S. Air Force's Eastern Range led to the lull in launch activity in the last few weeks at Cape Canaveral, and no missions were ready for liftoff once the military range re-opened in mid-July. SpaceX took advantage of the downtime to accelerate demolition of disused shuttle-era structures at pad 39A, which the company leased from NASA in 2014 in a 20-year agreement.
The launch rate should ramp up again in the coming weeks if schedules hold.
A separate SpaceX crew at Vandenberg Air Force Base in California is preparing for a Falcon 9 launch Aug. 24 with Formosat 5, a Taiwanese Earth-imaging satellite.
Up to three Falcon 9 flights are on tap in September, beginning Sept. 7 with the launch from Florida of the Air Force's reusable X-37B spaceplane, an unpiloted winged spacecraft that has previously flown into low Earth orbit on United Launch Alliance Atlas 5 rockets and returned for landings on a runway.
Another Falcon 9 mission from Florida's Space Coast is scheduled for no earlier than Sept. 27 with the SES 11 communications satellite, also known as EchoStar 105. It will fly on a previously-launched Falcon 9 booster, marking the third time SpaceX will reuse one of its first stages.
And the next batch of 10 next-generation Iridium voice and data relay satellites will fire into orbit from Vandenberg no sooner than Sept. 30.
Meanwhile, ULA's next Atlas 5 launch is on track for Aug. 18 from pad 41 at Cape Canaveral with NASA's TDRS-M communications craft to provide links with the space station and other orbiting scientific satellites when they are out of range of ground stations.
An Orbital ATK Minotaur 4 rocket is being stacked at Cape Canaveral's pad 46 for an Aug. 25 blastoff with a military space surveillance mission.
Email the author.
Follow Stephen Clark on Twitter: @StephenClark1.