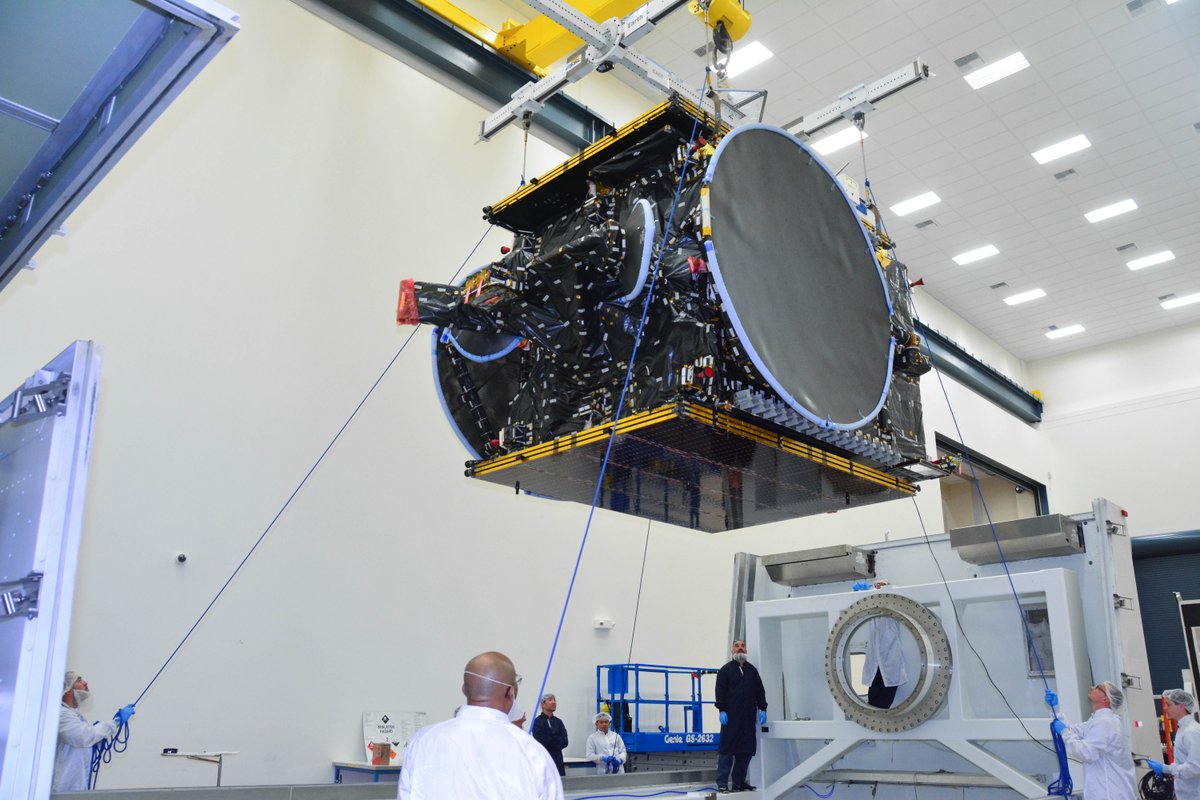 On the eve of the launch of his country's first communications satellite on a Falcon 9 rocket, the chief executive of BulgariaSat credited SpaceX's cost-cutting ways with making space accessible for small nations and money-conscious companies like his own.
Maxim Zayakov, CEO of BulgariaSat and its affiliate television provider Bulsatcom, told Spacefight Now that SpaceX's push to reduce the cost of space transportation has yielded tangible results for his country.
"People don't realize that, for small countries and small companies like us, without SpaceX, there was no way we would ever be able to even think about space," Zayakov said. "With them, it was possible. We got a project. I think, in the future, it's going to be even more affordable because of reusability."
Bulgaria's first telecommunications satellite, named BulgariaSat 1, is scheduled to lift off Friday at 2:10 p.m. EDT (1810 GMT) from pad 39A at NASA's Kennedy Space Center in Florida.
Friday's launch window extends for two hours, and forecasters call for favorable weather, with partly cloudy skies and a 90 percent chance conditions will be acceptable for liftoff.
The launch from Florida is the first of two Falcon 9 flights on tap this weekend. Another SpaceX launcher is set for liftoff Sunday from Vandenberg Air Force Base in California with the second batch of 10 voice and data relay satellites for Iridium's upgraded communications constellation.
BulgariaSat 1 will ride SpaceX's second previously-flown Falcon 9 first stage booster. The vehicle made its first flight Jan. 14 from Vandenberg Air Force Base in California, and SpaceX engineers inspected and refurbished the booster for a second mission.
The recycled rocket flight comes nearly three months after the March 30 launch of an SES communications satellite on SpaceX's first reused booster. SpaceX founder and CEO Elon Musk heralded that achievement as a significant step toward the company's objective of making spaceflight more routine and less costly.
Gwynne Shotwell, SpaceX's president and chief operating officer, said last year the launch company was offering about a 10 percent discount for customers willing to switch from a newly-built to a previously-flown booster. The discounts are expected to remain small as SpaceX tries to recoup its $1 billion investment in reusable rocket technology, but Musk said dramatic cuts from the Falcon 9's current list price of $61.2 million are eventually in the offing.
With BulgariaSat's urging, satellite manufacturer Space Systems/Loral brokered a chance to fly BulgariaSat 1 on a reused Falcon 9. Negotiations began before the first SES 10 launch in March, Zayakov said, but insurance considerations kept BulgariaSat 1 from getting the first flight on a reused Falcon 9 first stage.
Space Systems/Loral built BulgariaSat 1 in Palo Alto, California. The terms of the satellite contract made SSL responsible for booking the launch with SpaceX, and the BulgariaSat will take control of the spacecraft once it is ready to begin service in orbit.
Zayakov said BulgariaSat saw no financial benefit from swapping a new rocket for a used one, and any discount in the deal went to SSL.
"SSL engineers who work with all the launch providers were involved in this case, and they were convinced of the overall reliability of the booster to reuse it," Zayakov told Spaceflight Now.
BulgariaSat announced the switch to a reused rocket May 5, and BulgariaSat 1 arrived at Cape Canaveral from its California factory a few days later for final preflight testing and fueling.
The launch was scheduled for June 15, but a delay in the preceding Falcon 9 launch and a problem with a pneumatic valve on the rocket's payload fairing moved back the mission to Friday.
Designed for a 15-year lifetime, BulgariaSat 1 weighs about 8,100 pounds (3,700 kilograms) with a full load of maneuvering propellant. The telecom craft is heading for a station in geosynchronous orbit nearly 22,300 miles (35,800 kilometers) over the equator at 1.9 degrees east longitude, where its velocity will match the rate of Earth's rotation, keeping BulgariaSat 1 in range of users across Europe.
The $235 million satellite project took 12 years from to go from an idea to reality, Zayakov said.
"The satellite is a huge thing," he said in a telephone interview. "It's a big milestone and gives us a chance for regional development, more presence in the region, as well as throughout Europe, where we have our main coverage. For the country, definitely, it's the first geostationary communications satellite. It also is going to utilize our national orbital slot, which is important."
Bulsatcom's satellite television channels will be broadcast through BulgariaSat 1 into homes and businesses across Bulgaria. A Bulsatcom subsidiary in neighboring Serbia will also relay TV channels through BulgariaSat 1.
"TV is the focus," Zayakov said of BulgariaSat 1. "We're trying to provide much higher quality and much better quantity of services to our customers, not only in our country, but also in the region, and trying to expand. Certainly, more HDTV and some 4K channels.
"4K is beautiful, of course, for sports," he added. "We don't have anything in 4K whatsoever right now. This is an opportunity right there."
Bulsatcom currently leases transponders on Hellas-Sat 2, a 14-year-old satellite launched from Cape Canaveral on an Atlas 5 rocket in 2003. BulgariaSat 1 will add significantly more capacity to the company's network in Bulgaria, Serbia and other regions in the Balkans.
"We'll have two satellites offering services now," Zayakov said. "Our operations in Serbia are nearly dormant, just 35,000 subscribers there, because there was no capacity on this satellite we're leasing now to grow. There are other countries in that region. We have potential to grow, but the problem is the capacity."
Zayakov expects BulgariaSat 1 will be operational by early August.
The 229-foot-tall (70-meter) Falcon 9 rocket will soar to the east from Florida's space coast, dropping its nine-engine first stage around T+plus 2 minutes, 40 seconds.
While the second stage's single Merlin engine powers BulgariaSat 1 into orbit, a subset of the Merlin engines on the first stage will slow it down for a vertical landing on SpaceX's recovery barge, or drone ship, in the Atlantic Ocean downrange from Cape Canaveral.
The first stage will try to make its second landing on one of SpaceX's drone ships after an on-target recovery during its first flight Jan. 14.
Two burns of the upper stage engine are needed to send BulgariaSat 1 into an arcing "supersynchronous" transfer orbit with a low point a few hundred miles above Earth and a high point well above the satellite's final operating post 22,300 miles in space.
Separation of BulgariaSat 1 from the Falcon 9's second stage is expected at T+plus 34 minutes, 55 seconds.
The satellite's on-board engine will reshape its orbit with a series of burns over the next few weeks, then BulgariaSat 1 will settle into its slot in geostationary orbit for several more weeks of testing before entering service.
Email the author.
Follow Stephen Clark on Twitter: @StephenClark1.