STORY WRITTEN FOR CBS NEWS & USED WITH PERMISSION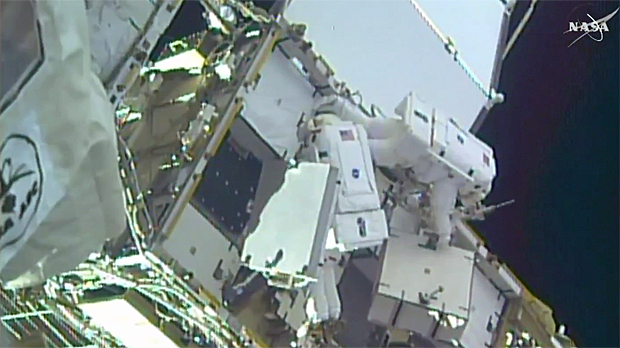 Two space station astronauts carried out a trouble-free five-hour 58-minute spacewalk Friday, completing complex battery replacement work on the right side of the lab's solar power truss with enough time left over to carry out a variety of lower-priority "get-ahead" tasks.
The International Space Station relies on four huge sets of solar arrays that rotate to track the sun. Each set is equipped with 12 nickel-hydrogen batteries that store power for use when the station is in Earth's shadow. All 48 NiH2 batteries will be replaced over the next few years with 24 smaller but more powerful lithium-ion batteries.
Work to replace the first 12 NiH2 batteries began New Year's Eve when flight controllers at the Johnson Space Center in Houston used the station's robot arm to begin installing three lithium-ion power packs in the integrated electronics assembly used by the starboard 4, or S4, set of solar arrays.
Expedition 50 commander Shane Kimbrough and Peggy Whitson then ventured outside Jan. 6 to complete the swap outs for power channel 3A, one of the two electrical buses powered by the S4 arrays.
When they were done, three lithium-ion batteries were in place along with three so-called adapter plates needed to complete the serial circuits originally used by six NiH2 batteries. Two of the old batteries were mounted atop adapter plates where they will remain in long-term storage.
After additional robot arm work to install three new batteries in S4 power channel 1A, Kimbrough and European Space Agency astronaut Thomas Pesquet, the fourth Frenchman to walk in space, went outside Friday to complete work on S4 power channel 3A.
They installed three more adapter plates and mounted a third NiH2 battery on one of them. Six of the other nine nickel-hydrogen batteries are already mounted on an HTV pallet for eventual disposal. The final three batteries, temporarily mounted earlier near the base of the robot arm, will be remotely transferred to the pallet later.
When that work is complete, the pallet will be re-installed in the HTV. After the station crew finishes loading the HTV's pressurized cabin with trash and no-longer-needed equipment, the cargo ship will be released to fall back into the atmosphere, burning up as it descends.
Friday's spacewalk was the 197th devoted to station assembly and maintenance since assembly began in 1998, the second so far this year, the fourth for Kimbrough and the first for Pesquet. One hundred 125 astronauts and cosmonauts representing 10 nations have now logged 1,230 hours and four minutes of station spacewalk time, or 51.3 days.