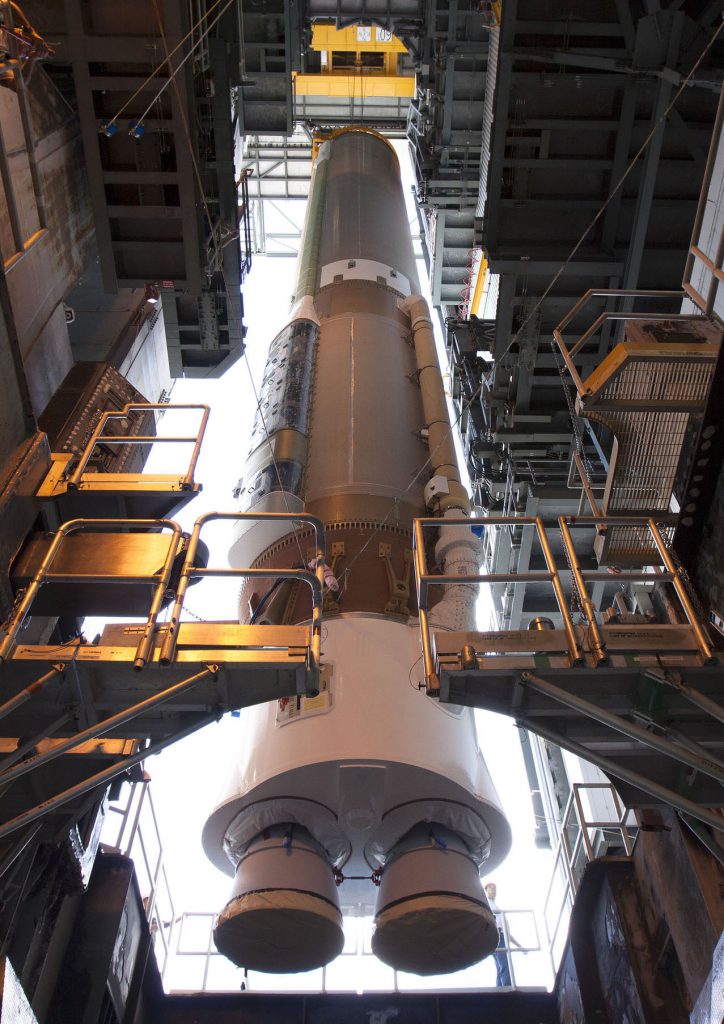 CAPE CANAVERAL — Technicians began the painstaking work of assembling a powerful Atlas 5 rocket today, a launcher that will deploy an advanced satellite to substantially improve U.S. weather forecasting.
The United Launch Alliance vehicle is targeted for liftoff no sooner than Nov. 16 at 4:42 p.m. EST (2142 GMT). The daily launch window extends 120 minutes.
Representing a major upgrade to the resolution and speed at which weather observations are collected for meteorologists, the Geostationary Operational Environmental Satellite-R, or GOES-R, is the first in a four-spacecraft series developed through an $11 bilion program to ensure U.S. weather monitoring into the 2030s.
This morning at Cape Canaveral's Vertical Integration Facility, adjacent to the Complex 41 pad, the Atlas 5 first stage was erected onto the mobile launch platform to begin the rocket's stacking campaign.
The 107-foot-long bronze-colored stage is equipped with the dual-nozzled RD-180 main engine, which burns kerosene fuel and liquid oxygen during the initial four minutes of launch.
The four solid-propellant boosters will attached over the next four days, each 66 feet long and weighing 103,000 pounds.
The Centaur upper stage, with its single RL10 cryogenic engine that burns liquid hydrogen and liquid oxygen, will be hoisted into place Saturday. The stage comes to the VIF pre-integrated with the interstage adapter and lower sections of the bulbous nose cone that encloses the Centaur during atmospheric flight, all combined to stand over 45 feet tall.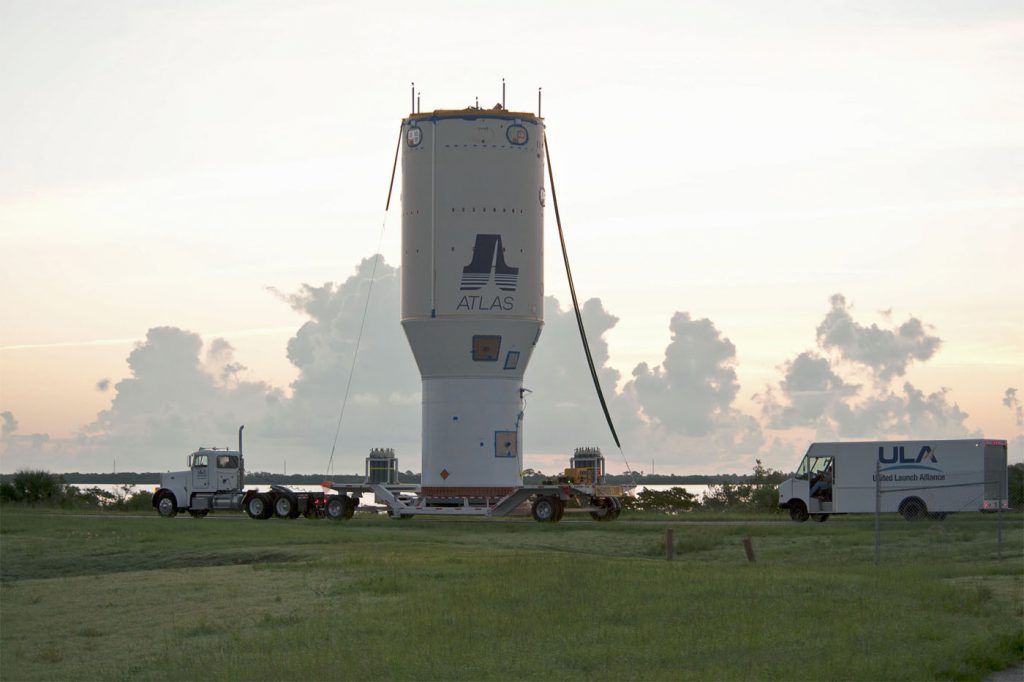 The encapsulated payload will be attached to the rocket early next month.
The rocket is known as the 541 version of the Atlas 5, and it will weigh 1.2 million pounds at liftoff and produce 2.4 million pounds of thrust at launch.
The mission, featuring three burns by the Centaur, will deliver the 11,500-pound GOES-R weather satellite into a customized high-perigee, lower-inclination geosynchronous transfer orbit for NASA and NOAA.
Release from the launcher occurs three-and-a-half hours after liftoff.
The Lockheed Martin-built satellite then assumes responsibility to achieve a circular geosynchronous orbit 22,300 miles above the Earth by firing its own main engine five times during the first two weeks of on-orbit operations.
Officials are not worried about the engine problems that impacted Lockheed Martin's MUOS 5 mobile communications satellite built for the Navy or Boeing's Intelsat 33e commercial spacecraft earlier this summer.
The GOES-R spacecraft has full redundancy to route the main engine's fuel supply to alternate, smaller thrusters to perform orbiting raising maneuvers. Up to 18 burns would be needed and arrival in geosynchronous orbit would be delayed by two weeks, but the craft's mission would not be adversely harmed by a main engine glitch.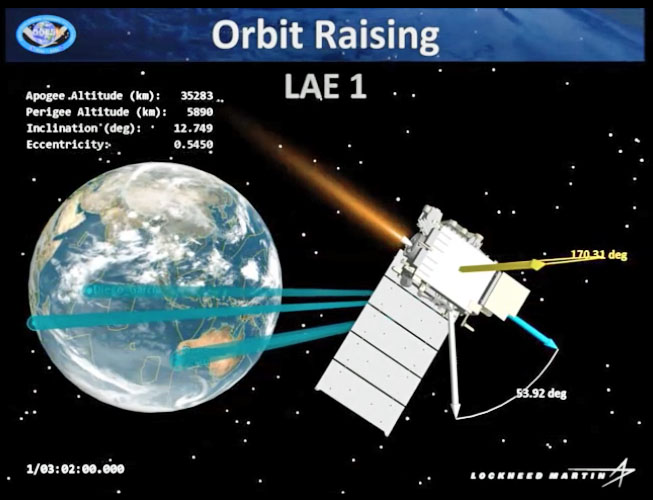 Scientists will spend six months checking out the GOES-R satellite and then another six months fine-tuning the data from the instruments before the new craft will be ready for use.
"Without a doubt, GOES-R will revolutionize weather forecasting as we know it. For weather forecasters, GOES-R is like going from black and white television to super high definition TV, and for the American public GOES-R will mean faster, more accurate weather forecasting and warning," said Stephen Volz, assistant NOAA administrator for its Satellite and Information Service.
"This means more lives saved. It means more time and better environmental intelligence for local officials who have to decide whether to evacuate a community ahead of an approaching hurricane."
NASA oversaw construction of the satellite and is managing its launch. NOAA will operate the craft, which will be renamed GOES-16.
GOES-R's main instrument — the Advanced Baseline Imager — will acquire vivid images of clouds and storms with more embedded data at higher clarity and much faster rates than current weather satellites. It can focus on specific targets like thunderstorms or a hurricane to collect fresh imagery every 30 seconds.
The craft also carries the first-ever Geostationary Lightning Mapper to observe not only cloud-to-ground strikes but also cloud-to-cloud lightning both day and night across the Western Hemisphere to improve warnings of severe weather.
Other onboard instruments will monitor the sun and solar storms that can impact communications, navigation and power systems on Earth through space weather.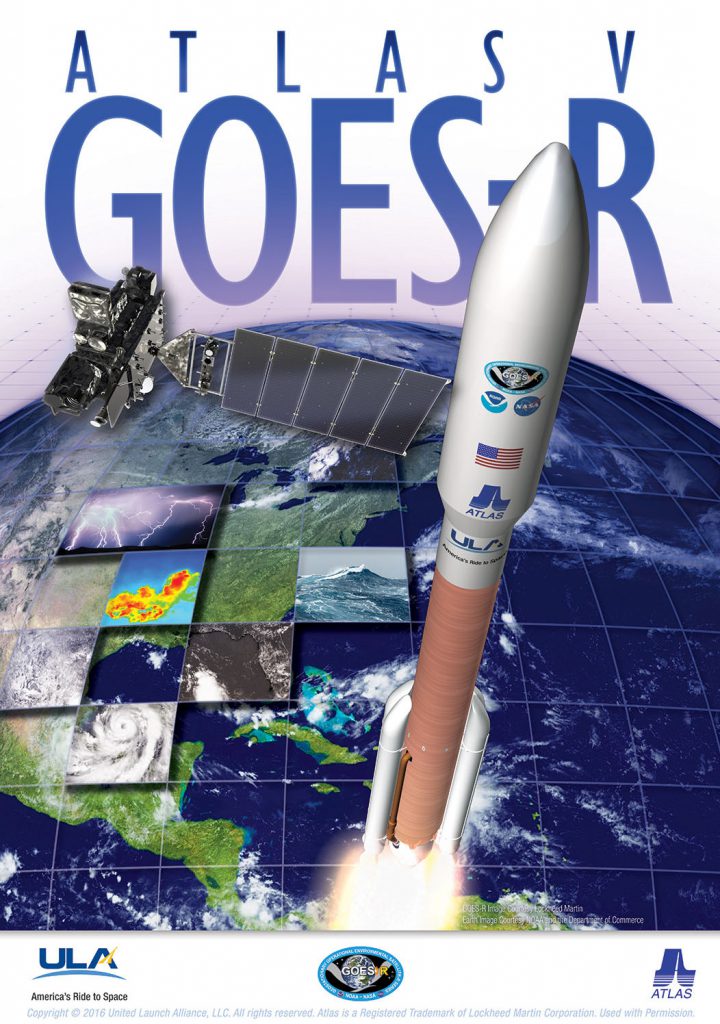 "Americans should take pride in that our multi-billion-dollar investment in the GOES-R represents not only our commitment to the safety and well-being of our citizens, but it benefits our neighbors throughout the Western Hemisphere and especially those in Latin America," Volz said.
"Since the early 1970s, NOAA has led the world in providing high-quality global weather data on a full and open data basis, and this is the continuation of that."
NOAA currently operates three GOES satellites — all from the previous generation that launched aboard Delta 4 rockets from 2006 through 2010 — to cover the continental U.S. and all the entire Western Hemisphere. Two craft serve as the primary GOES-East and GOES-West satellites and one is held in storage as an on-orbit spare.
Which position GOES-R will fill — the eastern or western orbital slots — has not been determined.
GOES-S will be launched in early 2018, followed by GOES-T in 2019 and GOES-U in 2024.
See earlier GOES-R coverage.
Our Atlas archive.