CAPE CANAVERAL — A hundred days after the last U.S. commercial resupply of the International Space Station by a Cygnus cargo ship launched atop an Atlas 5 rocket, the booster and freighter duo will do it again Tuesday.
It was just three months ago when a United Launch Alliance Atlas delivered Orbital ATK's Cygnus — the S.S. Deke Slayton II — into orbit from a pad at Cape Canaveral. That cargo ship spent 72 days at the station to drop off over 7,000 pounds of supplies and take away 3,000 pounds of trash.
"That it's right on the heels of the previous mission is a pleasant surprise. We were in the control room operating the last Cygnus until Feb. 20, now here we are ready to launch the next one. That pace is invigorating," said Dan Tani, former space shuttle and station astronaut and now the senior director for mission and cargo operations at Orbital ATK.
The plan is identical this time, too, with the new S.S. Rick Husband, named for the fallen commander of space shuttle Columbia, filled with nearly four tons of cargo headed for the station atop an Atlas 5.
Liftoff from Cape Canaveral's Complex 41 is scheduled for 11:05 p.m. EDT (0305 GMT) on Tuesday night, at the opening of a window that runs 15 minutes before and 15 minutes after the exact moment when the orbital plane of the station passes over the launch pad.
"We had a wonderful ride in December and can't wait for the next one," Tani said.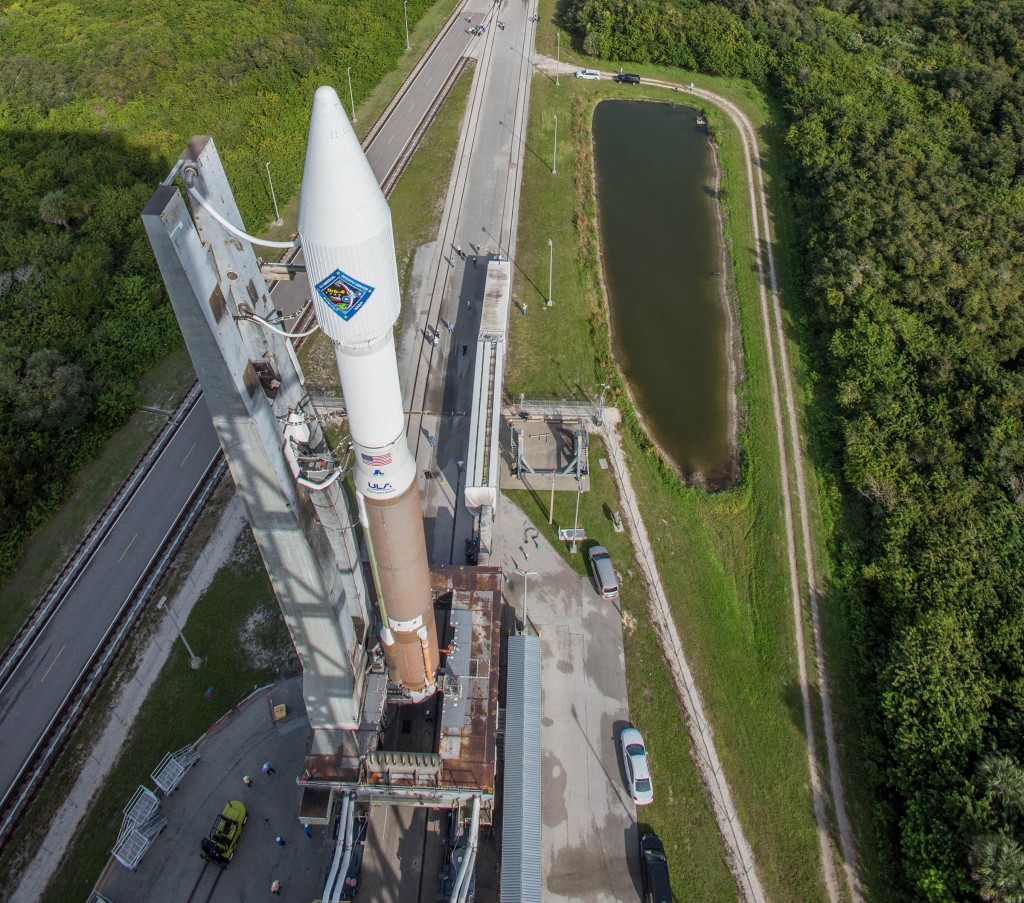 The rocket will have five specific times available to launch each night:
TUESDAY, MARCH 22:
* 11:05:48 p.m. EDT
* 11:13:18 p.m. EDT
* 11:20:48 p.m. EDT (in-plane)
* 11:28:18 p.m. EDT
* 11:35:48 p.m. EDT
WEDNESDAY, MARCH 23:
* 10:40:05 p.m. EDT
* 10:47:35 p.m. EDT
* 10:55:05 p.m. EDT (in-plane)
* 11:02:35 p.m. EDT
* 11:10:05 p.m. EDT
THURSDAY, MARCH 24:
* 10:17:31 p.m. EDT
* 10:25:01 p.m. EDT
* 10:32:31 p.m. EDT (in-plane)
* 10:40:01 p.m. EDT
* 10:47:31 p.m. EDT
*times subject to change based on orbital mechanics
"The space station is a national resource. We are doing wonderful science, but you need to send food and experiments and supplies to the crew so that the crew can survive and we can continue the experiments. And you need a decent rate of those supply missions," Tani said.
The coupling of Atlas 5 and Cygnus came in the wake of Orbital ATK's own Antares rocket suffering a catastrophic launch failure in October 2014. The company is replacing the Soviet-era engines used on Antares with modern powerplants, but Atlas was tapped as a gap-filler to get Cygnus vehicles back in space and to the station.
Orbital ATK is one of the providers under NASA's privatized Commercial Resupply Services program that took over after retirement of the space shuttles to be the conveyer belts to ferry cargo, food and new science experiments to the station from U.S. soil. The other partner, SpaceX, also experienced a launch failure that has grounded its cargo transport.
In addition, a Russian Progress cargo ship was lost in a botched launch last April as well.
"Last year was a pretty bad year in terms of supplying the space station with three accidents. We're really getting back on our feet. We had a successful mission three months ago and we feel the surge of supplies returning to the space station so they can continue the amazing amount of science and inspirational work they are doing," Tani said.
https://www.youtube.com/watch?v=OkhJJ0aZnoc
Like the December mission, this flight will feature an Enhanced Cygnus, which sports a lengthened pressurized section, produced in Italy by Thales Alenia Space, to increase the interior volume capacity by 25 percent, circular UltraFlex solar arrays, manufactured in Goleta, California, that are lighter and more compact, and updated fuel tanks made with new diaphragm technology for better control of propellant.
The changes to Cygnus enable the vessel to launch 2,600 pounds more cargo than the previous spacecraft version.
"OA-4 worked extremely well. It got to the space station right as we designed," Tani said.
Cygnus stands 21 feet tall and 10 feet in diameter, clad in its silver-metallic shielding.
The cargo container is a smaller diameter version of the Italian-made Multi-Purpose Logistics Modules that flew up and down on space shuttles to outfit the station.
The Launch Readiness Review was accomplished Friday and verified there were no issues with the rocket, payload or ground infrastructure standing in the way of the mission.
The 194-foot-tall Atlas/Cygnus vehicle will be rolled out to the launch pad at 10 a.m. EDT on Monday and the seven-hour countdown begins Tuesday afternoon.
Air Force weather forecasters say there is an 80 percent chance of favorable launch conditions. Cumulus clouds will be the only concern.
"On launch day, high pressure pushes east of the peninsula with on-shore winds during the day and becoming from the east-southeast during the window with gusts in the mid-teens," meteorologists report.
"With the on-shore flow, there is a small coastal shower threat. No thunderstorms are expected. The primary concern for launch, although slight, is cumulus clouds."
For the two Cygnus launches, the Atlas 5 is flying in its basic, 401 configuration with a four-meter payload fairing, no solid rocket boosters and a single-engine Centaur upper stage. This will mark the 32nd flight for the Atlas configuration.
Coming off the launch pad on 860,000 pounds of thrust from the RD-180 main engine, the rocket will head northeast on a 44.4-degree flight azimuth to reach the International Space Station's orbit.
The first stage will burn for four minutes and 16 seconds before retros push the core away from the Centaur upper stage, which then lights for a 14-minute firing that will put the vehicle into orbit. The shroud is jettisoned shortly after ignition of the Centaur's RL10C engine that produces 22,900 pounds of thrust.
Deployment of Cygnus from the launch vehicle occurs 21 minutes into flight above the North Atlantic in a 143-statute-mile circular orbit at 51.6 degrees inclination.
ATLAS/CYGNUS OA-6 ASCENT TIMELINE
T-00:02.7 Main Engine Start
T+00:01.1 Liftoff
T+01:22.6 Mach 1
T+01:33.7 Max Q
T+04:15.5 Main Engine Cutoff
T+04:21.5 Stage Separation
T+04:31.5 Centaur Ignition
T+04:39.5 Nose Cone Jettison
T+18:09.5 Centaur Cutoff
T+20:58.5 Spacecraft Separation
A three-day rendezvous profile is planned, with a long series of precisely scripted engine firings that will lead to the freighter arriving in vicinity of the station early Saturday.
NASA astronaut Tim Kopra will be operating the space station's robotic arm to capture Cygnus around 6:40 a.m. EDT (1040 GMT). European crewmate Tim Peake will be standing by as backup arm operator.
The spacecraft for this mission is named the S.S. Rick Husband, commander of the astronaut crew lost aboard the shuttle Columbia accident in 2003.
"It is particularly meaningful to me because I knew Rick and got to fly jets with him. Rick was a very accomplished astronaut, a devoted husband and father, a wonderful guy. His faith was extremely important to him," Tani said.
"On his first flight, he was the pilot on STS-96, which was the first shuttle to dock with the space station…The commander for that flight was Kent Rominger, (now) a vice president with Orbital ATK in Utah. So we have a very personal connection with the company to Rick.
"This marks the first time we'll be honoring a Cygnus spacecraft with somebody who has actually been to the space station and contributed to its construction. We are very proud of that."
This Cygnus, officially known as OA-6, is carrying 7,229 pounds of provisions to the International Space Station, not counting packing materials. The total mass with packing is 7,485 pounds.
Among the specifics:
Crew supplies: 2,511 pounds
* 169 Bulk Overwrap Bags of food
* 6 Bulk Overwrap Bags of U.S. food for Russian crew
* Hygiene towels for Russian crew
* Printer ink and paper
Vehicle hardware: 2,443 pounds
* Multiplexer-demultiplexer circuit cards
* Charcoal, brine and bacteria filters for ECLESS
* Water sampling kit
* Toilet inserts, urine receptacle with hose, toilet paper
Science utilization: 1,713 pounds
* Canadian Space Agency: MARROW experiment to study effect of microgravity on bone marrow, Vascular Echo to monitor changes in arteries and veins during spaceflight
* European Space Agency: Airway Monitoring experiment to study nitric oxide in exhaled air aboard the International Space Station atmosphere, Astronaut's Energy Requirements for Long Term Spaceflight (ENERGY) experiment, Fluid Science Laboratory for fluid physics research in microgravity
* Japan Aerospace Exploration Agency: Cell Biology Experiment Facility 1G centrifuge, Bio Rhythms 48Hrs is an electrocardiogram to gauge long-term microgravity exposure on heart function, JEM Small Satellite Orbital Deployer (J-SSOD), Exposed Facility Unit adapter with the GPS Wheel Demo
* NASA: Advanced Research Thermal Passive Exchange (ARTE) heat pipe experiment, Fluids and Combustion Facility resupply, Human Research Facility resupply, Meteor Composition Determination (METEOR) to make space-based observations of meteors entering Earth's atmosphere, Miniature Exercise Device (MED 2) demonstration, STRATA experimental facility to study behavior of regolith simulants in prolonged microgravity, personal carbon dioxide monitors, Radiation Environment Monitor, SPHERES Universal Docking Port to autonomously dock and undock the small objects, Additive Manufacturing Facility to produce parts out of thermopolymers, six NanoRacks minilab modules, Spacecraft Fire Experiment (SAFFIRE I) flame growth experiment
EVA gear: 346 pounds
* Legs, boots, arms and Hard Upper Torso for spacesuit
* Socket caddy assembly
* METOX canisters for carbon dioxide removal
* Contamination detection kit
Computer resources: 216 pounds
* New ZBook laptop and printer
* 160GB hard drive for IBM ThinkPad
* Canon XH camcorder, Ghost camera, Nikon cameras, 50mm lens, USB card reader
* Assorted cables
The spacecraft will remain parked at the space station through mid-May, a duration of 55 days, and will be loaded with more than 3,000 pounds of trash, packing materials and other waste.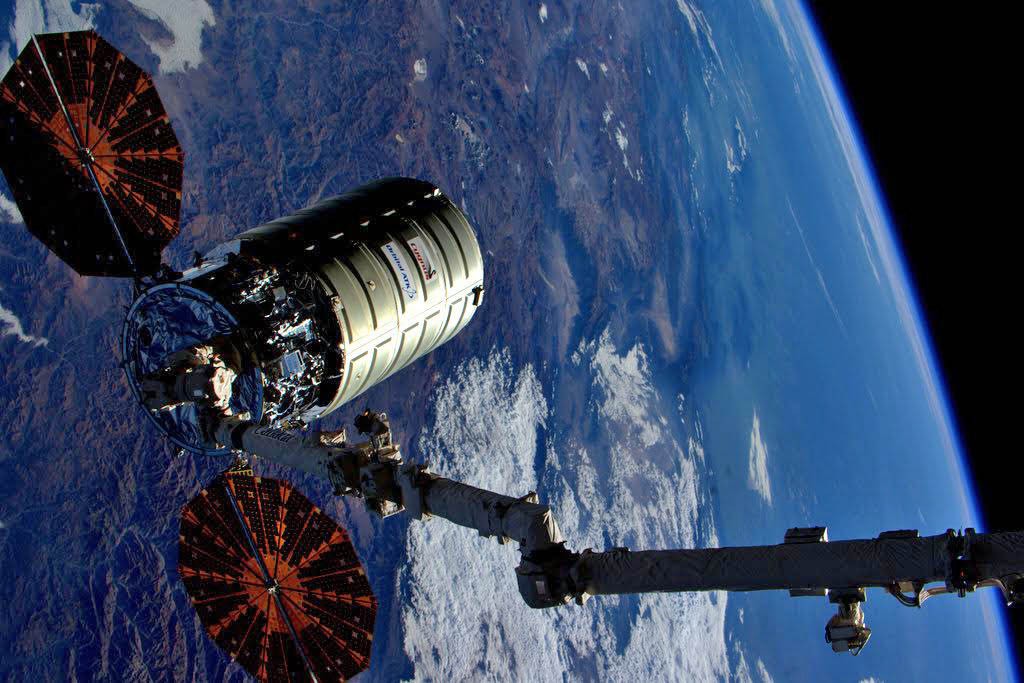 After being unberthed from the station, Cygnus will fly away and perform secondary objectives — the SAFFIRE fire experiment and deployment of cubesats — before it re-enters the atmosphere for disposal.
"It is a combustion experiment to have what I'll call a relatively large-scale fire event in zero-G, which has never been done in a controlled environment before. The SAFFIRE experiment will ignite some sample material and the primary objective is to film the progression of the flame — a fire-time ever in such a large scale," Tani explained.
It will take just an hour to run the experiment, but the spacecraft will remain in orbit for 8 days to downlink about 10GB of video data, he said.
"SAFFIRE is a big deal. On Earth when you burn something, the big force that is involved is convection. So a flame gets hotter on top than on the bottom, that moves the air around it and it pulls oxygen into the flame. Well, you don't get convection in space. The reason the hot air rises is it's more buoyant. You don't get that effect in space," Tani said.
"We've never run an experiment where we take a piece of fabric and light one end of it and let the flame propagate. There are some people who believe it may burn itself out because without convection to pull air into it, it may self-extinguish. But it may not.
"So the SAFFIRE experiment is the first opportunity to burn a significant size sample from one end to another and watch how that works. We do combustion experiments on the space station, but the constraints on that experiment are 'don't kill the crew.' So all the safety constraints require all the experiments to be very small samples."
After the fire event, launching a series of tiny cubesats from Cygnus will be the next order of business.
"We will unberth from the space station, perform the SAFFIRE experiment, then we will phase away safely from the station and get into an exact orbit that the trajectory folks at NASA feel is an appropriate distance and angle away. Then we will deploy the nanosats," Tani explained.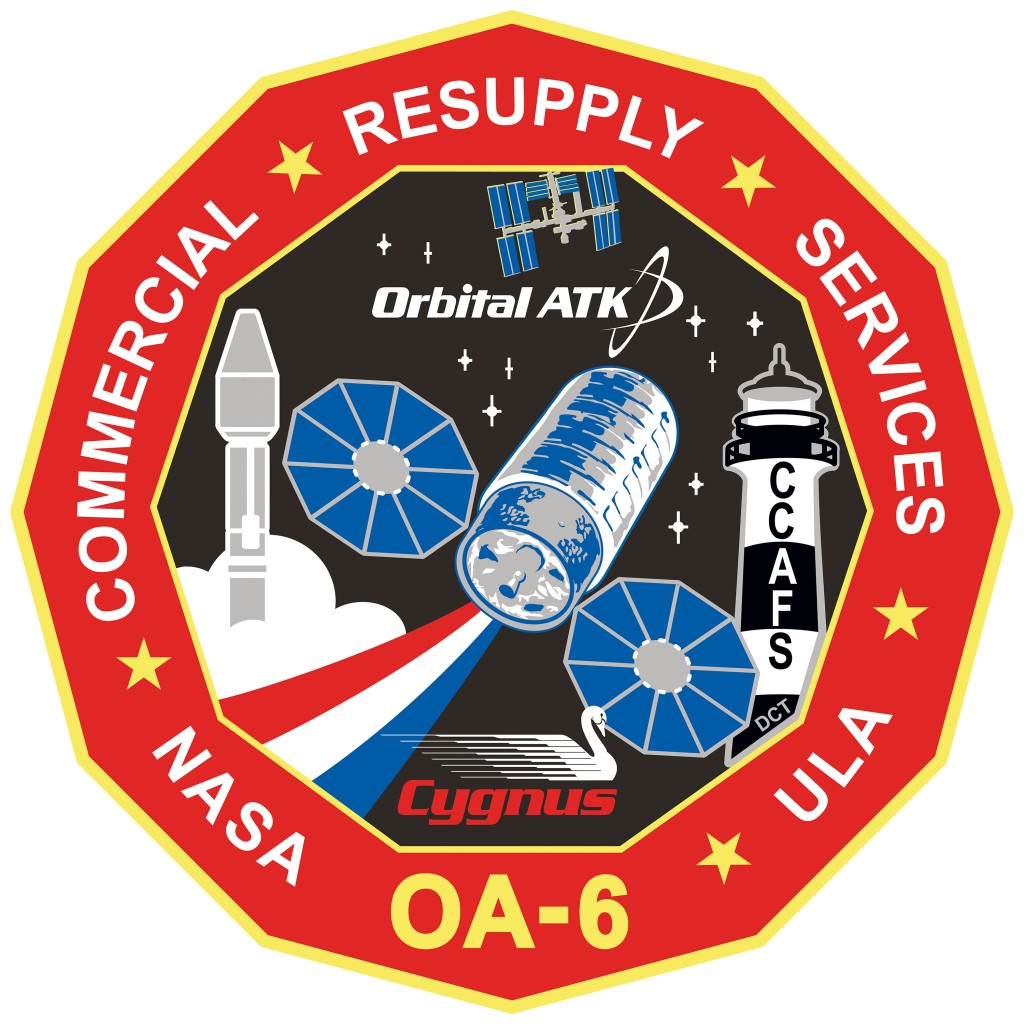 Upon the plunge into the atmosphere over the South Pacific, one final experiment will be conducted by the Cygnus, called the Re-entry Breakup Recorder.
"It is a series of sensors and a re-entry-survivable collector, a big sphere. The crew will install that into the Cygnus. Once we depart, we will do a series of maneuvers specifically designed for REBR to give it accelerations so it understands it needs to turn itself on.
"As we do our destructive re-entry into the atmosphere, the REBR will monitor pressures and temperatures and accelerations. The survivable unit will preserve that data, and after it splashes into the ocean it will send its data via commercial satellite telephone," Tani said.
See earlier Cygnus OA-6 coverage.
Our Atlas archive.