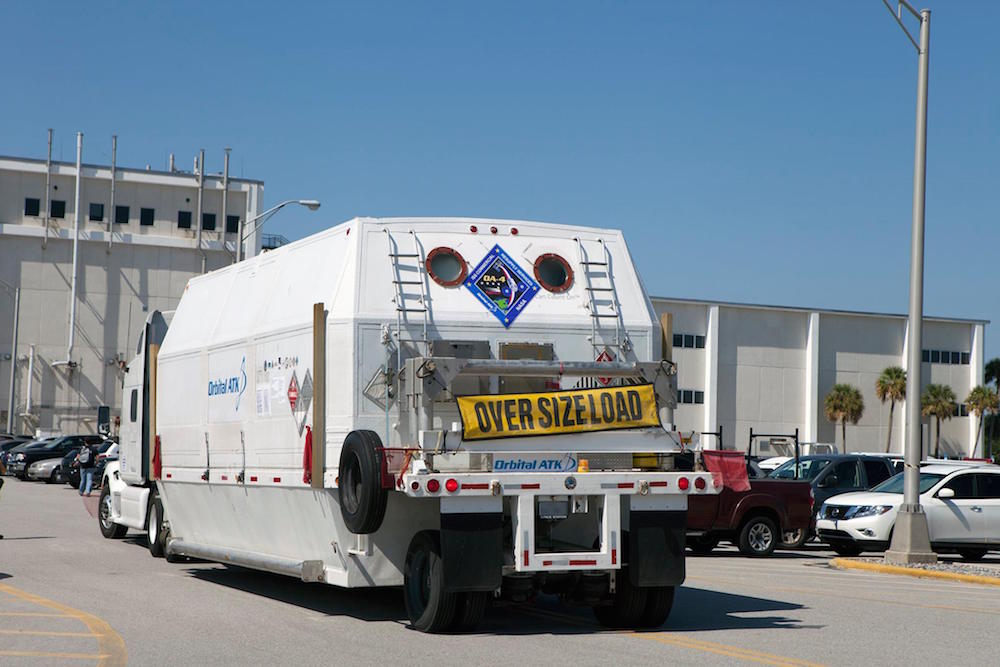 The power and propulsion section of Orbital ATK's next Cygnus supply ship, featuring new solar panel and fuel tank designs, arrived at NASA's Kennedy Space Center in Florida on Wednesday to be joined with a cargo module for a Dec. 3 launch to the International Space Station.
The shipment comes nearly one year after Orbital ATK's last space station supply flight crashed seconds after liftoff from Wallops Island, Virginia, aboard the company's own Antares booster. Orbital ATK engineers blame the failure on one of the Antares main engines, and officials purchased two Atlas 5 rockets from United Launch Alliance to keep the Cygnus missions flying while a new engine model is added to the Antares.
The Cygnus service module was trucked from Orbital ATK's headquarters in Dulles, Virginia, where it departed its factory Monday. The spacecraft arrived at Kennedy's Space Station Processing Facility for attachment to a pressurized cargo module made by Thales Alenia Space in Turin, Italy.
The supply section traveled from Italy to Florida by ship, reaching the launch base Aug. 10. The pressurized module will carry up more than 7,700 pounds (3,500 kilograms) of food, provisions and experiments for the space station and its six-person crew.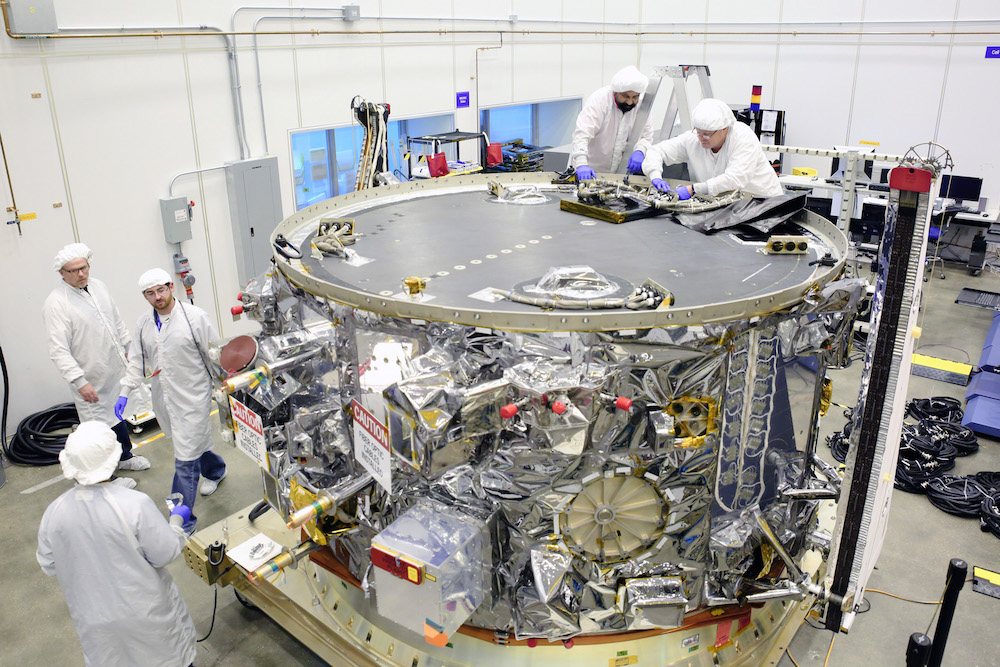 Launch is currently set for Dec. 3 at 6:02 p.m. EDT from Cape Canaveral's Complex 41 launch pad. The launch window extends 30 minutes.
The service module for the Dec. 3 launch includes upgrades to its power-producing solar panels and propellant tanks. Beginning with the next mission, future Cygnus spaceships will fly with fan-shaped unfoldable "UltraFlex" solar arrays that are lighter than the conventional wing-like solar panels made by Dutch Space fitted to previous Cygnus cargo craft.
The solar panel switch is an instance of in-sourcing by Orbital ATK. Circular UltraFlex solar arrays, which measure about 12 feet (3.7 meters) in diameter on Cygnus, are made in-house by the company's space components division at a facility in Goleta, California.
The Thales-built pressurized cargo module is also extended about 3 feet (1 meter) in length on all future Cygnus missions, adding more volume for supplies.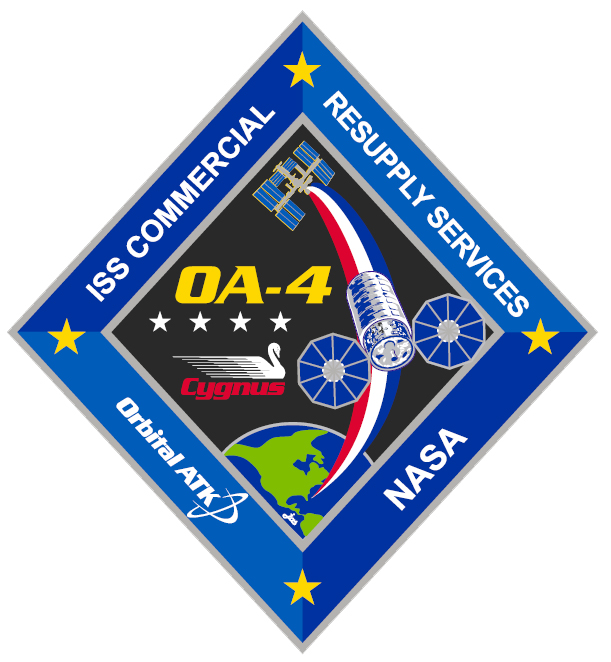 Designated OA-4, the mission is the fourth of 10 flights under a commercial contract between Orbital ATK and NASA. The contract allows the space agency to order as many missions as will fit under a $3.1 billion cost cap, and officials have not disclosed the worth of three extra cargo flights added on top of the deal's original $1.9 billion value.
A fifth Cygnus flight is on track for launch around March 10 aboard another Atlas 5 booster. It will be called OA-6 in Orbital ATK's naming scheme.
Frank Culbertson, president of Orbital ATK's space systems group, told Spaceflight Now last week the Antares rocket is scheduled to return to flight from its Virginia launch site in May 2016 on the OA-5 cargo delivery sortie.
Orbital ATK paid for the two Atlas 5 missions out of its own capital reserves, at no cost to the U.S. government, officials said.
---
Spaceflight Now members can read a transcript of our full interview with Frank Culbertson. Become a member today and support our coverage.
---
"These are exciting times for the Cygnus team at Orbital ATK," Culbertson said in a statement. "With OA-4 set to launch in December and at least three additional missions to the Space Station planned in 2016, we remain solidly on schedule to meet our CRS cargo requirements for NASA. Our team's performance in meeting milestones on an accelerated timeline demonstrates the company's flexibility and responsiveness to customer needs."
In the coming weeks, technicians will mate the Cygnus service module with its cargo element, then transfer it to a nearby fueling facility for loading of maneuvering propellant, final time-critical cargo items and encapsulation inside the Atlas 5 rocket's nose cone.
Ground crews will transfer the Cygnus inside the Atlas payload fairing to the rocket's Vertical Integration Facility in November to be hoisted atop the Atlas 5 for launch.
Email the author.
Follow Stephen Clark on Twitter: @StephenClark1.