STORY WRITTEN FOR CBS NEWS & USED WITH PERMISSION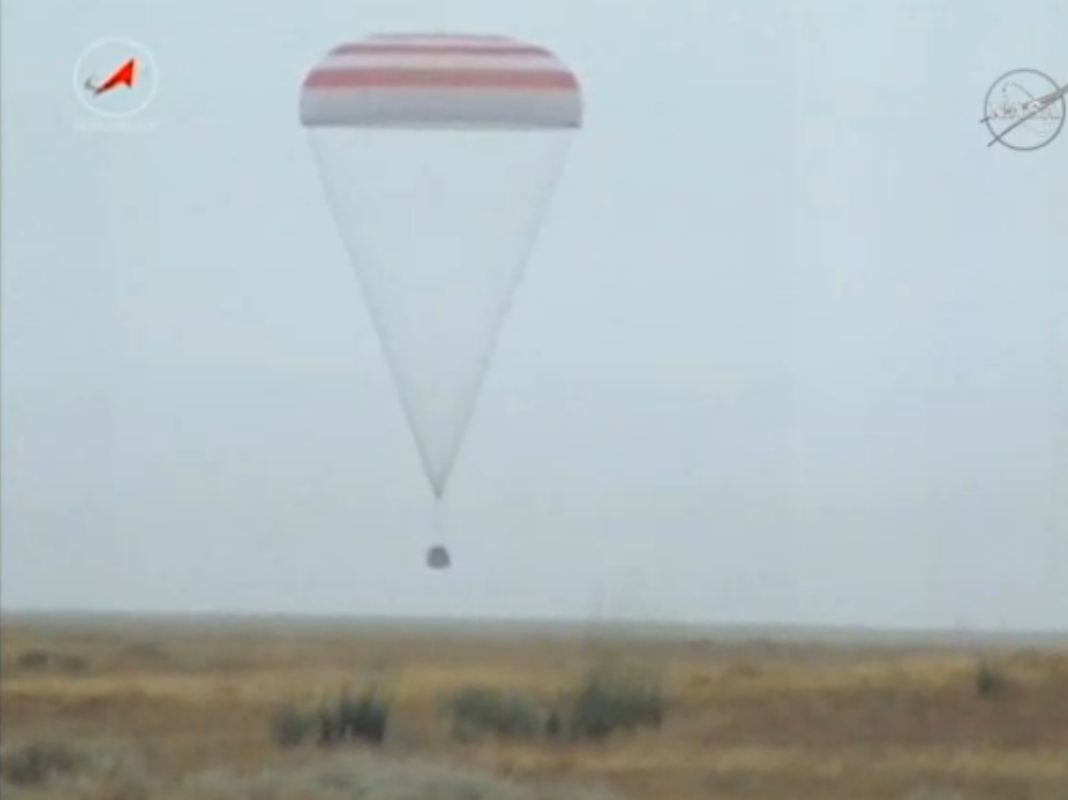 Three space station crew members — two short timers completing a 10-day flight and a veteran cosmonaut who has logged a world record 879 days aloft over five missions — undocked from the International Space Station and returned to Earth Friday, landing safely on the steppe of Kazakhstan to close out a problem-free flight.
With veteran commander Gennady Padalka strapped into the descent module's center seat, flanked on the left by European Space Agency flight engineer Andreas Mogensen and on the right by Kazakh cosmonaut Aidyn Aimbetov, the Soyuz TMA-16M spacecraft separated from the aft port of the station's Zvezda command module at 5:29 p.m. EDT (GMT-4).
"Goodbye station," one of the crew member radioed.
Monitoring the departure from inside the lab complex were Expedition 45 commander Scott Kelly, Kjell Lindgren, Japanese astronaut Kimiya Yui and cosmonauts Mikhail Kornienko, Oleg Kononenko and Sergey Volkov.
After moving a safe distance away from the lab complex, Padalka monitored a programmed four-minute 42-second firing of the spacecraft's braking rockets that slowed the ship by 286 mph, just enough to drop the far side of its orbit deep into Earth's atmosphere on a trajectory targeting central Kazakhstan.
Twenty-three minutes later, just above the discernible atmosphere, the Soyuz TMA-16M spacecraft's three modules separated and the central crew compartment, oriented heat shield first, continued the descent. After exiting the zone of peak heating, the spacecraft's large orange-and-white parachute deployed.
"We are coming back to Earth, to our hospitable planet," Padalka said as the spacecraft descended, visible in spectacular video shot by the Roscosmos, the Russian federal space agency.
Moments later, the crew compartment settled to a jarring rocket-assisted touchdown at 8:51:36 p.m. EDT (6:51 a.m. Saturday local time), tilting over on its side.
Russian recovery forces stationed nearby rushed to the landing site to help the returning station fliers get out of the cramped descent module for initial medical checks and satellite phone calls home to family and friends.
Resting in recliners near the charred descent module, all three crew members appeared healthy and in good spirits, smiling and chatting with support crews and enjoying fresh apples and tea.
After more extensive medical checks, Padalka, Mogensen and Aimbetov, only the third Kazakh to fly in space, were scheduled to fly by helicopter to Astana, the capital of Kazakhstan, for an official welcoming ceremony with President Nursultan Nazarbayev.
From there, Mogensen was expected to depart aboard a European Space Agency aircraft while Padalka and Aimbetov were to fly back to Star City near Moscow for debriefing and rehabilitation.
This was Padalka's fifth space mission, giving him a total time aloft of 878.5 days, more than two months longer than the previous record set by cosmonaut Sergei Krikalev. The current U.S. record is held by NASA astronaut Mike Fincke, who logged 382 days in space over three flights.
Padalka was launched to the station last March 27 along with Kornienko and Kelly, who are halfway through a nearly yearlong stay aboard the station. They plan to remain aloft until early March, returning to Earth with Volkov.
Volkov, Mogensen and Aimbetov arrived at the space station Sept. 2, two days after launch, bringing up the Soyuz TMA-18M ferry craft Kelly and Kornienko need for their trip home. After swapping out custom seat liners, Mogensen and Aimbetov were able to join Padalka aboard the TMA-16M spacecraft for their own ride back to Earth after an eight-day stay aboard the station.
"Bid farewell to 3 crew mates aboard @space_station," Kelly tweeted. "#Soyuz that brought me here will bring them home."
Kononenko, Lindgren and Yui are scheduled to return to Earth Dec. 22 aboard the Soyuz TMA-17M spacecraft that carried them up on July 22. Volkov, Kelly and Kornienko are expected to land March 3.
At touchdown, Kelly will have logged 522 days in space over four missions, setting a new U.S. endurance record and moving him up to 15th on the list of the world's most experience space fliers.