STORY WRITTEN FOR CBS NEWS & USED WITH PERMISSION
Amid a Russian spacewalk to carry out routine maintenance and inspections outside the International Space Station, two NASA astronauts and a Japanese crewmate staged a culinary first in orbit — harvesting and eating a few leaves of leafy, space-grown red romaine lettuce.
Astronaut Scott Kelly later tweeted the snack represented "one small bite for man, one giant leap" for future flights to Mars.
Floating in the European Space Agency's Columbus laboratory module, Expedition 44 flight engineer Kjell Lindgren harvested the lettuce from its experiment enclosure, cleaned the leaves with a citric acid-based sanitizing solution and passed out samples to Kelly and Kimiya Yui.
"Bon a petit," Kelly quipped before taking a bite. A moment later, he reported "tastes good. Kind of like arugula."
Said Lindgren: "That's awesome. Fresh."
The astronauts then added oil and vinegar dressing to concoct the first seed-to-mouth space salad. While astronauts have grown lettuce before, it was frozen and shipped back to Earth for laboratory analysis. Monday's snack marked the first time astronauts have ever eaten their own produce.
"Having lived on the space station for a while, I understand the logistical complexity of having people work in space for long periods and the supply chain that's required to keep us going," said Kelly, nearly four months into a nearly yearlong stay aboard the station.
"If we're ever going to go to Mars someday, and we will, we're going to have a spacecraft that is much more self sustainable with regard to its food supply."
Eventual voyages to and and from Mars will take years to complete and "we're going to have to be completely self sufficient," Kelly said. "So this payload, and having the ability for us to grow our own food, is a big step in that direction."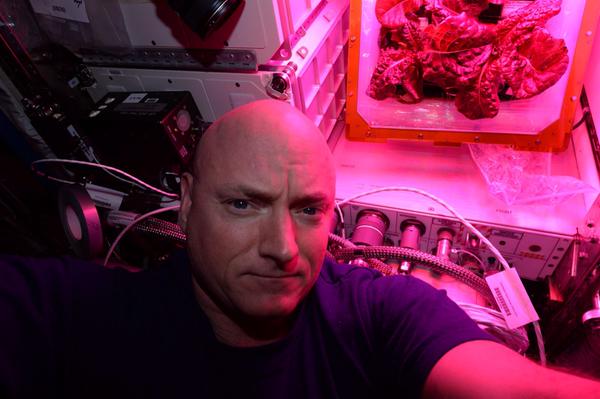 Along with giving astronauts a bit of fresh food between visits by supply ships, Lindgren said growing produce aboard the station offers a psychological benefit as well.
"The space station is a lot of white and aluminum and it's kind of a sterile environment," he said. "It's really fun to see green, growing things in here that we're intentionally growing for sustenance. And so we sure appreciate this payload and the opportunity to grow and eat and harvest these crops."
Half of the crop was earmarked for the crew, the other half will be frozen and shipped back to Earth for more laboratory analysis. Kelly said they planned to share their portion with their Russian crewmates — Oleg Kononenko, Expedition 44 commander Gennady Padalka and Mikhail Kornienko — after Russian EVA-41 was complete.
Padalka and Kornienko, Kelly's Russian counterpart on the nearly yearlong mission, began their spacewalk at 10:20 a.m. EDT (GMT-4), opening the hatch of the Pirs airlock and docking compartment and making their way aft on the Zvezda command module.
The cosmonauts had 10 objectives, including installation of padded handrails to make future EVAs easier; installation of fasteners to hold antenna covers in place; the replacement of one antenna; inspections of external experiments and the retrieval of a plasma physics experiment package.
They also cleaned one of Zvezda's windows to remove residue deposited by thruster firings and collected similar residue samples from a solar array panel and the area around vents used by a Russian oxygen generator and carbon dioxide scrubber.
There were no problems of any significance and the spacewalkers ran ahead of schedule most of the day, taking short breaks during orbital night passes and enjoying the view.
"Is that Australia," one cosmonaut wondered as the station sailed 260 miles above Brisbane. "Look at that city down there!"
After jettisoning the antenna that was replaced, the cosmonauts returned to Pirs module and closed the hatch at 3:51 p.m., wrapping up a five-hour 31-minute spacewalk.
This was the 188th spacewalk devoted to station assembly and maintenance since construction began in 1998, the fourth so far this year and the first — and only — planned Russian excursion of 2015.
Padalka is the world's most experienced space flier with a Mir visit and three stays aboard the ISS totaling 845 days (as of Monday). He now has 10 spacewalks to his credit totaling 38 hours and 37 minutes.
Kornienko carried out a single spacewalk during an earlier ISS mission. His EVA time now stands at 12 hours and 13 minutes.
All told, 120 astronauts and cosmonauts representing nine nations have now logged 1,177 hours and zero minutes of EVA time outside the International Space Station, or 49 days.