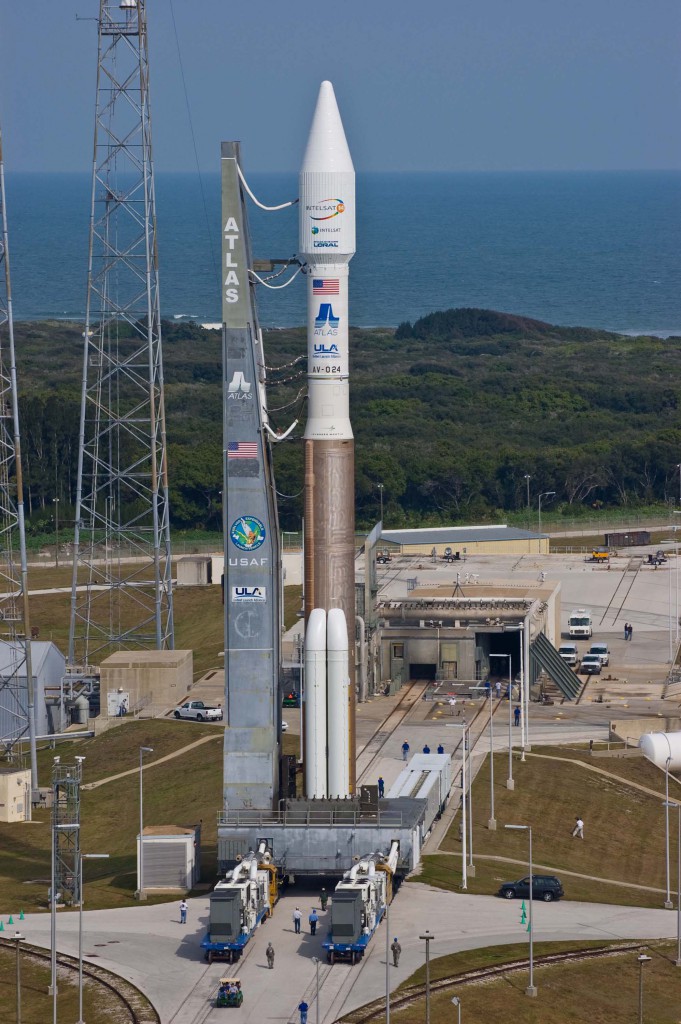 CAPE CANAVERAL — A powerhouse Internet-from-space communications satellite will be launched from the Cape next year atop a United Launch Alliance Atlas 5 rocket, officials announced Wednesday.
The commercial EchoStar 19 spacecraft is targeting a late 2016 launch aboard an Atlas 5 rocket flying in its 431 configuration with a 14-foot-diameter nose cone and three strap-on solid-fuel boosters.
The deal was made with Lockheed Martin Commercial Launch Services, which markets the Atlas 5 rocket. ULA will build the vehicle and perform the mission.
"The Atlas program brings unmatched performance, reliability and schedule assurance for EchoStar and Hughes," said Steve Skladanek, president of Lockheed Martin Commercial Launch Services.
The Atlas 5 rocket has flown 55 times since debuting in 2002. It has conducted 11 commercial missions with communications and Earth-observing spacecraft, plus 21 flights dedicated to the Defense Department, 12 for NASA and 11 with spy satellites for the National Reconnaissance Office.
EchoStar 19, also known as JUPITER 2, is a large, multi-spot beam Ka-band satellite that will help meet the growing demand for HughesNet high-speed satellite internet service in North America.
The satellite, built by SSL in Palo Alto, California, is designed to provide service for 15 years or longer from geosynchronous orbit 22,300 miles above the Earth.
"This is an important launch to HughesNet customers and the Atlas 5 rocket makes it an ideal choice for this launch," Skladanek said.
"We are looking forward to the EchoStar 19 launch with Lockheed Martin Commercial Launch Services and appreciate the vast experience and expertise that they bring to the table as we work toward a mission success in late 2016," said Michael Dugan, president and CEO of EchoStar Corporation.
Atlas has a packed manifest in 2016 highlighted by the launches of NASA's InSight lander to Mars and OSIRIS-REx asteroid sample return mission, a new civilian geostationary weather satellite, and Air Force, Navy and NRO flights.
ULA has been working to reduce the turnaround time between launches of the Atlas 5 rocket. The most recent mission needed just three weeks to stack and roll out for a GPS launch.
The Atlas 5-431 rocket variant has flown twice before, carrying commercial satellites for Inmarsat and Intelsat.
EchoStar launched on Atlas rockets four times in the late 1990s and early 2000s aboard three Atlas 2AS vehicles and one Atlas 3B.
Our Atlas archive.