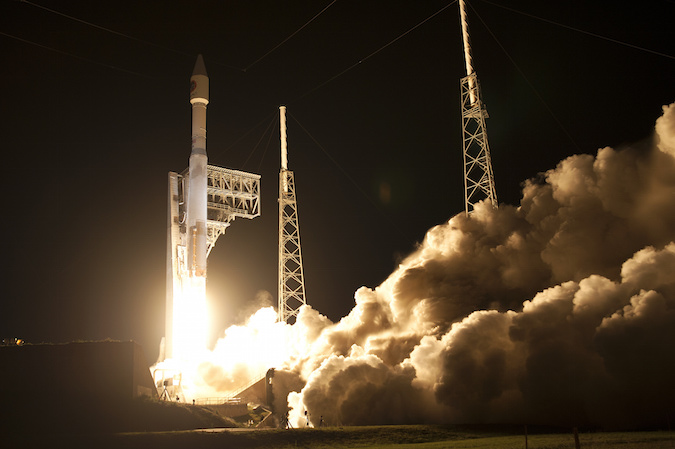 With U.S. military demand waning in coming years, United Launch Alliance has multiple openings in its Atlas 5 launch manifest in 2017 and 2018 available to commercial customers with as little as three months' notice, according to company officials.
Commercial satellite operators rarely wait so long to book launch services — the usual turnaround from contract signature to launch is around two years — so ULA is seemingly targeting potential clients wishing to switch from another launch provider.
In a press release last week, the Colorado-based launch firm — a 50/50 joint venture between Boeing and Lockheed Martin — announced a new initiative named "RapidLaunch" to attract commercial business.
"We have availability on our Atlas 5 manifest in 2017," said Kent Lietzau, ULA's vice president of business development, in a statement. "This service is fast and comprehensive. Our experience base launching all major platforms means confidence for your mission."
ULA says the RapidLaunch service offers the fastest schedule from an initial order to launch available in the launch industry today.
"The priorities of all of our customers include ensuring their spacecraft launches on schedule, securing the soonest possible manifest date and completing the mission with 100 percent success," said Tory Bruno, ULA CEO and president, in the press release announcing RapidLaunch. "To address these priorities, we have been working on this offering for more than a year, which allows our customers to launch in as few as three months from placing their order."
In an interview with Spaceflight Now earlier this month, Bruno said ULA has openings in the Atlas 5 launch manifest next year and in 2018.
"To accommodate our RapidLaunch customers, we have added additional hardware to the production line, so that we can offer additional vehicles without an impact to our existing customers," Lietzau said. "We have also moved customization for any particular launch to the last three months of production."
ULA filled two open Atlas 5 launch slots with International Space Station resupply missions for Orbital ATK in December 2015 and in March. Those launch bookings came about a year ahead of time in the aftermath of an October 2014 explosion during launch of Orbital ATK's Antares rocket.
Orbital ATK purchased two Atlas 5 launches from ULA to keep its Cygnus cargo missions flying to the space station while the company upgraded future Antares boosters with new engines to replace the units blamed for the failure in 2014.
NASA has commercial contracts with Orbital ATK and SpaceX to deliver crew provisions and experiments to the space station, and both companies are now recovering from rocket mishaps.
Orbital ATK's Antares rocket, now fitted with a new type of engine, is scheduled for its first launch in nearly two years in October. A SpaceX Falcon 9 rocket exploded in a fireball during a pre-launch fueling test Sept. 1, and the company expects it to remain grounded until at least November while engineers investigate the mishap.
For now, SpaceX is not expected to replicate Orbital ATK's decision to book another rocket to keep space station supply lines open. Orbital ATK paid for the two Atlas 5 flights out of its own corporate coffers.
An official familiar with the space station cargo manifest said SpaceX is not currently considering looking outside the company to launch its Dragon resupply missions while the Falcon 9 rocket is grounded.
Bruno told Spaceflight Now he sent a message to SpaceX president Gwynne Shotwell to offer ULA's help after the Sept. 1 explosion.
"I reached out to Gwynne to express sympathy and let us know if there is anything we can do to help," Bruno said. "That offer stands. That's exactly we ended up working with Dave Thompson (CEO) at Orbital ATK to help him with Cygnus. We just went and said, 'Let us know if there is anything we can do.' If SpaceX asks us for help, we were sincere in that offer.
"We have capacity in our manifest next year for a misison like that, or any other mission for anybody else who needs it, and the year after, in fact," Bruno said.
There are six Atlas 5 launches scheduled with U.S. government payloads next year — five from Cape Canaveral and one from Vandenberg Air Force Base. That leaves multiple openings in the 2017, plus more availability in 2018.
Russian Proton rockets are also grounded until at least late November while experts complete an inquiry into what caused a premature upper stage shutdown on the Proton's last flight in June.
SpaceX's Falcon 9 and Russia's Proton rocket, which is marketed commercially by U.S.-based International Launch Services, are two of the three launchers which dominate the global commercial launch market for large communications satellites.
The other competitor, Arianespace, has said it is evaluating whether it can add an eighth Ariane 5 launch to its schedule next year to accommodate new launch orders from telecom satellite operators in the wake of the Falcon 9 and Proton woes. Otherwise, the Ariane 5 launch manifest is fully booked in 2017 with seven flights.
While the Ariane 5, Falcon 9 and Proton have dominated the industry in commercial launch orders in recent years, the Atlas 5 and Japan's H-2A rocket have received a handful of bookings.
Commercial Atlas 5 missions are the business responsibility of Lockheed Martin Commercial Launch Services, but ULA still produces the rocket and handles launch operations.
"I do see more Atlas flights for commercial customers (in the next few years)," Bruno said. "There will be a long overlap as Vulcan is ramping up in production and heading toward certification as Atlas is still flying."
The Vulcan rocket is still on schedule for a debut launch by the end of 2019, Bruno said, but it will likely take two or three years for the new booster to be certified by the U.S. Air Force to take the military's most expensive satellites into orbit.
"In that several years, we'll still be flying Atlas. It could be for (space station) cargo, it could be for crew, it could be national security, but I anticipate also for commercial missions," Bruno said. "Atlas brings a lot of value to the marketplace."
The Atlas 5 has been a workhorse launching navigation, missile warning, communications and surveillance satellites for the U.S. military, plus science probes for NASA. But the deployments of several multibillion-dollar military satellite constellations are nearing an end, leaving fewer payloads to meet the rate of eight or more Atlas 5 launches per year ULA has achieved since 2013.
Defense-related satellites will continue to be built and launched at a relatively high rate, but the demand curve for the cyclical military market has reached an apex, at least for this decade.
At the same time the U.S. military's launch demand declines, the Air Force has opened up future launch contracts to competition between ULA and SpaceX.
Over the last couple of years, ULA has streamlined manufacturing and launch processing for the Atlas 5 to reduce costs and cut the time required between flights. ULA's other big rocket, the Delta 4, is not cost-competitive for commercial missions, and all but the Delta 4's largest variant — the Delta 4-Heavy — are due to be retired in late 2018.
"The price of Atlas has been coming down, coming down and coming down, and eventually there's a point where we can't make it any less expensive, and then Vulcan takes us that next big step down," Bruno said.
While the Atlas 5's prices are lower than several years ago, it is still more expensive than other options. Bruno framed the Atlas 5 as a premium product.
"It's not just about the price when you sign the contract for the launch service," Bruno said. "It's about how sure you are you're going to leave on time and how quickly you can get to your final destination orbit and start your revenue stream, the insurance cost that you pay, and it's about the risk whether or not you make it."
The Atlas 5's customers have given the booster a perfect success record since its first launch in 2002.
Two commercial flights are currently on the Atlas 5 manifest. WorldView 4, a privately-owned reconnaissance satellite from DigitalGlobe, is awaiting liftoff later this month from California, and the EchoStar 19/Jupiter 2 satellite for broadband Internet connectivity will launch in December from Cape Canaveral.
Email the author.
Follow Stephen Clark on Twitter: @StephenClark1.