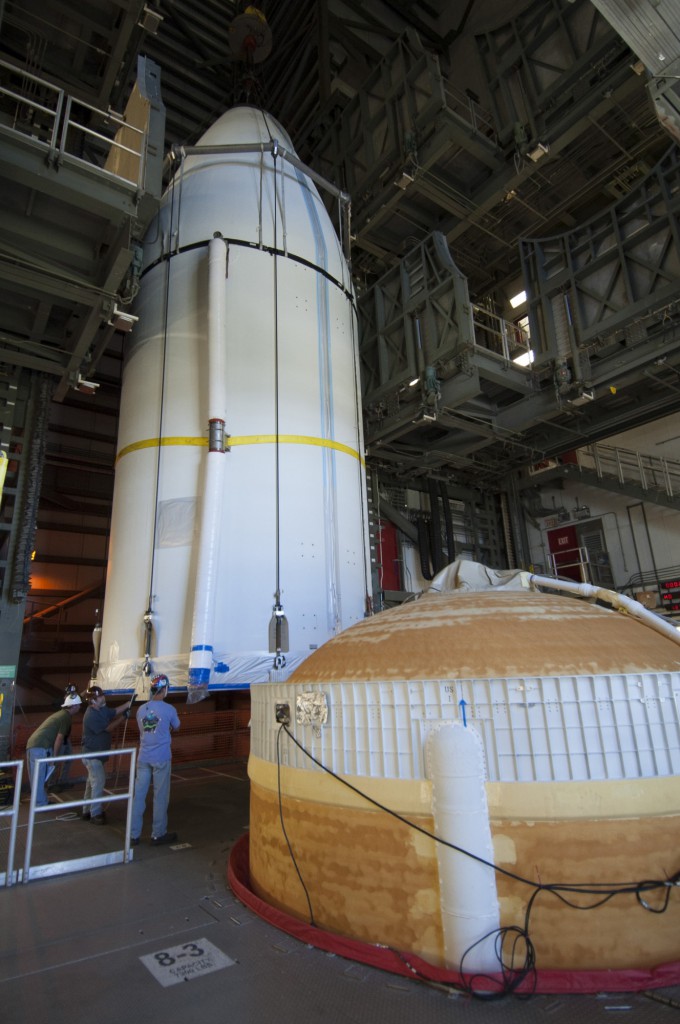 CAPE CANAVERAL — For the second time this week, United Launch Alliance has delivered an Air Force payload to one of its Cape Canaveral pads for liftoff in July.
On Monday, crews mounted the next Global Positioning System satellite atop an Atlas 5 rocket for blastoff July 15.
On Wednesday, it was the Wideband Global SATCOM satellite No. 7 being transported to Complex 37 and attached to a Delta 4 rocket for launch July 22. Liftoff is scheduled for 8:07 p.m. EDT.
They will be ULA's 97th and 98th launches, respectively.
WGS 7 will be boosted into a super-synchronous transfer orbit more than 36,000 nautical miles high during the launch of the Delta 4 Medium+ (5,4) configured rocket with four strap-on solids.
WGS is the Department of Defense's highest capacity communications satellite system. The satellites provide the needed capacity, coverage and connectivity in support of demanding operational scenarios for the Pentagon and allied forces around the world.
WGS 7 is a Block 2 Follow-On spacecraft built by The Boeing Co. It has the same features as the earlier WGS 5 and WGS 6 satellites, according to the Air Force's Space and Missile Systems Center.
"The most notable upgrade is that WGS 7 will allow up to 17 percent additional bandwidth," the Air Force said.
The new bird is expected to enter service from geosynchronous orbit 22,300 miles above the equator in December or January.
The WGS 7 satellite is valued at $566 million.
Already shrouded in the launcher's 47-foot-tall, 17-foot-diameter composite nose cone, the spacecraft was hauled to the Delta 4 launch pad and hoisted atop the upper stage Wednesday.
The fully assembled rocket stands 217 feet tall.
The satellite was flown to Florida at the end of May from Boeing's manufacturing facility in El Segundo, California. After arriving, it was taken to the commercial Astrotech processing facility to undergo pre-flight preps.
Final testing, loading of maneuvering propellant and encapsulation in the rocket's nose cone was accomplished with the satellite.
On Wednesday, a convoy hauled the 13,000-pound satellite from Titusville, through the Kennedy Space Center and over to Complex 37 where the Delta had been awaiting since the end of May.
See our earlier launch coverage.
Our earlier Delta archive.