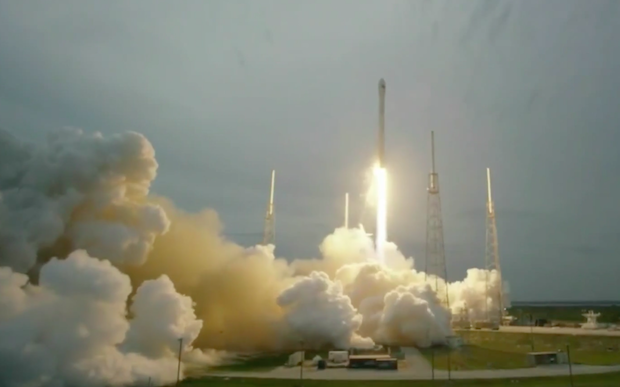 A communications satellite for Turkmenistan soared into orbit Monday, climbing through gloomy skies over Cape Canaveral aboard a SpaceX Falcon 9 rocket to give the Central Asian nation its first foothold in space.
After waiting 49 minutes for clouds to thin out over the Cape Canaveral spaceport, the Falcon 9 rocket lit nine first stage Merlin 1D engines and lifted off at 7:03 p.m. EDT (2303 GMT).
The 224-foot-tall launcher — emblazoned with the U.S. flag and the colors of Turkmenistan — climbed away from Florida's Space Coast, tilted east on a trajectory over the Atlantic Ocean and disappeared into a blanket of clouds.
Cameras fastened to the rocket continued to show the flight's progress, beaming back imagery of the Falcon 9's first stage falling back to Earth and the jettison of launcher's clamshell-like nose cone.
Two burns by the upper stage's single Merlin engine propelled Turkmenistan's 10,375-pound satellite — named TurkmenAlem52E/MonacoSat — into a geosynchronous transfer orbit, a waypoint on the path to the craft's permanent operating post 22,300 miles above Earth.
The rocket aimed to release the TurkmenAlem52E/MonacoSat spacecraft in an elliptical orbit stretching up to 36,600 kilometers — about 22,742 miles — above Earth at an angle of 25.5 degrees to the equator, according to Remy Le Thuc, vice president of telecom projects at Thales Alenia Space in France.
The satellite deployed as planned about 32 minutes after launch, SpaceX chief executive Elon Musk confirmed on Twitter.
Rocket launch good, satellite in geo transfer orbit. Still so damn intense. Looking fwd to it feeling normal one day.

— Elon Musk (@elonmusk) April 27, 2015
Monday's launch was the 18th flight of SpaceX's Falcon 9 rocket, and the second mission in 13 days from the same launch pad at Cape Canaveral, besting the company's previous record turnaround time.
Thales officials said TurkmenAlem52E/MonacoSat was healthy and transmitting signals after the launch. The satellite was programmed to begin extending its power-generating solar arrays about three hours after liftoff, according to Le Thuc.
At least three firings of the spacecraft's on-board propulsion system will boost the satellite into a circular orbit over the equator, Le Thuc said, and TurkmenAlem52E/MonacoSat is due to arrive in geostationary orbit about five days from launch.
Thales Alenia Space will transfer control of the spacecraft to Turkmenistan's Ministry of Communications by early June, giving the country command of its first satellite.
The satellite's launch comes as Turkmen authorities renew efforts to dismantle privately-owned satellite dishes from apartment buildings, according to Human Rights Watch.
"A move that unjustifiably interferes with the right to receive and impart information and ideas, this serves to further isolate people in Turkmenistan, one of the most closed and repressive countries in the world, from independent sources of news and information," Human Rights Watch said in a statement Friday.
Officials with the international human rights watchdog organization suspect the government crafted the order to remove the dish antennas to restrict access to outside news sources, such as Radio Azatlyk, a Turkmen language affiliate of U.S.-funded Radio Liberty.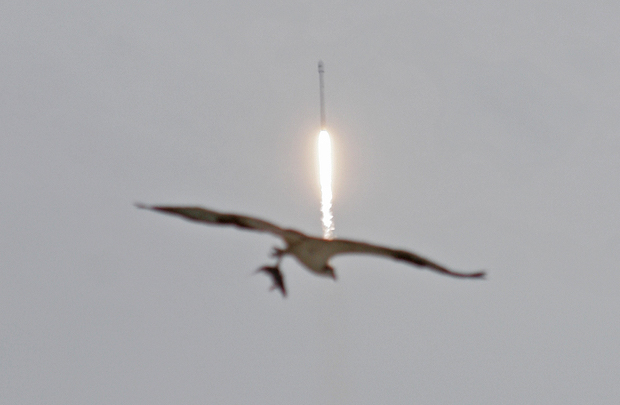 The head of Turkmenistan's space agency and other senior Turkmen officials attended the launch in Florida, and the country's leader, Gurbanguly Berdimuhamedow, watched the liftoff through a live video conference and offered remarks in Turkmen to dignitaries gathered at Cape Canaveral.
"This is hugely important for Turkmenistan," Le Thuc said in an interview before Monday's launch. "I can tell you the one-year anniversary of the launch will be a holiday for everyone in Turkmenistan. It's already been planned."
Based on Thales Alenia Space's Spacebus 4000 C2 satellite platform, TurkmenAlem52E/MonacoSat is designed for a lifetime of at least 16 years. Assuming an on-target launch and modest fuel burn, the satellite has enough propellant to last 18 years, officials said.
Ground controllers will park the spacecraft in geostationary orbit at 52 degrees east longitude, where the satellite will hover over the equator as it circles Earth at the same speed of the planet's rotation.
The 52 degrees east slot is registered to Monaco by the International Telecommunications Union.
The operating location and Monaco's role in the mission help give the TurkmenAlem52E/MonacoSat satellite its unusual name.
In exchange for permitting the spacecraft to reside at Monaco's 52 degrees east location, the principality secured the use of 12 Ku-band transponders on the satellite. Luxembourg-based satellite operator SES signed an agreement with Space Systems International-Monaco, an entity licensed by Monaco's government, to commercialize the 12 Ku-band transponders.
Another 26 transponders on the satellite are reserved for exclusive use by Turkmenistan, according to SSI-Monaco.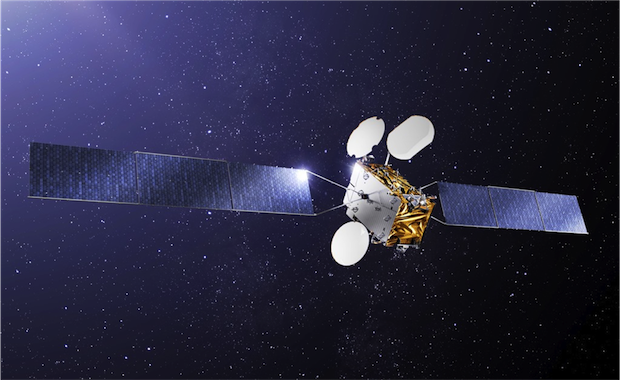 "Once operational in orbit, TurkmenAlem52E/MonacoSat will allow Turkmenistan to operate its first national satellite telecommunications system, ensuring enhanced, secure telecommunications for the country," Thales wrote in a mission summary posted on the company's website.
The satellite will reach users across Central Asia, Europe and Africa, with a coverage zone spanning more than 90 countries.
Thales said it built the satellite and had it ready for shipment in 27 months. The launch was set for November 2014, but delays in SpaceX's manifest kept the satellite from launching until this month, according to Thales.
As part of its contract with the Turkmenistan Ministry of Communications, Thales manufactured the spacecraft, provided ground support equipment for two satellite control stations, selected SpaceX as the launch services provider and procured insurance coverage.
Thales also trained 13 Turkmen engineers over two years on "basic space activities and technology," as part of the turn-key contract, according to Chrystelle Dugimont, a Thales Alenia Space spokesperson.
Dugimont said 15 additional Turkmen engineers were trained by Thales over a six-month period to operate the TurkmenAlem52E/MonacoSat spacecraft.
The satellite's primary ground control center was built by Thales Alenia Space near the Turkmen capital of Ashgabat, Dugimont told Spaceflight Now.
SpaceX and Thales announced the launch deal in June 2013 after original plans to send up the satellite on a Chinese Long March rocket were blocked by U.S. regulators due to laws restricting the export of sensitive technology to China.
Although the TurkmenAlem52E/MonacoSat satellite was assembled in Europe, it contains components from subcontractors in the United States.
SpaceX ground crews at Cape Canaveral are already gearing up for a key test of the company's human-rated Dragon capsule as soon as May 5. The demonstration will verify the performance of the spacecraft's emergency abort system before SpaceX is cleared to launch astronauts under contract to NASA.
Follow Stephen Clark on Twitter: @StephenClark1.