STORY WRITTEN FOR CBS NEWS "SPACE PLACE" & USED WITH PERMISSION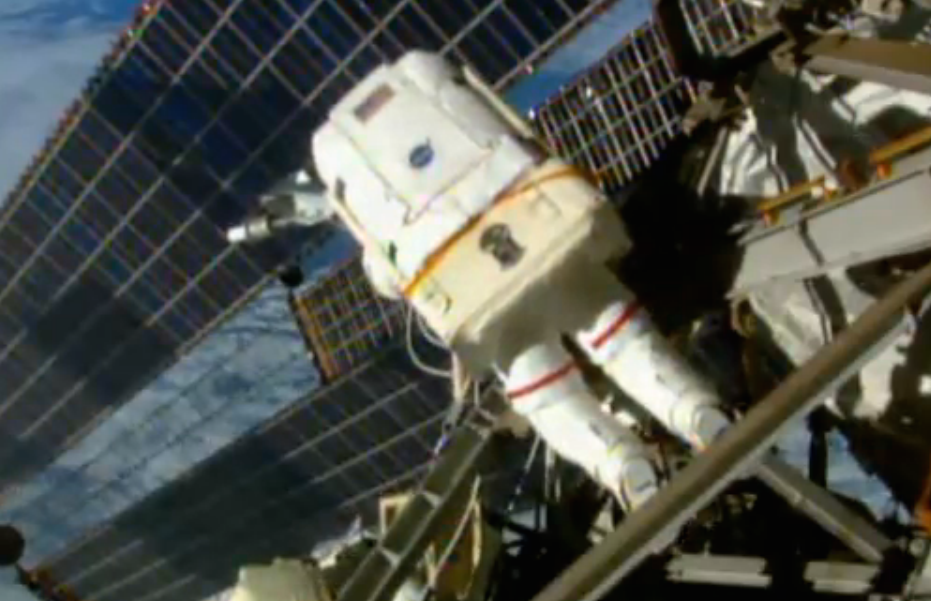 Astronauts Terry Virts and space station commander Barry "Butch" Wilmore ventured back outside Sunday for their third spacewalk in eight days to complete initial preparations for upcoming dockings by commercially developed Boeing and SpaceX crew ferry ships.
When the spacewalk ended, Virts took a moment to mention the 50th anniversaries of the first Russian and U.S. spacewalks by cosmonaut Alexey Leonov, on March 18, 1965, and Ed White, on June 3. White's flight, aboard the Gemini 4 capsule, was the first to be managed from the mission control center at what is now the Johnson Space Center in Houston.
"We're coming up on some pretty amazing anniversary milestones this year," Virts said. "It's amazing it's been 50 years, and to see how far we've come since the very first steps outside to being able to do six-plus hours of work like we do nowadays (is) truly amazing.
"It's going to be an eventful next few months celebrating these milestones," he said. "Hopefully, the next 50 years will be even more exiting and we'll go even farther."
Floating in the space station's Quest airlock compartment, Virts and Wilmore switched their spacesuits to battery power at 6:52 a.m. EST (GMT-5) to officially begin EVA-31, the 187th spacewalk devoted to station assembly and maintenance since construction began in 1998 and the third of seven U.S. excursions planned for 2015.
Running ahead of schedule throughout the day, the spacewalkers mounted antenna booms on both sides of the station's long solar power truss, installed laser reflectors needed for new navigation systems and ran about 400 feet of cabling to connect each set of antennas to a power and data patch panel at the Destiny laboratory module.
The equipment is part of new Common Communications for Visiting Vehicles, or C2V2, equipment that will be used for communications and navigation as Boeing CST-100 and SpaceX Dragon crew capsules approach and depart the International Space Station starting in 2017.
"You guys have done an outstanding job," veteran station astronaut and spacewalker Sunita Williams radioed from mission control. "Even for two shuttle pilots."
While six-and-a-half-hours was budgeted for the spacewalk, Wilmore and Virts finished their tasks nearly a full hour ahead of schedule, closing out a 5-hour 38-minute excursion at 12:30 p.m. when they began repressurizing the Quest airlock.
A few minutes later, Virts reported a small amount of free water floating in his space helmet, slightly less than a water intrusion noted after his previous spacewalk Wednesday.
"I'm having the same issue that I had the last time as far as water in the helmet," he said. "It's not a big deal, just a small film on the visor."
He said he could not feel any dampness in a water absorption pad at the back of his helmet and flight controllers did not order any major changes to the crew's post-spacewalk procedures. Engineers believe the water noted Wednesday and Sunday is caused by condensation in the suit's cooling system after airlock repressurization. It does not pose any danger.
The spacewalks have kicked off the most extensive station reconfiguration since the shuttle fleet was retired in 2011 with seven U.S. EVAs planned this year, installation of two new docking mechanisms and the relocation of a storage module and a docking port extension.
During spacewalks a week ago Saturday and last Wednesday, Virts and Wilmore installed 340 feet of cabling to provide power and route data to and from new docking mechanisms, known as International Docking Adapters, or IDAs.
They also made preparations for robotically moving a storage compartment, known as the Permanent Multipurpose Module, or PMM, from the Unity module's Earth-facing port to the forward port on the nearby Tranquility module this summer. A docking port extension known as Pressurized Mating Adaptor No. 3, or PMA-3, then will be moved from Tranquility's outboard port to the space-facing port of the forward Harmony module.
The first IDA, scheduled for launch this summer aboard a Dragon cargo ship, will be installed on the PMA-2 extension attached to Harmony's forward port where shuttles once docked. The other IDA will be launched in December and attached to PMA-3 atop Harmony. Boeing and SpaceX crew ferry craft will be able to dock at either port.
After the Permanent Multipurpose Module is attached to Tranquility, unpiloted cargo ships will be able to berth at the Earth-facing ports of Harmony and the Unity module.