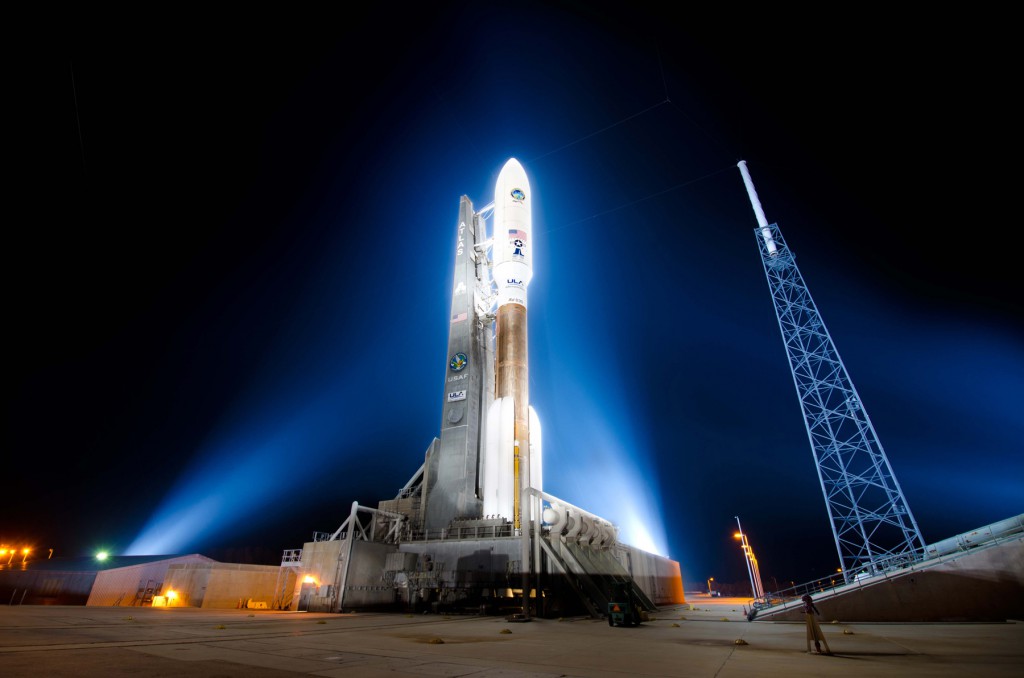 CAPE CANAVERAL — The 200th Atlas-Centaur rocket, history some 52 years in the making, will blast off Tuesday from Cape Canaveral to deliver a U.S. Navy mobile communications satellite into orbit.
It is the most-powerful United Launch Alliance Atlas-Centaur configuration available, the 551 varient that will feature five strap-on solid-fuel boosters.
Liftoff is targeted for 7:43 p.m. EST at the opening of a 44-minute window.
First paired in 1962 for AC-1, the Atlas booster and the NASA-developed Centaur was the high-energy answer to unlock a pathway to the planets.
The liquid hydrogen-liquid oxygen upper stage has launched spacecraft to every planet in our solar system, and Pluto, too. That distinction is earned, in part, thanks to Centaur's usage aboard Titan rockets as well, launching the twin Voyager probes in 1977.
Tuesday's launch will be the 223rd Centaur, the 200th Atlas-Centaur and the 52nd Atlas 5 rocket flight. The 100th Atlas-Centaur occurred in 1996.
What's more, it will be the third in a series of five Mobile User Objetive System (MUOS) spacecraft that will form the Navy's rugged cellphone network to span the globe.
MUOS 1 was launched Feb. 24, 2012 aboard an Atlas 5 and MUOS 2 launched July 19, 2013 aboard another Atlas 5.
The Atlas-Centaur rocket has been the expendable launch vehicle of choice for the Navy's narrowband UHF communications satellites dating back several spacecraft generations to the 1970s, exclusively carrying the entire Fleet Satellite Communications System, Ultra High Frequency Follow On series and now MUOS.
A variety of Atlas-Centaur versions have been employed on the previous 21 Navy flights since 1978, all from Cape Canaveral.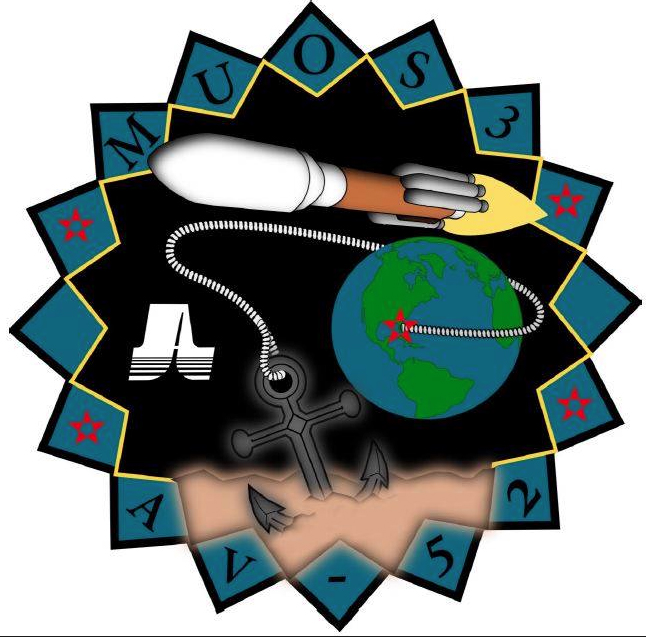 "It takes a special group of people to be in this business, and I am truly humbled to work among dedicated individuals who have exhibited a total focus on precision, a passion for the science of rocketry and space, and a deep commitment to our purpose," said Tory Bruno, ULA CEO.
This launch begins a 13-launch manifest for ULA in 2015, following a 14-flight schedule successfully executed last year.
"What ULA has accomplished (last) year, in support of our customers' missions, is nothing short of remarkable," said Bruno. "When you think about every detail – all of the science, all of the planning, all of the resources – that goes into a single launch, it is hard to believe that we successfully did it at a rate of about once a month, sometimes twice."
At 15,000 pounds, MUOS satellites are the heaviest Atlas-Centaur payloads ever launched.
The Launch Readiness Review was held Friday morning and gave concurrence to proceed with the planned Tuesday evening liftoff. Final closeouts of the vehicle compartments were underway Friday and Saturday.
The 206-foot-tall rocket, riding aboard its mobile launch platform, will be rolled out from the assembly building to the Complex 41 pad Monday morning.
Atlas clocks begin ticking at lunch-time Tuesday for the seven-hour countdown. Fueling starts about two hours before liftoff.
Weather forecasters are predicting a 60 percent chance of acceptable launch conditions. Cloud thickness is the primary worry.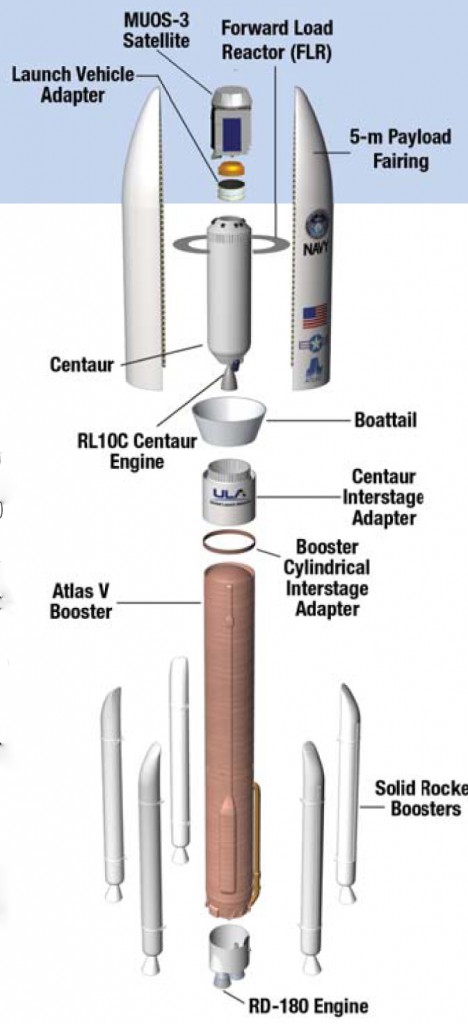 With five powerful solid rocket motors mounted to the first stage, the Atlas 5 will thunder skyward in its most energetic configuration, which has been employed only four times before to launch the first two MUOS satellites and to hurl NASA space probes to Jupiter and Pluto.
The Atlas 5 is a modular launcher that enables mission designers to mix and match the number of solids and various nose cone selections to meet the needs of a given payload. The highly sophisticated and hefty MUOS series takes all the power.
The spacecraft is packaged atop the rocket for a three-hour climb into its preliminary orbit, a highly elliptical dropoff point that requires three firings by the Centaur upper stage to achieve.
From there, controllers will spend about eight days maneuvering the craft into a circular geosynchronous orbit 22,300 miles above the planet, then three days commanding the craft to spread its power-generating wings and unfurl two giant antennas on the ends of extension booms.
"This third MUOS launch is another major step toward achieving a fully operational MUOS end-to-end capability by 2016," said Navy Capt. Joseph Kan, the MUOS program manager.
At the heart of the MUOS satellite's communications payload are two gold mesh, umbrella-like antenna reflectors, one to provide the same type of UHF communications like previous Navy spacecraft and the other offering modernized capabilities that the new system will create.
Coverage to legacy users will transmit through a 17.7-foot-diameter reflector on the bottom of the MUOS craft and the advanced, multi-beam features of MUOS to significantly increase the transmission capacity over the Navy's previous satellites will use a large 46-foot reflector atop MUOS.
All U.S. military forces rely upon Navy satellites for Ultra High Frequency narrowband communications. UHF offers small, portable units that forces can carry into battle and the frequency enables communications in urban canyons and mountainous terrain, penetrating foliage and transmitting through bad weather.
"MUOS is a game changer in communications for our warfighters and will allow them to have high-fidelity voice conversations, networked team calls and data exchange, including video, with anyone connected to a secure terminal around the world," said Iris Bombelyn, vice president of Narrowband Communications at Lockheed Martin. "The launch of MUOS 3 will increase our network coverage to about three-quarters of the globe."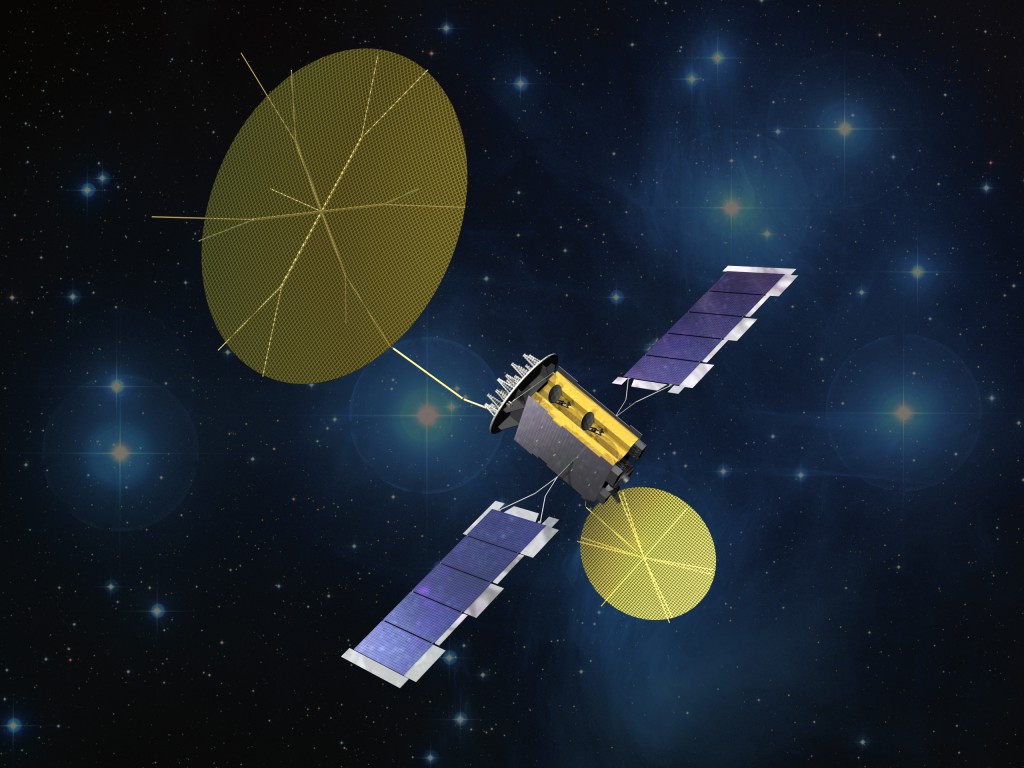 Each MUOS satellite has 16 times the capacity of the aging UHF satellite constellation.
What's more, the new satellites not only support the current user terminals in operation but also creates a new "rugged smartphone" network to provide 3G-like cellular telephone and data services across the globe.
"The Navy, in close collaboration with the Army, Air Force and our industry partners, is bringing the future of worldwide mobile satellite communications into reality for the United States and potentially allied nations," said Kan.
The MUOS craft were built on Lockheed Martin's A2100 satellite design used by dozens of previous communications spacecraft. All five MUOS craft are clones to each other, with four slated to be operational satellites in the constellation and one considered an on-orbit spare.
MUOS 4 is targeting a launch in August, followed by MUOS 5 next year.
"With the launch of the third satellite in the constellation, to be followed later in 2015 by the fourth, MUOS will be in place to provide pole-to-pole and global, secure communications for the warfighter," said Bombelyn.
See our earlier MUOS 3 coverage.
And see our Atlas archive for further information.