CAPE CANAVERAL — The 375th Delta rocket doubled the size of the Air Force's "neighborhood watch" program today with the successful launch and deployment of two surveillance satellites into the vast geosynchronous belt of spacecraft around the planet.
Evolved from its humble beginnings 56 years ago to today's modern Delta 4 rockets, the 206-foot-tall vehicle produced 1.1 million pounds of thrust to launch at 12:52 a.m. EDT (0452 GMT) from Cape Canaveral's Complex 37.
The mission: Carry twin Geosynchronous Space Situational Awareness Program satellites 22,000 miles above the Earth in a complex ascent that required three firings by the upper stage and lasted more than six hours.
After an evening countdown that saw 165,000 gallons of cryogenic liquid hydrogen and liquid oxygen loaded into the Delta 4's two stages, the United Launch Alliance rocket began igniting its Aerojet Rocketdyne RS-68A main engine at T-minus 5 seconds and then lit a pair of Orbital ATK strap-on solid boosters at T-0 to begin the journey to the high ground.
Within five minutes, the rocket had left the atmosphere, shed the solids, first stage and nose cone as the upper stage began powering the vehicle toward a preliminary orbit.
That is when the mission went into a news blackout. No further information about the stair-step maneuvers by the Delta 4 was released in real-time.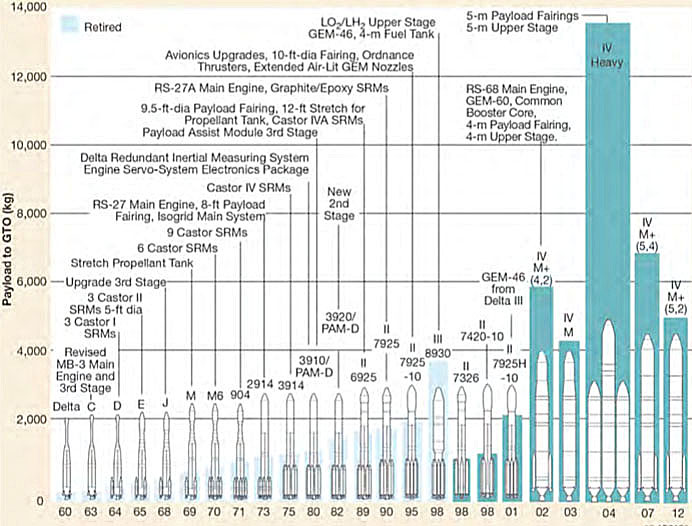 But the vehicle evidently performed properly, reaching the low-altitude parking orbit, then moved to a highly elliptical geosynchronous transfer orbit before coasting for several hours and executing a final burn to circularize the orbit for satellite deployment.
A press release seven hours after launch announced a successful outcome had been achieved, delivering the GSSAP No. 3 and GSSAP No. 4 satellites into the proper near-geosynchronous orbit.
"Thank you to the ULA, Air Force and industry partners for the outstanding teamwork and flawless execution that made today's mission a success," said Laura Maginnis, ULA vice president of Custom Services.
Delta 375 marked the 106th successful launch in a row for the Delta program since 1999 and 359th success overall since 1960.
United Launch Alliance also extended its mission record to 110, completing its 44th mission for the Air Force.
The once-classified GSSAP project came out of the shadows in early 2014, just months before its first-of-two launches, to put the world on notice that the U.S. military would soon have the capability to patrol geosynchronous orbit.
"The first two GSSAP satellites have performed remarkably well," said Lt. Gen. Samuel Greaves, Space and Missile Systems Center commander and Air Force program executive officer for space. "These next two satellites will add to that capability and enable us to understand more completely things what occurs in the geosynchronous orbit to a very high quality. It's a key piece in the puzzle for space situational awareness."
GSSAP's first satellite pair launched aboard a single Delta 4 rocket in July 2014 and is used today by U.S. Strategic Command to provide the military maneuverable eyes in this critical region of space.
"From that unique vantage point they will survey objects in the GEO belt and allow us both to track known objects and debris and to monitor potential threats that may be aimed at this critically important region," Douglas Loverro, deputy assistant Secretary of Defense for Space Policy, told Congress in 2014.
"In short, threats can no longer hide in deep space."
Although many of the technical specifications of the GSSAP satellites remain classified, the Air Force says the spacecraft have optical payloads to image the location, orbit, size and status of space objects. That data, officials say, improves the military's ability to rapidly detect and warn of impending collisions and to characterize and attribute any "disturbances" to assets in geosynchronous orbit.
"Our decision to declassify this program was simple. We need to monitor what happens 22,000 miles above the Earth, and we want to make sure that everyone knows we can do so," Loverro said.
"We believe that such efforts add immeasurably to both the safety of spaceflight and the stability that derives from the ability to attribute actions — to the benefit of all space-faring nations and all who rely on space-based services."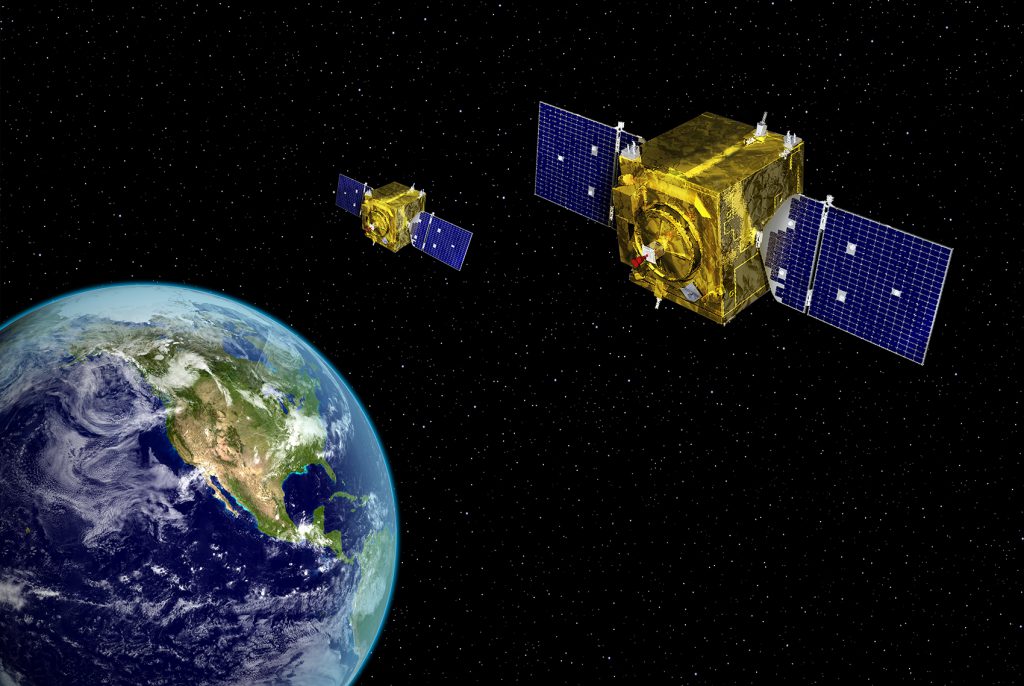 Geosynchronous orbit is precious real estate in space because that is where satellites have the same orbital period as the Earth's rotation — 23 hours 56 minutes and 4 seconds — and fly in lockstep with a specific area of the globe.
Television satellites and weather observatories use geosynchronous orbit, as well as vital military communications, missile-warning and reconnaissance spacecraft that the U.S. government relies upon both in peacetime and wartime.
"Space capabilities touch every facet of our lives — they allow people and governments around the world to see with clarity, navigate with accuracy, communicate with certainty and operate with assurance," the Air Force's Space and Missile Systems Center told Spaceflight Now in the lead up to this launch.
"This (GSSAP) capability assists the U.S. and its allies to achieve responsible and safe use of space. By gaining more comprehensive space situational awareness, we are better able to provide more robust spaceflight safety information."
Orbital ATK built the identical pairs of GSSAP satellites, which have the ability to fly in close formation with other objects in orbit.
"An example of GSSAP's benefits was cited in a recent speech by the Secretary of the Air Force Deborah James who said that the Geosynchronous Space Situation Awareness Program assisted the Navy in their investigation of the on-orbit issue on Multiple User Objective System (MUOS)-3," SMC told Spaceflight Now.
"GSSAP (used) its unique vantage point, capabilities and maneuverability in a rendezvous and proximity operation (which) allowed GSSAP to collect unique characterization data, ultimately allowing the Navy to fix the problem," said James.
And just yesterday the Air Force confirmed that GSSAP provided inspection imagery of the MUOS 5 satellite, which suffered the failure of its primary orbit-raising system in late June. That has left the satellite more than 10,000 miles away from a useable orbit.
They Navy has not said what was wrong with MUOS 3, and no GSSAP imagery from either encounter has been publicly revealed.
The Air Force has declined to say if any further satellites are being built for future GSSAP launches, and said the financial details of this program are classified.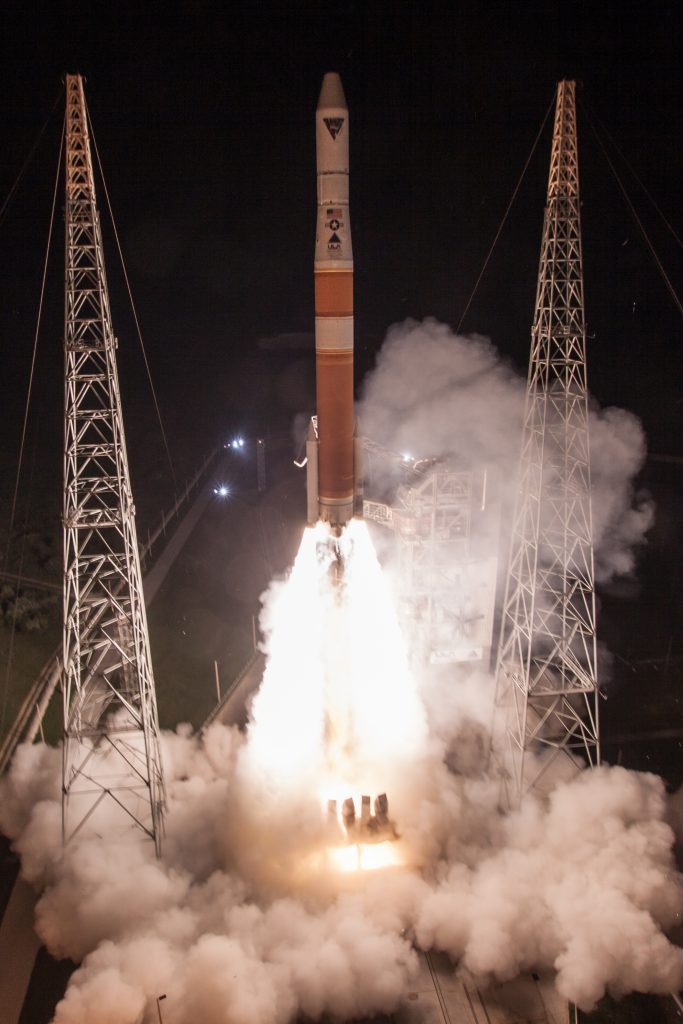 This was the third of four Delta launches planned in 2016, following two successful National Reconnaissance Office satellite deployments. The year's final mission is Delta 376 scheduled for November to launch the Air Force's Wideband Global SATCOM communications satellite No. 8.
For United Launch Alliance, the firm's next launch is the Atlas 5 rocket on Sept. 8 to send NASA's OSIRIS-REx sample return probe on its voyage to Asteroid Bennu.
See earlier Delta 375 coverage.
Our Delta archive.