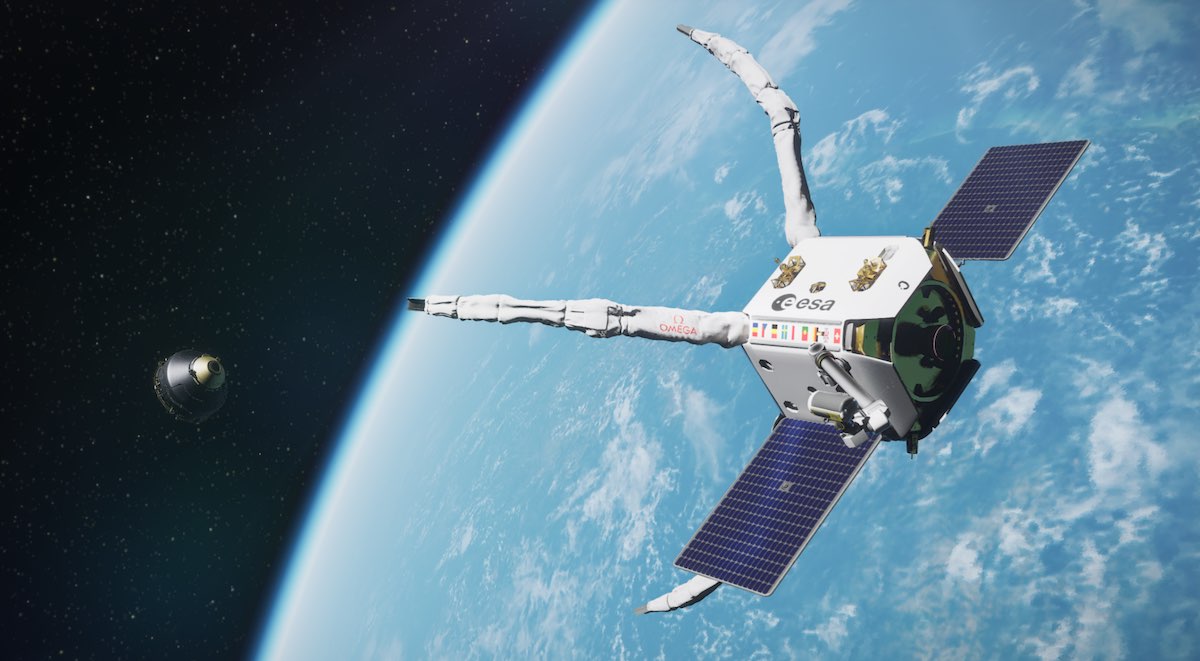 Swiss-based in-orbit servicing startup ClearSpace has contracted Arianespace to launch its first debris removal mission to capture and deorbit a 100-kilogram (220-pound) piece of space debris.
Europe's Vega C will launch the ClearSpace-1 servicer spacecraft to low Earth orbit (LEO) from French Guaina in the second half of 2026 as a secondary passenger to a larger payload that has yet to be announced.
The spacecraft will be injected into a sun-synchronous from where it will rendezvous, capture and deorbit a spent upper stage which was part of the Vega launcher's second flight in 2013.
ClearSpace claims to demonstrate a range of new technologies as it captures the debris object using its quartet of robotic arms before attempting a controlled reentry to burn up both the servicer and the 112-kilogram VESPA (Vega Secondary Payload Adapter) in the atmosphere.
"We are very enthusiastic about this deal with Arianespace," said Luc Piguet, CEO and Co-founder of ClearSpace. "This secures access to orbit for our trailblazing space debris removal mission which represents a real turning point for the space industry.
"The world is putting objects into space quicker than they are being removed and we urgently need to bring solutions to this fundamental problem. We are looking forward to this European collaboration and the potential for more challenging future missions with multiple captures per flight."
Stéphane Israël, CEO of Arianespace, added: "Above us, there are currently more than 34,000 pieces of space debris measuring more than 10 centimeters each, as well as about 6,500 operational satellites in orbit, a number expected to rise to more than 27,000 by the end of the decade.
"These figures demonstrate the need to find innovative solutions for preserving the benefits of space for humanity and life on Earth. At Arianespace, we are honored to deliver this mission with Vega C, thus supporting a sustainable use of space."
In 2019, ESA selected ClearSpace from a field of more than a dozen candidates to lead the first mission to remove an ESA-owned item from orbit. Supported by ESA's new Space Safety Program, the mission is being procured as a service contract with a startup-led commercial consortium, to help establish a new market for in-orbit servicing as well as debris removal.
Established just five years ago in 2018, ClearSpace has also won funding of £2.2 million ($2.7 million from the UK Space Agency (UKSA) to develop CLEAR (Clearing of the LEO Environment with Active Removal) for a mission which aims to collect and bring defunct satellites back to Earth while also facilitating the development of advanced space technologies like complex robotics and AI-based algorithms.
Europe's Vega C successfully performed its maiden flight last July, but the rocket, which can launch about 2,300 kilograms to a reference 700-kilometer polar orbit, has been grounded since its second mission failed in December. Arianespace plans to return Vega C to flight by the end of this year after putting the launch failure down to an eroded nozzle component.