Watch a replay of our coverage of the countdown and launch of a SpaceX Falcon 9 rocket at 5:37 p.m. EDT (2137 UTC) on Sunday, May 21, from Launch Complex 39A at NASA's Kennedy Space Center in Florida. The Falcon 9 will launch SpaceX's Dragon Freedom spacecraft with four commercial astronauts on the Ax-2 mission to the International Space Station. Follow us on Twitter.
Former NASA astronaut Peggy Whitson, with more time in space than any other American, rocketed back into orbit for the fourth time Sunday, riding a SpaceX Falcon 9 launcher from Florida with a fare-paying investor and private pilot, and the first two Saudi Arabian astronauts to fly to the International Space Station.
The four-person crew strapped into their seats on SpaceX's Dragon Freedom spacecraft around 3 p.m. EDT (1900 UTC) Sunday, then ground teams evacuated the pad to allow SpaceX to start loading liquid propellants into the Falcon 9 rocket shortly after 5 p.m. EDT (2100 UTC).
The 215-foot-tall (65-meter) Falcon 9 rocket lifted of at 5:37:09 p.m. EDT (2137:09 UTC), when Earth's rotation brought Launch Complex 39A at Kennedy Space Center under the orbital path of the International Space Station. SpaceX dodged a risk of anvil clouds from nearby thunderstorms that threatened to violate the Falcon 9's weather criteria.
Nine kerosene-fueled Merlin engines flashed to life and powered the Falcon 9 off the pad with 1.7 million pounds of thrust, sending the rocket and crew on a trajectory northeast over the Atlantic Ocean to take aim on the space station. With the on-time launch Sunday, Whitson and her crewmates will dock at the space station's Harmony module at 9:24 a.m. EDT (1324 UTC) Monday to begin an eight-day stay at the complex.
Whitson, selected as a NASA astronaut in 1996, is an Iowa native who earned a PhD in biochemistry from Rice University. The 63-year-old astronaut retired from NASA in 2018 after her third space mission, a nearly 10-month expedition on the space station in 2016 and 2017. She has logged 665 days in orbit, more time in space than any other American, and completed 10 spacewalks in her NASA career.
She joined Houston-based Axiom Space after leaving NASA, and is commanding the company's second private astronaut mission to the space station. The mission, known as Ax-2, follows Axiom's first commercial crew flight to the station last April.
"It's good to be here, this was a phenomenal ride," Whitson radioed mission control shortly after the launch.
Pilot John Shoffner, who paid for his seat on the Ax-2 mission, joined Whitson for the trip to space. Shoffner, 67, founded Dura-Line, a telecom company specializing in in the placement of fiber optic cables. He is also an experienced pilot with more than 8,500 hours of flying time, a veteran skydiver with more than 4,000 jumps to his credit, and an amateur race car driver.
"I feel like I've been preparing for this my entire life," Shoffner said. "I've been a fan of space since I was a child. I grew up in the age of the early Space Race, so getting here now and having a chance to fulfill that excitement is very, very powerful to me."
Liftoff of SpaceX's Falcon 9 rocket from Florida's Space Coast, boosting two Americans and two Saudi astronauts toward the International Space Station. https://t.co/j1xXrEayM3 pic.twitter.com/XyZC2MJEq5

— Spaceflight Now (@SpaceflightNow) May 21, 2023
Axiom is managing the Ax-2 mission. The company procured launch and transportation services with SpaceX, who trained the crew members on emergency procedures. Whitson and Shoffner are also trained on how to take over manual control of the Dragon spacecraft if necessary. Otherwise, the capsule is designed to fly to the space station on autopilot, along with commanding from SpaceX's ground team in California.
Two Saudi astronauts took the the other two seats on SpaceX's Dragon Freedom spacecraft.
Ali Alqarni is an F-15 fighter pilot in the Royal Saudi Air Force and Rayyanah Barnawi is a biomedical scientist. The Saudi government is paying for their rides to space and back.
They are first Saudi Arabians to fly to the International Space Station, and Barnawi will be the first Arab woman to reach the complex.
"For me, as a fighter pilot, I've always had the passion of exploring the unknown and just admiring the sky and the stars, so it was a great opportunity for me to pursue this passion that I have, and maybe fly among the stars," Alqarni said.
"I am very honored and happy to be representing all the dreams and all the hopes of all the people in Saudi Arabia, and all the women back home in the region, and this is a great opportunity for me to represent the country, to represent their dreams," Barnawi said last week in a pre-launch press conference.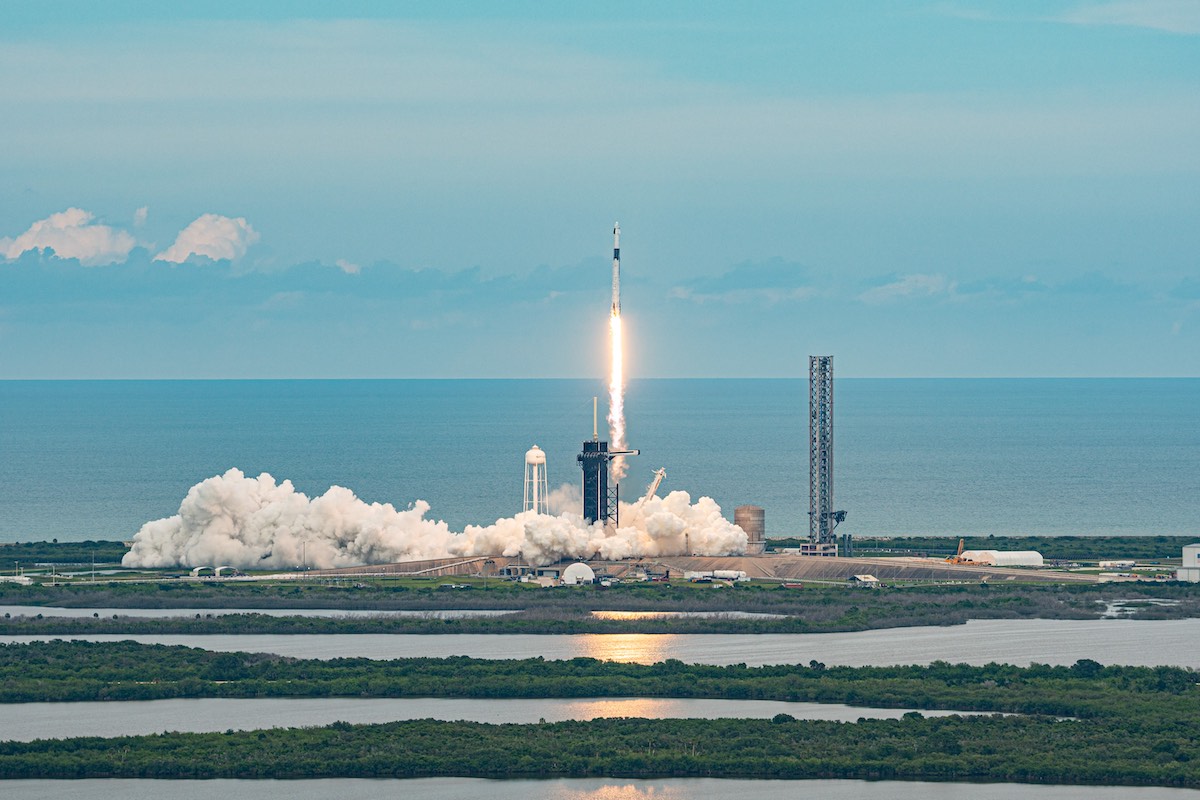 The crew will have a busy slate of experiments and educational student outreach events during their eight days at the space station. The commercial astronauts will virtually connect with Saudi schoolchildren in the classroom, performing experiments and demonstrations to help inspire their interest in science and math.
"We are actually conducting at least 20 experiments, 14 of which are led by Saudi scientists," Barnawi said. T"hese experiments range from human physiology, technology, cell biology, and most importantly is the outreach. One of the goals for this mission … is to do these outreach events for the kids and try to elaborate on the fact that we are here as STEM educators."
One of the research investigations involves cloud seeding in microgravity, testing techniques that could be used to create artificial rain, an important topic in a desert country like Saudi Arabia.
One of the crew members will wear a skinsuit in space for a demonstration in partnership with MIT. The garment will provide compression and loading to simulate Earth's gravity, and is designed to reduce the impact of changes the human body encounters in spaceflight, such as spinal elongation and muscle atrophy. A suit like this could help astronauts adapt to microgravity faster, and ease their re-adaptation to Earth's gravity at the end of a mission, allowing people to fly on multiple short-duration space missions in quick succession.
"The results of that could be profound for the future of spaceflight," Shoffner said.
Whitson will work on an experiment examining now cancer cells form in space. "This is going to help the scientists learn even more about how that development occurs because in zero gravity they form more like they do in your body."
NASA is making resources on the space station available for commercial astronaut missions like Axiom's flights, but Axiom, and ultimately the private crew members or their sponsors, must pay NASA for training and crew accommodations, such as access to the station's life support system, food, and toilet.
SpaceX's Dragon Freedom spacecraft separated from the Falcon 9 rocket in orbit, beginning its pursuit of the International Space Station for docking tomorrow.

Commander Peggy Whitson, now on her fourth flight to space, called it a "phenomenal ride."https://t.co/j1xXrEayM3 pic.twitter.com/JK4j6PgPtm

— Spaceflight Now (@SpaceflightNow) May 21, 2023
The cost per seat has not been released, but NASA's inspector general has estimated the price of a seat on a SpaceX Dragon spacecraft at about $55 million for NASA astronauts. It's unknown how that might compare to a fully commercial seat price.
So far, NASA has required private astronaut missions to the station be commanded by a former professional astronaut. Retired NASA astronaut Michael López-Alegría commanded the Ax-1 mission last year.
Whitson said one of her roles is to guide her three crewmates, all spaceflight rookies, on the dos and don'ts of living and working on the space station.
"I have shared a long long list of what we're going to do, what we're not going to do, how we're going to do things, and the whys behind all of those," she said. "There are so many lessons learned after being up in space for 665 days, I've got one or two lessons I've maybe learned the hard way, and I'm trying to save them some time because our mission is relatively short. So we want to make sure we get the most out of every one of those days."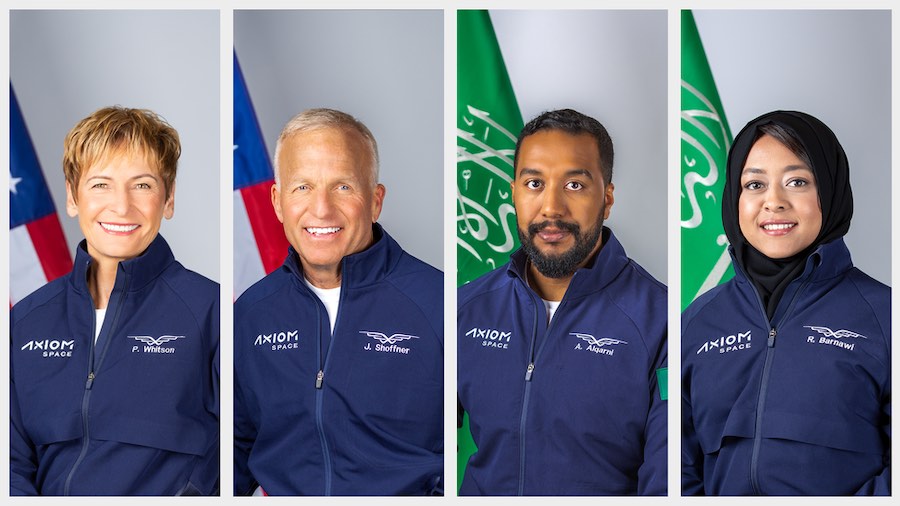 Previous visits by private astronauts, or "space tourists," to the space station occurred on government-led missions on Russian Soyuz spaceships. Before Ax-1, 11 people had traveled to the space station as paying passengers on Soyuz missions, but they all flew with a government-employed cosmonaut commander.
Axiom contracted with SpaceX for the Falcon 9 launch and the Dragon flight to the space station. Axiom plans a third private astronaut mission to the space station late this year, also launching on a SpaceX rocket.
NASA has an agreement with Axiom to build and launch a commercially-owned module to the International Space Station as soon as late 2025. Eventually, Axiom plans to construct a standalone private space station in low Earth orbit. NASA wants a commercial orbital outpost to be ready to take over the type of research performed on the International Space Station by the time it is retired in 2030.
SpaceX rolled the Falcon 9 rocket with the Dragon Freedom crew capsule to Launch Complex 39A on Thursday, then raised it vertical for a test-firing of its main engines Friday, leading up to the countdown and launch Sunday.
But the target launch date for the Ax-2 mission was delayed from earlier this month in a ripple effect from schedule slips on a previous SpaceX mission. A Falcon Heavy rocket that was supposed to take off in early April from the same launch pad did not lift off until April 30 after a series of delays caused by technical problems and bad weather. It takes SpaceX about three weeks to reconfigure the launch pad from a Falcon Heavy mission to a crew flight on a Falcon 9 rocket.
That delayed the Ax-2 launch until Sunday, May 21. SpaceX's next unpiloted cargo mission to the space station is scheduled for launch from the same pad June 3, and that spacecraft will link up with the complex at the same docking port to be used by the Ax-2 mission.
NASA gave Axiom and SpaceX two days, Sunday and Monday, to get the Ax-2 mission off the ground before the space agency directs SpaceX to turn their attention toward preparing for the June 3 resupply launch. NASA has a say in both missions because they are flying to the space station.
Axiom has already shortened the duration of the Ax-2 mission's stay at the space station from 10 days to eight days to allow the flight to fit into NASA's schedule before the SpaceX resupply mission next month. With the successful launch Sunday, the Dragon Freedom spacecraft is scheduled to dock at the station Monday, then depart May 30 to head for a parachute-assisted splashdown off the coast of Florida.
"In the end, there was no impact to the research objectives," said Derek Hassmann, Axiom's chief of mission integration and operations. "There was some media outreach and other things that we wanted to do, but weren't a high priority, that were dropped. But all the high-priority objectives we were able to fit into this eight day timeline."
The Cargo Dragon flight next month will deliver two upgraded roll-out solar arrays to the space station. The installation and deployment of the new solar panels will require one or two spacewalks by the astronauts on the station, along with the use of the lab's Canadian-built robotic arm.
There is a period of high sun angle on the space station in early July, so NASA wants the solar array work complete by then. That will be followed by the scheduled July 21 launch of Boeing's Starliner crew capsule on its first crewed test flight to the station. SpaceX also plans more launches of its Falcon Heavy rocket for the U.S. Space Force and a commercial customer this summer from pad 39A, and SpaceX's next NASA-contracted crew flight is scheduled for launch from pad 39A is planned in August.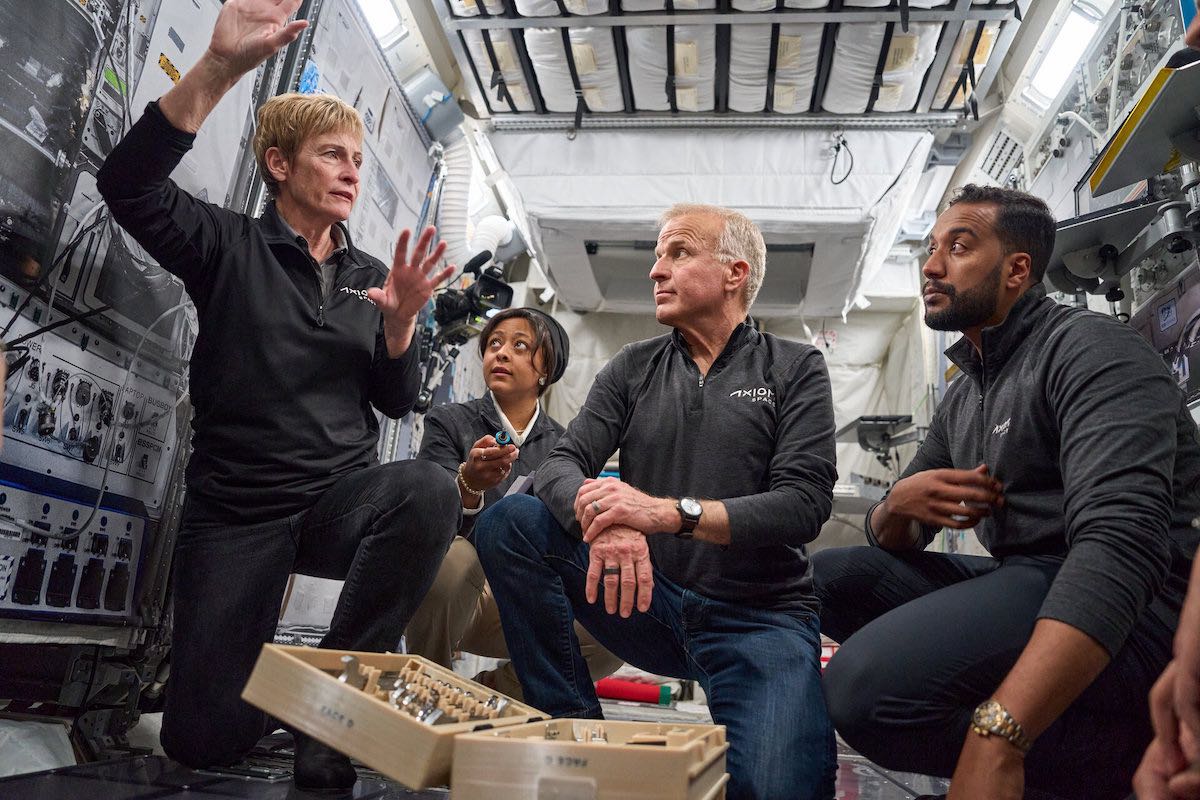 The Ax-2 mission is SpaceX's 10th human spaceflight mission, but it comes with a few firsts. The launch debuted a brand new Falcon 9 booster, tail number B1080, making its first flight to space.
For the first time on a crew launch, SpaceX returned the Falcon 9 booster back to a landing zone at Cape Canaveral Space Force Station. For all nine previous crew launches, the booster landed on a drone ship offshore, which brought the rocket back to Florida for refurbishment and reuse.
Bill Gerstenmaier, SpaceX's vice president of build and flight reliability, said the company's high launch rate has shown the Falcon 9 rocket has a bit of extra performance to enable the booster's return to Florida for landing. The return maneuver requires an additional burn by the rocket's engines, meaning it needs more residual propellant in the tanks after the booster completes its main task of sending the Dragon crew capsule toward space.
SpaceX has squeezed better performance out of the Falcon 9 rocket on Starlink missions without significant modifications to the engines or other hardware.
"We've been able, on Starlink missions, to show that we have extra capability for us to go ahead and utilize for this mission," Gerstenmaier said. "We've always had this kind of capability before, we just weren't sure that we would always get the performance, but the number of Falcon flights we've flown have allowed us to say that that performance is available and can be used where its needed to be used moving forward."
Gerstenmaier said it's "advantageous" for SpaceX to return the rocket to land, rather than guiding it to the drone ship in the Atlantic Ocean. It eliminates the need to worry about weather or sea conditions at the drone ship location, and frees up the recovery vessels for other missions.
"This is nice in the fact that this a new booster, a first flight booster, that we're going to fly here, Booster 1080," Gerstenmaier said before the launch. "It'll be good to see it into service, and we expect it to have a long lifetime and serve multiple missions in the future."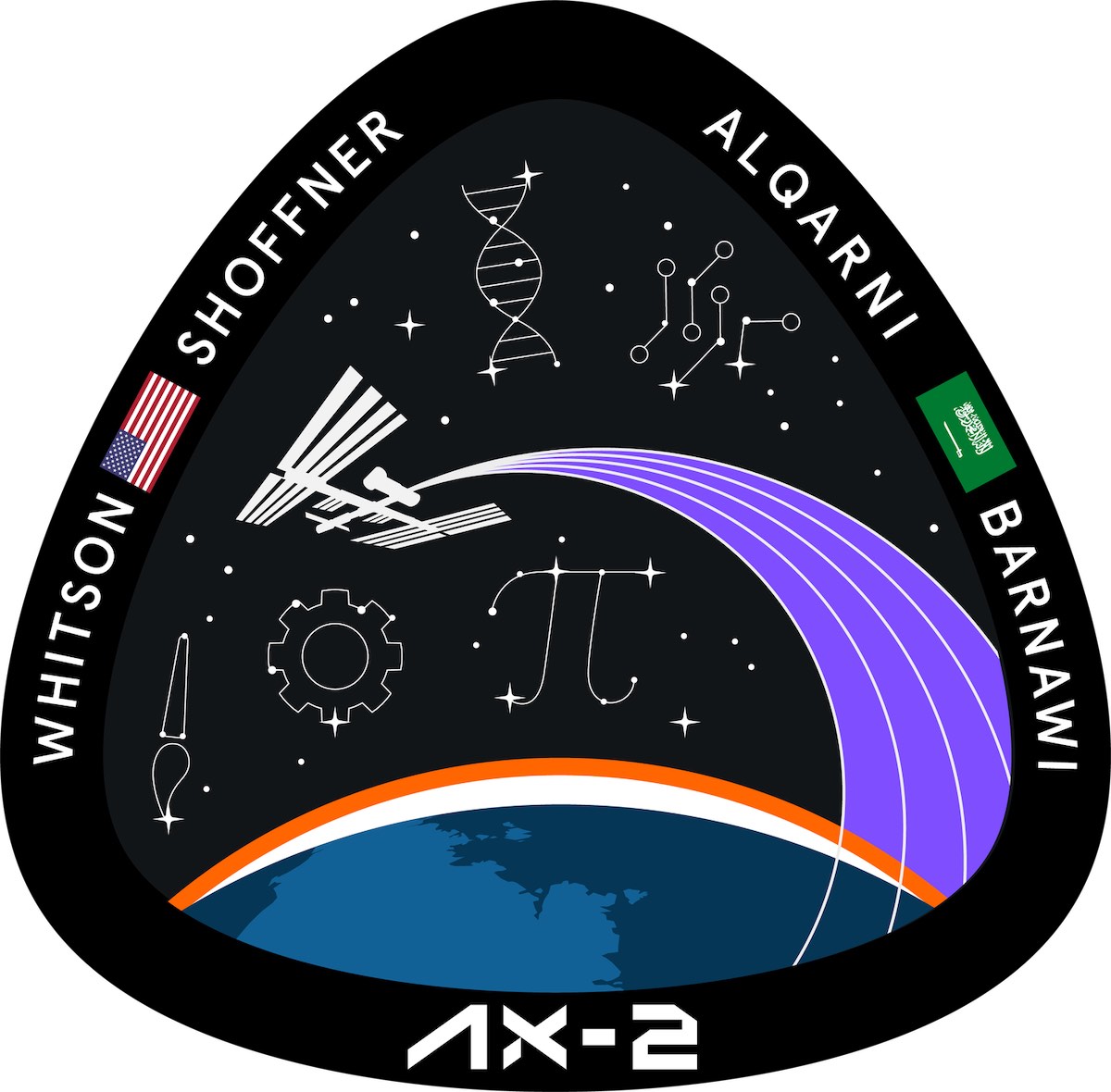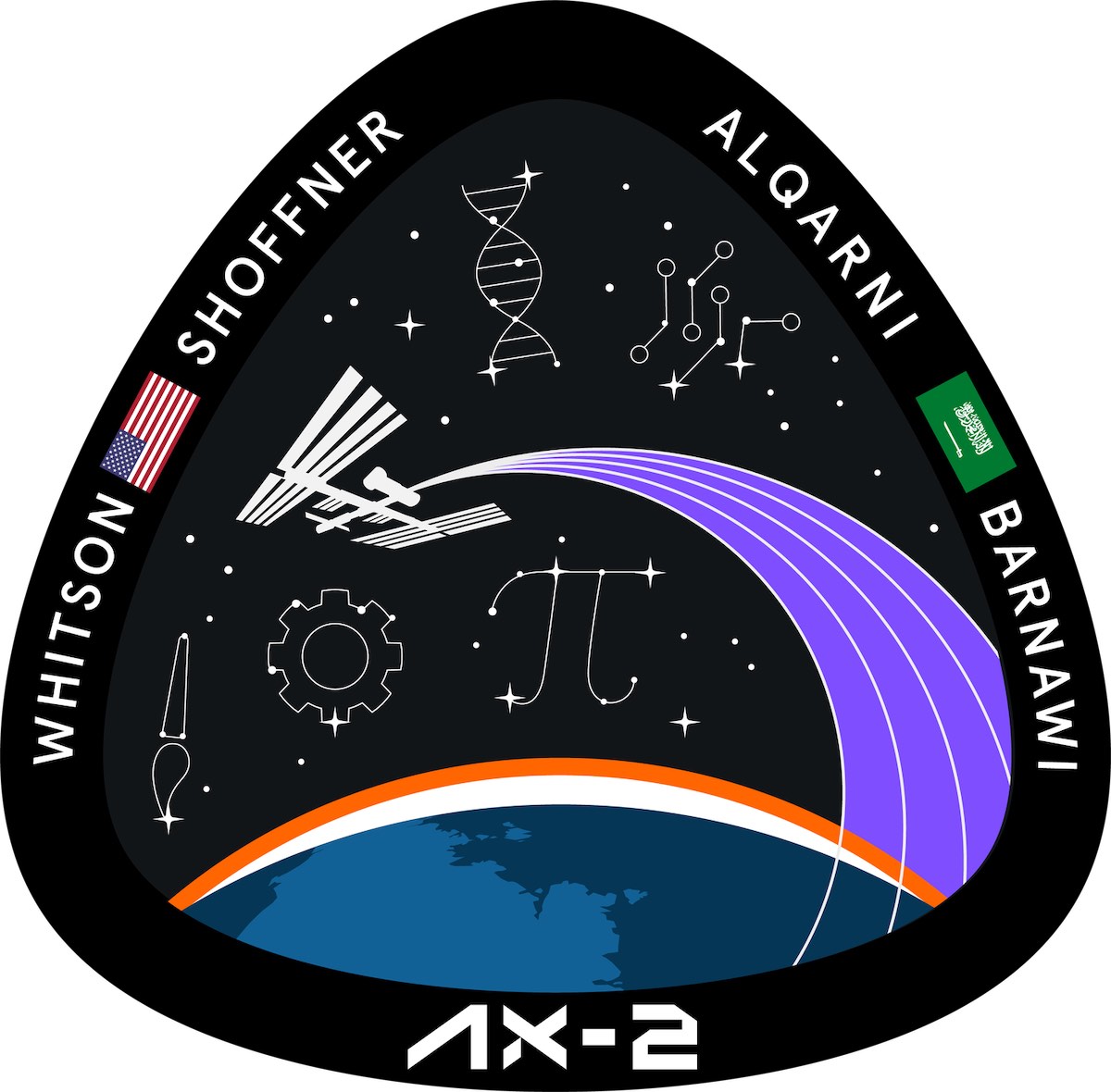 The upper stage of the Falcon 9 rocket launching the Ax-2 mission fired its single engine for about six minutes to accelerate the Dragon Freedom spacecraft to orbital velocity. Separation of the capsule from the rocket occurred about 12 minutes into the mission, followed by the opening of the Dragon's nose cone to reveal the docking system it will use to attach to the space station.
Then the crew will take off their launch pressure suits and settle into more comfortable clothing for some off-duty time overnight. They will put on their spacesuits again for docking Monday, then open hatches to the space station a few hours later, when they will be welcomed by the lab's seven long-duration crew members.
The arrival of the Ax-2 mission will temporarily raise the station's crew size to 11. There are three Americans, three Russians, and one astronaut from the United Arab Emirates currently living on the orbiting outpost.
ROCKET: Falcon 9 (B1080.1)
PAYLOAD: Crew Dragon Freedom on the Ax-2 mission
LAUNCH SITE: LC-39A, Kennedy Space Center, Florida
LAUNCH DATE: May 21, 2023
LAUNCH TIME: 5:37:09 p.m. EDT (2137:09 UTC)
LAUNCH WINDOW: Instantaneous
WEATHER FORECAST: 60% probability of acceptable weather
BOOSTER RECOVERY: Landing Zone 1 at Cape Canaveral Space Force Station
LAUNCH AZIMUTH: Northeast
TARGET ORBIT: Approximately 130 miles by 143 miles (210 by 230 kilometers); Inclination of 51.6 degrees to the equator
DOCKING AT ISS: 9:24 a.m. EDT (1324 UTC) on Monday, May 22, 2023
LANDING DATE: May 30, 2023
LAUNCH TIMELINE:
T+00:00: Liftoff
T+01:02: Maximum aerodynamic pressure (Max-Q)
T+02:26: First stage main engine cutoff (MECO)
T+02:29: Stage separation
T+02:37: Second stage engine ignition
T+02:39: First stage boost back burn ignition (three engines)
T+03:38: First stage boost back burn cutoff
T+06:25: First stage entry burn ignition (three engines)
T+07:31: First stage landing burn ignition (one engine)
T+07:58: First stage landing
T+08:47: Second stage engine cutoff (SECO 1)
T+11:58: Dragon separation
T+12:46: Dragon nose cone open sequence begins
MISSION STATS:
226th launch of a Falcon 9 rocket since 2010
237th launch of Falcon rocket family since 2006
1st launch of Falcon 9 booster B1080
191st SpaceX launch from Florida's Space Coast
159th launch overall from pad 39A
66th SpaceX launch from pad 39A
10th SpaceX launch with humans on-board
2nd mission for Axiom Space
2nd flight of Dragon Freedom spacecraft (C-212)
11th flight of a Crew Dragon spacecraft
32nd Falcon 9 launch of 2023
35th launch by SpaceX in 2023
25th orbital launch based out of Cape Canaveral in 2023
Email the author.
Follow Stephen Clark on Twitter: @StephenClark1.